Dual-screen Smartphone from NEC Spotted at MWC 2013 (Video)
Though we´ve seen the concept before in Asia, a solid implementation of a dual-screen device has yet to make an appearance. If one is going to see something totally special in the mobile world, then the best place to do it is at the annual MWC event. This year marks several announcements that would leave you with your mouths open.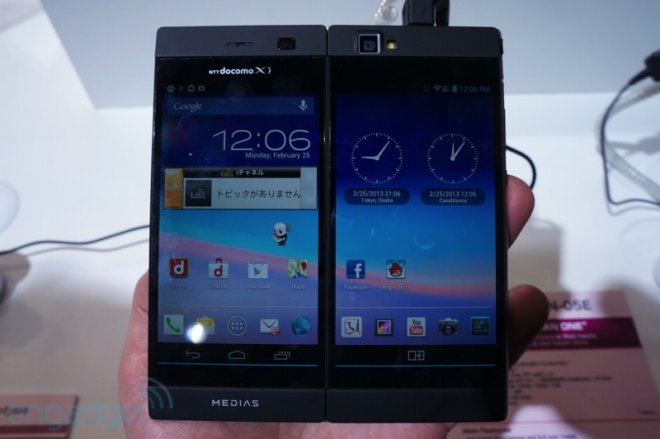 A dual screen smarphone can be described best as a Nintendo DS wit two touchscreens. Get them as close as you can side by side and you have a device that is as big as a tablet. Combined with special software, there is no limit to what it can do. Unfortunately, such devices are still some way from hitting the market and it would take courageous manufacturers to invest in something like this, instead of the classic deign.
NEC has been around at MWC in Barcelona, to showcase some of its devices, including the dual-screen smartphone – Medias W that is in a prototype faze. Engadget, who managed to get their hands on the device, informs us that it has two 4.3-inches panels, that together would rise-up to 8.6-inches, larger then your average tablet. There is no telling when the device might be available in a final form, but you can enjoy a hands-on with it, in the video below:
If you like this post, make sure you subscribe to our
RSS Feed
or follow us on
Twitter
,
Facebook
,
Google+
,
YouTube
for more interesting articles and video reviews!
Also you can recommend GSM Dome on Google: