The BlackBerry Passport came to us for a full review a while ago and it did receive a pretty detailed one, as shown in the video below. The device was announced in June, launched in September and it signals the rebirth of the Canadian company. This is a QWERTY and touch model, priced at $600 in USA.
The design is atypical, squared, but it's also pretty elegant and comfier than expected. This model measures 9.3 mm in thickness, weighs 196 grams and measures 90.3 mm in width. Meanwhile, for the sake of comparison the Galaxy Note 4 measures 78.6 mm in width. This means that the Passport is 12 mm wider and also 20 grams heavier than the Note 4. We also get a 4.5 inch square screen on board and this model can't be used with one hand, that's for sure, since it's made for 2 hand usage.
We've got a sturdy metal frame on board and the device is very solid. It has rounded edges, a polycarbonate back, that uses a soft touch texture and it's also mate. The camera bump is 0.3 mm thick and the frame is made of stainless steel. The same material is used between the QWERTY keyboard rows. At the front we can find a camera, earpiece, display with Gorilla Glass 3 protection, a 3 row QWERTY keyboard, that's lit and touch enabled, plus sensors at the top and an LED for notifications near the front camera.
At the back you can find the main camera, flash, the logo and if you remove the cover at the top you'll also see the nano SIM card slot and the microSD one. On the right side there are the volume buttons and between them there's an extra button for play/pause and also used to trigger the BlackBerry Assistant when keeping it pressed. On the left side there's nothing and at the top we find the On/Off button and audio jack. All of the buttons on this handset offer good feedback, by the way.
At the bottom we find the microphone, microUSB port and two speakers. Overall, this model is solid, elegant, comfier than expected and a premium one, as far as design is concerned. Moving on to the hardware, the BlackBerry passport uses a 4.5 inch IPS LCD display, with 453 ppi density, a 1440 x 1440 pixel resolution, 24 bit color depth and inside there's a quad core Snapdragon 801 2.2 GHz processor, with an Adreno 330 GPU also in the mix, clocked at 450 MHz.
There's 3 GB of RAM inside, 32 GB of storage, a microSD card slot with support for up to 128 GB and the back camera is a 13 MP shooter with OIS, while the front one is a 2 MP unit. Other specs include dual speakers and on the connectivity side, there's microUSB 2.0 support, LTE, quad band GSM/GPRS/EDGE, HSPA+, WiFi a/b/g/n/ac, Miracast, WiFi Direct, FM radio, Bluetooth 4.0, GPS, NFC and Glonass.
Finally, the smartphone comes with an accelerometer, gyroscope, magnetometer, ambient light sensor and a 3450 mAh battery, that on paper provides 14 hours of GSM talk time, 91 hours of music playback or 11 hours of video playback. During our test, that involves looping a HD video sample, with WiFi on and brightness at 50%, we achieved 9 hours and 20 minutes of video playback, which is pretty OK. I should mention that this phone isn't made specifically for video consumption, so with regular use, you'll get about 2 days of texts, calls, web and some app action.
This is a pretty good battery, that takes 2 hours and 15 minutes to charge, which is also OK. In the Settings area, it's hard to find the battery data, so you have to go into the App Manager, then Device Monitor and then check out a detailed graph of the battery usage. There's no power saving, which is kind of bad for a business phone. Moving on to acoustics, the BlackBerry Passport has a minimalistic music player, with a library, playlists, favorites, radio and the experience is really, really loud. The speakers cover a conversation easily and the bass is good, plus the sound is crisp and clear.
There's a bit of distortion at max volume, but that happens to many other models. There are some options on the right side of the screen, including equalizer, with features like Bass Boost, Treble Boost, Voice Boost, Acoustic and genre settings. Sadly, there's no music control in the lockscreen or dropdown area. The headphones bundled with the Passport are tangle-free, not very comfy and involve a Bluetooth headset-like design.
They're too big for my ears and they have to be forced in, sort of. The sound is loud, very loud, but it doesn't damage the ears. The headphones offer a clear, clean, crisp sound, good bass and loud experience. The FM radio has a cute UI and moving on to the decibel test, we achieved 95.2 dBA, which is bigger than 99% of all phones we tested this year. The Passport is one of the few phones that can do battle with the HTC One M8 in the acoustic field.
Meanwhile, the LG G3 only achieves 87 dBA, the iPhone 6 Plus 83 dBA, so the audio is excellent. As far as video goes, there's a wide 4.5 inch IPS LCD screen on board, with a 1440 x 1440 pixel resolution, 453 ppi density and this display is actually 30% wider than a 5 inch screen. It's got 24 bit color depth, a 1:1 aspect ratio and it displays 60 characters per row, which is brilliant for email reading and such tasks.
The video player on board has a sort of header at the top, showing the recently accessed vids the UI of this player is minimal. You can change crop, pinch to zoom, use an equalizer for acoustic effects and enjoy a crisp and clean visual experience. The black is not deep and there's a bit of oversaturation going on. The view angles are wide and the contrast is OK. The pixels are of the RGB Stripe kind and the LUX level here is 362 LUX units. This model has an auto brightness setting that will adapt even at the highest brightness to the conditions around.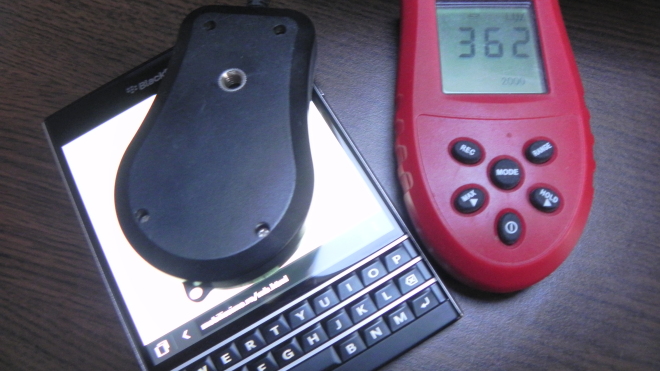 With indoor lighting it reaches 324 LUX and with a bit of sunlight 362 LUX. I would estimate that on a very sunny day it can go as high as 450+ LUX units. Meanwhile, the Galaxy S5 reaches 480 LUX, the Xperia Z2 365 units and the Galaxy Note 4 and iPhone 6 Plus go way past 600 units. I would say that the screen on the Passport is bright enough for leisure and business features, so overall it's good. The settings area offers display functions like font size, display color settings (white balance, color, saturation). There are also options related to HDMI out functionality.
As far as the camera goes, it's a 13 megapixel unit with OIS and LED flash, capable of Full HD 60 FPS video capture. The cam has F/2.0 aperture, BSI, a 5 element less and the UI doesn't have a good frame rate, plus it adopts a minimal design approach. At the bottom we find options like the front camera shortcut, shutter button, video button and on the right side there's the bulk of options.
Those include scenes (Auto, Action, Whiteboard, Night, Beach/Snow), Flash, Ratio (1:1. 4:3, 16:9), HDR, Timer (3, 10 seconds or none). The Settings for the video area include size, frames per second (30 or 60) and among the other functions we find Auto Suggest Best Capture Options, grid lines, save original photo and HDR, face detect, video stabilization, continuous AF and geotag. The capture Modes are the following: Time Shift (take pictures and cycle between a variety of faces taken during a burst), Burst and Panorama.
The camera has a slow focus and the pictures are taken with reasonable details. Moving into the gallery, the pictures taken during daylight are reasonable, while the macros are actually pretty good, in the proper lightning. The level of detail is good for these shots and the flash feels a bit too strong. The HDR is also pretty good and the colors are OK, but a bit on the cold side. I'd say the photo capture isn't anything out of the ordinary and the images are clearly below those of any 2014 flagship. Once again, macros do look good and panoramas aren't very wide sadly.
There's noise that appears fast when zooming in and the low light frames are quite poor. A regular picture has a resolution of 3120 x 3120 in 1:1 aspect, while a 4:3 shot has a 4160 x 3120 pixel resolution. Exposure and white balance are OK, while the level of detail is not very good at zoom. The Passport is very good for closeups, handles selfies well, but that's about it… The video capture involves MP4 files, with OK quality, good colors and once you start zooming in, you will lose a lot of details.
Low light capture isn't very good and the OIS is weak, even below the digital stabilization of the iPhone 6 and Sony Xperia Z3. You can change focus while filming, which is nice and you can do that with a drag on the screen, not a tap. The video capture is done in 1080p at 30 or 60 FPS and the resulting files have 15.5 Mbps bitrate. Audio is recorded in stereo, at 192 Kbps bitrate and with a 48 KHz sampling rate.
Overall, filming is not impressive and neither is photo capture, unless you count macros. Editing is also available, with filters, crop, enhance, frames and more, but the really nice part is how complex the video editing is here. You can edit the length, crop, implement a slow mo feature, change brightness, contrast, saturation and apply filters. Now we move on to performance and the BlackBerry Passport reaches 42 degrees Celsius after playing 15 minutes of Riptide GP2, so there's a bit of overheating in the mix.
The phone calling section involves HD Voice, BlackBerry Natural Sound and something called Active Leak Compensation, that will auto adjust call volume based on how close you hold the phone to the ear. This handset has a quad mic setup, with a mic included in the earpiece, able to measure the pressure in your ear. Calls are excellent, flawless even, as well as loud and clear. The benchmarks have also been tried out and these are Android benchmarks we're talking about, installed via APKs.
Quadrant didn't work at all, while Vellamo partially and GeekBench 3 and GFX didn't. We compared the Passport to the Xperia Z2 and LG G3, because they also have 3 GB of RAM and Snapdragon 801 CPU and with the iPhone 6 Plus for a change of OS. These are the results:
They're not impressive, but at least the phone doesn't suffer from and it's able to run Riptide GP2 with no problem. Some games will look stretched on the atypical screen, by the way. Also, Temple Run 2 has problems with the gyroscope. The web browser of the Passport is pretty fast and allows you to use the touch aspect of the keyboard to scroll in web pages. It comes with Flash available and a lot of interesting privacy and security features.
Now let's discuss the software a bit. We're running BB OS 10.3, with a homescreen focused on multitasking, by showing thumbnails of the apps running at the same time. They have an X in the lower right corner, used to close them up. If you swipe to the left you'll see a few more homescreens with the app list on them. Swipe to the right and there's the BlackBerry Hub, that focuses on communication. It gathers up all your texts, app notifications, Twitter and Facebook messages, calls and BBM, as well as emails. There are very intuitive compose and attach buttons, as well as a search one.
You can easily rearrange messages by their priorities. As far as control gestures are concerned, when in an app, you can swipe up to make the app into a multitasking thumbnail, or partially swipe up to see the BlackBerry Hub notifications. When inside an app you can swipe down to view the options and settings related to an app. If you swipe down in the Homescreen you'll trigger the dropdown area, with Quick Settings, while the notifications will appear in the lockscreen, in case you're wondering, without a trace of them in the dropdown area.
The Settings portion includes a ton of security features and encryption methods. There are permissions and passwords to mess around with, lockscreen settings, parental controls, BB Protect, in order to secure a stolen or lost device and Media Sharing features. Finally, we've got Advanced Interaction, which is a series of gestures like Lift to Wake, Flip to Mute or Flip to Save Power.
Two finger swipes in an app will trigger the Quick Settings area, the one with toggles, by the way. If you keep pressed the physical button between the volume buttons you'll trigger BlackBerry Assistant, that serves as a Cortana, Siri and Google Now rival. It can be used to set alarms, change settings, open apps and dictate emails, plus get answers via Wolfram Alpha. You can ask questions about the weather and also ask info about common knowledge. The recognition is good, but the feedback is slow.
The physical QWERTY keyboard on the Passport has touch support for scrolling in lists and such gestures, but you can also used to swipe to the left in order to delete a word you've just written. Also, a swipe up inputs the suggestion offered by the prediction engine of the keyboard on the screen. Completing the functionality of the keyboard is a row or two of symbols and figures on the lower part of the touchscreen.
The keyboard is very comfy and excellently spaced and the whole experience is intuitive. My only objection here is that the space bar is kind of small. BlackBerry OS 10.3 brings new icons, a flatter look and new buttons compared to its predecessors. There are up to 8 active frames in the home screen area and you can change their position by keeping them pressed. Copy/cut/paste is also available here and now let's see the preinstalled apps list. That includes the Amazon App Store and BlackBerry World as the suppliers of apps, but you can also install Android apps from APKs.
Then there's BlackBerry Hub, Contacts, Calendar, Docs to Go, Maps, Story Maker, Weather, Facebook, Twittter, Linkedin, Foursquare and BlackBerry Blend. The latter allows you to move files back and forth between your Passport and your PC, Android or iOS device, using a dedicated app. All you need to do is download the Blend app on iOS or Android and you'll have access to your messages, pictures and content if you input your BlackBerry ID. Finally, the app list also includes Evernote, a File Manager, Adobe Reader, YouTube Box, Smart Tags and Compass.
Overall, the OS feels sober and intuitive, plus it's based a lot on swiping. The fact that you can run Android apps is nice, but not all of them work fine. You also can't connect to Google services via apps like Gmail or Maps, just so you know. Finally, if you press both volume buttons at the same time you'll trigger a screenshot and the Calculator app on this device also integrates a tip calculator.
Now let's see the verdict for this phone! Here are the Pros:
excellent productivity device
comfier than expected
superb acoustics
comfy keyboard and very intuitive
brilliant touchpad
good battery
good display
good closeups
excellent phone calling
runs Android apps
And the Cons:
not for everyone
very big and wide
poor camera compared to other flagships
gets quite hot
BlackBerry Assistant is poor
no power saving
no fingerprint scanner (it's a must for a business phone)
not very comfy headphones
many Android apps don't work
can't view notifications in dropdown area
BlackBerry Passport gets from us a 9.1 out of 10 for design, a 9.2 for hardware and a 9 for OS and UI. The final grade is 9.1 out of 10 and this one is the best BlackBerry model to date. It has the best QWERTY keyboard money can buy right now and it also serves as touchpad. The model does remain pricey and it's still addressed to a niche of users.