The iPhone 4S has been a controversial product from the start, since its launch was accompanied by criticism from everyone, even those who had mediocre expectations from Apple. However, that didn't stop the handset from selling and it even reached 4 million units in its first weekend. Now, we at GSMDome.com take the newest iPhone for a spin and we show you the verdict below:
First of all, I was impressed with how fast this smartphone is… that dual core Apple A5 CPU is really something and if the iPad 2 didn't impress you, this iPhone will. There's absolutely no way you can make this handset lag or even cause a hiccup. You can run Need for Speed at the same time with a shooter and YouTube, plus a ton more apps and still everything would be OK. iPhone 4S uses 512MB of RAM, runs iOS 5 and a major improvement is the camera, that now involves an 8 megapixel sensor, capable of 1080p video capture.
iOS 5 is a blessing and a curse here, considering the recent battery problems that this OS is supposed to call. To be honest, at some point while using the iPhone 4S I had the feeling that the handset uses up more battery when it's in idle mode than when I'm browsing the web or playing games, but maybe it's just me. One thing you must know when purchasing the phone is that if you get it off contract and from a retailer you need to have a microSIM card ready, since iTunes will require it for activation.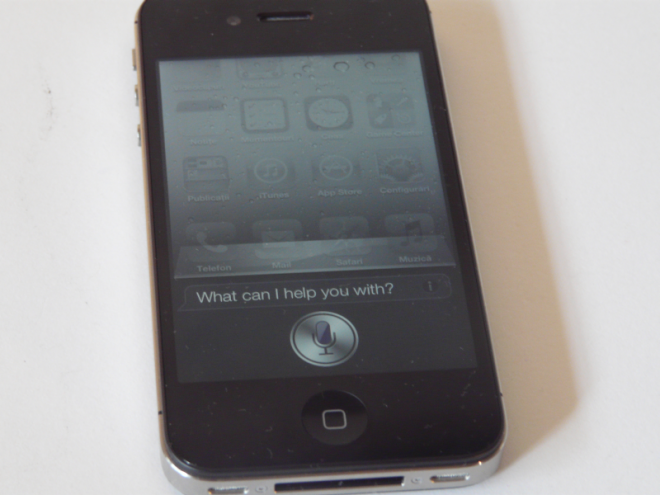 You can also activate the iPhone via WiFi and via wireless you can do the syncing now. iCloud works fine, syncing is easy to do, but there are the occasional glitches and stuff that the service forgets to sync, especially on a Windows PC. The speaker on the iPhone 4S is reasonably loud, the video quality of playback is very good, even on YouTube when you're watching a HD clip, so the multimedia area is taken care of. I was blown away by the graphics of the videogames on this handset, to be honest.
It's true that Apple promised 7 times the graphics performance of the iPhone 4 on this model and surprisingly enough they managed to deliver. The result is a very powerful smartphone, one that showed me a PES 2012 game with brilliant graphics and certainly surpassed the fun I had with a PSP or Nintendo 3DS. Right now, if the PS Vita doesn't pull any crazy stunts, it's dead in front of this iPhone, regardless of the gaming experience it will provide. And I'm not even an Apple fan saying that…
Brothers in Arms did look brilliant, but its controls killed it, especially with having to look around you by tilting the phone. I know you can switch that off, but still… Well, enough with the games. The browser looks great, the tabs seem a bit bigger now, or maybe it's just me and pages load fast and allow quick scrolling and pinch to zoom. Many people only want to get their hands on an iPhone 4S just to play with Siri. I admit that Siri sounds brilliant until you have the handset in front of you and you forget all those crazy things you wanted to ask the virtual assistant.
In the end it's a great tool to scheduled appointments, find out what the weather is like, find taxis, the meaning of life and have your texts read to you. But will Siri change our lives? Will we miss it after using an iPhone 4S for an year and getting stripped of it? Odds are that Google will develop its voice recognition technology too and Bing is on the right path as well, so there will be alternatives. Moving a bit back to the hardware, the iPhone 4S packs the same Retina Display with a 3.5 inch diagonal as the iPhone 4 model, not that any smartphone out there can equal it. Storage versions are the predictable 16, 32 and 64GB, while the other usual specs are Bluetooth 4.0, WiFi, 3G and that talked about dual antenna that gets rids of signal issues.
The 8MP camera should get tons of praise, not only for the quality of the images or the 1080p video capture, but also for how fast the photo taking mechanism is. It just takes less than a second to take a pic and then another one and then another one and so forth… Add to that the fact that you can use the volume up button to take a picture and you have a great camera replacement. I give this handset months till it becomes the most popular camera on Flickr. And keep an eye out for concerts recorded on this device, you might be in for a surprise.
Some people say that covers are oversaturated and that when the light is low the iPhone 4S can't take the lack of brightness. It's hard to compare this camera to the one on the Samsung Galaxy S II and it would take many photo sessions to decide a winner, but the iPhone 4S is certainly an excellent device photo-wise. The notification bar in iOS 5 didn't seem particularly useful and that comes from a person who's used a lot of Android phones. It may be the fact that I'm to relying on iOS without it, but the whole concept feels out of place here.
The notification bar feels useful if you really care about people who mention you on Twitter or Facebook notifications, since the text and phone calls will be duly noted, if you have the phone in hand. Since I mentioned iOS 5, know that it also brings Twitter integration, in aspects such as photo sharing from the Gallery and also the Newsstand app that's sort of an iBooks for magazines and newspapers.
More info and experiences with the iPhone 4S can be found in the full video review right here, but overall I liked this phone and I would recommend anyone to buy it. Of course, if you own an iPhone 4 there's not much of a reason to do so, but if you own a 3GS, Android handset or any WP7 unit, the 4S is a smart choice right now. You'll get right of force closes, lag and other headaches, at least. Or maybe save money for the iPhone 5.