LG G Flex was an experimental phone that we totally liked here at GSMDome.com, because that curved screen was a marvel to look at, while watching movies. Now, the LG G Flex 2 has arrived earlier this year and we took it for a spin. Launched in January at CES 2015, the product was the first commercial handset with the Snapdragon 810 CPU inside. The device was priced at $500, last I checked.
It has a smaller diagonal than the G Flex and its design involves a curved body and display. The thickness is 7.1 to 9.4 mm, from the slimmest to thickest point, since the case is curved after all. The handset weighs 152 grams, which is 25 grams less than the predecessor and it's also 11 mm shorter, plus 6 mm narrower. This phablet is a 5.5 incher, compared to the predecessor's 6 inches diagonal.
It's comfier to use and sits excellently in the user's hand and pocket, once again compared to the G Flex 1. I also noticed it's more rigid when being flexed and unlike the previous unit, it doesn't flex for show anymore, but only in extreme situations. The body is made of glossy plastic and it has a self healing back, with the healing time reduced to 10 seconds for minor scratches, down from 3 minutes.
Obviously, it's all key scratches and contact scratches it can heal from, not jackknife cutting. Overall, this model offers excellent one hand usage, but it's also slightly slippery. It has a concentric texture at the back, while at the front we find a Dura Guard Glass protection, which is basically Gorilla Glass 3 strengthened by about 20% by LG. Also at the front there's a notification LED, earpiece and sensors, too.
The back hosts the main camera, dual tone flash and laser autofocus, as well as the volume buttons and On/Off button, all of them with excellent placement and feedback. The speaker is at the back too and once you remove the back cover, you'll come across the microSD card slot, micro SIM card slot and a non removable battery. On the sides there's nothing and finally at the top there's the microphone and infrared emitter, while at the bottom rests the microphone and audio jack, plus microUSB port.
LG G Flex 2 comes with slim bezels, it's a very comfy and elegant model and offers the best one hand usage from a phablet we've seen lately. The product comes in silver or red. Now, as far as hardware goes, what we've got here is a 5.5 inch screen, of the P-OLED kind, with a Full HD resolution, accompanied by a Snapdragon 810 processor, an octa core 64 bit unit, clocked at up to 2 GHz.
The GPU is an Adreno 430 and the device comes in 2 versions of storage: 16 GB and 32 GB as well as 2 versions of RAM: 2 GB of RAM or 3 GB. Of the 16 GB, 7 GB are system files, so keep that in mind. The microSD card slot offers you the option to expand storage by an extra 128 GB. Specs also include a 13 MP back camera with OIS, a 2.1 MP front shooter, LTE Category 6, WiFi a/b/g/n/ac dual band, GPS, Glonass, Bluetooth 4.1, NFC, infrared, FM radio, DLNA and microUSB 2.0.
Sensors include an accelerometer, proximity sensor, active noise cancelling and the battery is a Li-Po 3000 mAh unit. The G Flex relied on a 3500 mAh unit, by the way. The battery of the G Flex 2 was a bit of a letdown, since in our HD video playback looped test with WiFi on and brightness at 50% we achieved only 4 hours and 7 minutes, miles away from the 12 hours of the G Flex 1.
It's very, very low and we sure hope it was only our test unit's fault. The PCMark test fared a bit better, with 5 hours and 7 minutes, at least beating the HTC One M9's 4 hours and 57 minutes in the same test. Charging is done in 1 hour and 47 minutes and there's also a Quick Charge feature that juices up the phone to 60% in about 40 minutes.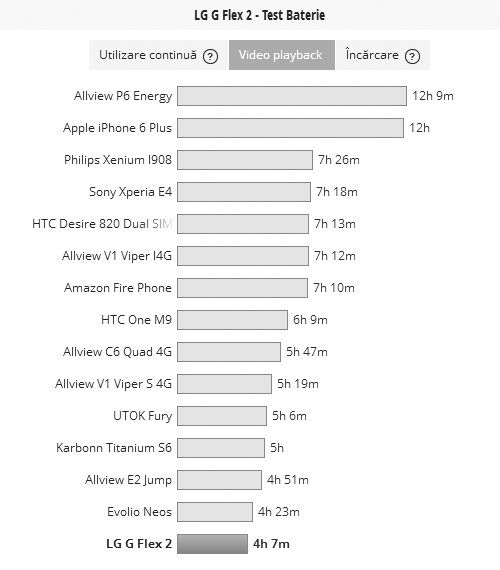 Well, at least this model charges faster than the G Flex 1, that required a bit over 2 hours to get fully juiced. There's also a Battery Save feature in the Settings area, that doesn't give any other extra options. Moving on to acoustics, this model was only a test unit, so we didn't get any headphones bundled with it. The device has a small speaker and pretty much the same audio player as the LG G3.
Its options include a sleep timer, audio effects (normal, bass boost, vocal boost, treble boost, pitch and speed tweaks and 7 channel customization). The actual audio experience brought a loud and clear sound, crisp too and a very good bass. This sound can easily drown a conversation, which is good. The decibelmeter test revealed 82.9 dBa for the speaker, which is quite good compared to the 83.8 dBA of the iPhone 6 Plus, but it's not flagship level, like the 89 dBA of the Galaxy S6.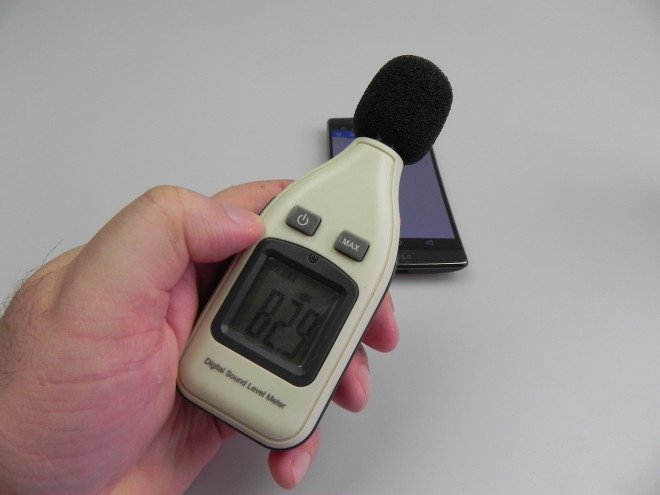 The display included here is a Full HD 5.5 inch POLED one, that uses plastic instead of glass to host the diodes. The video player is the gallery and you get a preview window as you watch the clip and move along the timeline. There's also a pop up play like option, and more options for screen ratio, subs, play speed and screenshot. This screen offers a crisp and bright image, but also oversaturated, thanks to some very, very vivid colors.
The gallery supports a ton of codecs and we also get wide view angles. The pixels have a Pentile Matrix Diamond arrangement, with 4 sub pixels per each pixel. Sunlight behaviour is nothing to write home about, that's for sure. We achieved only 266 LUX units with this handset, which is better than the 246 LUX of the G Flex 1, but much worse than any other flagship over the past year or two. Even the much criticized HTC One M9 reaches 362 LUX.
We put this on the fact we got a test unit to play with. Keep in mind the Galaxy S6 Edge gets as high as 933 LUX units! Display Settings include Home/Easy Home, Smart Bulletin, Theme, Wallpaper, Lockscreen with weather animations and the ability to change the pattern of the virtual Android buttons. You can hide those buttons, change font type and tweak the Screen Mode to Standard, Vivid or Natural, depending on the saturation level you want.
Auto Adjust Screen Tone is also here as well as a sort of Glance feature in the lockscreen, by gently swiping down from its top. Overall, an unimpressive screen, because of its brightness. The main camera is the same 13 megapixel unit from the LG G3, with optical image stabilization and phase detection autofocus, aided by an infrared sensor.
We've got a dual tone flash in the mix and a 2.1 megapixel front camera to play with. The UI of the cam is hugely simple, like the one of the LG G3. To the right you can find the gallery shortcut, video button and shutter button, while to the left there's the flash options, front camera shortcut and camera Modes: Auto, Panorama and Dual.
The front camera menu brings forth a Beauty Slider and back to the main UI, its settings only include HDR (Auto, On or Off), Resolution for pictures (13 MP – 4160 x 3120/ 10 MP) and video (4K, Full HD, 720p 120 FPS slow mo) and voice command, plus timer and grid. The camera does 8X zoom tops, a fluid zoom too and offers fast focus. It's also pretty fast when taking pictures.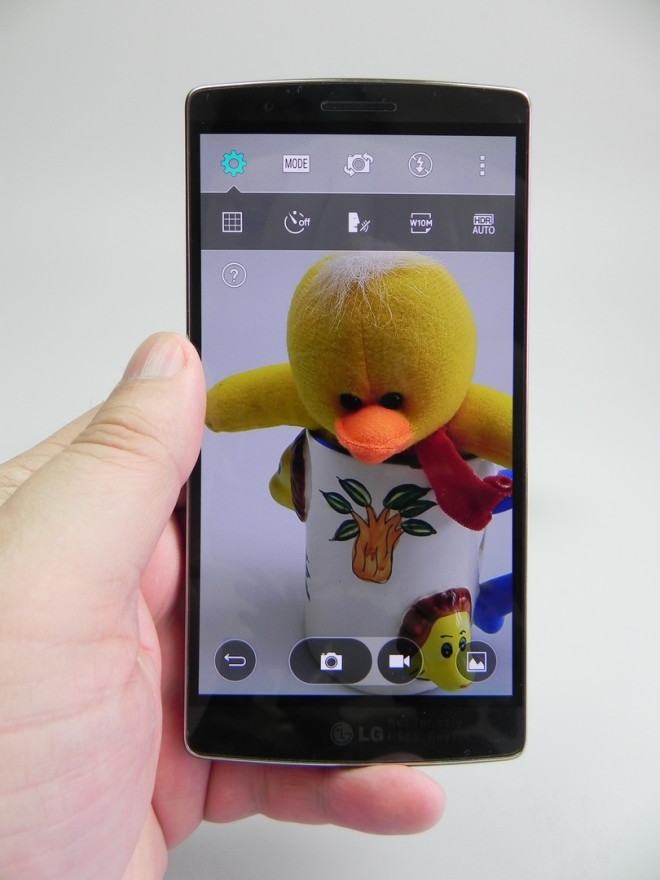 The gallery we took is so ample it gets past 200 pictures. You can check it out here. We took day time shots in the mountains on a sunny day, generating vivid and realistic colors in our shots. The combo of sun and snow didn't affect the quality of the pictures. Panorama is crisp and has good details and we also did a dual shot, as well as HDR, that cleared up some fir trees that were in the shade.
Selfies are pretty good, but far from the quality of the Galaxy S6's camera for example. Macros look fantastic and we were amazed by this device's ability to take a closeup, especially when it comes to flowers. Colors are great, the images are crisp and details are excellent. You can really feel this is the camera of the LG G3, with a boost in image processing.
Exposure, white balance and focus are also perfect. We also did indoor shots, that wielded great colors, no problem with lights and screens and the very good aperture and shutter speed were tested here, but came out fine. We saw a ton of screens in a showroom with Mortal Kombat on them and the LG G Flex 2 handled them all perfectly. At night, the photos were crisp and very, very lit even in darker areas, where even the iPhone 6 Plus or Galaxy Note 4 had troubles.
Colors look good and we're pretty much on par with the LG G3 and Xperia Z2, or even a bit better. The video capture generates MP4 files, usually with Full HD res and 30 FPS frame rate. The first video we did had great acoustics, crisp image and even with a 1500 meter height mountain wind, the recording was OK. Focus and colors were also great. The second video is a 4K one, that's hugely crisp, has perfect exposure and white balance and excellent details.
Video 3 tested the zoom in, without any loss of detail, while video 4 was taken descending from the mountain and had great stabilization. Video 5 was a slow mo, also looking good and video 6 was more cinematic, with a train passing by in 4K. Video 7 was taken indoor and caught a Mortal Kombat X fight on a screen without stripes on the screen, lighting problems or reflections, so that's great.
At night, when filming colors were good, light sources were caught without halos and the flash made the image look almost like in full daylight. I'd say this camera easily equals the performance of the LG G3 and Galaxy Note 4 camera and it's not far at all from the quality of the Galaxy S6. Editing options are the usual here, involving cropping, rotating, filters, frames and all that.
This model reached 39.9 degrees Celsius after playing the game Riptide GP2 for 15 minutes, which is quite hot, but it doesn't exactly spell overheating. Sometimes the phone forced us to stay at 80% brightness and not move the slider higher, because of a claimed overheating. Not cool LG, not cool! LG G Flex 2 brings a fast web browser and a comfy keyboard, that's well spaced and offers a numeric row. Its phone calling abilities were perfect, with a big dial pad, very good noise canceling through a special mic and the option to enhance voice clarity, too.
Calls were loud and the signal was good. We also did benchmarks, comparing the G Flex 2 to the G Flex 1, HTC One M9 and Galaxy S6. These are the results:
G Flex 2 wins 1 of the 11 battles in front of the Galaxy S6, 9 out of 11 in front of the G Flex and 6 out of 11 in front of the HTC One M9. Obviously there's no lag and we can run the newest games available. The OS installed here is Android 5.0.1 with the same LG customized UI as the one from the LG G3. There's carousel multitasking, a clear all option and the option to pinch to edit homescreens.
At the leftmost side of the homescreens you can find the LG Health and Smart Tips screen. LG Health is basically an alternative to Samsung's S Health and it counts your calories, steps, distance you want, traces a map for your run or walk and does that with a minimal UI. There's a profile to set up and a goal to achieve and frankly speaking, it felt just as good as S Health, minus the pulse readings.
There's also a special widget, the Smart Notice thingie, that lets you know what clothes to wear depending on weather changes, notifies you about a birthday, about a missed call you need to attend to and offers fitness and recommendations depending on your behaviour. The dropdown area includes notifications, Google Now cards, brightness and volume sliders, Quick Memo+, Q Slide (floating mini apps), Quick Remote and Voice Mate, as some of the Quick Settings, plus more.
Voice Mate has evolved a bit from being a boring and stale assistant, but just a bit. Settings include pointer speed, one hand usage, features associated to volume buttons, security and encryption, gestures, quick circle case options and dual window mode. The latter allows you to split the screen in two and use two apps at the same time, just like Samsung's similar feature.
You can even drag text and pics between the two windows. Finally, here's the preinstalled apps list: the Google suite, Box, Calendar, Email, File Manager, Quick Remote, QuickMemo+, LG Smartworld, Tasks, ThinkFree Viewer, Update Center, Voice Mate, Voice Rec and Weather. This means there's not that much bloatware here, even though you still lose 7 GB of storage out of the 16 GB.
And here's the verdict now!
These are the Pros:
comfy and good looking phone
self healing back
flexes in desperate situations
resilient
quick charge
vivid colors
great camera
good stabilization
excellent night time capture
nice UI
And the Cons:
poor battery
poor brightness
gets hot and makes you drop the brightness
little free storage
We give this smartphone a 9.3 for design, 8.2 for hardware and a 9.5 for OS and UI. The final grade is 9 out of 10 and the selling point here is clearly the excellent camera. The battery and brightness are big letdowns, but the comfy design and solid cam, plus the ever dropping price, may make this a solid buy for a vacation phone.