The Microsoft Lumia 640 XL LTE is a midrange phablet, that was announced in March and launched in April this year. Priced at $240 on the UK market, this is the bigger version of the 5 inch Lumia 640 and it comes in 3G, 4G and dual SIM versions. And now let's see if this Lumia announced together with Windows 10 is a hit or not.
We're dealing here with a glossy polycarbonate phablet, that measures 9 mm in thickness and it's thicker than the HTC Desire 820, that measure 7.7 mm in waistline. It's also beefier than the Huawei Honor 6 Plus, that measures 7.5 mm in thickness. The product weighs 171 grams, which is 6 grams more than the Honor 6 Plus and 16 grams more than the Desire 820. It's also about the same weight as the iPhone 6 Plus, give or take one gram. It's important to notice how wide this phablet is, at 81.5 mm, which is 3 mm wider than the iPhone 6 Plus.
Its case is slightly slippery and glossy. As written inside in the battery area, this handset is made in Vietnam and it's certainly not a device easy to use with one hand. It has angular edges and it's excellent to use in landscape, for gaming for example. It has a solid design, but the removal of its case may make it prone to cracks in the polycarbonate, as we experienced.
Upfront we find the earpiece, front camera and sensors and the same facade is a bit of a fingerprint magnet. We also noticed that the screen bezels are quite big. At the back we find a wraparound polycarbonate shell and a protruding camera, the flash and speaker. In order to properly remove the case, you need to start at the lower right side and then you can remove the battery and access the microSD and micro SIM card slots.
Back to the design, at the top we find the audio jack, while at the bottom rests the microUSB port. There's nothing on the left side, while on the right we find the volume buttons and On/Off button, all of them with good feedback. Overall, the design is OK for a midranger, but also very wide and not meant for small hands. Now we move on to the hardware. Here, we get a 5.7 inch screen, an IPS LCD with a 1280 x 720 pixel resolution, as well as a quad core Snapdragon 400 CPU, clocked at 1.2 GHz.
There's an Adreno 305 GPU in the mix, 8 GB of storage, of which 4 GB are free and 1 GB of RAM. Lumia 640 XL LTE features a microSD card slot, with support for up to 128 GB of extra storage, plus a 13 megapixel back camera and a front 5 MP shooter. On the connectivity front, we are completely covered, with 4G LTE, microUSB, GPS, Glonass, Bluetooth 4.0, NFC, WiFi b/g/n, DLNA and the LTE max download speed is 150 Mbps here.
Sensors include an ambient light one, accelerometer, proximity sensor, magnetometer and Sensor Core (takes care of motion detecting and pedometer). The battery of this phone is a Li-Ion unit with a capacity of 3000 mAh, 3.8V and 11.4 Wh. On paper, the maximum standby period is 37 days, while the talk time is 30.3 hours and the music playback time is 98 hours. This model is supposed to offer 10.7 hours of video playback, too.
In our test, that involves HD video playback in a loop, with WiFi on and brightness at 200 LUX, we achieved 9 hours and 49 minutes, which is quite good. We actually beat the Galaxy Note 3, that scores 9 hours and 30 minutes and we also beat the Huawei Honor 6 Plus and its 9 hours and 12 minutes. Still, we scored below the Galaxy S5 and its 11 hours.
The charging takes quite long, 4 hours and it's almost the longest time we measured here at GSMDome.com, only beaten by the Philips Xenium i908, with 4 hours and 25 minutes. Battery Saver functionality is found in the Settings area and you can set it on Off/at 20%/On Now. It puts off the background tasks, offers push notifications more rarely and allows you to gain a few extra hours of functioning time. There's also an Usage section, that allows apps to run in background even in power saving mode and you can select these permissions and activate or deactivate them.
In the Display Settings area you can also reduce brightness in power saving mode, as a special feature. Overall, the battery remains good and the charging is still very long. Lumia 940 XL didn't come with bundled headphones and its music app is Xbox Music, with a minimal UI. The acoustic experience is crisp, clear and the volume is something I would call medium, but not more. There's no EQ in the music player, but there's one in the Settings area.
We used a decibemeter to measure the performance of the handset and achieved 82.1 dBA upfront and 83.5 at the back, a performance very similar to the 83.8 dBA of the iPhone 6 Plus, for example. We were also a bit below the 84 dBA of the HTC Desire 820. At least we beat the Huawei Honor 6 Plus and its 82.7 dBA. In the Settings area you will find Extras, like the EQ with presets for Bass Boost, Bass Cut, Vocal Boost, Acoustic, Jazz and 7 sliders to tweak. There's also an Enhance section, with virtual surround and flip to silence option.
With good acoustics checked, we proceed to the screen. The display offered here is an IPS LCD with Clearblack technology and a 5.7 inch diagonal. The resolution is 1280 x 720 pixels and the pixel density is 259 ppi. We've got Gorilla Glass 3 protection here and Xbox Video as the video player. Keep in mind that the screen edges to the left and right are left black when watching a video in landscape, which is not a very nice feeling.
At least we get well calibrated colors and the sunlight behaviour is quite good. The screen offers wide view angles and good brightness and clarity. Pixels are of the RGB Stripe kind and the brightness level we reached is 315 LUX indoors, while outdoors in full summer sun we reached 769 LUX, with the Auto Brightness on. This even beats the Galaxy Note 4's 682 LUX and the iPhone 6 Plus 605 LUX.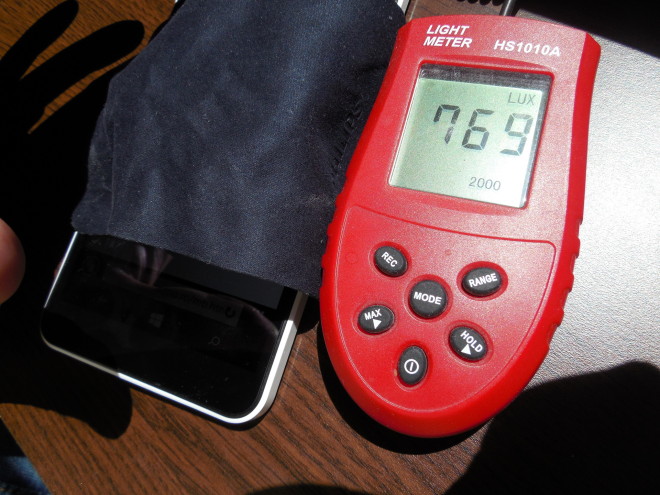 If the Galaxy S6 Edge didn't score above 900 LUX, the Lumia 640 XL LTE would have been the champion here, but now it's second placed. In the Settings area you can adjust sunlight readability, battery saver brightness and brightness profile. The latter comes with 3 sliders, for each level of the screen: Low, Medium and High. There's also Color Profile, that lets you tweak the colors of the screen to Standard or Vivid, or Cool or Advanced. The latter also brings forth a color temperature, tint and saturation tweaking mechanism.
Overall, this is a very good display for a midranger and even puts to shame a few flagships. And now let's analyze the camera! We're dealing here with a main 13 M P shooter, with autofocus and 4X digital zoom. Zeiss optics are included and the sensor size is 1/3 inch, while the aperture is F/2.0. This camera offers a focal length of 28 mm, an LED flash, BSI and rich catpure.
The front camera is a 5 megapixel unit, with wide angle lens, F/2.4 aperture and 24 mm focal length, as well as Full HD video capture. There's no physical camera button here, so we have to rely on the pressing the Lumia Camera tile, or the shortcut in the dropdown part. The camera app opens up reasonably fast and the camera itself has an OK focus speed.
Lumia Camera is the default app here and at the top of the screen we find the simple layout of options: front camera shortcut, flash options and Rich Capture On/Off. Then there's the Expanded view, with semicircular sliders for white balance, focus, ISO from 64 up to 3200, shutter speed (from 1/16000th of a second to 4 seconds) and exposure (from -3 to +3).
Rich Capture takes a series of captures and allows you to dynamically tweak the resulting image, using a slider mechanism. You can choose to see the image with or without flash and even apply HDR effects to it. There are 3 modes here: HDR, triggered in high contrast scenes, Dynamic Flash, with or without flash and Dynamic Exposure, triggered in short and long exposure situations without flash.
The Settings portion includes a timer, bracketing mode (3 or 5 pictures with varied exposures) and Grid. The photos can be taken in 4:3 or 16:9 and then you can also apply something called Living Images, that will make your shots come to life as if they were shorter GIFs, slightly animating them. Video capture happens in either 1080p or 720p in 30, 25 or 24 FPS. There's also a Lumia Selfie app here, that allows you to take selfies using the back camera among others and also allows you to edit selfies and tweak the eyes, face shape and texture.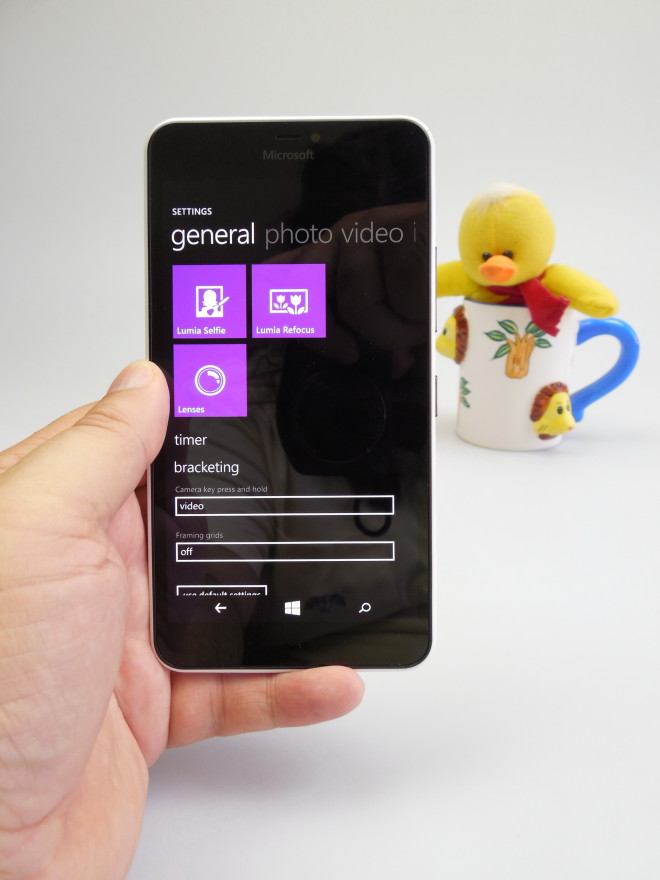 Lumia Refocus is a familiar face, since we've seen this app before. It allows you to refocus on an item in the background or foreground, make colors pop or keep all in focus. Lenses are available too, including Panorama, Bing Vision (scan QR codes), OneShot (extra options for capture, slightly laggy) and more. The video capture also triggers the same semicircles as the photo capture, in case you were wondering (white balance, exposure and focus only).
Zoom is kind of slow and finally we get to the gallery. It was taken on a cloudy day, but the camera registered realistic colors, clear shots and good details. The panorama has a pretty impressive resolution of 12289 x 2064 pixels and Rich Capture triggered some nice HDRs under the bridge in the park. Selfies were surprisingly crisp, I have to say.
The face of the subject was clear and skin texture and color were absolutely no problem. Even the background was OK. We zoomed in on some ducks we photographed, with some detail loss registered and then we found the exposure, white balance and focus to be OK for a cloudy day. This handset can take nice macros, like those of flowers or the faucet in the park.
Some of the shots were washed out for some unknown reason, but we've got Rich Capture to fix all these problems. Once again colors were realistic, which is especially highlighted by those colorful toys captured in the park. Focus was OK and the overall quality felt a bit above the HTC Desire 820, that was a bit of a letdown in the midrange handset camera area.
Still, we are below the Huawei Honor 6 Plus, that may be a midrange on paper, but it has hidden high end aspirations in the end. Flower macros looked very nice when taken with the Lumia 640 XL LTE and inside shots were good, lit up with a pretty powerful flash and with good details. I feel the need to make another comparison here and I'd say the camera of this WP 8.1 handset is superior to the one of the Samsung Galaxy S4, for example.
It can easily be the equal of the LG G2 in my opinion, a 2013 flagship. It would be a good idea to learn and get accustomed to all the Lumia features before you take advantage of the raw power of this camera. The video capture wasn't that good sadly. It's true you're filming in Full HD, MP4 format and at a 17 Mbps bitrate, plus 30 FPS frame rate.
However, the first video for example was white-ish and washed out, but registered good exposure change. Stabilization and clarity were also good, as were the acoustics. The second clip brought us clarity, good focus and good colors, but poor stabilization. Things came apart in video 3, with serious focus loss, but once again realistic colors and decent level of detail for a 720p capture.
The fourth video was probably the poorest, with that white layer on top of the image again, poor stabilization and quality loss when zooming in. In spite of the filming not being great here, it's still better than on the very underwhelming HTC Desire 820, that I keep mentioning as a bad example for midrange camera experience. It's not that it has problems, but it's inferior even to its predecessor, the Desire 816.
Drawing a line here, the Lumia 640 XL offers good selfies and also an overall good back camera for a midranger. After taking the shots you can use Lumia Creative Studio to apply filters, tweak shadows and brightness, temperature, remove red eyes and much more. There's also Lumia Moments, that allows you to extract a Living Image or still shot from a video and also add some effects.
Finally, Lumia Story Teller is an alternative to HTC Zoe, summing up your videos and shots into a summary video, with changeable background music and minor editing options. We're finally done with the camera, so let's talk about performance. This Lumia model reached 38.5 degrees Celsius after playing the game Riptide GP2 on it for 15 minutes, so there's no overheating here.
The web browser on board is fast and the keyboard included in the mix is the same one we've known for a while now. It's comfy, has big keys and a Swype-like mechanism. The phone section brings us a very loud ringtone, clear and crisp sound during calls, but also a lack of noise canceling. And now let's talk benchmarks! This model has an old CPU, a Cortex A7 quad core Snapdragon 400 from 2013, put to the test against the likes of Lumia 1020, Lumia 930 or Lumia 830. Let's see the results:
Browsermark didn't work on it and the results place the phone at around the same level as the Lumia 830. I have to say the benchmark results are pretty low and this model didn't win any battles compared to the other units here. Still it has no lag, maybe aside from photo processing and runs the game Riptide GP2 like a charm. As far as software goes, this model runs Windows Phone 8.1 with Lumia Denim and it comes with the promise of being first in line for the Windows 10 Mobile update.
Currently it has folder support and allows you to drag and drop apps on top of each other to create folders. The OS brings a better organized Settings menu, an evolved Cortana and the ability to show notifications in the Glance screen. That's what Lumia Denim brings in a nutshell. We've got the usual double tap to wake and the X to close an app in the multitasking window.
Resizable tiles and transparent tiles are in the mix as well, plus an Action Center with 4 customizable toggles and notifications displayed. Cortana allows you to ask questions, it gives cooking suggestions, plans trips and makes jokes and predicts soccer matches. In the Settings area you can set up Quiet Hours, Driving Mode and Storage Sense, plus activate the Kids Corner and an Apps Corner, that lets other users access your apps through a special homescreen of their own on this device.
Finally there's motion data and the preinstalled apps list goes something like this: Calendar, FitBit, Data Sense, Flipboard, Food + Drink, Health + Fitness, Here Drive+, HERE Maps, Bing Maps, Money, News, Office, OneDrive, OneNote, Outlook, Picsart, People, Skype, Sports, Store, Travel, Wallet and Weather. I can't say we have much bloatware here, but yes, there is some, since you don't exactly get much free internal storage.
Now let's see the verdict regarding this phone!
Here are the Pros:
good selfies
very bright screen
OK battery
good acoustics
good picture taking for a midranger
nice Lumia apps
no lag
games run fine
pole position for Windows 10
And the Cons:
massive and slippery
prone to cracks
little internal storage
long charging
video capture could be better
old CPU
WiFi speed could be higher
no Google apps for people who are active users of their services
We give this model an 8 out of 10 for design, an 8.5 for hardware and a 9 for OS and UI. The final grade here is 8.5 out of 10 and I consider this a good alternative to the HTC Desire 820, to be honest. It's below the Huawei Honor models, but still it stands out through an excellent screen and pretty good camera. It's a good vacation and movie watching phone overall.