The blokes from Allaboutsymbian got a chance to spend some time with the new Nokia 5800 and did an in-depth preview of the device. Thanks to this piece of info, we found out if Sony Ericsson Walkman can be considered dead and buried, as 5800 XpressMusic becomes the new king of music phones.
5800 is similar to the N78, when it comes to size, but it's a bit heavier and feels rather big in the hand of the user. This is a narrow width candybar made out of light plastics, but with good build quality. The display is a 3.2 inch resistive touchscreen, with quite an impressive resolution (360 x 640 pixels) and a wide aspect ratio (16:9).
As far as connectivity goes, the handset is a quad-band GSM and dual band WCDMA device, also featuring HSDPA support plus WiFi, Bluetooth and USB. The music phone's battery provides 9 hours of WCDMA talk time, while the reviewers claim it lasted for about 2 days, typical usage. Taking a look at the 5800's insides, we discover an ARM 11 processor (369 MHz), 80MB of internal memory and you should know that the handset comes with an 8 GB microSD card as a bonus.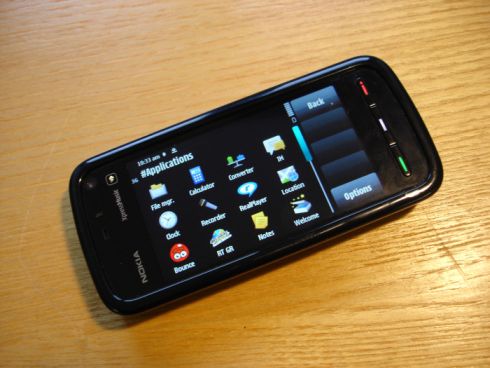 16 and 32GB cards will also be compatible and we go back inside the device and find 128 MB of RAM, of which 72 MB will be free after turning on the phone. For more details on the look, specs, feel and behaviour of the handset, check out the full preview right here.
[via Allaboutsymbian]