One may say a lot about the Nokia Lumia 920, but whatever you say, you can't call this model a bad cameraphone. This is the flagship Windows Phone 8 model from Nokia and a HUGE device, on par with the Galaxy Note II even. The price tag of this model is $99 on an AT&T contract, just so you know. In case you want a bit of background, this model was announced in September and launched in November 2012.
Its design is a bit massive and heavy, since the handset measures 10.7 mm in thickness and weighs 185 grams. There's a good reason for this bulky design: the Pureview camera, wireless charging system and the 4.5 inch HD screen with a lot of nifty technologies associated to it. Nokia Lumia 920 has a polycarbonate unibody case and the colored versions of the device are glossy, while the black one is matte.
As shown in the video review, the glass front is curved and overall this model is easy to use with a single hand, in spite of how big it is. We've got 3 capacitive buttons below the display and speakers at the lower part. Overall this is the same design direction as the one of the Nokia Lumia 800 and 900, but I frankly like this design, just like some people like monster trucks. This is a monster truck of a phone!
Moving on to the hardware are, we've got a microSIM slot available here, an IPS LCD 4.5 inch display with a 1280 x 768 pixel resolution and Corning Gorilla Glass 2 protection. There's also the PureMotion HD+ ClearBlack technology used on the display and while the Lumia 900 had AMOLED, this model went with IPS LCD this time. By the way, the screen works with gloves on!
What ClearBlack means is that we get polarizing layers of glass that make the blacks deeper and reduce reflections. PureMotion HD+ means that the latency is reduced and 60 FPS animations are guaranteed in the interface. This generates sharp transitions and a crisp UI. Lumia 920 also comes with Dolby audio technology, no microSD card slot, 32 GB of storage and 1 GB of RAM.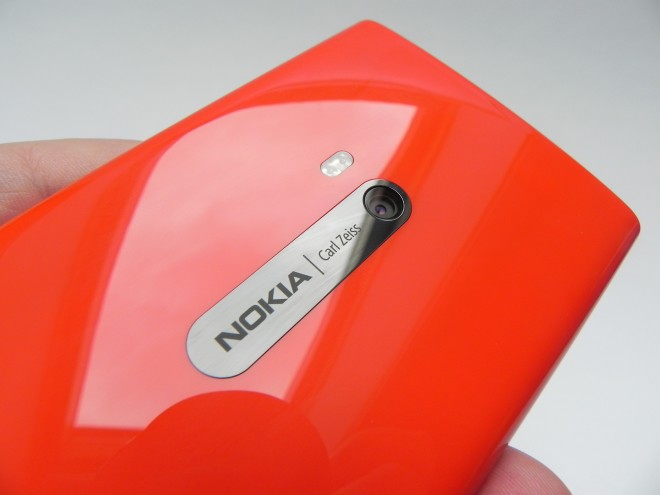 On the connectivity side we get LTE, HSDPA 42.2 Mbps, WiFi dual band, DLNA, Bluetooth 3.1, NFC and microUSB 2.0. The camera at the back is an 8 megapixel unit with Carl Zeiss technology, optical image stabilization, autofocus, dual LED flash and Pureview technology. The camera does 1080p 30 FPS video capture and we also get a front camera, a 1.3 megapixel unit with 720p capture.
The OS of choice is Windows Phone 8, that runs on a Qualcomm MSM8960 Snapdragon dual core 1.5 GHz processor. There's also an Adreno 225 GPU in the mix, an accelerometer, gyroscope, proximity sensor, compass, GPS and Glonass. No FM radio is present, so we rely on Internet radio. There's active noise canceling with a dedicated mic and 7 GB of free SkyDrive storage bundled with the phone. Finally, the battery is a non removable Li-Ion 2000 mAh unit, that's good enough for 17 hours of 2G talk time or one day of moderate use, barely, so you have to charge it at night.
On the audio side we've got a very loud bunch of speakers, as well as very good headphones. Sadly, we've got no equalizer, but this is where the Mix Radio app comes into play, bringing us the much needed EQ. It also has Dolby Enhancement and all the music streaming we can dream of. As far as video goes, we get DivX, MP4 and Full HD playback, as well as Xvid. The viewing angles were below our expectations, but the text in the web browser was pretty crisp, if you want to get specific about the screen.
What I liked about the display was how crisp it was and you should also know that typically an IPS LCD screen has a pixel transition time of 23 ms, while the Lumia 920 offers 9 ms, which is much better. It also handles a sunny day and sunlight perfectly. And now… the camera. The big and impressive 8.7 megapixel Pureview camera, with BSI technology, F/2.0 lens, autofocus and Carl Zeiss technology. The camera has optical image stabilization and a simple UI that WP8 offers.
Even on a cloudy day we got some excellent shots and courtesy of the exposure settings every dark situation will get brighter with this camera. The video capture is nice and crisp and the dual LED is so powerful that it may take you a bunch of seconds to recover from being blinded by it. The Lumia 920 comes with a 26 mm wide angle lens made by Carl Zeiss and the stabilization mechanism also involves the gyroscope.
In the video review we also showed you some of the apps that Nokia bundled with this phone, such as Nokia Drive, Nokia City Lens (augmented reality) and Nokia Maps. We also had fun with Nokia Trailers and Angry Birds Roost, as well as the photo editing app Creative Studio. And now it's time for the conclusions regarding this model.
Here are the Pros:
good design
excellent camera
quality screen and audio
valuable apps: Drive, Maps, City Lens, Mix Radio
superb video capture
excellent call quality
very good screen brightness
And the Cons:
pretty big price off contract
low battery life
view angles could be better
pretty bulky and heavy
not enough cool camera apps
the OS is inferior compared to Android, iOS
non removable battery and no microSD
We give the Nokia Lumia 920 a 9 for design, 9.5 for hardware, with the camera contributing the most to that grade and a 9 out 10 for software and UI. The final grade is 9.16 out of 10 and this is officially the best Windows Phone 8 device we've tested and one of the best cameraphones EVER.