This year's flagship models include the HTC One, Samsung Galaxy S4, LG Optimus G Pro and Sony Xperia Z. The latter is probably the only one with a 2012 generation CPU, the quad core Qualcomm Snapdragon S4 Pro. In the following lines we'll analyze this device and try to find what makes it a hit… or a flop.
The handset was announced at CES 2013 and we had some hands on quality time at MWC 2013. This is the first Full HD smartphone that we tested and it was followed by HTC One, that truly felt like a jump in quality. The price tag of the device is 520 quid in the UK, at least. That amounts to about $770, so it's a pretty pricey phone.
As far as design goes, "glass" is the name of the game, since we've got a glass back panel, glass at the front and even glass insertions on the side. There are several other glass-based devices out there, like the Nexus 4 and iPhone, for example. We've got a buttonless front on the Xperia Z and all the ports and slots on the device are covered with lids, since this is a waterproof device.
The handset adopts a rectangular symmetrical design at the front and back and it has a big power button on the side, that stands out from the rest of the design. It's slightly ugly-looking, if you ask me. Overall, it feels that Sony has put a lot of work into this product, including those glass insertions on the side. While holding the phone in the hand, I felt that it's a bit too squared and sharp edged to feel comfortable in the user's hand.
It measures 7.9 mm in thickness, weighs 146 grams and it's a IP57 certified unit. This means it's dust and water resistant, with the latter offering the ability to dunk the handset into 1 meter of water for up to 30 minutes. The case kind of draws dust and dirt to it, sadly and it's very, very glossy. There's also a name for this design, called Omnibalance and it was also adopted on the Sony Xperia Tablet Z slate. Moving further to the hardware, we've got a TFT display here, a 5 inch one with a 1920 x 1080 pixel resolution.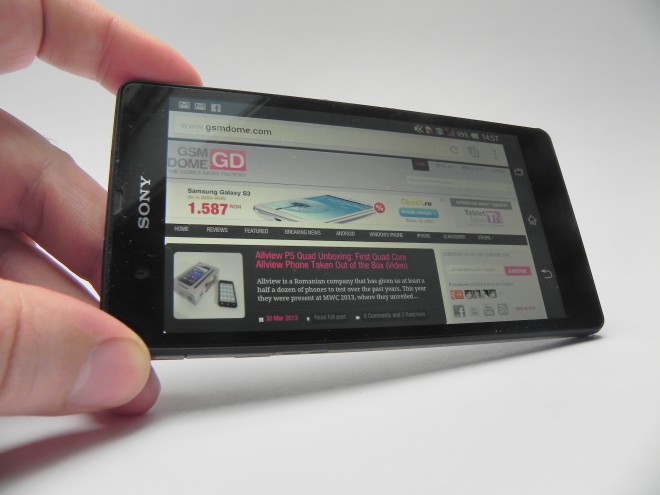 The screen involves an Opticontrast panel with 10 finger multitouch and it also uses Sony Mobile Bravia Engine 2 and it's covered with a scratch resistant layer. The specs list includes a micro SIM card slot, microSD card slot, 16 GB of storage, 2 GB of RAM and inside the thicker is a quad core Qualcomm Snapdragon S4 Pro at 1.5 GHz. The GPU is Adreno 320, just like on the ASUS PadFone 2 and the HTC One, although that model has a Snapdragon 600 CPU.
On the connectivity area, we've got quad band GSM/GPRS/EDGE connectivity, 3G with HSPA, LTE, WiFi, DLNA, GPS, Glonass and microUSB with MHL. There's also Bluetooth 4.0, NFC and a 13.1 megapixel camera with LED flash and 1080p 30 fps video capture. Upfront there's a 2.2 megapixel camera with 1080p 30 fps, but it's quite far from the performance of the HTC One front camera.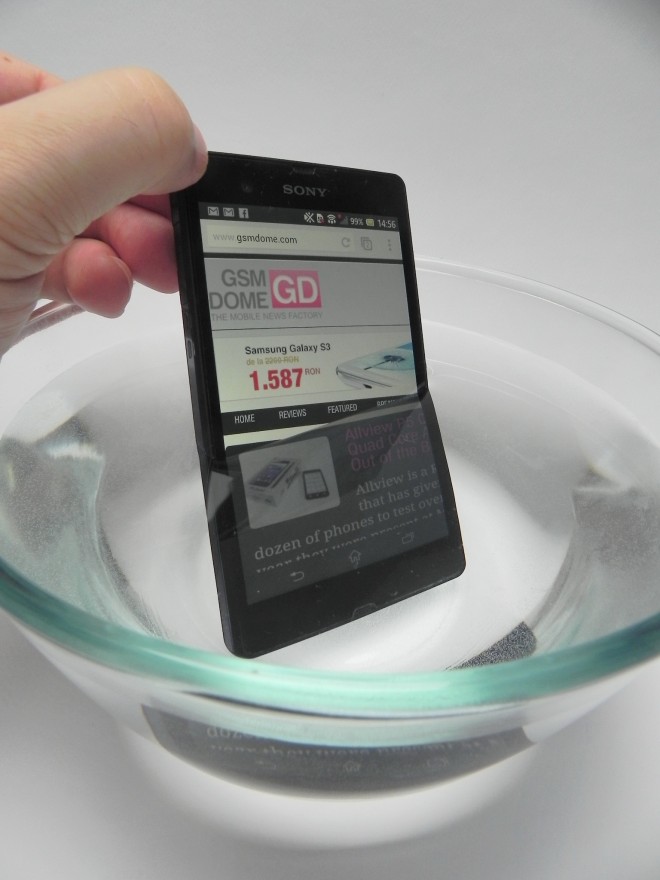 Specs also include an accelerometer, gyroscope, proximity sensor, compass, stereo FM radio, active noise canceling with dedicated mic. Finally, inside this model we find a non removable Li-Ion 2330 mAh battery, that on paper provides 550 hours of standby use or 14 hours of talk time or 40 hours of music. We reached up to 23 hours of use, but that was with great battery saving. In average you should reach 16-17 hours, even if you're a hardcore Facebooker and gamer.
There's also a cool Stamina Mode available for the battery use, that deactivates apps that use data traffic when the screen is off. And now we've reached that part of the review where we analyze the audio, video and camera. On the audio side we've got the wonderful Walkman player, with a beautiful visualizer and a huge number of settings. The bundled headphones offer excellent noise cancelling, but overall I would like more volume out of them.
The bass is good, but the speaker at the lower side is truly a disappointment. It's easy to muffle out and it kind of distorts the sound. So, overall we've got good software and not so good audio hardware. Apparently, there's a special protection layer on top of the real speaker, for water protection, that's why the speaker sound kind of disappoints.
As far as video playback goes, we've got realistically reproduced colors, poor viewing angles and good brightness. The screen benefits from optical lamination and mobile Bravia Engine 2 and it also has an OK contrast. Sadly, we can't really feel the jump from HD to Full HD on this model and also the display doesn't behave that good outdoor, in sunlight. Overall, the screen is trully underwhelming.
Moving on to the camera, we've got a 13 megapixel sensor here, an Exmor RS one and sadly it takes very long for the camera app to open, which was my first objection regarding the handset. However, once it does start, the UI of the app looks great and it's filled with detailed options and sub-options. And then you start filming… and you see that the image stabilizer makes the image seem unreal.
By the way, audio capture is good, but sadly the very praised video and photo HDR doesn't quite have an effect on your captures. We've got a variety of focus modes to play with, we can tweak the white balance, select scenes, effects, use a burst mode and several smile shot modes. Taking pictures and videos at the same time is possible, but you'll only get 1 MP shots. Overall, the auto mode is the one you'll probably prefer to use in the end.
Colors of the pictures are good and not oversaturated, but the zoom makes the quality of your video capture for example drop dramatically. Burst shot takes 10 FPS shots at 9 megapixels and overall all shots look good, until you zoom in and get disappointed. The album app offers the option to edit pics, with some basic tweaks and options that are welcome.
As far as videos go, you will capture 1080p 30 fps clips, with a 16 Mbps bitrate. I was expecting much more from Sony and sadly they didn't deliver on the camera front. The OS of choice here is Android 4.1.2 Jelly Bean and we decided to benchmark this model against the PadFone 2, which has the same CPU and the Galaxy Note II, a pretty powerful device, even nowadays.
In Quadrant we scored 8011 points with the Sony Xperia Z, while the PadFone 2 scored 7655 points and the Note II 6000 points. Things get less optimistic in AnTuTu, where we got 16.000 points, below the 21k of the PadFone 2, but beating the Galaxy Note II by 3000 points. At least in the GPU test we ruled, with 59.9 FPS, compared to the 58 FPS of the other two rivals and we also won the Vellamo duel by 200 points.
Sony Xperia Z brings a comfortable to use virtual keyboard, a nifty UI without too much tweaking of the stock options and an overall feeling of smoothness. The call quality of the device is good and we also did a rundown of the bundled apps in the video review. We've got the Notes app, McAfee security tool, Track ID standing in for Shazam and a Sony Car mode, if you intend to do some one hand use with the phone in the cradle.
There's also Xperia Link and Socialife takes care of your socializing needs, by integrating Twitter and Facebook and looking a little bit like Flipboard… in an uglier version. There's no more TimeScape or MediaScape here, in case you're wondering and that's not necessarily a good thing. An interesting aspect is the multitasking + small apps area. Those open up on the screen on top of other apps, as we've seen on the Samsung Galaxy Tabs even 2 years ago.
Having finished the software analysis as well, it's time for the verdict. Here are the Pro aspects of the phone:
good battery
good display (in spite of some flaws)
decent camera colors
huge amount of camera options
excellent headphones
great Walkman app
nice UI overall
good CPU and GPU
nice bundled apps
welcome Stamina mode
And the Cons are as follows and pretty serious ones by the way:
bad viewing angles
washed out display at times
poor camera quality when zooming in during video capture
useless HDR
fingerprint magnet
squared and uncomfortable case
fragile lids
bad outdoor screen behaviour
camera app lag
With all of those being said, we give the Sony Xperia Z an 8.7 out of 10 for design, 7.5 out of 10 for hardware, and 9.3 out of 10 for OS and UI. The total grade is 8.5 out of 10 and I'm being quite generous here, because initially I wanted to give the phone a 6. Expectations were high for the Xperia S and it disappointed last year and now the Xperia Z does the same… it does have a few good parts, that strangely are in the software area rather than hardware.