Spotify is an European streaming music startup, that has had a hard time reaching the US, because of the tough negotiations between labels regarding the price paid for the service. While Spotify wants everything for free, the labels want to make some cash out of this initiative and Google just happened to waltz in and save the day.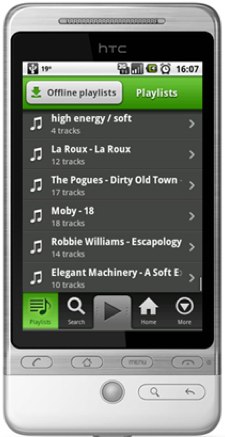 Turns out that Spotify has a very neat Android application that will be built into the 2.1 version of the software and it'll accompany the launch of the Nexus One phone today. The app is already available in Europe and allows the user to sync their songs offline, thus giving Google a chance to challenge iTunes to a duel.
Android and Spotify will turn Nexus One into a real iPhone rival and a multimedia device used for media consumption. Google are even willing to pay the needed price to the labels, just to get this service, while Spotify will add advertising to it, for extra revenue. We also found out that the new version of the application will include social elements, playlists mainly, so the US users should be pleased by the launch.
[via techcrunch]