HTC is an unbelievable brand, simply because the past 2 or 3 flagships were letdowns, but the hardcore fans didn't give up hope. Every time they get burned they recuperate and come back 1000 times more confident. HTC knows that, so that's why it's doing something that other companies can't afford to: taking risks. One such risk is the HTC U Ultra, a huge phablet with a new approach to glass cases. We reviewed it below and drew some conclusions.
First, you should know that this phone debuted back in January and it's priced at $749. It stands out through the secondary screen, massive design and back glass panel. It's available in black, white or blue. This 5.7 inch phablet has a glossy case and it combines a back glass panel with a front one and a metal frame sandwiched between.
HTC calls this "Liquid Surface" and it has something to do with the way that the glass at the back seems to change color when catching light. It's a matter of taste, but some people may take this feature as a kitsch, while others see it as appealing. This one is a huge and slippery machine, prone to fingerprints and grease. It's well built, but very massive and hard to wield.
HTC U Ultra measures 7.99 mm in thickness and weighs 170 grams, both rather OK if you consider the size of the screen. But then again, Galaxy S8 has an even bigger screen and it's much more compact. Buttons are quite comfy and in the end this feels simply too big for modern standards and for comfort. Now let's move on to the display.
This smartphone packs a 5.7 inch 16:9 aspect display, with a 2560 x 1440 pixel resolution, as well as a Super LCD 5 panel in the mix. It's got Gorilla Glass 5 protection and the screen is gently curved, plus it has big-ish bezels. The secondary display is a 2.05 inch unit with a 160 x 1040 pixel resolution. There's no video player here, so we had to resort to Google Photos to play videos.
The experience involved OK brightness, wide view angles, vivid colors and a contrast that's not quite great, especially in full sunlight. Pixels have an RGB Stripes arrangement and the luxmeter showed us a result of 325 LUX, which is certainly unimpressive for this price tag. It beats the LeTV 1S and Allview P9 Energy, but scores below 135 other phones we tested over the years.
Settings include a Glove Mode, font size, display size, brightness level, night mode (with sliders for color and temperature), screen saver, navigation button, backlight, motion launch gestures and second screen functionality. The secondary display above the main one shows a list of app shortcuts, contacts, a music player, weather and personal reminders.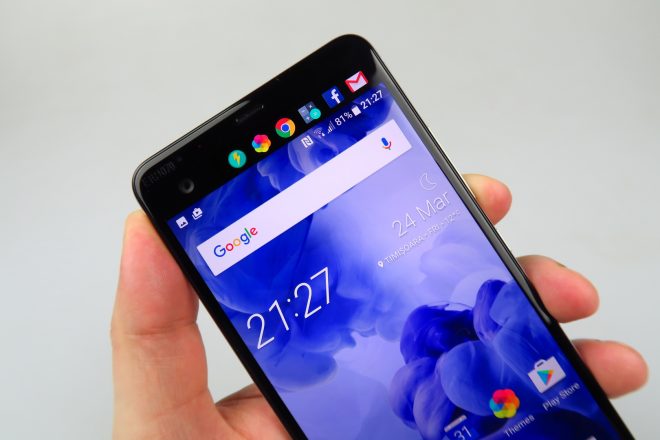 It can be active either when the screen is off of on and that's the extent of its. Basically nothing major extra from the LG V10 and V20. It's a bit gimmicky, if you ask me. Moving on to other hardware, we've got the Snapdragon 821 processor, clocked up to 2.15 GHz, the Adreno 530 GPU, 4 GB of RAM and 64 GB of storage, as well as a microSD card slot.
There's no lag here and the UI is quite fluid, plus the apps start up fast. Games run like a charm, but they make the handset quite hot when they're running. We also did benchmarks and in Quadrant we were able to surpass the Moto Z and LeEco Le Max 2, while also scoring below the Google Pixel XL. In AnTuTu 6 we were placed on the 9th spot, behind the OnePlus 3, but also above the Xiaomi Mi 5 and the Xperia XZ.
In 3DMark Ice Storm Unlimited we placed fourth, beating the OnePlus 3 this time around and scoring below the ASUS ZenFone 3 Deluxe. I'd say that this device is pretty much aligned with other Snapdragon 821 models, benchmark-wise. It beats the Snapdragon 820 models for sure. We also did a temperature test, achieving 37.2 degrees Celsius after running GFXBench and 39.6 degrees after running Riptide GP Renegade.
There's no overheating here on paper, but in real life there is. Now let's discuss the battery. HTC U Ultra has a 3000 mAh unit, which clearly sounds like low capacity for two screens, of which one is a 5.7 incher. There's Quick Charge 3.0 in the mix and on paper we are being promised 26 hours of talk time and up to 13 days of standby usage.
Now let's see how we did in our own HD video playback test. That one revealed a time of 8 hours and 49 minutes, which is not impressive, but at least superior to the HTC One A9 and HTC Desire 10 Lifestyle. Still, it's inferior to the OnePlus 2 and LG AKA. In PCMark, the continuous usage test we scored up to 5 hours and 51 minutes, which is too low for today's standards.
It may beat the Xperia Z5 and LG V10, but it also scores below the Moto M and HTC One A9. I also noticed that while taking 150 pictures and recording 6 videos in the park to test the camera, I lost 40% of the battery life. We also tested the charge, but we didn't have the official charger, so we used another one, reaching 4% battery in 5 minutes and 16% in 15 minutes.
30 minutes brought on 33% and 69% was reached in one hour. Finally, a full charge was done in 1 hour and 53 minutes, not bad I'd say. It's superior to the Google Pixel XL at least. Settings include Battery Optimization, Power Saver and Extreme Power Save. I'll go ahead and call this battery a letdown, since usually such phablets should provide more juice.
Now on the acoustics front we are promised 4 microphones, plus a special HTC U Sonic system, that analyzes your inner ear and adapts to it. There's also BoomSound with a Theater and Music mode and once again HTC didn't include any equalizer. We use Google Play Music to listen to tunes and the experience was loud and clear, the bass was hard hitting and the voices were pretty smooth.
The back of the phone does vibrate a lot when listening to tunes. I also have to mention that providing the sound is a bottom side speaker, working in tandem with the earpiece. There's no audio jack and we also didn't get any headphones with our demo unit. That's why we move straight to the decibelmeter test. There we reached 80.6 dBA at the top of the phone and 82.9 dBA at the bottom, using our standard acoustic sample.
When playing Riptide GP Renegade, we got as high as 98.5 dBA, which is quite loud and this let us surpass 99% of all smartphones out there. This includes record breakers like BlackBerry Passport or LeEco Le Max 2. Time to discuss the camera!
HTC U Ultra has a 12 megapixel main cam, with Ultrapixel 2 technology and 1.55 micron pixels. It provides PDAF and laser focus, as well as a BSI sensor, with OIS and F/1.8 aperture, as well as dual tone LED flash. We also get 3D audio here (Hi Res audio) when recording video. Upfront there's a 16 megapixel camera for selfies, with Ultrapixel technology too.
The camera app gets going fast and I'd say that the focus speed was rather OK. The picture taking is also fast and zoom is fluid. Camera options include HDR, timer, aspect, Zoe and panorama. There's also a Pro mode with options like Custom, white balance, exposure, ISO, shutter and focus. Users can resort to RAW capture or JPEG and video capture can be done in 4K.
There's also a Hyperlapse (moving timelapse with extra stabilization) and slow motion. The selfie camera brings options like Photo, Panorama or Video. We proceeded to take a gallery of shots with this handset, on a very sunny day at the end of March, in a botanical garden. Details of shots were great, in spite of the resolution and I totally loved the lighting and colors.
Many phones would burn some of the pictures we've taken, on such sunny conditions, but not this one. We did have some focus problems in closeups, with about 50% of them failing, so if you like really close closeups, you'll be disappointed. Even the Macro mode on doesn't help. When you finally manage to take one closeup, the result is pretty great.
The photos were crisp, they weren't over sharpened and I liked the focus play and texture of those "RO" letters. Even with the sun in front, the camera held its own. Some of these pictures are actually wallpaper worthy. Once we zoomed into the shots, we still found a pretty good level of detail. The colors are also pretty well calibrated.
Panorama had a 8696 pixel x 994 pixel resolution, which is rather OK and it was pretty clear. Selfies were solid, when it came to skin texture and lighting. However, I can't quite feel that this 16 MP camera is special compared to the selfies I've taken with the latest Galaxy S or iPhone front cameras. In the end I want to highlight the excellent greens and reds caught by the main camera and everything you can ask for a 2016 and early 2017 phone camera-wise is delivered.
Well, minus the focus in closeups… but in the end this is the equal of the HTC 10 and Galaxy S7. That's during the day. Low light capture started with a series of indoor shots, with decent closeups of food, a pretty good flash and an unimpressive selfie or two. Outdoors at night, the lighting and clarity were top notch. Some blur appeared in the distance, but nothing major.
The flash was downright perfect, since it didn't make subjects blue or washed out. Halos were decent in size and if you look closely there was some violet hue at the top of the pics. Clarity, lighting and colors were great. In the end while this beats all midrangers and it's close to flagships, it's no Google Pixel XL or HTC 10 at night.
Now let's see how the video capture went. HTC U Ultra films in MP4 format, in Full HD, at 30 FPS and with a 20 Mbps bitrate. The videos were clear, the microphone was excellent and the zoom is solid, meaning we don't lose details when zooming in. The exposure change is also pretty subtle, colors are realistic and focus was rather good.
The stabilization was also pretty OK in my book, but not at the level of the Galaxy S8 or Xperia XZ. We did experience some image curving and some occasional minor refocusing, so not everything is perfect. The slow motion was rather burnt and as far as the front camera goes, the video it shot looks more like 720p than Full HD. Of course, we did have the sun straight against it, so that's a thing.
While I did mention above that the stabilization is good, but not Xperia SteadyShot good, you have to remember that it's at least better than the one of the iPhone 7 Plus. Overall, video capture is at a flagship level, pretty much on par with the LG G5 and Galaxy S7 I'd say. Low light video capture was surprisingly bright, even if you had positive expectations.
There was some motion blur at times, but the zoom was OK in details. Colors were realistic and clarity and focus didn't cause any trouble. There's no focus loss here and aside from some yellow hue, there's no trouble. Once again this is no Xperia XZ or Google Pixel XL, but it's certainly top 15 or even top 10 material in the video department.
Moving away from the camera, we now discuss the web browser. It's pretty fast when it comes to loading pages and it also got pretty good benchmarks. The virtual keyboard on board is Touchpal, in the HTC Sense special version. Swype is also here. On the connectivity front we've got USB Type C, but there's no audio jack here. A nano SIM card slot is also available and U Ultra comes with VoLTE, WiFi calling and LTE Category 11.
There's NFC here, Bluetooth 4.2, WiFi a/b/g/n/ac and something called HTC Connect, that lets you stream wirelessly to other devices around the house. This is a very well specced phone when it comes to streaming, since it also has DLNA and AirPlay, as well as Miracast. Finally, there's GPS, Glonass and Beidou available. The Dialer offers a Speed Dial feature and this handset provides great sound and noise cancelling, as well as clear calls.
SpeedTest revealed a value of 132 Mbps for 4G downloads and 45 Mbps for 4G uploads. When it came to WiFi, the results were great, with 332 Mbps in download and 25 Mbps in upload, both great. We have finally reached the OS section, where Android 7.0 is the name of the game with HTC Sense on top, in the latest version. As usual, it's a pretty elegant and flat UI, with a lot of customization option and stickers and widgets that adapt size to your preferences via the Freestyle layout.
BlinkFeed is still here, aggregating social network feeds and sources like News Republic, Facebook, Calendar and more. A novelty is the HTC Sense Companion, HTC's own AI-based solution, that tracks your behaviour and offers suggestions. It can track GPS and app usage, suggest when to charge the phone, provide reminders and traffic hints. It's less omnipresent than other AIs, so that's why we didn't exactly feel its usefulness.
The fingerprint scanner has a 13 step setup and unlocks the device instantly. We also have a comfy Home button, with a pretty solid feedback. The preinstalled apps list features 43 names, quite a few in this day and age. Luckily most of them can be uninstalled. There's also one app that's particularly useful, called Boost+, which clears the junk and accelerates the device, as well as optimizes it.
Then there's Instagram, Keep, News Republic and Themes. And here we are at last with the verdict related to this phone.
Here are the Pros:
great connectivity
nice UI
great camera (pictures and videos)
excellent performance
good selfies
overall good hardware
OK charging
solid acoustics
And the Cons:
slippery
huge and unwieldy
poor battery
closeup focus is a problem
overheats in games
second screen is a gimmick
no equalizer
low brightness
could use more camera modes
Sense Companion doesn't feel special
In the end HTC does its own thing, that is experiment with hardware, software and design. The result is received with mixed feelings by everyone, me included. It feels like there's potential, but the device doesn't fully take advantage of it. HTC U Ultra has a great camera, good performance and a polarizing design, that's for sure. It's also sure that's rather huge and massive, but for no exact reason, since there's not much of a battery inside.
People who buy it may want it for the design, camera or UI. The price also keeps dropping from what I see.