The ASUS ZenFone 2 let us down in the camera department and we were happy to learn that the ASUS ZenFone 2 Laser was somewhat of a midrange cameraphone to wash away that poor image of the series. The device was launched in September in a 5 inch and 5.5 inch version and we tested the latter, codenamed ZE550KL. The device is priced at $151 on the Indian market and its 5 inch version dubbed ZE500KL may have a bit of a lower price.
This model is actually a prize winner, since it got the IF Design Award 2015, as written on its box. The smartphone is available in black, white, silver, gold or red and it measures 10.8 mm in thickness. It weighs 170 grams and it's basically the same size as the ZenFone 2. It's also 15 grams heavier than the LG G4 and thicker than that model, that measures 9.8 mm, plus thicker than the HTC One M9's 9.6 mm waistline.
At the same this, this model is lighter than the HTC Desire 826 and its 183 grams, in spite of having the same 5.5 inch diagonal. The back has a rubber-like texture, although it's more of a soft touch plastic. ZenFone 2 Laser comes with a curved body, that gets instantly smudged at the back, as if you were eating KFC when you touched it. It provides good grip and has a solid frame. The design feels very familiar, reminding me a lot of the HTC Windows Phone 8X.
This is quite a long phone, that's really not very easy to use with a single hand. The front includes the status LED, earpiece and selfie camera, plus the sensors, as well as the 3 capacitive buttons and that concentrical typical ASUS pattern. The back side hosts the main camera and dual LED flash, plus the laser autofocus mechanism and volume button, that are really comfy and placed perfectly to fit your fingers.
Also at the back there's the speaker. I have to mention it's very hard to remove the back cover, at least at the first few attempts, reminding me of how hard that was on the ZenFone 2 as well. Below the plastic cover there's the microSD and SIM card slot overlapped, plus a second SIM nearby and a removable battery.
At the top there's the Power button, that's not very easy to find and comfy to press, plus the audio jack and microphone. The bottom hosts the microUSB and microphone and there's nothing on the sides. This model has a somber design, it's very comfy, but the easily smudged back and hard to remove case detract from its nature. On the hardware side we've got a 5.5 inch display, an IPS LCD with a 720p resolution and Gorilla Glass 4 protection.
This model also brings an octa core Snapdragon 615 processor, as well as the Adreno 405 GPU, 2 GB of LPDDR3 RAM, 16 GB of storage, plus 5 GB of ASUS WebStorage and a microSD card slot with support for up to 128 GB. At the back there's a 13 megapixel main camera, while upfront rests a 5 MP shooter. As far as connectivity goes, we've got LTE with 150 Mbps download speed, WiFi 802.11 b/g/n, GPS, Bluetooth 4.0 and microUSB 2.0.
This model has two micro SIM card slots with 4G support on both SIMs, but only one SIM can connect to LTE at a time. Sensors include a G Sensor, e compass, gyroscope, proximity sensor, light sensor and hall sensor. Finally, ASUS ZenFone 2 Laser brings a 3000 mAh Li-Po battery, which is basically the same as the one from the ASUS ZenFone 2, but still below what the Huawei Honor 6 Plus had, at a similar diagonal and with 3600 mAh capacity.
During our test that involves HD video playback in a loop, with WiFi on and brightness at 50%, we achieved 11 hours and 11 minutes, which is great and beats the Huawei Honor 6 Plus we just mentioned and its 9 hours and 12 minutes. It also beats the Samsung Galaxy S6 Edge+ and its 11 hours and 9 minutes or the Galaxy S5 and its 11 hours and 4 minutes. Xperia Z3 is also beaten with 11 hours of playback.
Still, we scored below the iPhone 6 and its 11 hours and 30 minutes, the Galaxy Note 5 and its 11 hours and 39 minutes or the iPhone 6 Plus' 12 hours. The continuous usage test PCMark showed us a value of 8 hours and 16 minutes, which is also great. We beat even the Galaxy Note 5, with its 8 hours and 6 minutes, or the Galaxy S6 Edge+ 7 hours and 52 minutes.
Huawei Mate S only manages to score 6 hours and 26 minutes in the meantime. There are very few models placed higher than this one in PCMark, like Allview P6 Energy and its 11 hours and 24 minutes or the P8 Energy, with 16 hours and 20 minutes. The charging of the ZenFone 2 Laser is done in 3 hours and 24 minutes, which is long but well worth it. Still, it chargers faster than the Xperia Z3 (3 hours and 30 minutes), Xperia E34 (3 hours and 46 minutes), but slower than the iPhone 6 Plus (3 hours and 16 minutes), or the Xperia M5 (3 hours and 4 minutes).
HTC Desire 820 also charges in 2 hours and 57 minutes. Overall, the battery is excellent and it beats the ZenFone 2 by 4 hours in video playback (approximately) and 3 hours in PCMark. There are also dedicated Power Settings, like Power Management, with Power Saver battery modes such as Performance, Balanced, Smart Saving (reduce brightness, deactivate push apps, extend standby) and Ultra Saving Move. The latter offers max battery life and disconnects the networks when not in use.
Other features are : Auto Switch to Ultra Mode (choose percentage), Auto Switch (choose hour) and Auto Start Manager (choose which apps are allowed to auto start or not). Now let's discuss the acoustics. This model employs Sonic Master technology and has a smaller speaker than it seems from the outside. Its sound chamber is supposed to be 25% larger than before, according to ASUS and it uses 5 magnet construction and a metal voice coil, for improved acoustics.
The player sticks to the typical Zen UI approach and we've got features here like Sleep Timer, theme color and an EQ with volume, bass and treble sliders, as well as a dialog enhance option. 5 custom channels to tweak also await you. One can also choose which EQ to use, either the stock Android one or the ASUS Audio Wizard. The listening experience was reasonably loud, without muffling on a flat surface, thanks to the curved body.
The sound was clear and bas good, but the percution may sound broken at top volume. The headphones bundled with the smartphone have a long wire, that tends to tangle, plus a small remote. They're slightly sloped and very comfy, plus offer good noise canceling. These headphones are some of the loudest I've listened to and offer great bass. I'd even say they beat the Apple EarPods easily.
FM radio is also here, with a nice UI and fast station scanning. Audio Wizard is available as a separate app with options like Movie, Music, Gaming, Vocal and Smart, that totally change the acoustics depending on the content you play. Even a visualizer is included in the app. We used a decibelmeter to test the speaker and got 82.8 dBA at the front and 85 dBA at the back.
The ZenFone 2 had 87.6 dBA at the front and 89.1 dBA at the back, so it was a bit superior. Still, the ZenFone 2 Laser beats the Huawei Honor 6 Plus and its 82.7 dBA or the LG G Flex 2 (82.9 dBA) and the iPhone 6 Plus (83.8 dBA). It scores less than the OnePlus One with its huge 90.5 dBA, or the Lumia 930 with 89 dBA. Audio remains good and let's see what the screen holds.
ZenFone 2 Laser packs a 5.5 inch IPS LCD panel, with a 1280 x 720 pixel resolution and Gorilla Glass 4 protection. The handset has a 72% screen to body ratio and 178 degree view angle, as well as 72% NTSC gamut and full screen lamination. It uses TruVivid technology, which means that instead of 4 screen layers, there are only 2 used. The brightness reaches 400 nits according to ASUS official figures and this model also works with gloves on.
The gallery serves as the video player and the actual viewing experience involves vivid colors, a mid level brightness and wide view angles. The HD resolution is OK for the price and the contrast is not so good. Sunlight behaviour is also quite bad and the pixels are of the RGB Stripe kind. We used a luxmeter here and measured 274 LUX units, which is underwhelming even for a midranger.
We scored below the following phones: ZenFone 2 (323 LUX), Huawei P8 (346 LUX), LG AKA (350 LUX), HTC One M9 (362 LUX), HTC Desire 820, 396 LUX, but also beat a few models, like the LG G Flex 2 (266 LUX) and Xperia E4 (217 LUX). Still, we're in the lower part of the top handset brightness levels. Settings of the display include brightness, font, screen color mode (color temperature slider, balance option, blue light filter that protects your eyes and custom mode with hue and saturation sliders). Overall, the screen is underwhelming, I'll say it again.
The camera included here is supposed to be the selling point and we've got a 13 megapixel shooter at the back, with F/2.0 aperture and a Toshiba sensor. There's a dual tone flash here of the LED kind and laser autofocus, that enhances stabilization, reduces blur and gives a 0.2 second focus. There's Pixelmaster technology in the mix and the camera provides a Super Resolution feature, that comes 4 x 13 megapixel shots into a 52 MP one.
There's selfie panorama also included in the mix and ASUS Claims we're getting a 5P Largan Lens for the main cam. The front shooter is a 5 MP one with F/2.0 aperture and 85 degree wide angle lens. The camera app doesn't open very fast and the UI is quite typical for Zen UI, which means a ton of options. To the left we find the flash options, front camera shortcut and settings.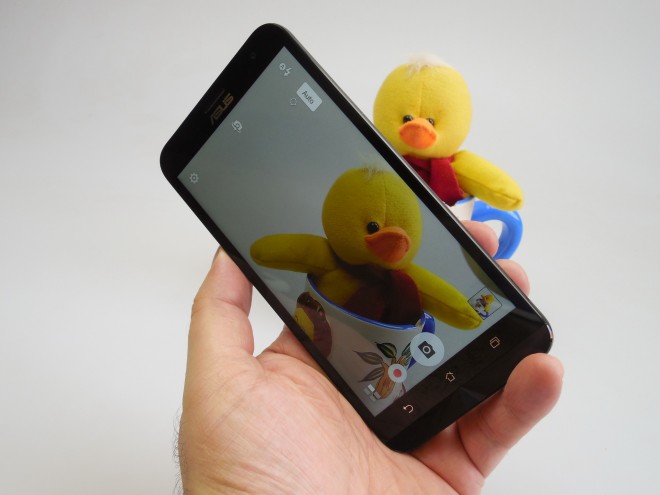 Those include white balance, ISO up to 800, exposure, optimization (auto, off, manual), resolution (13 MP in 4:3 or 10 MP in 16:9), anti shake, quality (standard, fine), time stamp, shooting (touch or non touch), timer, burst, focus (smart AF, continuous AF, infinity), metering (center, average), video (white balance, exposure, resolution that can be HD or Full HD).
Preferences for video capture include Performance or Quality as choices and then there's stabilization, that if activated, it takes the resolution to HD. To the right of the UI there's the shutter, video gallery and capture modes. These modes are as follows: Auto, Manual, HDR, Beautification, Super Resolution, Low Light, Night, Depth of Field, Effect, Selfie, GIF, Panorama, Miniature, Time Rewind, Smart Remove, All Smiles, Slow Mo and Time Lapse.
The manual mode triggers a histogram and balance meter, plus options for white balance, exposure, ISO and shutter (from 1/2 seconds to 1/1000 seconds), as well as focus and all of those can be set up using sliders. Saturation, contrast, sharpness and noise reduction are all available here as well, plus backlight and detail enhance. Beautification lets you brighten up skin, make eyes bigger and add blush to the cheeks.
Super resolution takes that 52 MP shot, while low light boosts the lower light captures. The camera usage experience brought fluid zoom, fast focus and if you keep the screen pressed, you'll see the autofocus, auto white balance and auto exposure locked. There's also an exposure slider available here and not very fast picture taking. The auto mode is great at sensing what you need from the camera.
The gallery of shots we've taken with the main camera surpasses 100 shots and it was taken at the end of September on a cloudy day, with some patches of sun. I have to say that the camera is clearly above the quality of the ASUS ZenFone 2, since that model let us down. The first two shots we took were overexposed, but we had some good shots of walls and rocks with good texture.
Landscape pictures register some blur in the finer details, like tree leaves and such. Closeups look fantastic, like those of green fruit for example, or flowers. This camera can easily compete with big flagships when it comes to closeups, courtesy of the Depth of Field mode. Colors are realistic and focus is great here. Textures are also good when it comes to gourmet shots, which is good for food bloggers.
White balance and exposure are pretty much OK and I like the hue of green captured in those grass shots. HDR tends to get rid of overexposure a bit and the Super Resolution model provides excellent and very detailed shots. Selfies are kind of yellow and the face has a too smooth texture, but let's put that on the many options that were activated when taking the shot.
Overall, I'd say the camera beats the shooter on the HTC Desire 820 and ASUS ZenFone 2, placing somewhere inbetween Huawei Honor 6 and Honor 6 Plus. The laser focus remains the best thing about it, while the weakness are clearly the landscape shots. We also took some low light night time shots, with good colors and a clear yellow hue in the pics without a flash activated.
Street lights have big halos and the flash really works great, lighting up the scenery without burning it. I'm not impressed by the night time capture, when the flash is off, because it's rather blurry. Overall, this camera remains good for a midranger and beats a Galaxy S4 for example. Selfies are in the so-so category. Video capture is done in MP4 format, with Full HD resolution and 27 FPS, plus a very impressive bitrate of 20 Mbps.
The first video we shot had OK acoustics, good colors, but it was shaky and registered detail loss at zoom. The second video was shaky too and had a good focus, plus OK details. Video number 3 was shot with great focus, good zoom details and nice exposure change, but it was shaky too. The slow-mo video looked OK and the night time shots have an excellent thing going for them: they keep the same high bitrate as the day time videos.
Colors and details are OK when filming at night and with the flash on, the experience is really great. I'd say the video capture is above the ASUS ZenFone 2, HTC Desire 820, Huawei Honor 6 and sometimes even the Sony Xperia M5. Too bad for the shaky thing. Editing is done with selfie options, like big eyes and blush, plus collage and Mini Movie options, as well as filters, frames, exposure options and more.
The phone section offered us Speed Dial, a Block List, call recording and an OK signal and sound quality, but the calls could be louder. The web browser was fast and shows us trending searches. The keyboard is comfy, has a numeric row and various themes, plus voice command support. And now let's talk about benchmarks. I decided to compare the ASUS ZenFone 2 Laser to the ZenFone 2 4 GB RAM model, as well as the HTC Desire 820 and Huawei Honor 6.
The battle is worn by the Snapdragon 615 plus 2 GB of RAM, versus an Intel Atom Z3580  plus 4 GB of RAM, versus a Snapdragon 615 and 2 GB of RAM, versus Kirin 920 and 3 GB of RAM. The results go like this:
Quadrant:
ASUS ZenFone 2 Laser: 23281
ASUS ZenFone 2: 23854
HTC Desire 820: 20058
Huawei Honor 6: 10987
AnTuTu:
ASUS ZenFone 2 Laser: 36912
ASUS ZenFone 2: 47142
HTC Desire 820: 31406
Huawei Honor 6: 41858
NenaMark:
ASUS ZenFone 2 Laser: 58.6 FPS
ASUS ZenFone 2: 59.7 FPS
HTC Desire 820: 59.9 FPS
Huawei Honor 6: 59.2 FPS
Vellamo:
ASUS ZenFone 2 Laser: 2076
ASUS ZenFone 2: 3686
HTC Desire 820: 2390
Huawei Honor 6: 2850
3DMark:
ASUS ZenFone 2 Laser: 8684
ASUS ZenFone 2: 13247
HTC Desire 820: 9276
Huawei Honor 6: 13646
GeekBench 3:
ASUS ZenFone 2 Laser: 647/2605
ASUS ZenFone 2: 916/2845
HTC Desire 820: 666/2522
Huawei Honor 6: 857/3021
GFXBench:
ASUS ZenFone 2 Laser: 14 FPS
ASUS ZenFone 2: 20+ FPS
HTC Desire 820: 15 FPS
Huawei Honor 6: 16 FPS
SpeedTest:
ASUS ZenFone 2 Laser: 22/22 Mbps
ASUS ZenFone 2: 16/19 Mbps
HTC Desire 820: 24/21 Mbps
Huawei Honor 6: 21/24 Mbps
BrowserMark:
ASUS ZenFone 2 Laser: 1199
ASUS ZenFone 2: 1846
HTC Desire 820: 1461
Huawei Honor 6: 716
Sunspider:
ASUS ZenFone 2 Laser: 1542
ASUS ZenFone 2: 728
HTC Desire 820: 1452
Huawei Honor 6: 782
BaseMark X:
ASUS ZenFone 2 Laser: 10471
ASUS ZenFone 2: 17376
HTC Desire 820: 10351
Huawei Honor 6: X
ASUS ZenFone 2 Laser wins zero out of 11 tests, but only because of the ZenFone 2's power. We won 4 out of 11 tests against the HTC Desire 820 and 3 out of 11 in front of the Huawei Honor 6. The results are not very impressive, the phone doesn't suffer from lag and it runs games with 3D graphics like Riptide GP2 without a problem. The device reached a temperature of 37.6 degrees Celsius when playing the game, so there's no overheating here.
The smartphone runs Android 5.0.2 with Zen UI on top and it received a ton of updates since we got it for testing purposes. It also has a ton of bloatware and a long boot sequence and long app upgrades. The UI is colorful, not laggy at all and it adopts elements of Material Design. The same interface is less pragmatic than the one from Huawei's EMUI, but it's more pragmatic than the LG UI.
If you keep the screen pressed you'll trigger the Manage Home area, that includes apps and widgets (many new widgets compared to the stock ones), Settings for the homescreen layout (one layer, two layers or more, icon stylings, transparent status bar and more), Edit Pages, Wallpapers and Icon Packs. There's also Scroll Effects and Lock Apps (for privacy protection). Themes and fonts can also be tweaked.
The Recents button triggers the multitasking area, shown as a carousel here, with a running services list and screen pinning functionality. The dropdown area features notifications, a brightness slider and Quick Settings shown as big bubbles. Settings include Zen Motion (gestures like double tap to wake up and draw letters to open up apps).
One Hand usage is also among the settings, together with Do Not Disturb, ASUS Cover options, ASUS Custom Settings (glove mode and screenshot functionality), Easy Mode and instant access to the camera from the lockscreen. The preinstalled apps list is huge and filled with bloatware. Zen UI is starting to feel like the old TouchWiz, minus the lag. Apps are auto set in folders, in a pretty precise manner. Here's the list:
Clean Master
Dr Safety
Amazon Kindle
EZ
EZ Table
KK Box
Free Games
Tripadvisor
Dr Eye Trial
Contacts
Email
Messaging
Puffin
Omlet Chat
The Google suite
Photo Collage
Photos
Calculator
Calendar
Do It Later
Flashlight
Share Link
What's Next
Webstorage
Shopping Apps
ASUS Support
Auto Start Manager
Backup
File Manager
Mirror
PC Link
Quick Memo
Remote Link
Setup Wizard
Sound Recorder
ASUS Splendid
Supernote
System update
Data Transfer
Voice Search
Play Store
ASUS Mobile Manager
Kids Mode
Live Water
Mini Movie
My ASUS
Themes
Weather
ZenCircle
Zen Talk
Zinio
Street View
Play Games
Laser Ruler
Do it Later lets you add tasks, mails, calls and web pages to a future timeline list, but that's for the near future. Then there's What's Next, a bigger timeline with weather included, VIP contacts and appointments. And now it's time for the Verdict!
Here are the Pros:
low price
good grip
great battery
nice headphones
good acoustics
good closeups and focus
high bitrate videos
OK performance
And the Cons:
bloatware
long boot
ton of updates
back is a grease magnet
lid hard to remove
low brightness
blurred background in landscape shots
shaky videos
selfies are so-so
benchmarks unimpressive
ASUS ZenFone 2 Laser gets from us an 8 for design, an 8.7 for hardware and an 8 for OS and UI, the latter for too much bloatware. We also gave it a 10 for the price tag. Adding up these figures to an average, we got an 8.67 out of 10 and I would rather call this a battery phone, not a midrange cameraphone. It's a good handset for closeups and high bitrate videos, it's clearly above the ZenFone 2, but in the end if you really want a good camera, there's the ZenFone Zoom with a much higher price.
Bloatware is its big flaw, to be honest.