Another novelty unveiled today, during WWDC 2010 was… a name change, as iPhone OS 4 turned to iOS 4. The platform comes with multitasking, folders, retina display integration, an unified mail inbox and threading. The camera and photos apps have also been enhanced.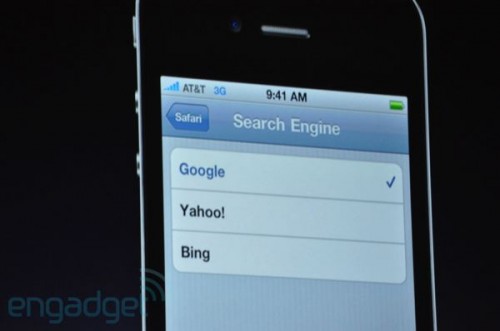 iPhone 4's operating system will bring better data protection, mobile device management, wireless app distribution, support for multiple Exchange accounts and Exchange Server 2010. SSL VPN support is also included and you can now select your favorite search engine, quite a blow for Google, as you can pick between Bing, Yahoo and the Big G.
iBooks is also set to arrive on the iPhone 4, complete with PDF support, while the next step in Jobs' speech was iAd. The advertising platform is integrated into iOS 4 and it will be turned on on July 1st for all iOS 4 devices. Steve estimated that iAds will stand for 48% of mobile advertising in H2 2010.
[via Engadget]