Aside from introducing the first Windows Phone units in its portofolio at Nokia World 2011, the Finns also unveiled 4 new low end devices from the Asha series. We received the Asha 303 for testing purposes and what resulted was the video review you can see at the bottom of this article. We're dealing here with a low end offering, but an evolved one, with a better UI, decent specs and Angry Birds as the selling point.
I'm not kidding when I say that Angry Birds is the selling point here, since the famous game is advertised through a sticker placed on the phone's display, so you know what you're dealing with when you pull the handset out of the box. This is an S40 handset, so no OS per se, but a pretty good replacement. The Asha 303 may be a low end device, but it doesn't look like one and its build is actually pretty good and solid. It's a 13.9mm thick unit, that weighs 99 grams and sports a 4 row QWERTY keyboard that's pretty comfortable to type on.
Other buttons included here are the side screen lock button, volume buttons and the 4 keys under the display for call, end call, messaging and music functions. At the top of the device we have the microUSB port, the charging port and the audio jack. This Nokia Asha unit comes bundled with a 2GB microSD card and it incorporates a 2.6 inch display with a 320 x 240 pixel resolution. It also has 170MB of internal memory, 256 MB ROM, 128 MB RAM and a 1GHz CPU, that's pretty impressive for a low end phone. As far as connectivity goes, you get HSDPA (10.2Mbps), WiFi, Bluetooth 2.1 and USB.
Stereo FM radio is also among the specs and if you expect GPS here, well don't, as it's not included among the specifications. At the back of the handset there's a 3.2 megapixel camera with fixed focus, no flash, face detection and VGA 15 fps video capture. You shouldn't expect much from this camera, as it's included simply for the sake of making this a more modern phone. I wouldn't have missed it if it wasn't present. Asha 303 runs on a 1300 mAh Li-ion battery, that provides 8 hours of talk time and about a day or two of total usage time.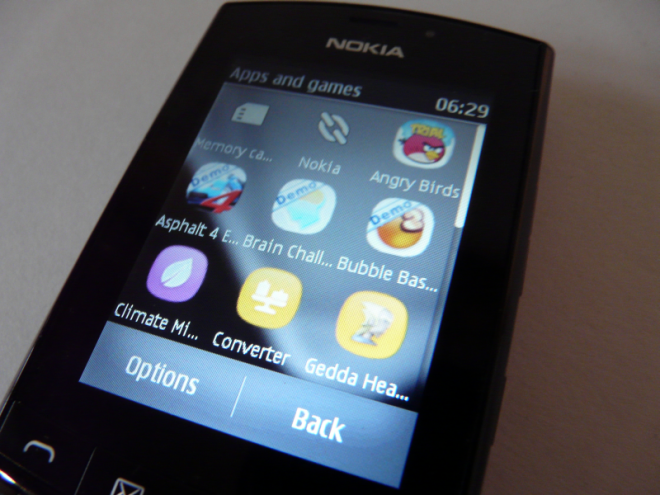 This quad band GSM/GPRS/EDGE unit also supports pentaband 3G connectivity and I have to say that its design reminds a bit of the Nokia X2-01. Moving on to the software, the icons here reminds me of Symbian Anna just a bit and a nice surprise is the fact you can customize the homescreen with various widgets and functions. You can place there favourite contacts, a social networking stream, app shortcuts and more. This phone doesn't offer multitasking, so you'll simply have to close each app once you're done with it. Considering the phone doesn't have GPS, but it does have a Maps application, it will try to determine your position by using Cell Tower ID, but it usually fails in that aspect.
As far as multimedia functions go, the audio playback is great, with a loud volume and the call quality is impressive, as usual for low end Nokia devices. The handset comes with Xvid/DivX support and the video playback looks decent, considering the screen size, but I wouldn't advise anyone to watch movies on the phone, since the experience is kind of cramped. We also have Nokia Store available, with a bunch of apps supported on the Asha 303, although some of them won't work after you download them. It might be the resolution…
Thanks to the Social function of this Nokia newcomer you can integrate Twitter and Facebook into the experience, with a simplistic sharing-based interface, that's shown in the video review below. You'll see short versions of each contact's status or tweet and be able to reply or post a new picture or status. I really liked the music player UI on this small device, in spite of it being very simple, it still remained classy. Moving on to the apps side, we get the usual stopwatch, calculator, dictionary, an app focused on climate problems awareness and the Angry Birds everyone has been talking about.
Sadly, the game has been dumbed down a bit, both in graphics and sound. It also has a bit of lag and the noises made by birds sound like MIDIs to me… Not the experience I was expecting to be honest. All in all Nokia Asha 303 is a decent low end offering, with great messaging abilities, great call quality, good music playback volume and even support for downloadable apps and customizable homescreen. For the low price it has you'll get as close to the smartphone world as possible and that's a good thing for a low end phone.