I've never been much of a fan of phablets and it seems that many people aren't, since big phone makers haven't gone past 5.7 inches so often lately. Well, Samsung did with the Galaxy S8+, but the usual format is around 5.5 inches. The Sony Xperia XA1 Ultra is one such big machine, at 6 inches in diagonal and it was unveiled at MWC 2017, where we handled it for the first time. It's the big brother of the Xperia XA1, which by the way we are also playing with these days. The bigger unit is priced at $400 on Amazon.
This is a high midrange machine, that comes in white, black or gold and it ditches the waterproofing and fingerprint scanner of past Xperias. It's a different kind of format compared to the Nexus 6 or Galaxy S8+, being another sort of biggie. It's rather narrow, somehow easy to use with a single hand and ideal for landscape usage. It's got that typical Xperia XA edge to edge approach and even the top and bottom bezels are reasonable this time around.
You can grip them for improved holding in landscape, when watching movies or gaming. It's a classy machine, one with a soft touch polycarbonate back, aluminum edges and a 2.5D glass panel upfront. It measures 8.1 mm in thickness and weighs 188 grams, which by the way is the same weight of the 5.5 inch iPhone 7 Plus. The Xperia XA1 Ultra is also quite a bit more compact than the Nexus 6, that measured 10.1 mm in thickness and weighs 184 grams.
It's hefty and it's got comfy buttons, albeit rather small for the stature of the machine. Compared to the Xperia XA Ultra it's 1 mm longer and 0.3 mm slimmer, plus 14 grams lighter. When all's said and done it felt comfy when gaming and watching Netflix, but more importantly it even felt comfy during pic taking. Moving on to the display, we've got an IPS LCD here with a 6 inch diagonal and Full HD resolution.
The video player we used is the Video app, which lets us tweak aspects from the Audio and Video fields. The actual viewing experience offered us very good brightness, surprisingly deep blacks, but also slightly cold colors. View angles were wide and pixels had an RGB Stripes arrangement. The luxmeter showed a value of 611 LUX, even though it wasn't uniform, but the average eye can't spot that.
That LUX value we achieved was actually huge and top 10 material, or even top 5. It's the equal of the Xperia XZ and surpasses the Google Pixel XL, iPhone 7 and Huawei P10. It did score below the OnePlus 3 and iPhone 6s, but not by much. Settings include brightness, adaptive brightness, Sleep, Smart Backlight and Image Enhance, that lets you make colors more vivid (Super Vivid Mode), or simply enhance it for videos and pics.
Then there's the whole white balance thing, with R, G and B sliders. The font size can be tweaked as well, plus the display size and system icons. Overall, it felt like a great screen, one of the best on midrange phones we've seen lately. Moving on to other hardware, there's a MediaTek Helio P20 octa core CPU here, not the most powerful CPU in the world, but at least not the P10…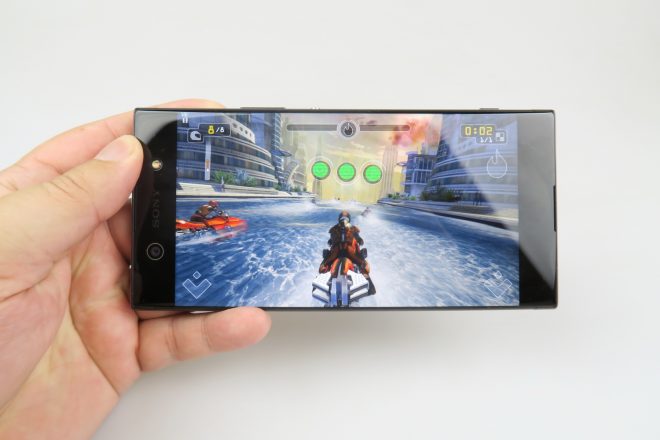 It also brings a Mali T880 MP2 GPU, 4 GB of RAM and 32 or 64 GB of storage. There's a microSD card slot here and every once in a while we ran into lag, especially when using the photo features. A low light photo may even take 5 seconds to shoot. Plus, when having a few apps open for a long time you will feel the device getting sluggish. Games run OK and I'm talking about Riptide GP Renegade here, that looked and felt OK. I'm talking about frame rate, shadows, textures and animations.
Benchmarks were also performed, with us achieving results in Quadrant that are superior to the HTC 10 and even the OnePlus 3. That's most likely strange optimization of the benchmark, more than record breaking performance. Anyway, in AnTuTu 6 we beat the ASUS Zenfone 3 and the Moto Z Play, so not bad when going head to head with the Snapdragon 625 machines. Still, we got bested by the LG V10 and Lenovo Vibe X3.
In 3DMark Ice Storm Unlimited we beat the Galaxy A5 (2017) and scored below the ASUS ZenFone 3 and Huawei Nova. The results were OK and around the same level with the ZenFone 3 and above the Galaxy A5 (2017). Temperature was also tested, showing 43.2 degrees Celsius in Riptide GP Renegade, which is clearly overheating. At least in GFXBench we didn't go past 35.2 degrees, which is rather OK in my book. As a personal mention, when using the camera for a long time overheating may happen.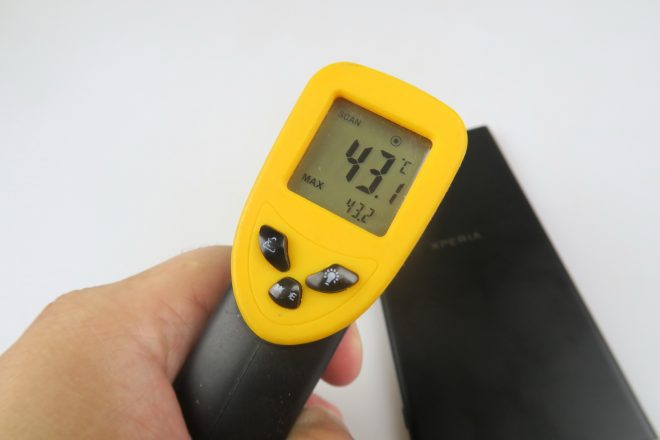 On the battery front, 2700 mAh sounds like a bad deal for a 6 incher, right? Even the Nexus 6 had a 3220 mAh unit… Well, in spite of all appearances this device's battery delivered… somehow, possibly thanks to MediaTek's battery tech and optimization. We reached 10 hours and 34 minutes of video playback in a loop, basically a whole season of TV shows.
This value beats the LG G5 and iPhone 7 Plus and scores below the iPhone 7 and Huawei Mate 9. In PCMark we scored 9 hours and 38 minutes, which is also not bad. This places the handset on the 19th spot and above the Galaxy S7 Edge and Huawei Mate 8. Still, the Huawei Mate 9 and Google Pixel XL are better in this field. The charging isn't half bad, with 2 hours and 56 minutes required to juice up the phablet.
This is better than the Xperia M5 and if you want the step by step treatment, you should know that 5 minutes of charging means 3% battery, 15 minutes is 11% and 30 minutes is 26%, while one hour is 52%. Obviously, there's also Stamina Mode, that cuts some of the background action and Ultra Stamina, that only lets you use the most basic features here.
An optimization option is also included. As another quick personal mention, I've used the phablet during a train ride and lost battery very rapidly. I watched videos with the connectivity off and brightness and max and found this rather odd. Then I learned that the constant search for signal and GPS drains the battery. As far as acoustics go, I did make a boo-boo in the unboxing, saying we get stereo speakers upfront, but it was an honest mistake.
Those two slits upfront are actually for design purposes only and we get a singular speaker at the bottom. There are no bundled headphones here, or at least our demo unit didn't come with headphones. The Music app is still the successor to Walkman and comes with Spotify integration, Clear Audio+, an equalizer with genre options, 5 custom channels and Clear Bass.
Surround options are also here, with tweaks for Studio, Club and Concert. The long list ends with a Dynamic Normalizer. Special Sony headphone settings are on offer here. The listening experience was loud and clear, we had great voice, a nice bass and well rendered highs. What I didn't like was the huge difference between the 100% volume and even 80% or 70%. Below 50% you can barely hear the device.
Also, sometimes during video playback the sound just stops. We did a decibelmeter test and achieved 86.1 dBA when playing our typical acoustic sample, which beats the Huawei Nova and ASUS ZenFone 3 Deluxe, but scores below the Galaxy S6. When playing Riptide GP Renegade we scored 100.7 dBA, which is certainly top 5 material, so solid acoustics all around.
Now let's talk camera! There's a 23 MP back shooter with Exmor RS tech and 1/2.3 inch sensor, plus hybrid autofocus and SteadyShot. There's F/2.0 aperture here and 5x clear zoom, while the selfie camera feels like more of a selling point, with a 16 megapixel resolution and Exmor R sensor, as well as F/2.0 aperture and optical image stabilization. A big flash was also included.
The camera UI is typical for an Xperia, but it also felt a bit clunky and laggy. It takes long to do anything: zoom, focus, take a picture, everything! Even the app starts up sluggishly. Options are classic, including Superior Auto and Manual, with its HDR, Scene, white balance, shutter, exposure, focus and ISO. Video is done in Full HD and 30 FPS, plus HDR.
We have a very generous gallery of shots here, taking shots indoors, outdoors, lots of selfies and low light shots. First we did an entire gallery of indoor shots, during a cat expo at the Bran castle in Romania. The pictures were a bit blurred, because the lightning was not top notch and there was a lot of movement there. The colors were calibrated well, I was happy with the brightness and the details were OK, although any level of zoom resulted in grain.
Outdoors I felt that the hue of green was unrealistic, but we photographed a pretty good rood. Clarity was solid and brightness was OK. Some dynamic range problems were spotted, when the sun came in from between the trees in the distance. The Panorama was generous, at 21.504 x 3456 pixels. Closeups were good, but you really had to try a lot to focus, since the camera isn't comfortable up close to subjects.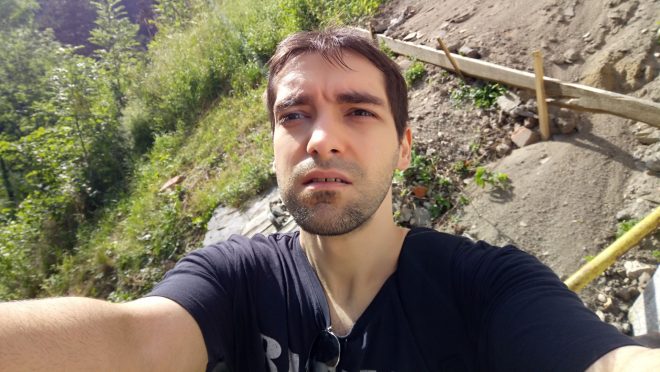 HDR makes things come to life and adds extra contour. Initially I was let down by the selfie, only to be blown away when we got full daylight. The clarity is perfect, details are HUGE and colors are perfect. Skin and hair texture, even the background clarity, they all check out. It's possibly one of the best selfie cameras on the market right now.
Back to the main camera, the details are certainly at Xperia flagship level and landscapes are beautiful. However, one or two zoom levels and it's all gone in grainy land. It's a mixed bag in the end, but with more pros than cons. It's superior to the ASUS ZenFone 3 Deluxe and about on par with the ZenFone 3 and Galaxy A5 (2017), but with extra details and better selfie.
Low light capture (gallery here) brought us a good flash and big street light halos, but the clarity was OK. I would say the colors were calibrated reasonably and there was some blue and green hue sneaking on top of the normal colors. The shots were detailed and I liked the focus and lighting too. Clarity wasn't an issue, unless you expected to take shots fast. You have to wait a few seconds, otherwise, if you move the camera within a 3-4 second time frame the shots are blurred.
Patience is key if you're to really enjoy the night scenery. I'd say this is not a flagship level camera during the night, but rather on par with the Huawei P10 Lite and P9 Lite (2017), maybe brighter. On the video front, we shot clips in Full HD, MP4 format, at 30 FPS and with a 17 Mbps bitrate. We registered good clarity indoors and some detail loss when zooming in.
Colors weren't half bad, but outdoor shots were quite burnt. The green hue was unimpressive and washed out, like in the pictures. Other than the green, the colors were quite well calibrated, close to the sRGB standard we hold dear. The dynamic range caused some problems, especially when the sun was in the background of the scenery. Don't get me wrong, the video capture is fine for a midranger, but I feel like I wanted more.
Sony's midrange phones, Xperia XA included take very good videos and even the last year models did. Focus and exposure didn't pose any problems here. If the back cam was mixed, the front one blew me away. Vloggers rejoice! You can easily use this for your vlogging needs. I totally enjoyed the clarity, stabilization, brightness and skin texture, not to mention the microphone, that was perfect for my needs.
I feel that this phone would work wonders at concerts, with its stereo recording microphones. Back to the main camera, it's a bit shaky, so stabilization isn't its strong suit and zooming in also results in lost details, so another bummer. For a midranger, it's still OK. Low light videos felt a bit too yellow, shaky and washed out, a far cry from the day time ones.
Yes, the brightness is OK, but I have a big problem with the fact we lost focus during object tracking. The microphone remains good and colors are a bit too white. Some grain also sneaks in during zoom, so basically it's just above average brightness… I'd call this feat inferior to what the ASUS ZenFone and Huawei P10 Lite deliver. Moving on to the web browser, we've got Chrome here, with a mid level speed, also confirmed by its benchmarks.
We used SwiftKey as the keyboard and benefited from the use of Swype. On the connectivity front, there's 4G LTE Category 6, USB Type-C, GPS, Glonass and WiFi dual band. The device has a single SIM or dual SIM version and it comes with Google Cast and Miracast, as well as NFC. Calls were loud and clear, the signal was OK and I liked the noise cancelling availalbe here.
The mic was solid again. We also did a SpeedTest, that resulted in 98 Mbps in download on 4G and 30 Mbps in upload. On WiFi connections we achieved 76 Mbps downloads and 25 Mbps uploads. This is well within limits, so nothing to object here. Time to discuss the software. So, turns out that this handset uses Android 7.0 Nougat, with the Xperia UI on top.
We've got a carousel multitasking here and a minimal UI, based on white and blue, plus transparency and a lot of side menus. You can personalize the experience with wallpapers, themes and widgets, the latter being mostly stock, but also some from the preinstalled apps. You can tweak the icon size, too, plus apply icon packs and effects. Google Now gets the leftmost homescreen all for itself.
The dropdown section includes Quick Settings and those wide notifications from Nougat. When we get to the Settings we learn that there's truly no fingerprint scanner here and we miss it. The only atypical option in this area is the one hand use, which simulates a smaller diagonal. The preinstalled apps list includes 44 names, which is quite a lot, but you can disable many of them.
We've got PlayStation preinstalled, Movie Creator, Sketch and Spotify, plus Track ID and AVG. Now that this done and dusted, let's check out the verdict!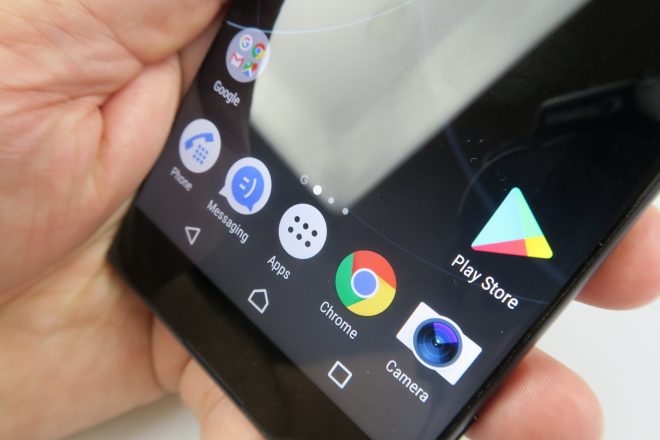 Here are the Pros:
great for video watching
bright screen
great front camera
solid battery
loud speaker
nice software, tweaks included
pretty good video capture, in spite of some kinks
excellent microphone
And the Cons:
not constant main camera
not waterproof
no fingerprint scanner
rather massive for 2017
gets overheated
some hiccups in performance/lag
problems with the green hue when shooting pics/vids
In the end the Sony Xperia XA1 Ultra feels like the ideal phone to take on a holiday, especially if you like to take selfies and vlog your life. It also handles TV show watching like a champ, with a generous battery and the main camera pics are good enough for Facebook. The CPU and 4 GB will play the bulk of the games in the Play Store. Yes, there is some lag and some strange hues captured by the camera, but overall, the device delivers on its biggest promise: replacing a 7 inch tablet and your average phablet.
You can get it here.