Allview X2 Xtreme is the Romanian integrated version of the Gionee Elife E8 handset, locally integrated by the company Allview. The X2 Xtreme is the Allview flagship of the year 2015 and it's a 6 inch Quad HD phone, priced at around $562.
This one is a big and massive phablet, but it's better looking than the predecessor, the Allview X1 Xtreme. For starters it's not glossy anymore and it measures 9.6 mm in thickness, while weighing 204.4 grams. This makes it 0.1 mm thinner than the predecessor, but also almost 50 grams heavier. It's the same thickness as the HTC One M9 and slimmer than the Nexus 6.
Allview X2 Xtreme is also 30 grams heavier than the ZenFone 2 handsets and lighter than the Huawei P8 Max, that has a 6.8 inch screen and weighs 228 grams. This model comes with a rounded back, good grip and a polycarbonate back. It has a big and strong frame and the color option we tested was gold/beige. Upfront we find the earpiece, sensors, notification LED, front camera and capacitive buttons, without lighting for some reason.
At the back there are 4 holes above the camera, associated to a powerful mic, at first sight. Then there's the camera and dual tone flash, plus the fingerprint scanner and speaker, all of them at the back, too. Once the polycarbonate lid is removed here, which is not easy to do, we uncover the non removable battery, a single mic under the 4 holes, two SIM slots, a microSD one and a speaker that's smaller than its grille.
At the top there's the audio jack, while at the bottom we find the microphone and microUSB port. There's nothing on the left side, while on the right we find the Power button and volume buttons, both with OK feedback. There's also a camera button, but it's too mushy and you can't feel when and if you're pressing it properly. Finally, this handset comes with an aluminum and magnesium frame and it's overall solid and massive.
Nobody expects easy one hand use here and this is a pretty comfy 6 incher when playing games or watching videos. I'd even say it's pretty classy, design-wise. On the hardware side of things, there's a 6 inch AMOLED screen here, with a 2560 x 1440 pixel resolution, Gorilla Glass 3 protection and an octa core MediaTek MT6795 processor inside. This is the MediaTek Helio X10 in fact, with 64 bit Cortex A53 cores, clocked at up to 2 GHz.
The GPU is a PowerVR Rogue G6200 clocked at 700 MHz and we also get 3 GB of RAM, 64 GB of storage, a microSD card slot with support for up to 128 GB, plus a main 24 megapixel camera, as well as a front 8 MP shooter. On the connectivity side there's LTE, with up to 150 Mbps download speed, HSDPA, Bluetooth 4.0, WiFi 802.11 b/g/n/ac, WiFi Direct, WiFi Display, NFC and microUSB 2.0.
The sensors include an accelerometer, proximity sensor, light sensor, fingerprint and magnetic sensor. Other specs are the stereo speakers with DTS and NXP and finally the battery, a Li-Po unit with 3500 mAh capacity. It's quite a jump from the predecessor's 2500 mAh. The charger is a 2000 mA unit. On paper this battery provides up to 350 hours of standby or up to 720 minutes of talk time.
In our test, that involves HD video playback in a loop, with WiFi on and brightness at 50%, we achieved 6 hours and 11 minutes of playback, which is below expectations, for such a big handset. We scored below the Galaxy Note 4's and the Nexus 6's 8 hours and a half of playback, as well as the score of the X1 Xtreme: 8 hours and 21 minutes. We did beat the HTC One M9, that offered 6 hours and 9 minutes of playback, as well as the Huawei P8 Lite's 5 hours and 25 minutes, or the MStar S700's 5 hours and 55 minutes. I expected more from this phablet, to be honest.
The PCMark continuous battery test showed a time of 5 hours and 37 minutes of usage, which was reasonable. We scored more than the Huawei P8, with its 5 hours and 31 minutes, or the Xiaomi Mi 4i, with its 5 hours and 29 minutes, or the LG G4 and its 5 hours and 19 minutes. However, we were below the ASUS ZenFone 2 (5 hours and 45 minutes), LG AKA (6 hours and 22 minutes) or Huawei Mate S (6 hours and 26 minutes).
In my experience, you should get a day of mixed use on the Allview X2 Xtreme/Gionee Elife E8, or even one day and a half. The charging takes 2 hours and 44 minutes, OK for such a massive device and a 2 minute improvement over the predecessor. We beat the HTC Desire 820, that charges in 2 hours and 57 minutes or the Huawei P8 and its 2 hours and 47 minutes of charge.
Obviously, there are phones that charge faster: HTC One M8 (2 hours and 30 minutes), Nexus 6 (1 hour and 50 minutes). Settings include a Power Management option, with sub options like None, Normal or Extreme Mode. The normal function uses a darker theme for menus, cuts the likes of Bluetooth and GPS, as well as background apps. Extreme Mode offers 10 times more juice and resorts to a black and white UI, plus only lets you use the phone calling, contacts, messages and clock features.
There are also other special options related to the battery, like Intelligent Power Save at Night, or Intelligent Memory Cleanup, that takes care of background apps. Finally, there's Standby Intelligent Power Saver, too. Now as far as the audio goes, we've got two speakers available here, with dedicated acoustic chambers. There's DTS sound tech and an NXP amplifier included in the mix.
The player provided here is simply called Music and it has a minimal UI. Settings include an equalizer, with DTS feature and special options for headsets, earphones, soundbox and custom. The Effects include Classic, Dance, Folk, Heavy Metal, Jazz, Pop or Rock, as well as user defined tweaks. This is where a custom EQ comes into play, with 5 channels.
The acoustic experience itself involves a pretty loud and clear sound, very good high notes and an OK bass. There's a Sleep Timer here and the DTS thing increases the volume and bass a bit. Once the headphones are connected you get a few more options, like the custom ones: DTS Focus, DTS Trubass, DTS Space, DTS Definition, all of them with circular knobs to tweak.
The headphones look pretty much the same as the ones of the Allview X2 Soul and X1 Soul models, with a wire that can tangle, a big remote and a comfy experience. They also cancel noise perfectly and have excellent volume, sound quality and clarity, plus the bass, especially with Trubass activated. These are great headphones and the player has the advantage of also supporting HiFi acoustics.
Settings of the Audio section include Auto Intelligent Matching (upgrade music to pure lossless state). We also did a decibelmeter test and reached 83.7 dBA at the front and 86.9 dBA at the back. This beats the LG AKA's 86.4 dBA, the Galaxy Note 4's 85.6 dBA and the Galaxy S6 Edge's 85.3 dBA. We did score below the OnePlus One (90.5 dBA), ZenFone 2 (89.1 dBA) and Galaxy S6 (89 dBA).
Now let's see how the screen is doing. This one is an AMOLED, with a 6 inch diagonal and a 2560 x 1440 pixel resolution, with OGS technology and Gorilla Glass 3 protection. The screen has 492 ppi density and the video player comes with DTS and HiFi support, as well as pop up play. There's a great frame rate here and the option to change aspect ratio.
The experience brings vivid colors, a bright image, good contrast and deep blacks, as well as a crisp image and wide view angles. The bezels are not narrow, but I did like that we get the full 6 inches, with no estate for virtual buttons, since we have capacitive ones. Pixels have a Pentile Matrix setup and the screen isn't that good in sunlight.
The luxmeter tells a story involving a 320 LUX brightness, which is reasonable, but totally unimpressive for a supposed flagship. Still, the LUX level was higher than the one of the LG G Flex 2, that scored 266 LUX, or the Lumia 1520, that scored 315 LUX. We scored below the Allview X1 Xtreme, the predecessor, that was brighter at 337 LUX, or the ASUS ZenFone, at 323 LUX.
HTC One M9 beat us, with 362 LUX and finally a much cheaper model, the Wiko Rainbow scored 424 LUX, so overall not impressive, but in real life the screen feels brighter than the test shows. Settings of the Display include a brightness slider, Adaptive Brightness (depending on the light in the environment), Economical Backlight/ Auto Adjust to Save Power, font size and LCD Effect (neutral, warm or cool).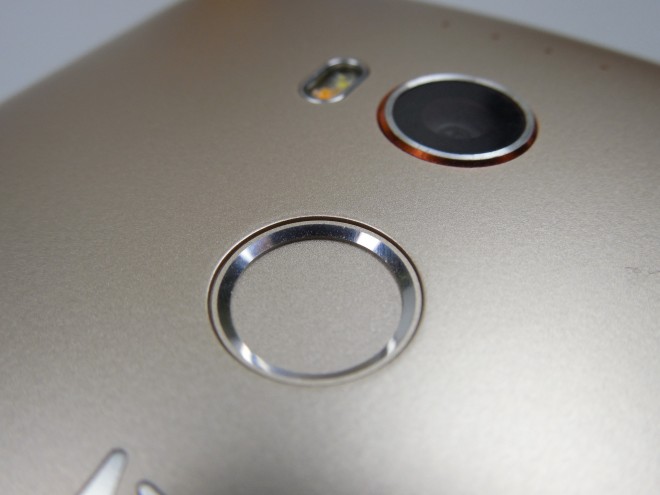 Allview X2 Xtreme has a 24 megapixel back camera, which has got to be the biggest resolution smartphone camera we tested this year. It's also the first time an Allview phone films in 4K and gets optical image stabilization, apparently. The sensor here is the Omnivision OV23850, a 1/2.3 inch sensor launched at the end of 2014 and offering phase detection autofocus on paper.
There's 24 FPS picture taking, 1.12 micron pixels and a 6 lens UV filter, plus sapphire glass screen protection and a dual tone flash. Allview promises here focus in 0.2 seconds and photo taking in 0.4 seconds. The device offers something called Super Zoom, which is digital zoom at up to 3X without affecting image quality. The front camera is an 8 megapixel OV8865 unit from 2013, with 1.4 micron pixels and measuring 1/3.2 inches in size.
It also films in Full HD at 30 FPS. If you press the physical camera button once in standby mode, it takes a while to activate the cam, but a double press is able to take 5 quick pics somehow. The camera app is fast to open and the UI is typical for an Allview phone with Lollipop on board, which means it's very colorful, among others. On the left side there are the settings, that include anti Banding (50 Hz, 60 Hz or Auto), guidelines, geotagging, countdown, resolution (24 MP in 4:3 or 18 MP in 16:9), capture mode (touch shot, normal), sound, volume keys features.
The main capture modes are Face Beauty (with options like enlarge eyes, slimmer face, whiter face, smoother skin), Filter, Night, Professional, Magic Focus, Panorama, Take Anytime, HDR, Pic Note, Ultra Pixel and Smart Scene. Professional includes several sliders of its own, for exposure setup, ISO up to 1600, shutter from 1/30 to 12 seconds, Focus (macro to landscape), white balance.
Magic Focus is basically a refocus feature while Take Anytime is several options into one: Best Photo, Object Trail, Choose Face, Motion Blur, Remove Objects from frame. Pic Note lets you make a photo/text into a PDF and Ultra Pixel takes impressive 120 megapixel shots, by interpolation of 5 main camera captures, with the result being a very detailed capture.
The resulting picture is so detailed, it can be printed as a 106 x 80 cm poster. Video options include a Scene Mode (night or auto), exposure, white balance, anti shake, 4K 30 FPS capture, Full HD or HD resolution. The camera has fluid zoom and tapping the screen allows you to move around two crosshair frames, associated to metering and exposure.
Focus is fast and the camera tends to rush and set the exposure too high. The picture taking may seem fast, but there's an extra bit of processing at the end, so don't move the phone just yet. The gallery of shots we took during the day includes frames from mid September and we really liked those Ultra Pixel images, with a ton of detail to see. One such shot has a resolution of 12068 x 9456 pixels and the landscape shots were also very crisp and offered great details when zooming in.
The panorama has a resolution of 9088 x 2432 pixels and that's not a very impressive resolution. Also, the camera forces you to take panoramas in portrait mode alone. HDR of that graffiti is nicely lit up and the colors are vivid, but still realistic. There's excellent focus and nice details of the metallic faucet and leaves, while the playground Ultra Pixel shot offers impressive clarity.
The selfie has great focus, skin color and texture and one of the nicest hair textures I've seen on a phone. Even the background was nicely rendered. I would place this as high as the Galaxy S6 in the selfie department. Back to the main camera, the focusing was great in the Magic focus mode, truly a wonderful tool. The way it highlights the foreground against the background seems to have no rival on the market right now.
Overall the shots had good exposure, white balance and colors and obviously the closeups of flowers looked great. You can pick any shot from the gallery and random, zoom in and still you'll be impressed by details. That's what you get with a high res camera. If it weren't for the over enthusiastic exposure, this camera would be dangerously close to the quality of the Galaxy S6.
Colors are also more realistic than on the predecessor, X1 Xtreme. Low light capture (gallery here) brought us a hugely powerful flash, great colors, but without the flash, the pics weren't that impressive. They were rather yellowish when the light was lacking. You also have to wait a very long time for each night time shot to be taken and not move the device too much.
Night mode helps with the clarity a bit and once again, with the flash on, everything is crisp. I'd say this model is somewhere between the Galaxy Note 3 and Note 4 in the low light capture area. Now we move on to the video capture, where we find a bit of a strange 4K capture, with a codec or format that's unusual (H.265/HEVC/HVC1), which YouTube doesn't recognize and that may give headache or two to your media players.
The first video we recorded was an MP4 Full HD one, that was slightly white around the edges and shaky. Bitrate was at 14 Mbps. The second video had wind and exposure problems, but also an OK focus and good colors. The third video also had wind problems, OK stabilization and no focus loss. The 4K clip (download here) has fantastic details and it's very crisp, plus has a bitrate of 36 Mbps. Video 5 was blurry when zooming in, but had OK colors.
The sixth video felt a bit washed out and had some echo. In the end, in spite of all our less than happy comments, this model filmed better than the LG G4, that had a weak spot with video capture. It also beat the HTC Desire 820, but it was below the Galaxy S5 for example. It didn't bring anything much to the table from the Allview X1 Xtreme, aside from 4K capture.
Stabilization was also a mixed affair. Night video capture brought motion blur, a grainy view and VGA style graphics. Bitrate drops dramatically to 5 Mbps and that can totally be felt. Colors are OK, but not much else to notice. In the end the camera is good with 4K capture, macros, refocus, great details and high res shots. The bad parts are the night time capture, exposure issues and filming.
Selfies area also a strong feature on this handset. I'd place the smartphone below the Galaxy S6 and above the Xperia Z1. Editing is done with filters, crop, straighten, rotate, mirror, exposure, contrast, shadows and curve options. The temperature of the device got as high as 36.6 degrees Celsius after playing the game Riptide GP2, which means there's no overheating here.
The web browser is fast and the keyboard is nicely spaced and it's the stock one. The phone calling app is the stock one, or close to it and brings Speed Dial, Black List and several other features. Calls are loud and the signal is good, plus the clarity is also good. 4G only works on one SIM at a time. The benchmarks we did involved the Allview X2 Xtreme, versus the X1 Xtreme, Xperia M5, LG G4 and Nexus 6.
This is a battle of the Helio X10 plus 3 GB of RAM versus the Snapdragon 800 and 3 GB of RAM, versus the Helio X10 and 3 GB of RAM and the Snapdragon 808 plus 3 GB of RAM and finally the Snapdragon 805 and 3 GB of RAM. These are the results:
Allview X2 Xtreme wins 3 out of 11 tests and compared to the Allview X1 Xtreme it wins 5 out of 11 battles. It beats the HTC One M9 and LG G4 in a few major tests, though. Interestingly, although it shares the CPU and RAM of the Xperia M5, it beats it in 9 out of 11 tests. There's no lag here and the OS and UI are stock Android mostly. Riptide GP2 runs without lag here.
We're running Android 5.1 on this smartphone, with some customizations, but the most part is stock OS and icons. If you keep the screen pressed, you'll trigger the area with widgets (3D clocks and such) and effects. If you swipe down you'll see the notifications area, while a swipe up brings the Quick Settings, like on iOS. In that area you also find the Fake Call, Torch and Camera features.
Settings include Security, with a Guest Mode and fingerprint scanner also in the mix. The fingerprint setup is fast and recognition is fast as well and precise. File encryption is offered here and whole device encryption too. Advanced Settings include Smart Gestures, like Smart Dial, Smart Answer, Pause Alarm and double tap to wake. Touchless gestures were included too, like wave to wake up, slide desktop and browse images, as demoed in the video review.
Finally, we've got a Suspend button and LED light option, plus we also demoed the NFC tag interaction, with the few tags included in the box with the phone. The preinstalled apps don't include bloatware luckily. The list goes like this: Bitdefender Mobile Security, Calculator, Calendar, Chrome, Compass, Drive, Facebook, Email, File Explorer, Gmail, Google+, Hangouts, Maps, Music, Notes, Photos, Play Books, Play Games, Play Music, Play Newsstand, Play Store, Sound Recorder, System Manager (Cache Cleaner, Power, Traffic, Eco Mode), System Update, Theme, Torch, Voice Search, Weather, YouTube.
Multitasking is available in a carousel interface. And now let's see the verdict!
Here are the Pros:
solid design
lots of storage
less glossy than X1 Xtreme
great audio
vivid color display
great focus
colors and macros and selfies look nice
powerful flash
4K video looks great
no bloatware
fast fingerprint scanner
encryption
nice 120 MP shots
These are the Cons:
too massive for some users
battery underwhelming
screen could be brighter
poor sunlight
camera button not comfy
video capture could be better
I don't like the swipe up for Quick Settings
We give this model a 9 out of 10 for design, an 8.5 for hardware and a 9.7 for OS and UI. The final grade is 9.06 out of 10 and this is a big phone for people who play big. I like the encryption, selfie, back camera and display colors. It's great for gaming and work and pictures, but too bad for the battery. Once again this is a locally integrated version of the Gionee Elife E8, just remember that.