We've had the chance recently to review the ASUS ZenFone Zoom handset, in the ZX551ML version, a device that debuted in December 2015 and it's one of very few cameraphones launched in recent years. The segment of cameraphones is pretty much dead, by ASUS gave it one last shot. Priced at $529, this is the thinnest smartphone with 3X optical zoom.
The facade is typical for a ZenFone model and we're getting a 5.5 inch diagonal here and a big camera module. The back is covered with leather, that feels a big cheap, like grandpa's wallet sort of. This model measures between 5 mm and 11.95 mm in thickness (thinnest to thickest) and it's thicker than another older cameraphone, the Lumia 1020, that measured 10.4 mm in thickness.
It weighs 185 grams, which makes it 15 grams heavier than the ASUS ZenFone 2 and ASUS ZenFone 2 Laser. In spite of the cheap feeling back, we get a solid build and a metal frame that reminds me of the HTC One M9. The back cover is hard to remove and the phone is very wide, certainly not comfy to use with a single hand. ASUS claims it's made using 201 production processes and this device offers good grip and a lanyard hole, plus there's a lanyard bundled with the device.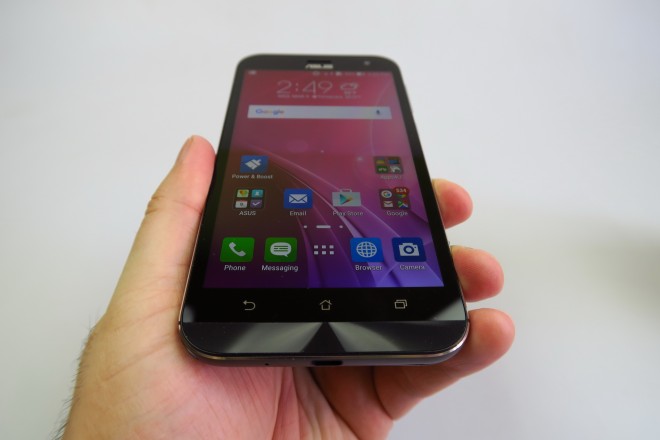 In spite of the massive design and not so fancy looks, photographers will be able to get past these impediment and enjoy its features. On the hardware side we start off with a 5.5 inch IPS LCD Full HD display, with Gorilla Glass 4 protection and there's no video player preinstalled here. We made use of the Gallery to watch videos and the experience wasn't very bright and colors were cold.
The screen has modest contrast and doesn't behave so good in full sunlight, but it has wide view angles at least. Pixels are of the RGB Stripe variety and when we used the luxmeter, we achieved 388 LUX with this model, which may sound reasonable, but a cameraphone needs a brighter screen if it's going to be used outside. At least it's brighter than the HTC One M9 and Sony Xperia Z5 Premium.
This display's Settings include Screen Color Mode, with options like color temperature, Balance, Blue Light Filter, Vivid and Custom (hue and saturation sliders included). Inside the smartphone we find a quad core Intel Atom Z3580 processor, clocked at 2.3 GHz, with a PowerVR G6430 GPU and 4 GB of LPPDR4 RAM bundled. There's also 64 or 128 GB of storage and a microSD card slot supporting up to 128 GB extra storage.
There's no lag on this model, the UI is fluid and it runs any game you thrown at it, so performance is OK. In Benchmarks we scored below some prominent midrangers like HTC One A9 in Quadrant, while in AnTuTu 5 we were close to the level of the Huawei P8 and LG G Flex 2. Overall, benchmark scores are the same as the ZenFone 2 and they should be, since we share the CPU, screen and RAM quantity.
As far as temperature goes, after playing the game Riptide GP2 for 15 minutes, we got to 34.7 degrees Celsius, so there's no overheating here. Now let's discuss acoustics. We are treated to a singular back speaker here, one that uses SonicMaster 2.0 technology and a speaker with 5 magnets and a metallic voice chamber. Audio Wizard takes care of the EQ tweaks, with options for Movie, Music, Gaming, Vocal and Smart, as well as volume, bass, treble, custom channels and dialog enhancement.
The audio experience was loud, bass was good and all the notes were heard OK. The sound was generally crisp and the bundled headphones registered a punchy bass, good and clear sound and great surround, plus they were comfy. FM radio is also available and the decibelmeter test showed us a top value of 82.5 dBA, which may not sound like much, but it beats the OnePlus 2, iPhone 6S and a few other phones.
It's still below the 85 dBA of the ASUS ZenFone 2 Laser. It's now time to talk about the camera. At the back there's a 13 megapixel camera, with 3x optical zoom and 10 element Hoya lenses. This camera offers 0.03 second laser focus, 12x total zoom and a dual LED, real tone flash, as well as optical image stabilization. Pixel Master 2.0 technology is also here and the aperture is between F/2.7 and F/4.8.
The camera relies on a Panasonic sensor and this handset offers a dedicated button for photo capture and one for video capture. The front camera is a 5 MP shooter, with wide angle lens. We also showed you in the video review the bundled ASUS ZenFlash, an external flash that attaches to the phone magnetically and connects to it via microUSB.
It provides up to 100x brightness compared to a traditional LED flash and it uses Xenon flash technology. When connected, it activates a dedicated app, that lets you set the distance to the subject (in meters) and brightness. It's a very bright flash and it basically makes a low light scenery appear as clear and bright as day. The camera focuses very fast, but tends to zoom in steps, as the optical elements get aligned.
Picture taking speed is medium and as usual for a ZenFone, we have a TON of camera options. There's Super Resolution, letting you capture up to 52 MP shots via interpolation, Panorama, GIF, Low Light and Night capture. Of course we also have a Manual mode, with tweaks for ISO, white balance, exposure, focus and shutter speed. The latter can be set from 1/16.000 to 32 seconds.
Now let's discuss the pictures taken with the camera. We took the first gallery on a very cloudy day and generated some very nice closeups and not one blurred shot was seen. Colors were realistic and the sensor felt pragmatic. The colored toys we've seen in the park have great textures and the focus play we did was very nice and fast.
We zoomed in 3X using the optical zoom feature and registered no significant detail loss. The selfie was OK, but I've seen better, especially since the background was rather blurry and the skin felt artificial. We then proceeded to an area where a mall was being built and while we were far from the subject, the details were easily made out using the zoom.
Then came the time for some flower closeups, that looked perfect. We had some good HDRs and thanks to the Super Resolution, you could zoom into the shot all you want. Panorama had a modest resolution, of 9600 x 1008 pixels and sadly, it was a bit blurred and moved. Overall, we were happy with the quality of the camera shots and I'd put it on par with the Huawei Honor 6 Plus, HTC One M8 or even above them a bit.
It's also maybe 15 or 20% superior to the ASUS ZenFone Laser. When it was time to take low light shots, we met the great flash that was available on board and the Zenflash. The resulting images were bright, but the street lights had big halos. Colors were realistic and if you're patient enough to focus, you'll get excellent results. I liked the texture of the trees and toys we captured at night.
With ZenFlash activated, even the street lights looked better. I'd say that low light capture is superior here compared to the latest iPhones. When it was time to shoot video, we recorded it in Full HD, at 30 FPS and with a bitrate of 23 Mbps. The camera and microphones couldn't handle the wind and generally the colors of video captures were good, so were the clarity and focus.
Then we went up a set of stairs, where we wanted to test the stabilization and we were very underwhelmed by it. There was serious frame loss and the stabilization was poor. Focus and zooming are slow, as the optical elements move around, but in the end the zoomed in image has a good quality and clarity. Some focus loss happens when zooming in. Also, I'd say that the night time capture was a letdown, so overall I am disappointed by the video capture.
It has its moments, but this is the worst stabilization I've seen on a device that promises OIS, at least in the stairs test. The rest of the captures exhibit good stabilization, but when push comes to shove, the camera fails. I felt that ASUS ZenFone 2 Laser filmed better to be honest. Now let's discuss the browser, that in this case is the own ASUS software, not Chrome and not the stock one.
It has a list of trending topics and medium level speed (not fast, not very slow). Benchmarks results for the browser are also mid level (BrowserMark, Sunspider and Vellamo) and since we're here we also tested the virtual keyboard, that was well spaced and offered Swype support. On the connectivity front, we've got a single SIM slot here and support for LTE connectivity, with download speeds of up to 150 Mbps.
GPS and Glonass are here, plus WiFi 802.11 a/b/g/n/ac, microUSB, NFC and Bluetooth 4.0 The dialer offers access to Smart Dial and Speed Dial and during calls, voice felt robotic, but we had OK volume and signal. The Speedtest revealed a download speed of 20 Mbps and upload of 26 Mbps, which are OK, but I've seen much better in the download area.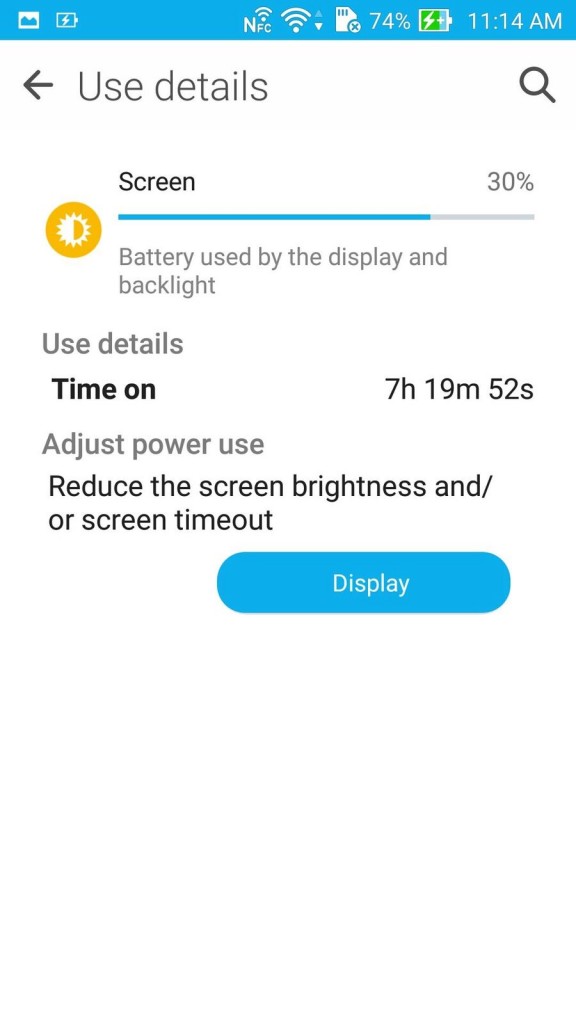 Now let's have a glance at the battery. ASUS ZenFone Zoom brings a Li-Po 3000 mAh battery, that provided us with 7 hours and 20 minutes of continuous video playback, which is only a bit above the entry level model Xperia E4 and that feels like an offense for this device. I've seen many cheaper phones with much, much better playback time.
The PCMark test revealed a duration of continuous usage of 5 hours and 32 minutes, which was also unimpressive and below models like LG AKA or ASUS ZenFone 2. At least we beat the LG G4. Charging requires 1 hour and 56 minutes and it's reasonable, because it's below two hours. As usual there are a ton of power saving options here, including these Modes: Performance, Normal, Power Save, Super Save and Custom.
The latter lets you tweak brightness, CPU usage and network usage, to your liking. ASUS ZenFone Zoom relies on the already old Android 5.0 Lollipop, not even Android 5.1.1 sadly. It comes with Zen UI on top and feels outdated. There's a ton of bloatware here and a ton of updates to perform when firing up the device. At least the UI is fluid and offers a great deal of customization, as far as themes, icons, widgets, wallpapers and preferences are concerned.
Multitasking relies on a carousel, we've got screen Pinning and the dropdown area still features the playful big bubbles. Settings include Zen Motion, with gestures and symbols to draw on the screen, One Hand Usage, Do Not Disturb, Glove Mode, Kids Mode and Easy Mode. Preinstalled apps include 63 names, 12 of which come from Google.
Only a fraction are really, really useful, like maybe Mobile Manager, Do It Later, Mini Movie, Web Storage and Photo Collage. And now it's time for the verdict!
Here are the Pros:
solid build
OK performance
no lag
fluid UI
good acoustics
tons of camera options
3x optical zoom
ZenFlash and regular flash are great
great closeups and focus
good low light capture
And the Cons:
back leather feels cheap
massive design
screen should be brighter
cold colors (display)
poor optical image stabilization
video capture could be better
battery is underwhelming
bloatware is pretty major
old version of Android
Overall, this cameraphone is all by itself in the segment, without any competitors to face out there. It feels like an ASUS ZenFone 2, combined with ASUS ZenFone Laser, plus an extra topping of 20% in camera quality. The camera is still great, but when you look at past cameraphones like Lumia 1020 and Galaxy K Zoom, you feel you may want more from ASUS.
Cameraphone enthusiasts don't have much choice nowadays, so this remains a solid option. The updated price is found here.
ASUS ZenFone Zoom Video Review