Yet another interesting European brand has popped up on our radar today and that brand is called BQ. This firm is aiming at the French market and it's localized in Madrid, Spain. They already have a 4G phone prepared for debut, the Aquaris E5 4G and there's also the Aquaris E10 tablet ready to make a mark.
The name of the company is actually "bq" in small letters and this firm was created in 2010 by 6 engineers. They dealt with USB drivers, 3D printers, tablets and smartphones. The worth of their business in Spain has reached 115 million euros and they grew 200% between 2012 and 2013, so that's impressive. The Aquaris E5 4G handset is the company's first 4G compatible phone model, that features a 5 inch IPS display with HD resolution and a Snapdragon 410 quad core processor.
There's also 1 GB of RAM inside, 16 GB of storage, a microSD card slot with up to 32 GB supported and a 13 megapixel back camera. There's also a front 5 MP shooter and a 2850 mAh battery inside, plus dual SIM Slots. The price tag of this unit is 230 euros and it's coming to France on the 28th this month. The phone runs Android 4.4.2 KitKat and as far as the tablet goes, the Aquaris E10 is a 10 incher, with Full HD res, an octa core MediaTek CPU, 8 MP back camera, 8680 mAh battery and a 270 euro price tag.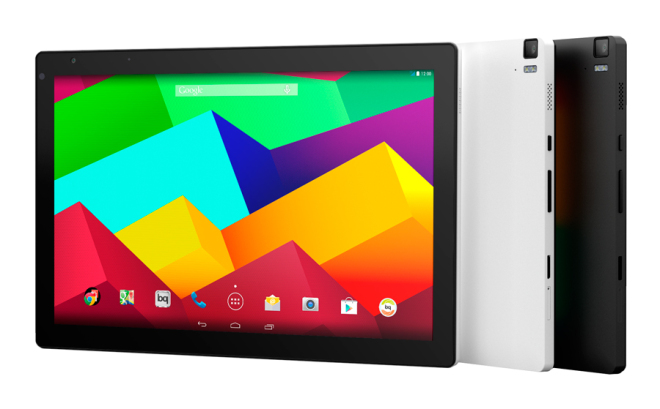 via frandroid