Somehow we got to review the Huawei P10 Plus before the Huawei P10, don't ask me how, we just did. And today we're ready to show you the text review of the device. We're dealing with the big version of the Huawei 2017 flagship. It's a 5.5 incher with a dual camera and Leica tech, but also with a surplus of lens tech and aperture. It was unveiled at MWC 2017 with the P10 and it's priced at $755 in the 4 GB RAM + 64 GB storage version and $861 in the 6 GB RAM + 128 GB storage version.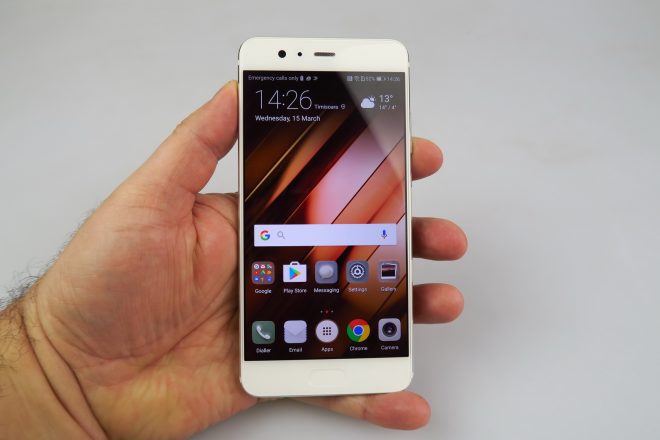 Let's get to the design! The Huawei P10 Plus is much like the P10, but bigger. It's got a unibody metal case and some clear iPhone influences, with strong iPhone 6/6s/iPhone 7 vibes. Imagine a blindfolded person touching this handset and they'll surely confuse it with an iPhone. At the back we find those iPhone 7/ Meizu Pro 6 style antennae designs and overall the format hasn't changed in great fashion from the P9 Plus.
It's true that the phone is more rounded now and feels a bit lighter in the hand. It measures 6.98 mm in thickness, like the P10 and weighs 165 grams. This compares favorably with the iPhone 7 Plus and its 7.3 mm and 188 grams for sure. At the same time, the device is 3 grams heavier and about the same thickness as the P9 Plus, basically.
P10 Plus is available in white, blue, rose gold, black, silver and greenery. It's a long but comfy machine, with pretty reasonable one hand usage. It's got a good grip, buttons have OK feedback and the Home button grows on you in time. It's quite comfy. I noticed that the screen gets smudged easily, so keep that in mind when deciding to buy a protection or something like it.
In the end this one is a well built phone, that's also comfy, but it falls in the trap of copying the iPhone a bit. Huawei P10 Plus packs a 5.5 inch screen and it's time to dissect it. It all sounds nifty in paper: Quad HD, Gorilla Glass 5, IPS Neo LCD, the works. We used the video app to test it and achieved good brightness, but with a bit too much white in the image, pretty OK colors and seemingly wide view angles.
Contrast was rather decent at first sight. Then comes the bad part… The brightness drops a lot when you tilt the handset vertically and that's a bummer on a flagship. Pixels have an RGB Stripes arrangement, as shown by our microscope and then the luxmeter showed a value of 411 LUX, but not in uniform fashion. There are portions of the screen where the brightness is 404 LUX or 398 LUX.
In real life it seems a bit higher to be honest. With the biggest value we surpassed the OnePlus One and LG Nexus 5X, but also scored below the Huawei Mate 8 and Huawei Honor 8, plus even the Honor 6 Plus. Settings for this panel include View Mode (Small, Medium, Large), font size, screen saver and eye comfort. This one offers a slider for the color temperature and rids you of the blue hue that affects sleep.
A color temperature setup mechanism is also here, plus a sleep mode. Everything is good, but not good enough to race against bigshots that go past 600 LUX. Keep in mind that the P9 Plus achieved 522 LUX, so we went down 100 LUX this year. Time to see what the other hardware offers. We've got a Kirin 960 processor inside, an octa core unit with a Mali G71 MP8 GPU and working with 4 or 6 GB Of RAM.
There's also 64 or 128 GB of storage, plus a microSD card slot. The device doesn't suffer from lag, apps start really fast and everything feels snappy. It may be on account of the whole Ultra Memory/Ultra Touch Response that Huawei implemented here. We ran Riptide GP Renegade and found that this benchmark game ran just fine, with all the textures and frames in place.
As far as benchmarks go, we reached 9th spot all time in Quadrant and beat the likes of Huawei Nova and Galaxy S6 Edge, but also scored below the Huawei P10 and LG G5. In AnTuTu 6 we scored above the HTC 10 and Galaxy S7 Edge, which is excellent, but also below the Galaxy S7 and P10 again. In 3DMark Ice Storm Unlimited we went past the Galaxy Note 5 and Galaxy S6 Edge+, but also below the Xperia XZ and LG G5.
By the way, GeekBench 4 offered us a score that fits within the top 5 all time, so in the end Huawei P10 Plus can easily fight 2016 flagships and I have a feeling it can take on 2017 ones nicely as well. The fact it's placed below the P10 is all on account of the smaller model's resolution. Still, it's below the performance of the iPhone 7 Plus, in case you were wondering.
We also did a temperature test and achieved 38.5 degrees Celsius after running GFXBench, plus 37.2 degrees after running Riptide GP Renegade, so there's no overheating. Time to address the battery! So, the story goes like this: Huawei P10 Plus adopts a 3750 mAh Li-Po unit, an upgrade from the P9 Plus 3400 mAh unit. On paper we are promised two days of mixed usage, but that's rather optimistic, as our tests show.
We ran a HD video sample on a loop with brightness at 200 LUX and WiFi on and achieved 12 hours and 7 minutes, which is a good result. It beats the P9 Plus by about 2 hours and the iPhone 6 Plus by 7 minutes. Still, the P10 and iPhone 7 are superior in this area. In PCMark the result wasn't that impressive, at 6 hours and 19 minutes. This may be better than the LeEco Le Max 2 and Motorola Moto M, but it gets beaten by the Huawei P9 Plus and the P10.
It feels like all the hardware is align to produce good battery, but somehow continuous usage doesn't deliver. Maybe with an update… Charging is quite OK, at 1 hour and 47 minutes for a full charge. 5 minutes of juicing take the phone up to 10% and 15 minutes to 25%, while 30 minutes mean 50% charging. Finally one hour of charge took the battery to 84%.
This is superior to the Pixel XL, so not bad in the end. Settings for the battery include Power Intensive Prompt, the option to close excessively power eating apps and WiFi on in sleep mode. There's also Power Saving Mode and Ultra Power Saving More, plus lock screen cleanup and lower resolution setting. All of this may help you achieve better times then we did, hopefully.
Still I was left feeling that the continuous usage could be better. Let's see if the audio delivers now! We've got a bottom part speaker, working in tandem with the earpiece to deliver stereo acoustics, much like the Huawei Mate 9 did. There's no equalizer here and only the DTS option is available within the player. The listening experience was pretty loud and clear, stereophony worked great and the bass was also quite solid. Highs and mids were well heard and the back vibrated a lot.
We did a decibelmeter test and achieved 81.9 dBA at the top, 82.1 dBA at the bottom, these two with the standard audio sample we use. With Riptide GP Renegade we got to 89.2 dBA, which may be higher, but not that impressive. In reality it seems much louder and at least we surpassed the P9 Plus and its 87.1 dBA, as well as the LG G5. OnePlus One and UMi Plus E are louder, though.
Headphones are typical for a Huawei model from the past years, also being seen on the P8, P9, Mate 8 and Mate 9. They have a plastic body, they're not very comfy, but they offer loud and clear sound, as well as solid noise cancelling. And at last, we've reached the camera. Huawei P10 Plus has a dual back camera with Leica 2.0 technology, but also Summilux lenses.
The P10 has Summarit lenses, so the P10 Plus is supposed to be superior. We've got a 20 megapixel monochrome sensor and a 12 MP RGB one in tandem with it. There's F/1.8 aperture, OIS here, PDAF, CAF and laser focus, as well as depth AF. A dual tone flash is here too, plus 2X hybrid zoom. The front camera is an 8 MP shooter with Leica optics and F/1.9 aperture.
The camera UI is very similar to the one of the Mate 9 and the camera app is quick to start. Focus is snappy and the picture taking was quite fast. The zoom goes kind of slow once you go past 2X. Options include Effects, Colors (Standard, Vivid and Smooth), Portrait, Wide Aperture (set aperture) and flash options. Then there's the Pro mode, with options like white balance, focus, exposure, shutter, ISO and metering. The main camera modes are: Monochrome, HDR, Panorama, Night Shot, Light Painting, Time Lapse, Slow Motion, Watermark, Audio Note, Document Scan and probably more (downloadable later on).
Other things to tweak are resolution, RAW file capture, grid, leveller, timer, object tracking, saturation, contrast and brightness. Videos are shot in 4K or Full HD at 60 FPS. Time to get to the goods and I mean the gallery of shots taken with this device. We shot pictures in mid March, on a weather that mixed sun and clouds, plus some wind.
Clarity was rather good and we pulled off a nice HDR or two. The pictures have a nice texture and we also achieved great closeups and a pretty OK landscape shot. I noticed some over sharpening here and there and the green of the grass was not realistic. We zoomed onto a statue at some point and 2 or 3X was fine details-wise, but more and you get some grain.
The Portrait selfie was rather good, highlighting the face of the subject, in this case me, but once we caught objects in the frame, like trees and such they get interpreted as your own head. I also noticed that the camera's software makes the eyes prettier than usual, but in a subtle way, so you'll feel pretty and not necessarily on account of the Beauty features.
Panorama was pretty generous at 11520 x 3072 pixels and it was also pretty clear and detailed. We also took some artsy black and white shots, with perfect lighting and details. We played with focus obviously and it went great, thanks to the laser focus and all. Bokeh and wide aperture worked fine, far from the gimmicks of the first dual camera phones from a few years ago.
There's no room for compromise here, when focus changes as you take the shot and after it. Sadly, the colors aren't this camera's strong suit, since aside from the messed up greens, the reds felt too bright or even pink at times. At least clarity was on our side and overall the Huawei P10 Plus felt like an upgrade for the P9 Plus and the Mate 8, but the dual camera was a bit below the quality of the Mate 9.
Still it can do battle against the LG G5, iPhone7 Plus, but it can't quite fight the Huawei P10 we tested later on. After some solid indoor shots we proceeded to do low light capture. This is how we found out that we get a perfect flash, superb textures of statues and monuments and a very nice lighting. That aperture sure pays off. I'd say that some of the shots look like day time.
Street light halos are reasonable in size and there's no blue or violet hue to bother us. Clarity was rather nice and the camera didn't miss a beat during the night. Huawei P10 Plus feels like it can take on Xperias and the iPhone 7 Plus, but it remains the equal of the Huawei Mate 9. It's clearly above the Huawei P9 Plus and I'd call it top 5 or even top 3 in low light conditions.
Video was shot in MP4 format, in Full HD, at 30 or 60 FPS, with a bitrate of 17 or 34 Mbps. We tried out the optical image stabilization, which was rather poor, because the image kept flickering for some reason. Focus loss also happened, so OIS isn't perfect here, but it wasn't perfect on the iPhone 7 Plus either. Colors are oversaturated again, but at least the 4K video looked hot, as far as clarity and even colors are concerned.
Lighting was OK overall and zooming in usually resulted in minor detail loss. Only the clarity and details are to be remembered here. Colors and stabilization are weak. We also filmed using the front camera, that somehow does stabilization (digital) better, or at least expectations were lower. The texture of the face was quite nicely rendered here.
I'd call this filming inferior to the Huawei Mate 9, to be honest. Low light video capture had OK clarity and light, clear detail loss when zooming and some big street light halos to face. Colors are pretty good, the microphone was top notch and object tracking was also rather good. There's no blur, no violet or blue hue and in the end it's all good, bright and crisp, without major flaws.
Somehow this phone performs better at night then day… Leaving the camera behind we found time to test the web browser. We're dealing with Chrome here, that's pretty fast and has some great benchmarks (Sunspider and Vellamo). The virtual keyboard offered here is Swiftkey, with well spaced keys and Swype in the mix. Now, on the connectivity front, there's dual SIM, USB Type C and infrared as the headlines.
One of the slots is a hybrid one, so you can pick between nano SIM and microSD. LTE on quite a few bands is supported, there's GPS, Glonass, Galileo and BDS, Bluetooth 4.2 and WiFi a/b/g/n/ac. NFC is in the mix too and the dialer offers quite a few functions, like harassment filter, pocket mode, speed dial and virtual HD call. The sound during calls is loud and clear and we've got great noise cancelling.
We also did a SpeedTest and achieved 65 Mbps in download on 4G and 45 Mbps in upload. On WiFi we got to 31 Mbps in download and 25 Mbps in upload. The smart controller app lets you control TV sets, set top boxes, projectors and air conditioners. We have reached the OS, UI and apps section, where we cover EMUI 5.1 this time. It's applied on top of Android Nougat and it follows EMUI 5.0, which we saw on the Huawei Mate 9.
The UI is clean, fresh and proposes a dark gray background for the Quick Settings area, with blue toggles, that feel a bit like iOS 10. Notifications are now wider and the multitasking is shown as a carousel, no longer a horizontally scrolling area with thumbnails. The Home button grew on me, with the functionality of swiping to the side to trigger Recents and tapping once to go back.
A longer/harder tap means "Home" here. I found myself doing similar gestures on other phones, so that's how comfy things are. Keep the homescreen pressed and you'll reach the area with the wallpapers, widgets, transitions and settings for the layout, align and rotate. Swiping up in the lockscreen shows some shortcuts. Machine learning is also here, allocating more RAM to your favorite apps.
EMUI 5.1 also brings Highlights, which is basically a sum up of your pictures and videos, like HTC Zoe, Facebook or Google Photos do. You can tweak the filter, music, font and outro for the Highlights/Discover area. Now entering the settings area we find Home Screen Style (app drawer or standard), nav key options (you can use virtual ones), one hand UI, glove mode, DND, App Twin and Simple Mode.
By the way, the device still offers knuckle gestures, split screen and screen recording. The fingerprint scanner has a 12 step steup and unlocks the smartphone instantly, with zero hassle. The preinstalled apps list includes 50 names, which is quite a lot, but many of them can be uninstalled. On the list we find Instagram, HiGame, Health, Phone Manager, Todosit, Tripadvisor and Themes.
So with that said and done, it's time for the verdict!
Here are the Pros:
OK screen
great performance
price compared to the rivals is very good
solid camera during the day
great low light capture
good battery in video playback and charging
good audio
nice selfies
nice UI
And the Cons:
design is too similar to the iPhone's
some drawbacks for screen angle and brightness
poor stabilization (flicker) when moving around
colors for the camera shots should be better
PCMark was below expectations.
Huawei P10 Plus is an evolution from the Huawei P9 Plus, but there are areas where the Mate 9 is a better alternative. Some drawbacks may be corrected by updates, but some may not. It feels like a Galaxy S launched too fast after a Galaxy Note, in this case the Mate 9. The standout features are the camera Portrait mode, which is excellent, plus the closeups, low light capture and great performance.
Sadly the battery and some camera and screen quirks may take this device out of the "best of 2017" race. At least the Huawei P10 manages to repair that, but that's for another review to tell. You can get the device here.