It's finally time to review the first 6 GB RAM phone here at GSMDome.com and no, it's not the OnePlus 3, but rather the LeEco Le Max 2. This device was announced in April and it's the most powerful phone we've tested. It's also a premiere, since it's the first handset without an audio jack we test, a trend that's now been popularized by the iPhone 7. Priced at $400, the device has a bundled cased and USB Type C to audio adapter.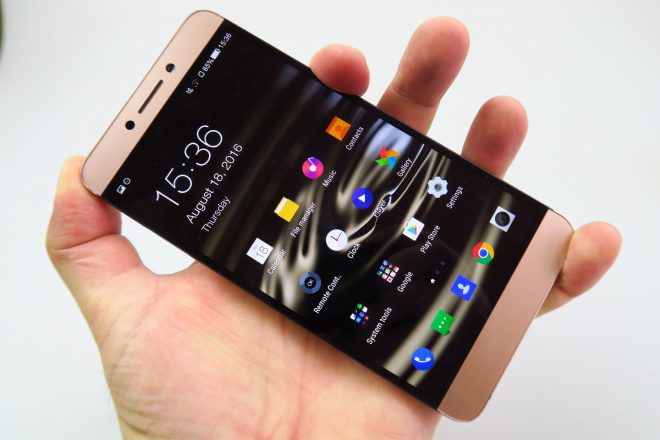 This flagship comes from LeEco, a firm that's been called the "Netflix of China" and now they're making electric cars, aside from phones. Design-wise, we get a 5.7 incher, that measures 8 mm in thickness and weighs 185 grams. It's quite a heavy phone, since the Lumia 950 XL, another 5.7 incher weighs 165 grams and the Nexus 6P, also with this diagonal 178 grams.
Made of metal and sporting an unibody shell, the smartphone comes in rose gold or gray and it's an angular model, with a slightly rounded back and rounded corners.  There's a big camera area at the back, the grip is OK and we've got a tough one hand usage, since it's a massive unit. The build is solid and we also have chamfered edges.
This elegant phone has comfy buttons and the top and bottom of the back side feature plastic lids, for the sake of antenna integration. It's a well built phone, that's good looking, but also massive. The display is a 5.7 inch LTPS IPS LCD unit with a Quad HD resolution and on paper we have 450 nits of brightness. It also provides a 95% NTSC color gamut.
The sharp edges aren't very nice and there's no 2.5D panel here, or Gorilla Glass protection. The video player has a strong online section, a pop up play feature, audio track, caption and more settings. The viewing experience involves a bright image, vivid colors, wide angles and bad contrast in the sun. The image is crisp and we also get pinch to zoom.
The UI elements have a strange scaling, when it comes to icons and text. Pixels have an RGB Stripes arrangements and when we measured the brightness, we achieved 396 LUX, which is not a flagship level value. Still, it's good for playback indoors and at least it beats the ASUS ZenFone 2 Deluxe, but scores below Xperia Z3 and OnePlus One.
The bezels are also quite big for current standards. Settings for the screen include Adaptive Brightness, Color Mode (LeEco, Vivid, Natural and Soft). Frankly, I can't tell the difference between these modes, when they're in use. There's also the option to enhance the color saturation and smoothness, tweak the font size and display real time speed.
It's not an impressive panel, but remains good indoors. Moving on to other hardware, the LeEco Le Max 2 is a genuine powerhouse here, sporting the powerful Qualcomm Snapdragon 820 CPU, the Adreno 530 GPU, 4 or 6 GB of LPDDR4 RAM and 32 or 64 GB of storage. There's no microSD card slot here. Of course, we've got no lag, a fluid UI and games really fly here, with no problem.
I'm talking about the famous Riptide GP Renegade, with the details turned all the way up and without a problem. Benchmarks are excellent and this model is first placed in our AnTuTu 6 top, scoring 140k points. It beats the Xiaomi Mi 5S by 5000 points, the Galaxy Note 7 and in GFXBench it's in the top 3 results. It's true that in Quadrant we scored dozens of thousands of points less than the S7 Edge for example.
It's a big hitter for sure, one that doesn't suffer from overheating. We used a thermometer after running GFXBench and achieved 35.1 degrees Celsius and also reached 36.5 degrees after Riptide GP Renegade, so there's no overheating. The battery on the smartphone is a 3100 mAh unit (Li-Po), with support for quick charge 3.0 via USB Type C port.
We proceeded to do a video playback test, achieving 9 hours and 50 minutes, not very impressive for this size. It's just good and it surpasses the LG V10 at least, plus the OnePlus 2. It's placed below the LG G5 and HTC One M8. In PCMark we got 6 hours and 6 minutes, which could also be better. We surpassed the LG G5 and Sony Xperia Z5 at least, but scored below the HTC One A9 and LG Nexus 5X.
Charging is excellent, done in 1 hour and 9 minutes, the second placed phone all time from all the models we've tested. It's second only to the S6 Edge, with its 1 hour and 5 minutes. Settings include Ultra Long Standby in Sleep Mode, Lockscreen Cleanup, functions like align wakeup (reduce night wakeup). We've also got a Battery Assistant, with an On/Off switch and a Classic saver.
Overall it's an unimpressive model battery-wise, aside from the charging bit. On the audio front there's digital lossless music via USB Type C port. We've got no audio jack here and there's Dolby Atmos tech involved. The music player has a strong online aspect and moving to the speaker, there are dual grilles at the bottom, but only the left one is the legit one.
It's easy to cover in landscape mode, when playing games or watching video. The speaker experience was loud and clear, we've got good bass and it can cover a conversation. It's actually very loud to be honest and the instrument rendering is excellent. The decibelmeter test we did showed a value of 78.7 dBA when playing our usual sound test sample, while in Riptide GP we got as high as 95 dBa.
It's a very high volume and it's the second best ever we ever tested. Settings offer us tweaks for Dolby Atmos, for an extra punch and more bass. Then there's the adapter that turns the USB type C to audio jack. Sadly, we've got no EQ in the mix and there's also no FM Radio. Time to discuss the camera. LeEco Le Max 2 packs a 21 megapixel camera at the back, with dual tone flash, PDAF and a Sony IMX 230 sensor, found on the Meizu Pro 6, Moto X Force and Lenovo Vibe X3.
It does 4K video, hybrid AF and 6p lens, as well as F/2.0 aperture. Selfies are taken with an 8 megapixel camera. The camera app starts up fast, focus was very fast and zoom is fluid. Picture taking happens fast as well, but there's an annoying pop up that appears on the screen after every pic. The UI is inspired by iOS clearly and to the left side of the UI there's front camera shortcut, flash options and other functions like delayed photos, shutter sound, location and exposure.
Picture size can be 21 MP in 4:3, 16 MP in 16:9 and 8 MP in 16:9. Then there's the usual array of tweaks for white balance, ISO, contrast, saturation and sharpness. The right side of the UI includes effects, panorama, slow mo, video and the front camera also brings a beauty slider. Pull the right side of the UI to reveal Scene, Beauty, Square, Night and HDR sections.
Now getting to the shots we've taken during the day, they were taken at the end of August, on a day with pretty good sun lighting. There's lots and lots of details and the whole experience felt exactly like the one of the Lenovo Vibe X3, since it's the same sensor after all. Colors are well calibrated, closeups are perfect and there's a slight oversharpening.
Contrast, lighting, focus and exposure are all OK. You can zoom in all you want and there will be no detail loss, luckily. HDR was great and generally the dynamic range was OK. The sky was also nicely rendered. Panorama is generous at 10448 x 2416 pixels, while also being clear and well lit. In general there were no blurry shots and I liked the textures of subjects were photographed, especially those dried vines in the city.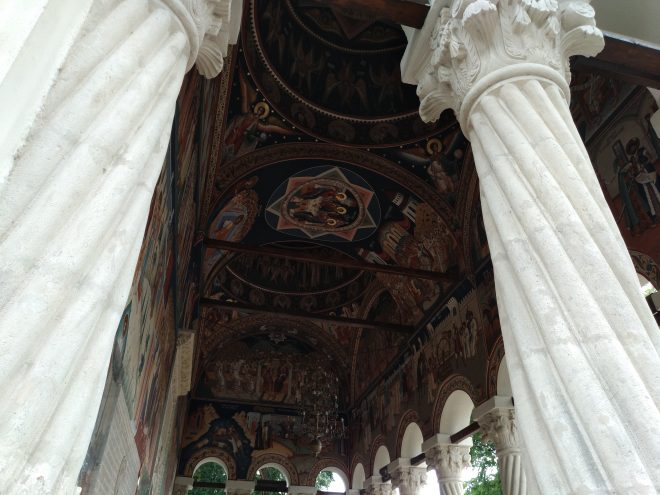 Selfies were a bit foggy in full light, but in the shade they revealed a great skin texture and hair texture. We applied the Night Mode on that statue in the dark and achieved great results. The only potential drawback here is the fact that some closeups are hard to pull off. It remains a very good camera, feeling on the same level as the Huawei Nexus 6P and Lenovo Vibe X3.
I'd also say it delivers iPhone-like quality, but remains below the Galaxy S7, HTC 10 and LG G5. Low light photo capture brought us big halos, a huge flash and some blur. The clarity was quite OK and so was the lighting. I liked the texture of those bricks and in the darker areas there's a yellow-ish hue and some blur. We'd place it below the HTC 10 by 15% to 20%.
Colors and details were OK for night time shots and the sky with that creepy moon is one of its achievements. Still, inferior to the Huawei Mate 8 and Galaxy S7… Videos were shot in Full HD, at 30 FPS, 20 Mbps bitrate, while 4K brought it all to 41 Mbps. Clarity was good, colors were OK and the microphone was more of a so-so affair.
There's quality loss when zooming in and the microphone can't seem to handle the wind. Music is caught in a rather echoey way when it's around. We also felt that the exposure change was sudden, plus there's some burn. Optical image stabilization is here, but the videos were a bit too shaky in my book. At least when walking around, the clarity and focus are kept by the stabilization mechanism.
The 4K video offered great clarity, nice colors and simply feels great. Slow mo is cute and zoom is good only at the first level. Any further and failure of clarity appears. In the end the Nexus 6P shoots slightly beter video and I feel the same way about the Sony Xperia Z5 and Lenovo Vibe X3. At least it's superior to 99% of all Huawei phones for example.
Low light video shooting was slightly foggy (especially the tram video), halos were big for street lights, but the clarity of the fountain was good. It all feels a bit dark and colors are OK, but still I'd say 2016 flagships do better. Moving on to connectivity, there's WiFi 802.11 a/b/g/n/ac here, with support for 2 stream MU-MIMO, Bluetooth 4.1, WiFi Display, WiFi Direct, GPS and Glonass.
We've got an infrared emitter at the top and dual nano SIM slots with dual standby. There's 4G LTE (4G+ even), VoLTE and HD calls, NFC and USB type C. We used a special preinstalled remote control app to power up the infrared emitter and remotely control a TV set, set top box and more such devices. The dialer features yellow pages, voice call recording and more.
Calls are loud and clear, the signal is good and so is the microphone. Speedtest revealed a value of 179 Mbps in download and 22 Mbps in upload via WiFi and 97 Mbps/42 Mbps in 4G, both great results. The preinstalled browser of choice is Chrome, which is fast-ish and delivers OK browser benchmark results. The keyboard offers a Swype feature.
Moving on to the OS, UI and apps front, there's the EUI 5.6 experience here, based on Android Marshmallow. I don't like the scaling of icons, as I mentioned above and I hope there's a software fix for it soon. Anyways, we get a dropdown section here for notifications, while the Quick Settings have been moved to the very busy Recents screen, where's also the multitasking bit, with a horizontally scrolling list of thumbnails.
All apps are placed on homescreens, so there's no app drawer here, as usual for a Chinese phone. The busy multitasking area feels like the iOS Control Center and also includes the music player. We've got toggles there, shortcuts, the player, multitasking and a ton more. Keep the homescreen pressed and you'll trigger the widgets (very few), themes (nice looking), wallpapers and more. There's a dock area at the bottom and with a swipe up on the screen you can trigger a global search for movies, the web, content and apps.
Settings include a customization bit for notifications, Do Not Disturb, the option to implement dual account for apps. The fingerprint scanner on the device uses Ultrasonic technology, the Qualcomm Snapdragon Sense ID, that's able to scan 3D images of the print, no 2D ones. It works on dirty fingers, as well as wet ones. It can easily feel the ridges and pores of the print.
The same scanner lets you take pictures, do a long setup and sadly it's not very fast, just fast. The preinstalled apps list includes 37 names, pretty close to bloatware, if you ask me. There's Notes, Super Manager, SwiftKey and CM Security preinstalled. Now let's see the verdict!
Here are the Pros:
solid build
good screen indoors
super hardware and performance
fast charging
perfect audio
good camera for pictures and selfies
great connectivity
infrared
And the Cons:
rough edges of the screen
could be brighter
weak battery for size
video capture are just OK
almost bloatware
poor UI scaling
LeEco Le Max 2 is a future proof phone, that's for sure, because it brings 6 GB of RAM, no audio jack and ultrasonic fingerprint scanner. It's great for gamers, photo capture, has a great price and music buffs will love it. Too bad for the battery, that could be a bit better. I'd see a yuppie using it and it's even a solid alternative to the controversial Galaxy Note 7. The updated price is here.