Lenovo Vibe X3 has got to be the most powerful midranger we've seen over the past year or two. It's everything the OnePlus 2 should have been, if you ask me. Launched in December 2015, this model is priced at $500 and stands out through Dolby Atmos technology among others.
The design involves a big and strong metal frame, that keeps together a 5.5 inch phablet. There's also a plastic back here and the Vibe X3 comes with a 9.3 mm waistline and a weight of 175 grams. That's pretty hefty, but it's actually the same weight as the OnePlus Two, but the thickness is 0.6 mm lower. This model is also thicker, lighter and shorter than the iPhone 6s Plus.
The design is comfy, solid and one hand use is easy. We've got good grip here and the metal edges won't cut into your palm. There are also discrete antenna cutouts in the mix and bezels are quite big. This is a massive phone, but it's quite pretty and comfy when it comes to the day to day usage. Now let's get to the hardware, that includes a 5.5 inch Full HD screen with an IPS LCD panel.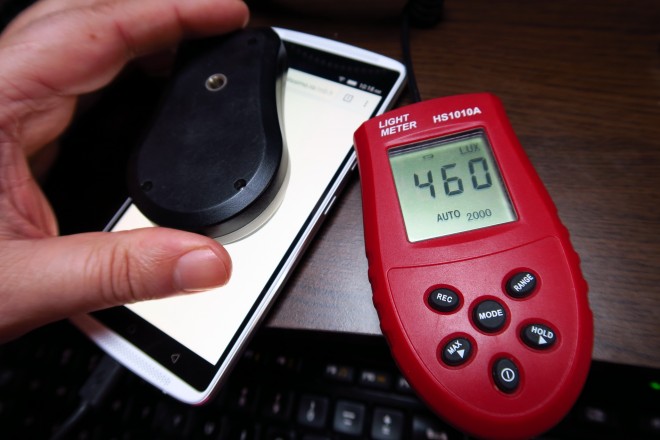 There's a nice video player app in the mix, with a Pop up Play-style feature. The screen viewing experience involves medium level angles, good brightness and vivid colors. The contrast is good and the sunlight behaviour is OK. Pixels are of the RGB Stripe variety and when we used the luxmeter to test the screen, we got to 460 LUX units.
This is a good value and surpasses the likes of Huawei Mate S, LG 4 and Huawei Mate 8, so it's doing fine. The settings of the screen include Color Balance (Default, Comfort, Super Bright, Custom), Smart Brightness and Glove mode. The Custom mode includes sliders for tone and saturation. Overall it's a good screen and we have no major objections.
Other hardware on the Lenovo Vibe X3 includes a hexa core Qualcomm Snapdragon 808 processor, that was also available on the LG G4 for example, or the LG Nexus 5X, an Adreno 418 GPU, 3 GB of RAM and 32 GB of storage. There's also a microSD card slot with support for up to 128 GB extra storage. The device has no lag, comes with a fluid UI and good performance.
In benchmarks, this smartphone easily beats the HTC One M9 and Nexus 6P, as well as the excellent Huawei Mate 8. Obviously, we can run any game on the handset and we demoed Epic Cidatel, an Unreal Engine demo that looked great. You can check out a benchmark comparison here, with some impressive results:
When it comes to temperature, we got to 34.8 degrees Celsius after playing 15 minutes of the game Riptide GP2, so there's no overheating here. Great performance overall.
Now let's talk about the acoustics. We've got Dolby Atmos technology here and dual speakers with 1.5W output each. There are 3 microphones incorporated here, with Wolfson technology. Google Play Music is the player of choice, with a special Dolby Atmos equalizer we've seen on other Lenovo devices. There are options like Movie, Music, Game, Voice and Custom (with extra options like Surround, Dialogue Enhance and Volume Leveller).
The speaker experience was loud, featured very good bass and percution, plus a great sound. Headphones are comfy, but their remote doesn't come with a volume up or down button. The earbuds are also not very loud, compared to what HTC and Samsung offers. There's no FM radio here. We used the decibelmeter to measure the strength of the speaker and got up to a good 86.3 dBA, which is very good and beats the Samsung Galaxy S6 Edge+, iPhone 6 and Galaxy Note 5.
Now it's time to talk about the camera. We're dealing with a main 21 MP shooter, with phase detection autofocus, dual LED dual tone flash and 4K video capture. The same cam provides F/2.0 aperture and a Sony IMX230 sensor, the same one seen on the Moto X Play. Upfront we've got an 8 MP shooter for selfies with fixed focus.
The Camera app doesn't start up fast, but it's certainly unique and unlike anything we've seen as stock options on Android devices. It also brings the best Auto mode I've seen in action and a very fast focus and capture. Special options like an Artistic HDR and blurred background are offered here, the latter applying an effect close to a DSLR.
We also get a panoramic selfie option and other capture features are Panorama, Fast Motion, Slow Motion and obviously there's a Pro capture mode. That one lets you tweak the ISO, white balance, exposure, shutter speed and focus. All of these are available in a setup that reminds me of the Nokia Camera app on Windows Phone models.
There's also an Art Nightscape model, if you're feeling artsy. Then we got to the actual gallery, with a first series of shots taken during a sunny March day. The photos have an incredible quality, maybe even too good, so I was tempted to feel they were airbrushed and cleaned up by the algorythms, but in fact they're just very good.
The blue of the sky doesn't quite look realistic, but the colors were generally satisfying. When zooming in we found that we didn't lose any details and the selfie quality was amazing, getting past models like Galaxy S6, LG G4 and all Huaweis. Closeups are ideal and once again DSLR comparisons come to mind, especially when blurred backgrounds are in the mix.
The general aspect of the pictures was on the same level with the Samsung Galaxy S6 and all the best flagships of the past year. Texture was excellent and we didn't have one blurred shot. There was no focus problem, white balance and exposure were perfect, so day time capture was great. However, in low light conditions (gallery) we expected a bit more.
We're closer to an ASUS ZenFone Laser or an iPhone 6, rather than bigshots in the nights like Mate 8, Nexus 6P or LG G4. Lenovo Vibe X3 does have a powerful flash and keeps colors realistic. Everything's fine and dandy in the photo capture area, so let's talk about the video capture. We shoot in Full HD at 21 Mbps bitrate, 4K video at 43 Mbps and generally the videos were shaky and there was some focus loss. Great clarity and focus were registered.
The 4K clip looked fantastic, if we're being honest and the microphones were excellent, capturing the atmosphere of the surroundings. Refocusing is a bit of a problem here, but when zooming in, the quality was kept OK. Sadly, when filming in low light conditions, the frame rate dropped dramatically, to a mere 14 FPS and everything looked pretty much bad.
I'd say we are below the iPhone models from last year and the Huaweis in the video capture, as well as Samsung ones, on account of the refocusing. Now let's talk about the browser, which is Chrome and it's kind of slow. However, results in benchmarks are good, including Vellamo, BrowserMark and Sunspider. Connectivity-wise, we get dual nano SIM slots, with LTE support and up to 300 Mbps download speed.
There's support for WiFi 802.11 a/b/g/n/ac, Bluetooth 4.1 LTE, GPS, NFC and infrared. Calls were great, loud and clear and the signal was good. Microphones are simply fantastic, something we also noticed when filming. WiFi testing brought us a download speed of 23 Mbps and upload of 28 Mbps, which are OK results. Now let's analyze the battery.
Lenovo Vibe X3 packs a 3500 mAh battery, a Li-Po unit, that provides 31 hours of talk time on paper. During our HD video playback loop test, we got to 11 hours and 2 minutes, an excellent value compared to any phablet or phone. We beat the Galaxy S6 Edge and we were only 7 minutes below the Galaxy S6 Edge+. Then we did the PCMark test, also with a good result of 8 hours and 11 minutes. This beats the Galaxy Note 5 and Galaxy S6 easily.
Charging requires 2 hours and 29 minutes, so it's just OK. Obviously we get Power Saving options, including an "Ultimate Power Saver". As far as the OS, UI and apps are concerned, we're running Android 5.1.1 Lollipop with the Lenovo UI on top and this reminds me of an older LG UI to be honest, on account of the colors, shapes and format of the icons.
We do have an app drawer available, unlike many other Chinese made handsets. Widgets look nice and Vibe UI also lets you select a version of it without a drawer, tweak transitions and more. There's a carousel for multitasking and the dropdown area includes a fresh set of Quick Settings and icons, compared to the regular ones. We've got a very well organized Settings area and pretty compact, too.
Features include double tap to wake, Scene modes (office, Home and School for example, with various connectivity and Do Not Disturb setups), VR Mode , floating button and Secure Zone. The fingerprint scanner is fast and accurate, so no problems here. The preinstalled apps list is kind of big, including 44 names, so we're in bloatware territory.
The apps include Mcafee, Route 66, Peel Smart Remote and a Step Counter. And now after all is said and done it's time for the verdict.
Here are the Pros:
comfy
solid build
bright screen
great performance
no lag
Dolby Atmos acoustics
great speakers
great pictures, selfies and camera app
great battery
VR mode
And the Cons:
some unrealistic colors in pictures
screen view angles
modest low light capture
focus loss in videos and refocusing
poor stabilization
Still, even with some camera drawbacks, this remains a heavy hitter in the midrange area, taking down some flagships when compared to them. It's the best phone you may not have haerd of and it's a name to remember. Any price drop makes it in an instant buy, but the current one is also pretty good for the hardware we get. The battery, picture capture and camera app are the standout points here.
It's way, way more impressive than the HTC One A9 in a similar product segment. The updated price of the Vibe X3 is here.
Lenovo Vibe X3 Video Review