Huawei is the company that kicked off today's series of Mobile World Congress 2012 conferences and our editor Zsolt was there to provide some details. First of all, we've found out the specs for 3 brand new handsets from the Huawei Diamond series. I'm talking about the Huawei Ascend D Quad, Ascend D Quad XL and the Ascend D1.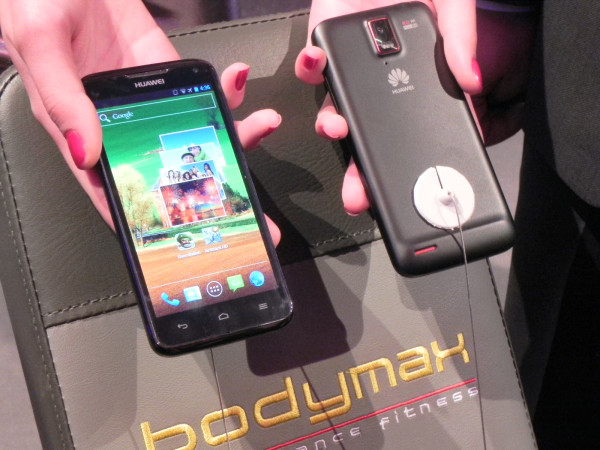 The Huawei Ascend D Quad is a 4.5 inch handset with an IPS screen supporting a 1280 x 720 pixel resolution. This device relies on a Huawei J3V2 quad core 1.2GHz processor, 1GB of RAM and 8GB storage, plus it runs Android 4.0 Ice Cream Sandwich. It also comes with 5.1 surround sound technology (Dolby Mobile 3.0 Plus) and an 8 megapixel camera with BSI, AF and 1080p video capture. The same camera offers a dual LED flash and HDR. The battery on board is a 1800 mAh unit and on the connectivity side we get 3G with speeds of up to 21Mbps, plus Bluetooth 3.0 and WiFi b/g/n.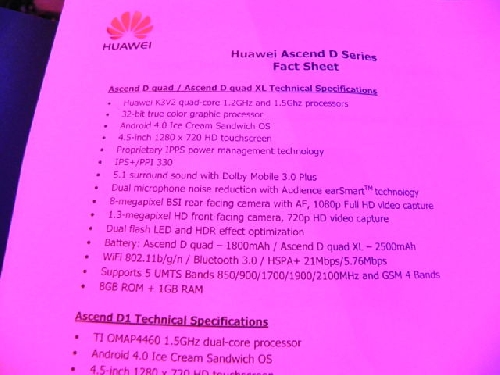 Huawei Ascend D Quad XL only brings a CPU bump to the previous model, to 1.5GHz and a better battery , at 2.500 mAh. The rest of the specs is exactly the same as the ones of the Ascend D Quad. Finally, there's also a dual core phone in the new Diamond series, the Huawei Ascend D1 model, with a dual core 1.5GHz CPU, Android 4.0, an IPS 4.5 inch HD display, 8MP shooter with 1080p capture and a 1.670 mAh battery. It's strange that we didn't see the Huawei MediaPad 10 tablet, that was leaked on the web over the past week.
Huawei also said that they expect to sell 60 million units this year (outside China) and that they know networks better than anyone and can increase the functioning time of batteries through faster network reception. No info about the prices of these handsets just yet, but what we know is that we're supposed to expect a launch before summer. The Asian company also announced that they came up with a more compact display design thatn their rivals. Now we're headed to the Sony and HTC conferences and we'll be back with details from there!