During a commercial for the Nokia Lumia 920 done by KPN Netherlands, there was a mysterious appearance of a yet unannounced handset that seems to be very slim. At some point in the video there's a teen girl holding a Lumia 920, but before that she's shown holding a yet unannounced Nokia, that seems to be very thin.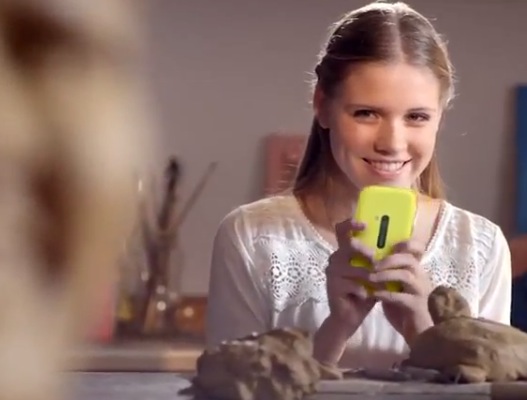 Just like the Lumia 920 in the vid we're dealing with a yellow phone here, one with curvy edges and not the straight lines of the Pureview Lumia. It's clearly not a 620 model, neither a 820, a 610 or 710. The back makes it look a bit like the Nokia 822, except for the headphone jack, that seems to be different. Overall the handset seems to be as slim as the audio jack itself, so this is something unique.
Also, notice the elongated camera design and integration, making me believe this is one of the higher end Lumias, not the lower end ones. This could be an upcoming handset that will be arriving at MWC 2013 or simply an existing model with a changed design for the US market, much like the Nokia Lumia 822 for Verizon. What do you think?