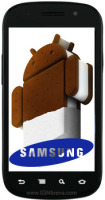 Samsung has just confirmed by mistake the identity of the next Google Phone, by sending a Cease and Desist letter to someone who claims to possess Nexus Prime leaked firmware. Last we heard, Nexus Prime was supposed to be the third Google Phone, one made by Samsung, but never confirmed by the Korean company.
Considering the recent letter, this is very close to a confirmation in my book. Rumors are also mentioning a new generation 4.5 inch Super AMOLED screen on the handset, as well as a new flavor of Exynos dual core processor @ 1.5GHz. Nexus Prime will be the very first smartphone with Android Ice Cream Sandwich on board, if the rumors are true…
An October release of the Nexus 3/Nexus Prime is in the books and more leaks are expect in the following weeks and months. Some are still hoping for a HD display on this phone, but maybe Samsung will release a separate model with that feature. Will you be one of the first adopters of the fresh 2011 Nexus?