AnTuTu published their list of highest performing smartphones for the first half of 2015. As expected, the Exynos 7420 is the star here, being present on the top two handsets, the Samsung Galaxy S6 and Galaxy S6 Edge.
The performance was also confirmed by our reviews and we've also listed handsets in our database, based on benchmarks with the same handsets being the champions, as shown below. This goes to show that a revolutionary architecture can go a long way. Snapdragon 810 is also doing well, considering the bad PR it got all year so far. MediaTek MT6795 is also here through a smartphone or two.
The Xiaomi Mi Note Pro is placed third, with a score of 57k points following the 63k of the Galaxy S6 Edge and 67k of the Galaxy S6. Then there's the ZTE Nubia Z9 Max, HTC One M9 and surprisingly even the Galaxy S5 makes the cut, with its seemingly old Snapdragon 801 CPU. I find it surprising that the LG G4 and Galaxy Note 4 couldn't find a spot in this top 10.
I wonder how many semesters will have to go till Intel enters this top.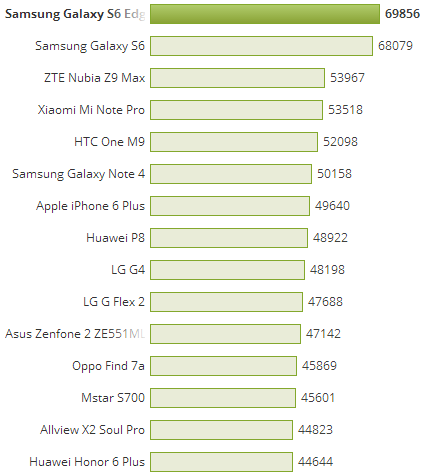 via AnTuTu