Yes, I know it's kind of late to review the Sony Xperia X Performance now, especially since the device was launched in the firs half of 2016, but better late than never, right? Well, here we are with the review of the device and it's not showing its age one bit, which is quite impressive. This was a flagship for the first part of 2016 and it's the predecessor of the Xperia XZ (kind of). Last I checked it was priced at a mere $400, which is great.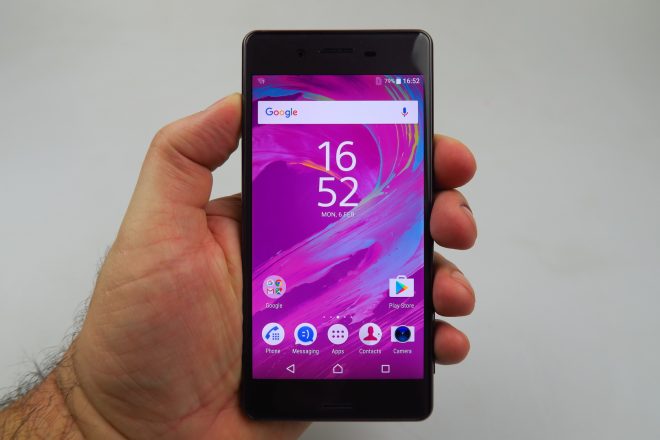 The handset has the typical Sony design and brings a flagship level camera and CPU. It's a bit big for a 5 incher and it measures 8.7 mm in thickness, while weighing 164.4 grams, which is quite a lot, even for 2016. This device is 0.6 mm thicker than the Xperia XZ and 3 grams heavier. At least, it's slimmer than the HTC 10 (9 mm) and only 3 grams heavier.
There's a slightly curved panel upfront and big bezels. We've got a brushed metal back here and the device sounds a bit hollow if you tap it. It feels more like plastic than the promised metal. We get slightly rounded corners here, no Gorilla Glass protection, so the device resorts to another type of protection here. Keep in mind we have a polycarbonate frame cover in the mix.
The slots are easy to access, but pulling one out means that the device instantly restarts. I noticed that the volume buttons are a bit too low to be comfy or easy to access. The grip is quite OK and I liked the one hand use of this device. We also get a physical camera button here. It's an IP68 certified machine, resilient to water and dust.
The audio jack is not properly finished, so it sticks to your finger a bit, maybe even scratching it. The smartphone is available in white, black, gold and rose gold. Overall the design is OK, but the details matter here, so the poorly finished audio jack is an issue. Moving on to the display, we're using a 5 inch IPS LCD Full HD screen, with Triluminous tech, Live Color LED and Live Color Creation, as Sony calls the tech.
The usual X Reality for mobile is also here. The video app used to play clips features a TV guide, Top Picks and a server option. The viewing experience was crisp, the images were vivid and bright and we had wide view angles. Contrast was good and the black was surprisingly deep. Pixels are of the RGB Stripes variety and the luxmeter showed a value of 575 LUX, which is great even though it's not uniform, but you can't noticed that with the naked eye.
It places higher than the iPhone 6 and Pixel XL in our hierarchy, but also below the OnePlus 3 and iPhone 6s. It's a pretty solid result. Settings include brightness, adaptive brightness, Sleep, Smart Backlight and Image Enhancement (with the options Off, X Reality and Super Vivid). The white balance has an RGB slider and we can also tweak font size and activate a glove mode. We're pretty happy with the screen overall.
On the CPU front, there's a Snapdragon 820 in the mix, with Adreno 530 GPU and we also get 3 GB of RAM and 32 GB of storage. We've got a microSD card slot and the device doesn't suffer from lag, has a good performance and apps start up fast. The gaming is good and I'm talking about the frame rate and textures in Riptide GP Renegade. We also did a bunch of benchmarks, like Quadrant, where we surpassed the OnePlus 2 and HTC One M9, but scored below the Huawei Nova Plus and Galaxy Note 5.
In AnTuTu 6 we were superior to the HTC 10 and Galaxy S7 Edge, which is no small feat. Still, the Huawei Mate 9 and Xperia XZ had higher scores, which is expected, since they were launched later on. In 3DMark Ice Storm Unlimited we scored above the HTC One M9 and Huawei P9 Plus, but also below the Moto Z and HTC 10. We only get top 10 or top 15 results, some of them standing even today, so that's impressive performance.
The temperature test revealed a value of 35.1 degrees Celsius when running GFXBench and 36.6 when running Riptide RP Renegade, so there's no overheating here, which is good. Now off to the battery. The Xperia X Performance has a 2700 mAh battery, of the Li-Ion kind and ofers 7 hours of 41 minutes of video playback, as our test revealed. This is not very impressive, certainly not for a flagship.
It's superior to the Huawei Honor 8 and Huawei Honor 7, but that's about it. It also scored below the Huawei Mate S and Xperia Z5. In PCMark we scored a modest 6 hours and 5 minutes, which may beat the LG G5 and Xperia Z5, but it's no match to the Xiaomi Mi 5 or Moto Z, even with its slim waistline. Charging requires 2 hours and 30 minutes, which is rather OK and superior to the Huawei P8 for example.
It's still inferior to the iPhone 6. Settings for the same battery include an Optimization option, plus the famous Stamina and Ultra Stamina modes, with the latter only letting you use basic apps. The Stamina Mode reduces GPS usage, vibration and rendering. Overall a not very impressive battery.
Now as far as the acoustics go, there two stereo speakers here, one at the top and one at the bottom of the facade. We didn't get bundled headphones, but at least the music player on the phone comes with FLAC support. There's also stereo recording and support for DSEE HX and LDAC. The music player has Spotify integration and a variety of options like DSEE HX, Clear Audio+, genre settings and Clear Bass.
There are also 5 custom channels here, surround sound and S Force Front Surround. And the options aren't even over yet! A dynamic normalizer is available too, plus mic sensitivity that can be set up to 4 levels. Headphone optimization is here as well. The listening experience involved an OK volume, nice bass and you can actually feel the surround offered here.
The back vibrates quite a bit, but at least the voice and keys were rendered nicely when it came to acoustics. We also did a decibelmeter test, which told a bit of a different story compared to what we heard. We achieved 78.3 dBA at the front and bottom area and 78.1 dBA at the front and top area. The result was a mere 73.3 dBA at the back, so there's a bit of muffling going on here.
At least the Riptide GP Renegade game pushed the result to 90.1 dBA, which is solid. Time to check out that famous camera!
Sony Xperia X Performance has a 23 megapixel back shooter, with 1/2.3 inch sensor (Exmor RS) and predictive hybrid autofocus. It also offers 5x clear image zoom and uses a 224 mm G Lens, with F/2.0 aperture. The famous SteadyShot stabilization is also here, but there's no laser focus this time around. This is pretty much the same sensor as the one from the Xperia XZ, but that one is slightly upgraded.
Upfront there's a 13 MP front camera with 1/3 inch Exmor RS sensor and 22 mm wide angle lens. F/2.0 aperture is also here, as well as Full HD video capture. The camera UI is rather typical for Sony and the camera app starts up fast. The physical camera button has a two step pressure level and it provides improved focus. Picture taking is a bit slow, I have to admit.
The zoom was rather fluid, though. We've got the Superior Auto Mode here as the main one, the automatic way to take shots, that recognizes the ideal Scenes. There's also a Manual model, that lets you mess around with scene, white balance, exposure, ISO, timer, object tracking and metering. The video capture doesn't include 4K, but we do have Full HD at 60 FPS and then there's that bunch of camera apps, that let you do a variety of other types of capture.
Off to the gallery of shots captured with this phone, it was a cold day of February when we put the phone to use, but it was also a very sunny day. We had to face the sun reflected onto the snow, which would pose problems to many smartphones out there and some cameras even. The snow had a great texture in our shots and I liked the brightness and details we caught on camera.
The landscape shots have excellent details and we also pulled off some very nice selfies. The texture of the skin, hair and everything was close to perfection. The HDR is rather solid and we had a nice dynamic range in our shots. Colors were expertly calibrated and even though we had multiple pluses, there was also a minus: it was hard to focus in closeups.
In the end, the closeups looked hot, so it's worth a slower focus I'd say. The Panorama had a resolution of 4912 x 1080 pixels and it's pretty clear. Even with the sun in front we achieved some very nice shots. Zooming into our pics we noticed some very nice details, as usual for a Sony smartphone, thanks to the high res camera. Not one shot was blurred, missed or gone awry.
This was certainly one of the best 2016 cameras, fighting the likes of LG G5 easily, as well as the Galaxy S7 and HTC 10. It beats the iPhone 7 in my book and offers 90% of the quality of the Xperia XZ. Low light photo capture brought us the typical blue hue that we encountered on the Xperia XZ as well. Street light halos had reasonable sizes, the clarity was nice and the flash was quite bright.
The sides of the pics were I would say "milky", that's the best way to put it. The details were great and so was the lighting, but some areas were a bit yellow. I've seen brighter shots, to be honest, but by no means this is a bad low light capture. It beats the Xperia XZ, scores below the Xperia XZ and fights the LG G5 on equal terms. Video capture happens in MP4 format, in Full HD resolution, at 30 FPS or 60 FPS, with a bitrate of 17 or 30 Mbps.
The camera can't handle the wind quite well, so the mic doesn't impress at first sight. It was still a February blizzard, so that may be forgiven. I liked the clarity and colors of the video shooting and we did experience some detail loss when zooming in. The focus was great, exposure was top notch and I liked the texture of the snowy areas.
Zooming results in a bit of blur and the camera is able to handle a moving subject like a champ, with good object tracking. And once again, stabilization is downright perfect, like we saw on the Xperia XZ. The SteadyShot thing is fantastic and clearly superior to the iPhone 7 Plus or Galaxy S7 stabilization for example. On this level, it can fight any phone of 2016, when it comes to filming and stabilization.
Low light video capture was a bit yellow and blue, but the clarity was OK and colors were nice. Zoom was rather poor and we encountered an annoying blue flicker at times. This time around the microphone wasn't bad. Focus was good and the lighting was OK, as was the stabilization. The Xperia X Performance is superior to the Xperia XA in low light video capture, but inferior to the Xperia XZ.
With the camera done and some impressive results, we go to the web browser, in this case Chrome. It's a bit slow at first sight, but its benchmarks are rather good. We used SwiftKey for input, with Swype in the mix and now let's talk connectivity. Sony Xperia X Performance comes with easily accessible SIM card slots and it has a single SIM or dual SIM version.
It uses nano SIM card slots and provides support for LTE Category 9, GPS, Glonass, WiFi a/b/g/n/ac, Miracast, Bluetooth 4.2, NFC and DLNA. The dialer features an answering machine, smart call and the calls are loud and clear. The signal is quite good. We also did a SpeedTest and achieved 127 Mbps in 4G download and 46 Mbps in upload. With WiFi testing we achieved 433 Mbps in download and 25 Mbps in upload.
On the OS, UI and apps front, we're dealing with Android 6.0.1 Marshmallow, which may have turned into Nougat in the meantime, since folks starting getting that update early this year. The typical Xperia UI is here and we've got a glossy UI, with some semi transparent elements. There are side menus included here, a carousel multitasking and dropdown section with notification and Quick Settings.
Keeping the homescreen pressed triggers areas like widgets, wallpapers, themes, icon size, icon look, transitions and more. Settings let you play with themes, fingerprint scanner and stuff related to gestures and control. The fingerprint scanner has a 20 step setup and it lets you unlock the device instantly. It's integrated within the Power button on the side and it's comfier than you'd expect.
The preinstalled apps list includes suggested and recommended sections and the number of apps is 49, which is quite a lot. At least we can uninstall some of them. Among the most useful apps we find PlayStation, that lets you control a PS4 remotely. There's also LifeLog, Movie Creator, Sketch, TrackID, Spotify, Amazon and AVG Protect. Time for the verdict now.
Here are the Pros:
comfy
bright screen
top 10 performance
good audio
great camera all around
excellent stabilization
excellent connectivity
Nougat update came fast
And the Cons:
some build quirks
modest battery
blue hue in low light capture
no 4K video
lots of apps installed
Sony Xperia X Performance is a performer with an excellent price right now, of around $400. Except for the battery it's an excellent smartphone and the camera really, really shines. It's a good cameraphone, comes with strong performance and it's great for video watching and music. It's definitely a keeper, even though it's been a year since its debut.
Even though it's not a looker, it's certainly a multimedia machine.   You can get the phone here.