Sony experimented with the Compact phones for the first generation or so, but then it figured out what it had to do: offer us a rival for the iPhones, the 4.7 inchers. It's clear what they're targeting, which is people who want sub 5 inch phones with the performance of a flagship, both in camera and CPU. And that's exactly what the Sony Xperia XZ1 Compact offers. Priced at $450, it gets reviewed by us below.
There aren't many sub 5 inch phones out there with raw firepower, so once again Sony and Apple are the only ones duking it out. This is the smallest Snapdragon 835 handset out there and also the highest end sub 5 incher, until the Xperia XZ2 Compact is here at least. We already reviewed the XZ1 and loved it, so let's see if the XZ1 Compact delivers.
Launched in the Fall of 2017, this smartphone is built like a little brick, which means it's solid and a bit buff. It fits like a glove, it's pretty thick at 9.3 mm and people will big hands may kind of… hate it. It weighs a reasonable 140 grams and I feel the need to compare it to the iPhone 8, that weighs 148 grams and measures 7.3 mm in thickness. The handset has IP68 waterproofing and dust proofing and in spite of the fact it feels like all plastic, it's actually based on a combo of plastic and glass fiber. Actually the glass fiber reinforces the polycarbonate.
This 4.6 incher has big bezels, a scratch resistant back, but you will find it smudged quite a bit after some time of usage. It's an angular phone, with a solid build and no visible antenna lines. It's got comfy buttons, albeit a bit small and the top and bottom add to the solidity, being made of metal. Available in black, white, blue and pink, the phone has its own appeal, for the mini phone buffs.
Sony Xperia XZ1 Compact integrates a 4.6 inch IPS LCD display, with Gorilla Glass 5 protection and a 1280 x 720 pixel resolution. The usual Sony tech is here, Triluminous and X Reality, plsu we also have sRGB 138% calibration. When watching videos we were met with vivid colors, very, very high level of brightness and the contrast was superb. View angles are wide, the level of black is pretty OK and according to our microscope, pixels have an RGB Stripes arrangement.
We also did a luxmeter test and achieved 611 LUX, which is very high and also the equal of the Xperia XZ and XA1 Ultra. It beats the Xiaomi Mi 6, Galaxy S7 Edge and Google Pixel XL, but scores below the Motorola Moto Z2 Play and iPhone X. Settings lets you tweak brightness, there's also Adaptive Brightness, Smart Backlight Control, plus color gamut and contrast tweaks.
There are also viewing mode, like Pro Mode, Standard More and Super Vivid Mode, each self explanatory. There's a wide balance meter, with RGB sliders, Video Image Enhance, font size, Display Size and Glove Mode. Clearly the best display on a small phone, period.
Moving on to other hardware, there's a Qualcomm Snapdragon 835 CPU pulling the strings here, an octa core unit, with Adreno 540 GPU, 4 GB of RAM and 32 GB of storage. That's UFS storage, in case you were wondering and 9.47 GB are being used when you first boot. There's also a microSD card slot in the mix and performance was totally top notch. Things are very snappy, there's no lag, no freeze, no problem.
Apps start up fast and Riptide GP Renegade runs like a champ. I even went as far as to run PUBG Mobile on this device and it ran like a boss. We also did benchmarks and in AnTuTu we achieved a result higher than the Pixel 2 XL one, also the Xperia XZ1. Still, the iPhone 7 beats us, plus the Nokia 8. In GeekBench 4 Multi Core we reached the 9th spot, beating the Sony Xperia XZ1, HTC U11 and Google Pixel 2 XL.
It's below the Xiaomi Mi 6 and Samsung Galaxy S8. In 3DMark Slingshot 3.0 we scored the first spot, beating all the 2017 flagships, so the graphics are top notch. Things are very good and temperature was OK, with 39.5 degrees reached in GFXBench and 40.4 degrees in Riptide GP Renegade. It's on the edge, but there's no overheating.
Now let's talk about the battery. Sony Xperia XZ1 Compact packs a 2700 mAh Li-Ion battery, with support for Quick Charge 3.0, Qnovo Adaptive Charging and Battery Care. We did a video playback test and achieved an excellent 11 hours and 56 minutes of playback. It beats the HTC U11 and iPhone X, but scores below the iPhone 7 and Galaxy S8. In PCMark we scored even bigger, with 11 hours and 1 minute, which is fantastic.
It beats the Galaxy S8 and Xperia XA1 Ultra, plus the Galaxy A8 (2018), but scores below the Xiaomi Redmi 4 and Samsung Galaxy A3 (2017). Charging takes 2 hours and 36 minutes, which is rather OK and the equal of Xiaomi Redmi 4. It beats the Huawei P8 Lite though. We also some step by step charge measurements and achieved 5% charge after 5 minutes, 14% after 15 minutes and 29% after 30 minutes. We got to 58% after 1 hour.
Settings include Stamina Mode and Ultra Stamina, which reduce the throttle, connectivity and brightness to achieve more juice. Great battery overall. I couldn't wait to also test the acoustics, since they usually rock on Xperias. Here we have dual stereo speakers, at the top and bottom, with the many nifty technologies, like DSEE HX LDAC, Clear Audio+ and S Force Front Surround, plus APT-X HD.
We didn't get headphones bundled, in case you were wondering. The music player preinstalled here has Spotify integration and a ton of options and features, like DSEE HX, Clear Audio+, Sound Effects (genres and 5 custom channels). Clear Bass is also here, plus surround sound, S Force Surround, Dynamic Normalizer and Auto Optimization. 4 level mic sensitivity is also here.
The actual listening experience was quite loud, actually very loud, but also very clear. There's great stereophony, great bass and you can't cover the speakers with your hand. The back of the device vibrates a lot, the most ever on any phones I've tested. We also did a decibelmeter test and achieved 89.1 dBA at the bottom of the phone and 80.4 dBA at the top, with a typical acoustic sample.
With the bottom value went past the LG G4 and LG G5, but remained below the Xperia L1. The top value had us surpass the Xiaomi Mi 6, but we scored below the Motorola Moto G5. We also tested the acoustics with the game Riptide GP Renegade and achieved 94.1 dBA, which beats the Xperia XZ1 and Huawei P10 Plus, but scored below the Galaxy A3 (2017) and Xperia A1. Things are solid, but the vibration is a bit of a buzzkill.
Volume is also not very uniform. And here we are at last, we've reached the camera. There's a 19 megapixel shooter at the back, with Motion Eye technology, Sony Exmor RS sensor, measuring 1/2.3 inches. There's G Lens with F/2.0 aperture, a 25 mm lens, 950 FPS slow motion capture and Steadyshot 5 axis stabilization. Upfront we've got an 8 MP camera, with Exmor R tech and 1/4 inch size. There's also 120 a degree lens here, for wide (very wide) selfies.
The front camera also does Steadyshot. The camera UI is pretty standard for Sony, minimalistic and well organized. There's the Superior Auto Mode, Manual Mode and the Apps area. The camera itself takes pictures fast, the zoom is fluid and focus was very fast. Colors and brightness can be tweaked via sliders. The manual mode lets you tweak white balance, exposure, ISO, snutter and focus. There's HDR too here. 4K video capture and 60 FPS Full HD capture are all in the mix.
Interestingly for selfies, you can choose wide angle or not.
Time to see if the camera is good in practice, not just on paper. I loved how perfect the colors looked during the day time capture, the reds, the yellow and blue. Clarity was excellent, details too and you can zoom all you want and get all the details you want. Great perspective is another big plus, thanks to the incredible focus. Wide angle shots are not that impressive for selfies, so I recommend you stick with the regular one.
Also regarding selfies, the face texture is perfect, maybe a bit too perfect, doll like even. The texture of the skin, pores, hair, everything checks out. I zoomed onto some ducks at some point, and even at 8X I was happy with the clarity, no soft details. I would say that in closeups the Xperia XZ1 Compact can fight any flagship of 2017, maybe some from 2018. It's easily on par with the Xperia XZ1.
Once again, a bonus for Sony, this device takes very close closeups. Even with the sun in front, we have great results. Also even in difficult conditions, like the sun coming out of the clouds, where dynamic range would be messed up, the smartphone handles things like a champ. Of course, things are a bit darker than the F/1.7 or F/1.6 phones out there. The results look great and while I kept comparing this device to the iPhone 8, I have to say that Sony wins.
Selfies are rather so so, in my book. The Xperia XZ1 is much better in that area and also the Xiaomi Mi 6 is on a whole another level. In low light conditions we had a great flash, with an excellent amount of white, blue and calibration. Things are bright, but the details drop a bit when you zoom in. Street light halos are huge and there are lots of details in regular shots, not zoomed in. The level of yellow is acceptable, so thumbs up for that. Aside from halos and the odd hue, things are top notch.
I was surprised overall, very surprised that such a small phone achieves that. It beats the iPhone 8 again in my book and fights any flagships. Clarity and details are the kickers. Once again, not as bright as those F/1.7 phones or the F/1.6 ones. For a sub 5 incher it does a fantastic job. On the video side of things, we shot MP4, Full HD, 30 FPS and 18 Mbps. There's also Full HD in 60 FPS, at 30 Mbps and 4K at 56 Mbps.
Super Slow Mo is impressive, but the resolution is a bit low and you need a ton of light to make it work. The stabilization was excellent, but some vibration and refocusing snuck in, when descending stairs. It's perfect on flat ground, but less than perfect when descending or ascending. Overall, Xperia XZ1 does it better. The wind kind of affects the microphone and on the good side, the dynamic range was great.
Zoom made us drop details and the 4K capture was simply superb, in colors, clarity, exposure, whatever. Focus was excellent, in close up and distance, plus switching subjects to focus on. Some of the details in the distance pale during the 60 FPS clip. The selfie video capture was a bit shaky, my face was blurry at times and this is clearly inferior to the Xperia XZ1, which was great vor video blogging.
Actually, only the first video was underwhelming and the second got better. Be careful to choose the proper selection between wide angle and regular for selfie filming. Overall godly focus and colors. It can easily fight the iPhones, HTCs and Samsung flagships. Stabilization is below the Note 8. Selfie below the Xperia XZ1. We also did low light videos. They're Full HD, MP4, 18 Mbps and 30 FPS and they're a bit yellow, but the clarity is OK.
Zoom was "meh" and halos rather big. Colors are not bad and one of the videos had a serious amount of flicker, but the mic was great. Things are a bit darker than usual, since it's F/2.0 after all. I have to admit that low light video capture is one of the weaker points of this camera. It certainly beats the Huawei midrangers, maybe also an Xperia XA1, but doesn't go into flagship territory.
At least there's no strange hues, like pink, orange or so. Things are just OK.
We are done with the camera, so let's talk about other things. First of all, the web browser. We are dealing here with Chrome, which didn't exactly blow me away speed-wise, but somehow it achieved great scores in the dedicated benchmarks. We are using Swiftkey for input, with Swype supported and the keyboard doesn't feel as comfy as the iPhone 8 one for example.
Moving on to the connectivity, the device comes in a single SIM nano SIM version and has 4G LTE Category 15 support, plus GPS, Glonass and Beidou. There's also Galileo, WiFi, Miracast, Bluetooth 5.0, DLNA and NFC, as well as USB Type-C and Google Cast. WiFi is of the a/b/g/n/ac variety and there's no FM radio here. You can also hook up a Dual Shock 4 PS4 controller to this phone.
Calls were loud and clear, the voice was warm and the microphone handled our calls perfectly. We also did a SpeedTest or two and achieved 124 Mbps download speeds and 45 Mbps upload speeds on 4G. On WiFi we got to 308 Mbps in download and 26 Mbps upload, both excellent in my view.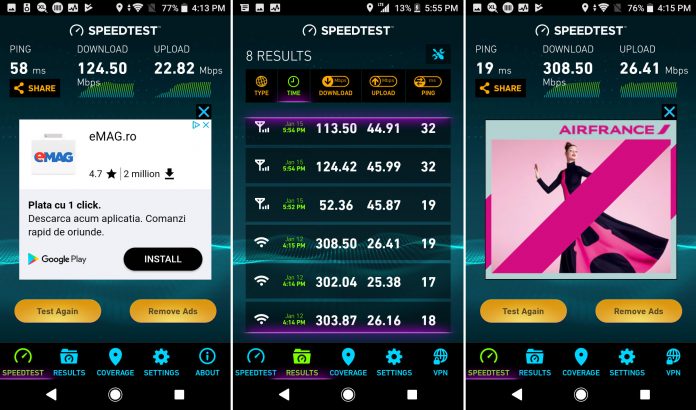 If you're wondering about the software, the handset runs on Android 8.0 Oreo, with the custom Xperia UI on top. The Xperia XZ1 Compact, together with the Sony Xperia XZ1 were actually among the first phones to come with Oreo preinstalled, if not the very first. There's notification badges, snooze for notifications, Play Protect and new Quick Settings arrangement. The Xperia UI is glossy and shiny, as per usual and on the leftmost homescreen we find the Google Feed, as usual.
Multitasking is done via split screen and carousel, with the former feeling a bit odd on such a small screen. If you keep the homescreen pressed, you will access classic features, like widgets (stock most of them), wallpapers and themes. There's also transitions and a grid to play with. Settings let you tweak icon size, icon appearance and overall the Settings feel more compact now than before.
Security is done via the fingerprint scanner embedded within the Power button. It's got a 21 step setup and it authenticates you fast and accurately. Too bad that the setup is so long… If you swipe down in the apps area you will get recommendations of apps to install, something that Sony has been doing for a while now.
Speaking of apps, the preinstalled apps list includes 41 names, which is a lot and smells like bloatware. The most useful of them are AVG Protect, 3D Creator, PlayStation, What's New and Movie Creator. There's also Amazon Shopping. 3D Creator lets you capture a person's head or bust in 3D and 3D print it afterwards. You can also do that with pets, food and objects. Sadly, the tutorials are long and clunky and if you don't pass them you can't access the full functionality.
And now here we are with the verdict.
Here are the Pros:
solid build
very, very bright screen
great battery life
stereo speakers
perfect color calibration (pictures and screen)
great low light capture
solid video capture
fast WiFi
ran Android Oreo among first
And the Cons:
too small for most people
the keyboard is not comfy
big bezels
the back vibrates too much during music playback
stabilization inferior to the Xperia XZ1
3D Creator and Super Slow Motion are still gimmicks
Power button is not that comfy
Sony Xperia XZ1 Compact is the best sub 5 inch smartphone that you can buy right now, well till the Xperia XZ2 Compact hits the shops. It beats the iPhone 8 where it matters: camera, battery and brightness, plus the speakers are excellent too. Some people simply want small phones and this is the perfect device for them. It has no major dealbreaker and it's exactly as good as the Xperia XZ1, or let's say something like 85% of it, but smaller.
For $450 it's a true deal and as the time passes it'll get a midranger price, while it offers a flagship experience. The camera and display alone, plus the fact it ran PUBG Mobile without overheating should make you buy it. You can get it here.