It appears that not only Samsung and HTC are launching Mini editions of their flagships this year, but also Sony. However, their unit has been rumored to actually pack strong specs in order to fight the iPhone 5S. This is the Sony Xperia Z1 Mini: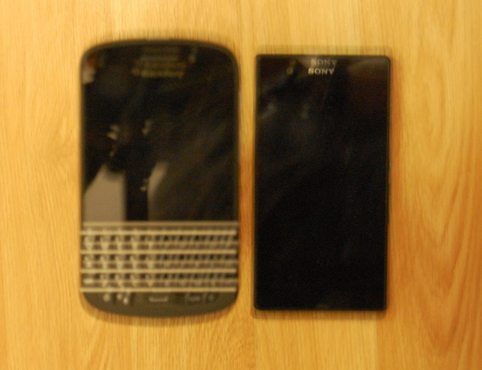 The picture shown here is a blurry shot portraying both the Z1 Mini and the BlackBerry Q10, for the sake of size comparison. We can't guarantee the identity of the Sony device, but the rumors say it's the real deal. The device is said to feature a 4.3 inch 720p display, a 2400 mAh battery and a 20.7 megapixel camera, as well as 2 GB of RAM.
Strangely enough, in spite of the diagonal drop and battery capacity decrease, this unit keeps the 2.2 GHz Snapdragon 800 CPU under the hood. There are quite a few people who are saying the pic is a fake and the handset on the right is in fact just an Xperia Z. However, a glance at the specs of the BlackBerry Q10 and the Zperia Z show that the Sony model is longer and wider than the BlackBerry unit.