Google and Motorola's first child is the Moto X handset, that has just been made available on a few carriers over the past days. Now the phone reached iFixit for the usual teardown, that involves taking the cover off and snooping around its parts.
iFixit tore down the smartphone, finding a well made and tightly packaged unit with a lot of glue and adhesive in the mix. As you pry off the back you'll see a huge blue adhesive pad, that may bother people who are trying to reach inner components. At least some of the ribbon cables were hidden under the pad, so you won't kill them by accident.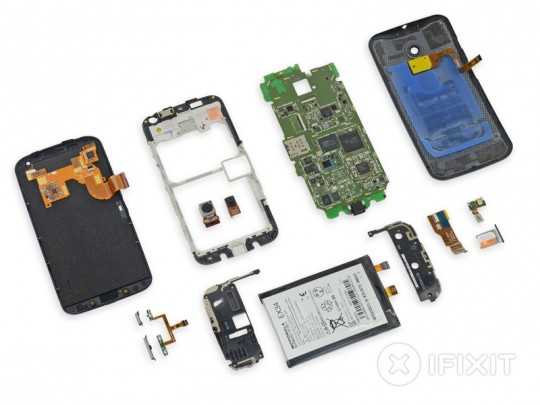 Motorola completely covered the processor, RAM and the other chips sitting next to the dual core processor. Usually, they're out in the open, but this time we're dealing with the X8 Mobile Computing System, that incorporates more cores than you'd expect. We've got two processing cores, quad core GPU for graphics and two extra cores for language and contextual learning.
The Moto X is a well built device, that has yet to get a repairability score from iFixit, since they're still working on it.