UMi Touch is another one of those affordable $140 phones we've been testing for the past months and this one is a metal unibody device with a phablet allure and big battery. It has Marshmallow on board and is priced at $140 on GearBest.com.
UMi is a brand with 10 years of experience and the product seen her was launched in early 2016. It's supposed to be a rival for the Xiaomi Redmi Note 3 and Vernee Thor. Design-wise, we're treated to a 2.5D glass panel upfront and a metal unibody case, which has a curved back. Available in silver, gray or gold, the device measures 8.8 mm in thickness, thicker than the Vernee Thor's 7.9 mm.
The smartphone weighs almost 200 grams and it's pretty heavy even by battery phone standards. You can actually feel the weight while wielding this smartphone. It uses CNC metal and the back sheet of metal feels rather thin, so not very reassuring. It's a comfy phone, with an OK one hand usage and comfy buttons. It requires 30 days of manufacturing and its Home button felt rather noisy and fragile, flimsy.
There are plastic areas at the top and bottom, for the sake of antenna integration and the facade is a fingerprint magnet. In the end it's a very heavy phone, but also reasonably comfy. The display is a 5.5 inch Full HD IPS LCD unit with LTPS tech and a 2.5D glass panel We've got Gorilla Glass 3 in the mix, a 441 ppi pixel density and there's no video player here, so we used the gallery for tests.
The viewing experience was clear, featured OK brightness, but the image felt a bit too white and washed out. Even the black is very white. Colors are vivid and view angles are quite wide. The pixels have an RGB Stripes setup and the luxmeter test revealed a value of 390 LUX, which is OK for this price tag. It's the equal of the Mstar S700 and surpasses the Sony Xperia Z5 Premium, while scoring below the Xperia E4G.
Settings for the screen include Miravision options, like Picture Mode (Standard, Vivid or User Mode), with several sub options like Contrast, Saturation, Brightness, Sharpness, Color Temperature and Dynamic Contrast. Adaptive brightness and font are also here. It's a OK screen in the end, maybe minus the washed out part.
Now let's see what makes this device tick. It's an octa core MediaTek MT6753 chipset, clocked at 1.3 GHz, with Cortex A53 cores and 28 nm technology. The GPU is a Mali T720 and other specs include 3 GB of LPDDR3 RAM, 16 GB of storage and a microSD card slot. There's no lag here and performance was good, while the functioning of the handset was fluid.
Games ran OK, including Riptide GP2 and benchmarks provided reasonable results. In Quadrant we were at the Lenovo Phab Plus level, while in AnTuTu 6 we surpassed the Vernee Thor by 1000 points. In 3DMark ICS we beat the Huawei P8 Lite, while in GeekBench 3 we were onpar with that model. I'd say the results are quite OK in the end. The temperature test involved messing around with GFXBench and achieving 36.1 degrees Celsius afterwards and reaching 40 degrees Celsius after playing with Riptide GP2, which is just at the limit of overheating.
Now let's see what the battery holds. It's a 4000 mAh Li-Po unit made by Sony, with a standby time on paper of 13-15 days. We also promised 92 hours of music or 60 hours of talk time, while the HD video playback loop test we did revealed a time of 8 hours and 53 minutes, which is OK, but I expected a bit more from a 190 gram device.
We surpassed the HTC one A9 and Huawei Nexus 6P, but scored below the Galaxy A5 and Xiaomi Mi4i. In PCMark we scored 8 hours and 45 minutes, which is a great result and it's exactly the same as the one of the Samsung Galaxy A3 (2016). We even beat the Galaxy Note 5 and scored below the Huawei Mate 8. Charging is done in a huge time of 4 hours and 32 minutes, almost the longest we've ever tested.
Settings include Standby Intelligent Power Saving, Battery Saver and Doze. The battery feels mixed, but the PCMark result was excellent. The acoustics are all about the speaker, no the headphones, since we don't have those bundled. The music player on board is minimal and simple, but somehow it can't find our music. The EQ is stock and we've got 5 frequencies, Bass Boost and Surround to tweak.
Experience involves a loud sound, but also a bit drowned, an OK bass and it all feels better at 70% rather than 100%. The high notes are well heard and there's also some muffling in action, sadly. We did a decibelmeter test and achieved 84.6 dBA at the front and 87.4 dBA at the back. The latter result is similar to the on of the LG G3, it beats the LG G5 and scores below the Lumia 930 for example.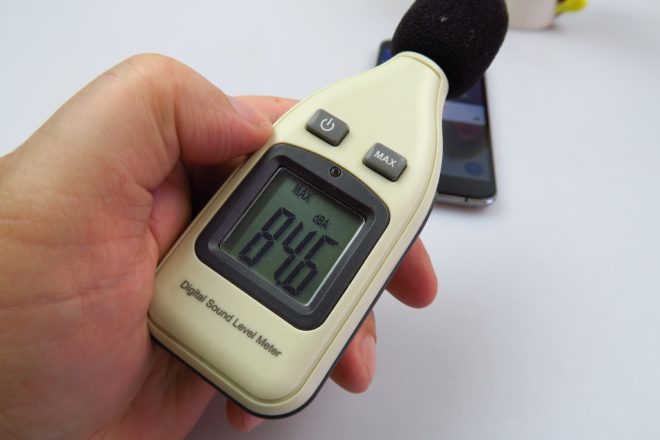 FM radio is also here, while options offered here are BES Audio Enhance, BES Loudness and BES Surround. Acoustics are quite OK, aside from the top volume drowning. Now let's see if the optics match the acoustics. There's a 13 megapixel back shooter, with Sony IMX328 sensor and a 5 MP front shooter with Hynix Hi553 sensor. The camera app has a slow start and the camera experience was rather slow, in both capture and zoom. Focus was also slow and the UI felt laggy.
There are very, very few options and filters are also available. We've got a Picture in Picture mode and classic options like Panorama, HDR, exposure, Scene, white balance, sharpness, hue, saturation, GPS, contrast, anti shake, ISO, electronic image stabilization, time lapse. We did a day time gallery of shots taken on a torrid day of June.
Some shots are a bit white-ish and once we zoomed in, there's a lot of detail loss. Colors were good and the selfie was pretty OK, maybe thanks to the front flash. HDR of that graffiti was nice, but once again too white. The sky was burnt and the Picture in Picture mode was a gimmick. Panorama was modest, with a resolution of 6288 x 800 pixels and we had a nice closeup of a water fountain.
Texture of flowers was nice and we also played with the focus pretty well. Clarity was good and in spite of criticizing the zoom above, we managed to zoom into those flags with no problem and reasonable details. The landscape shots feature OK details and for $140 I feel that the photo capture was reasonable. It's also 10% below the quality of the Vernee Thor and clearly above it in the selfie area.
Low light photo capture was blurry, but not in a serious manner. Texture of buildings was well rendered on image, the lighting was solid and brightness pretty good. This is no Galaxy A5 (2016) in the low light photo area, but it's pretty good still. Video capture happened in 3GPP format, in Full HD, at 30 FPS and with a bitrate of 17 Mbps.
It was shaky and washed out, but had an OK clarity when we zoomed in. Colors were good, minus the sky and the microphone couldn't seem to handle the wind. Focus was OK and the overall clarity was satisfying. We also liked the exposure change and it's too bad that the image was washed out and details were unimpressive in general.
Low light capture was poor, with 11 FPS and 3 Mbps, so basically everything was rendered in slow moving frames. It's clearly a video capture not on par with big brand phones, but reasonable for the usual 3GPP repertoire. Time to ditch the camera and talk about the browser. It's quite fast, but has poor benchmarks and the stock keyboard offered here is pretty comfy.
On the connectivity front we predictably get a dual SIM setup and one of the slots also serves a microSD card slot. Both slots are 4G compatible, but only one at a time offers 4G support. There's also WiFi a/b/g/n dual band here, Bluetooth 4.1, GPS and LTE is only of the FDD kind. We also get Turbo Download as a feature and the Calls had an OK volume, but were heard in a pretty metallic fashion.
The microphone was only so so and the Speedtest we did revealed a value of 69 Mbps in download and 25 Mbps in upload, with a 28 ms ping. That was on WiFi and we've seen much better, while on 4G we got to 58 Mbps in download and 41 Mbps in upload, quite solid. WiFi also tends to lose signal at times, which was frustrating. UMi Touch runs on Android Marshmallow, in a mostly stock fashion and some icons have still been tweaked.
Icons are huge and we've got stock widgets. Multitasking is triggered by keeping the Home button pressed and it's shown in typical carousel fashion. The dropdown portion includes a stock notification area, Quick Settings and the actual Settings include gesture sensing (hands in front of the device), Smart Wake (draw symbols and double tap to wake).
The fingerprint scanner had an OK setup speed and offered fast unlock. There's no pressing on it, just touch, from all angles possible. The preinstalled apps list includes only 25 names, so there's no bloatware here. It's only the basic necessary set of items, with ZERO extra apps, which is always good. And now let's see the verdict!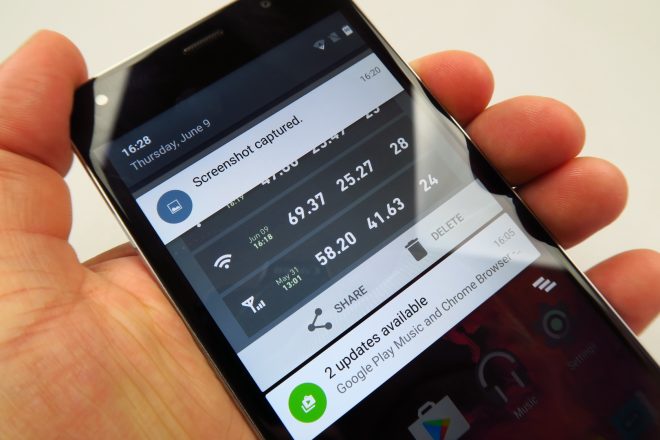 Here are the Pros:
affordable
comfy
OK screen
good performance
good PCMark result
nice acoustics
not bad pictures
Marshmallow on board
no bloatware
And the Cons:
heavy
huuuge charge
video capture could be better
too few camera options
some burnt pictures
underwhelming video capture
WiFi drops
UMi Touch is a heavy phone and average in pretty much everything. It stands out through some pictures and the PCMark battery test, plus reasonable performance and good multimedia abilities. You'll probably play games on this phone, take selfies using the front camera with flash and at a price of $140 on GearBest, I say this is a very good buy. You can get it here.