We're back with a fresh review, this time for a phone that still smells like fresh. It's the Xiaomi Redmi 5 Plus, launched in February this year and priced at just $199 on GearBest.com. We did all the tests and came up with the verdict below.
This is a 5.99 inch handset that has an 18:9 aspect and unibody metal design. It's a big battery midranger, sort of a battery phone, if you will. It's got the famous Snapdragon 625 CPU inside and it's available in black, blue or gold. Keep in mind that this device is also known by the name Xiaomi Redmi Note 5.
Design
The design of the phone is metallic and the approach is unibody. There's plastic at the top and bottom of the back, because of the special antenna cutouts. Upfront we find a 2.5D panel and the device kind of looks like a Google Pixel 2 XL or LG Q6 if you glance at it fast with the screen on in the dark. That's mighty praise.
The good news is that its body doesn't quite attract grease or fingerprints. I found the grip to be OK, but the phone felt a bit too long and narrow for one hand usage. Buttons are comfy. If you want measurements, the smartphone measures 8.05 mm in thickness, weighs 180 grams, which compared to the Huawei Mate 10 Lite is thicker by about 1.5 mm and heavier by 16 grams.
In the end this is a comfy phone, with an OK build and looks, spoiled a bit by the back antenna cutouts. I'd say it's a typical Xiaomi phone.
Display
Xiaomi Redmi 5 Plus has a 5.99 inch 18:9 2.5D screen upfront, with Gorilla Glass protection and 2160 x 1080 pixel resolution. The pixel density is 403 ppi and the contrast ratio is 1000:1. On paper we are promised 450 nits of brightness and 84% NTSC color gamut.
The viewing experience involves vivid colors, wide view angles, good imersiveness, solid brightness and an OK contrast. Pixels have an RGB Stripes arrangement, as shown by our microscope and we also did a luxmeter test, revealing 426 LUX of brightness.
With this value, which is pretty good we beat the likes of Huawei Honor 8, HTC U11 and Motorola Moto M. We also scored below the Sony Xperia XA1, iPhone SE and Motorola Moto G4. Settings for the screen include brightness, auto brightness, a reading more with a custom period of time to set up and Colors. This is where you choose between options like warm, standard or cool.
There's also a Contrast option, that lets you choose between Auto Contrast, Increased Contrast and Standard. You can also tweak text size, by the way. I would say that the screen is pretty OK in my book and pretty good for the price.
Hardware
On the hardware front, we are dealing with the already famous Qualcomm Snapdragon 625, also found on the ASUS ZenFone 3, Huawei Nova and Motorola Moto Z Play, as well as the Xiaomi Mi A1. There's also an Adreno 506 GPU in the mix. On the RAM front we've got 3 GB or 4 GB, depending on the version you buy, plus 32GB or 64 GB of storage, with 54.21 GB free for the 64 GB model.
By the way we have 4 GB of RAM and 64 GB of storage on our device. It didn't register any lag, no freeze and we even ran a PUBG clone called Hopeless Land, while also doing screen video capture, at 40 Mbps and it looked just fine, so performance checks out.
We played the game Riptide GP Renegade here with no problems.
Benchmarks and temperature
Of course benchmarks were performed here, such as AnTuTu 6, where we scored above the Motorola Moto M and Huawei Honor 7, as well as the Xperia XA, but below the Huawei Mate 10 Lite and Xperia XA1. In AnTuTu 7 we beat the Nokia 6, while in GeekBench 4, the multi core test we came up above the ASUS ZenFone 4 and Xperia XA2 Ultra even.
Still, the Xiaomi Mi A1 and Moto Z2 Play beat us. In 3DMark Slingshot 3.0, we scored above the Huawei Nova and the Moto Z Play, but scored below the Xperia XA1, Xiaomi Redmi Note 3 Pro and overall we were at the level of a ZenFone 3 and Huawei Nova Plus.
As far as temperature goes, we scored 33 degrees in GFXBench and 35.6 degrees Celsius in Riptide GP Renegade, so there's no overheating.
Battery
Xiaomi Redmi 5 Plus has the battery as the selling point, that's for sure. It's a 4000 mAh unit, that's non removable and comes with 5V/2A charging. On paper it promises 17 days of standby functioning, 165 hours of musical playback or 15 hours of video playback as well as 9 hours of gaming.
We don't trust such figures, so we did our own tests. Thus, we achieved 15 hours and 8 minutes of continuous video playback, which is great, placing the phone on the 13th spot all time. It beats the Samsung Galaxy A5 (2017) and the Galaxy A8 (2018), but scores below the Motorola Moto Z Play and the Samsung Galaxy A3 (2017), which are still legends in the field.
In PCMark we scored 11 hours and 26 minutes, another great result, placing the phone on the 12th spot. It beats the Huawei Mate 9 and the Xiaomi Redmi Note 4X, but scores below the Sony Xperia XA2 Ultra and the Samsung Galaxy A3 (2017). Charging is done in 2 hours and 26 minutes, which is quite OK. This is better than the Pixel 2 XL for sure and the Xperia XZ. For those of you wondering, 30 minutes of charging brings the phone to 29% and 1 hour to 56%.
Settings include a battery saver, which can monitor the backgrounds processes and turn off sync, plus there's a Sleep Mode, which deactivates Bluetooth, GPS, WiFi and data, when the screen is off.
Audio
This phone has a single speaker, at the bottom and it's kind of easy to cover with your hand in landscape. The Music player has clear MIUI vibes and it comes with an EQ that's properly triggered with headphones connected. There's Genre settings, 7 custom channels and Mi Sound Enhancer.
The actual experience was loud and clear, the bass was solid, voice was warm and the back vibrates quite a bit. I have to say I'm pretty pleased with the experience, but too bad there's no stereo acoustics.
I liked the strong drums in particular. We also have FM Radio and no bundled headphones, as usual for Xiaomi. We did a decibelmeter test and achieved in the audio test sample a value of 90.6 dBA at the front and back, which beats the Samsung Galaxy S8 and scores below the LeEco Le Max 2. In Riptide GP Renegade we scored99 dBA, which is also very solid and superior to the likes of Huawei P10 and Google Pixel 2 XL.
We're still below Moto E4 and Nokia 8. Solid acoustics overall.
Camera
The story is pretty simple here, without dual cam gimmicks like the Xiaomi Mi A1. This time all we have is a singular 12 MP shooter at the back, with 1.25 micron pixels, 5 element lens and F/2.2 aperture, as well as dual LED flash, PDAF and HDR. Upfront there's a 5 MP camera with Full HD video capture and Beauty 2.0 mode, as well as selfie flash.
The Camera app is pretty fast to activate, but the picture taking speed is so-so, at best. Focus is rather fast, but the zoom is a bit slow, to be honest. The camera modes are as follows: Audio, Beautify, Tilt Shift, Timer, Straighten, Scene, Panorama, Manual (ISO and white balance), HHT. There's also options for contrast, saturation, sharpness and auto exposure.
We move further to the day time gallery this time, finding a bunch of shots that were pretty crisp and clear, thanks to a very sunny day. Finally we've found a phone that does good HDR and pics were pretty clear overall. At first sight, I'd put this on par with the Samsung Galaxy A5 (2017) picture quality. The first level of zoom is OK, but zoom more and grain appears. The level of details was OK in general, not in Xperia real, but also not a C or B tier phone from China.
Selfies were actually shockingly good, but if you remember how good they were with the Xiaomi Mi 5 and Mi 6, the shock is less surprising. I loved the skin texture here, the clarity, brightness and even the background looked solid. The beard, the clothes, everything was spot on. I feel that some merit belongs to the software somehow. Back to the main camera, it pulls off some great colors, crisp and clear images, but sometimes there were shots that felt a bit too bright.
Something like 10% less exposure would be ideal. A good piece of news is that you can do really close closeups, almost Xperia-like. I feel that this phone takes better shots than the Huawei Mate 10 Lite and LG Q6 and it also beats the Nokia 6. I'd put it on par with the Xiaomi Mi A1 and ASUS ZenFone 3. Once again selfies were excellent, better than expected, especially for a not so big resolution.
The good thing is that overall we didn't experience any blur, no refocus and not one bad selfie, luckily. The clearest definition about this experience goes like this: less flaws than the Xiaomi Mi 5. Panorama is rather modest, at 6752 x 1824 pixels. That's all she wrote for the day time, so let's see low light capture. The low light pics had an OK flash lighting, some blur and also some strange pink hues.
The zoom was rather poor and I found the image to be a bit dark, but the flash was good, at least. The yellows were kept in check, but the street light halos were big and generated some strange lines. Some lights are a bit dim and blurry, to be frank. Oddly enough closeups were clear and detailed all the way. Let's say that this time the device performs like a Huawei P9 Lite and Huawei P10 Lite, that's the level we're at.
Videos were shot in Full HD, at 30 FPS and 20 Mbps. This time things were a bit burnt, shaky, but the microphone stayed solid, catching dogs in the park, people chatting around and more. There was some refocusing, but there was also a cute moment, when a kid was singing and his lullaby is very clearly heard. One of those cute moments of being a reviewer of smartphones.
The zoom was solid when coming across the red toy dog and the colors were well calibrated overall. If you walk around and film, there's a bit of shakiness for sure, but at least there's no refocus, so things are rather OK in my book. I loved the zoom in, but not so much the burned areas of the videos. There's also 4K video here, that happens with some refocus, a green hue that's not exactly my cup of tea, or realistic, but clarity was spot on.
The front camera caught a pretty dark image, but at least there was no refocus. The microphone is solid, colors were excellent and clarity was good, quite good. This phone feels like it's better than a Huawei Mate 10 Lite and LG Q6, but there's too much refocus and burn. The microphone and zoom stand out. Let's say that it's on par with Huawei P10 Lite and Xiaomi Mi A1.
Low light video time! This time the colors are OK, but things are dark and shaky. While the zoom is OK, street light halos are big and once again the microphone catches a lot of ambiance. Object tracking was pretty accurate and I know I complained about refocus, but at night it doesn't seem so apparent. The level of yellow is tolerable and overall this is not bad filming, not bad at all.
It was way past 11 pm, so things are really looking good. A quick comparison with a Motorola Moto G5S, G5S Plus and more favours the Xiaomi Redmi 5 Plus greatly. This device may be superior to quite a few Lite, Honor and ZenFones. Not bad, not bad at all.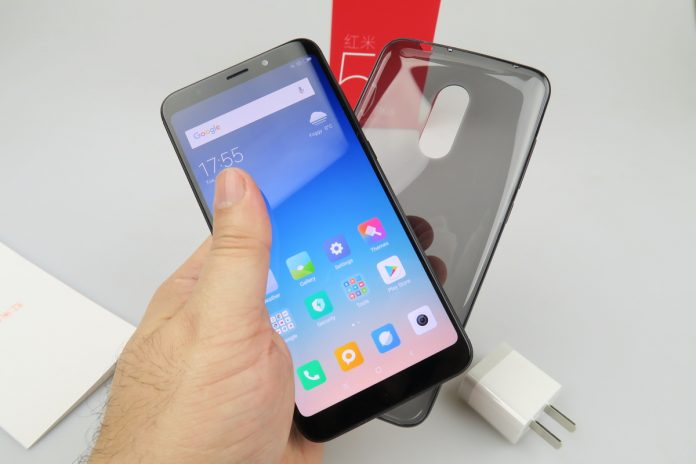 Browser and keyboard
The browser of choice here is Chrome, but there's also one called simply Browser. I was actually impressed by the native one, which is fast and I loved the way the web pages fit the screen. The keyboard is comfy and it has Swype, so nice typing here. I'd say that the benchmarks for the browser are mid level.
Connectivity
Things are pretty predictable here, with WiFi a/b/g/n and WiFi Direct in the mix, plus WiFi Display, Bluetooth 4.2 and dual SIM card slots. There's also 4G LTE Category 4 and the two SIMs are a nano SIM and micro SIM, but one of the slots is a hybrid, also letting you use a microSD in the same slot. A pleasant surprise is the inclusion of infrared, which lets you control a TV set, set top box, air conditioner and more.
Mi Remote is the app that puts it to work. There are also 2 microphones here, a microUSB 2.0 port, GPS, AGPS, Glonass and Beidou. Calls are loud and clear, the noise cancelling is OK, I'd say. We also did a SpeedTest and achieved 112 Mbps in download on 4G and 45.1 Mbps in upload on 4G. On WiFi we achieved 87.5 Mbps in download and 25.2 Mbps in upload.
OS, UI, Apps
Xiaomi Redmi 5 Plus runs on Android 7.1.2, with MIUI 9.5.3 on top. The UI is simple, abstract, as if someone took iOS 7's skeumorphic approach and went further. Multitasking happens in old school fashion, via cards and you swipe up to close apps. Keep the screen pressed and you will trigger the wallpaper, widgets (ultra minimal) and transitions. The leftmost homescreen is an aggregator of sorts, which includes shortcuts to note taking, calendar and more.
The dropdown portion is minimal and includes the Quick Settings and notifications. Settings let us access the fingerprint scanner, which has a 12 step setup and lets you both lock the screen and do payments. The unlock was very fast and accurate, so a pleasant surprise. In the Settings we also found a Pocket Mode, Smart Cover Mode, notification and status bar options and gestures.
Oddly enough Xiaomi decided to offer us iPhone X-style gestures, with swipe up for a Home button feature and swipes to the sides to navigate, plus a half of the screen swipe up for multitasking. Totally iPhone X! There's also Second Space, which is basically like having a new phone and Quick Ball, a floating widget. One Handed Mode is also here, plus dual apps and app lock with password.
The preinstalled apps list includes 37 applications, which are quite a few. There's no app drawer here and the apps were pretty OK, like a Security app, used as a Cleaner and for Speed boosts. One of my favourite apps/features was screen recording, of the video kind. I actually played a game AND recorded it at 40 Mbps in Full HD+ without overheating or other extreme behaviour, so thumbs up for that.
The list ends with WPS Office.
Conclusion:
Time for the Pros and Cons, so let's check them out.
Here are the Pros:
nice facade design
imersive display
fantastic battery
OK performance
loud
great selfies
solid colors in pictures
OK connectivity
minimal UI
And the Cons:
plastic lids at the top and bottom
benchmarks are at 2016 level
no waterproofing
no stereo speakers
video refocusing
some burn in pictures and videos
no Android 8.0 Oreo
just microUSB
no dual camera
Xiaomi Redmi 5 Plus is basically a gamer's phone and a vlogger's phone. It has a great front camera, it does some nifty gaming and game recording, so that's its purpose for sure. I'm a mobile gamer, so I'd take this over the Xiaomi Mi A1, to be honest. The battery, selfie and performance (not the benchmark one) are the things going for it.
The screen is imersive, so Netflix buffs will like that. It can take on a Sony Xperia XA2 Ultra easily, at half its price, which is mighty impressive. You can get the phone here.