Alcatel is back in the game, this time not with One Touch low end models, but rather a surprise: a high end smartphone that will be able to run Android 4.0. For now, the newcomer, Alcatel 995 runs Android 2.3 Gingerbread, but Alcatel promised an Ice Cream Sandwich update in early 2012.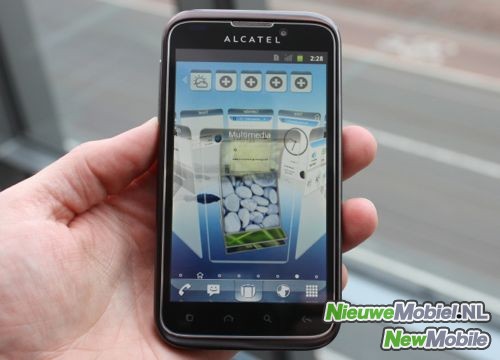 The French maker of this handset did a fine job with this model, that reminds me of a HTC unit, when it comes to design. The phone sports a 4.3 inch high resolution display, it comes with a mystery single core 1.4GHz processor, a 5 megapixel camera with flash and a 1.3 front camera for videocall purposes. Gingerbread will be covered with Alcatel's custom UI based on a 3D carousel, as shown in the image above.
Can you believe that this is actually an Alcatel One Touch handset? Considering what the French device maker usually gives us, it's hard to believe they came up with such a high end model and even promised Android 4.0 ahead of some major players such as LG, who are uncertain about their upgrades. Let's hope that the price for the Alcatel 995 will be right.