Every once in a while we test Allview products and this Romanian brand has in its portofolio an interesting device called Allview E3 Sign, that's detailed below. This model was announced at MWC 2015 and it's actually a rebranded version of the Xolo Q2100 handset. It's also first Allview phone with a fingerprint scanner on board.
The product's price tag is $219 and moving on to the design, we're dealing with a device that resembles the Oppo Find 7 and OnePlus One quite a bit. This phone is a 5.5 inch phablet, with 9.3 mm thickness and a weight of 161.9 grams. It has a solid frame and it comes in black or white, plus it uses a metallic frame. The product sits comfy in the user's hand, offers good grip and has a soft touch back.
It's not very easy to use with one hand and we noticed it has big bezels, but these aren't major problems for such a massive device. Upfront we find a bit of a chin, that reminds us of the portion that delivers light notifications on the Oppo Find 7. Also at the front there's an earpiece, selfie camera and sensors, plus the capacitive buttons below the display.
The back includes the main camera, microphone, flash, fingerprint scanner and speaker. Once you remove the back cover, you will reveal two SIM slots, a microSD card slot, the battery and the fact that the speaker is smaller than we expected. Up at the top we find the infrared emitter, audio jack and at the bottom there's the microphone and microUSB port.
There's nothing on the left side, while the right holds the On/Off button and volume buttons, all of them with OK feedback. Allview E3 Sign/Xolo Q2100 has a rectangular and rigid format and it's pretty much OK for a midrange phablet. Its hardware includes an IPS LCD HD 5.5 inch screen, with OGS technology and 720p resolution, as well as Gorilla Glass 3 protection.
Inside the handset we find a Cortex A7 1.3 GHz quad core processor, of the MediaTek MT6582 kind, as well as a Mali 400 MP GPU, 16 GB of storage and 2 GB of RAM. We've got a microSD card slot included here, too, an 8 megapixel back camera and 2 MP front shooter. Connectivity-wise, specs include dual SIM slots, with the first SIM being the normal kind and the other a microSIM.
There's GPS, 3G video call, FM radio, HD voice, HSPA+ with 21 Mbps download speed and 11.5 Mbps upload on paper. The list goes on even more, with Bluetooth 4.0, WiFi 802.11 b/g/n, WiFi Direct, WiFi Display, infrared and microUSB 2.0. Sensors are also here, ranging from accelerometer, proximity sensor, compass, light sensor and the fingerprint one.
The battery of the phablet is a 2800 mAh Li-Po one, while the charger is a 5V/1000 mA unit. On paper the device delivers 280 hours of standby, 622 minutes of talk time, but in our PCMark test we achieved 7 hours and 15 minutes of continuous usage simulation, which is OK for a midrange phablet. We even beat the OnePlus One, that scores 5 hours and 15 minutes.
Overall, the user gets a bit over a day of usage from this model. The charging takes quite long, 3 hours and 45 minutes and there's no Power Saving, in case you're wondering. There is still an option called Economic Backlight, in the Display area. As far as audio is concerned, we've got a custom music player, that looks minimalistic and a bit too old school for us.
The EQ is a stock one and there's no muffling for the speaker, luckily. The sound gets a bit distorted at max volume and I'd say the speaker at the back is reasonably loud and we get good bass and OK high notes. I must also mention that the vibrations are quite bad when listening to the max volume. The headphones offered here have a big plug, a nice design and a rubbery feel.
This pair has a premium look, a tangle free wire and while they're comfy, they're also not very loud, but the bass is OK, clarity is good and so is isolation. We've got FM radio in the mix, too, with a custom app, that has recording, RDS and speaker options. Settings will offer you access to sound optimization, which basically adds more bass to the headphone experience.
We used a decibelmeter to test how good the speaker actually is and we got 82.5 dBA at the back and 77.8 dBA at the front. We're pretty much on par with the Huawei Honor 6, but we're below the OnePlus One and its 90 dBA. Overall, the acoustics are OK, but there's a bit of noise at max volume. Now let's talk display. This is an IPS LCD panel with HD resolution, OGS and 5.5 inch diagonal. It has Gorilla Glass 3 protection and the video player preinstalled here comes with a Pop Up Play feature.
The display offers realistic colors, a crisp image, OK brightness, but you can certainly tell it's not Full HD, if you look closely. View angles are wide and contrast is so so. Pixels are of the RGB Stripe kind and brightness reached 391 LUX in our test, which is OK, especially since it isn't far from the OnePlus One, that achieves 404 LUX and it certainly beats the Oppo Find 7a and its 354 LUX.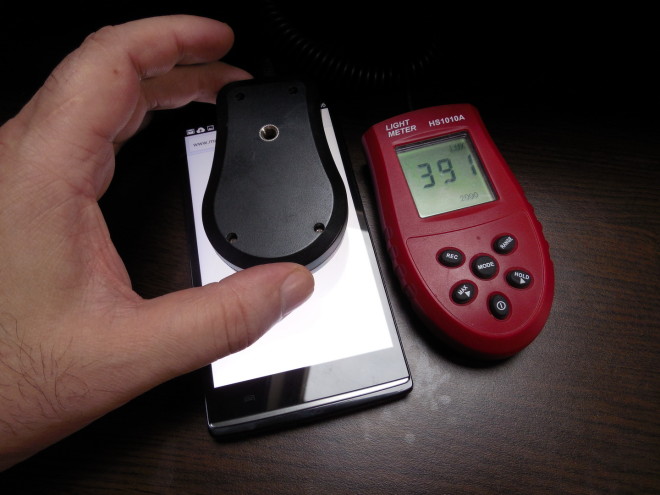 Settings include Economic Backlight and I have to highlight the realistic colors of this screen. And now it's time to dissect the camera. This one is an 8 megapixel unit with a Sony IMX219 sensor, dating from back in 2012. It measures 1/4th of an inch and the UI is frankly speaking very ugly, by any standards. At the left we find the front camera shortcut, flash options and on the right there are the capture modes, like Smile Shot, Selfie, Normal, Beauty Face, HDR and 360 degree Panorama.
There's also the Shutter for photos and videos and a gallery shortcut. At the bottom we find options like voice command, timer, night mode and crop, plus resolution (photo and video), grille, location, sound shot, data stamp, white balance, exposure, QR code scan, microphone and reset. This camera does 4X zoom tops and it has a pretty slow focus. The capture offers a medium speed, so to say.
The gallery of shots taken with the E3 Sign can be seen here. Pics were taken on a sunny spring day and they flaunt realistic colors, crisp imagery and a very wide panorama is included. It's well stitched, as you can see for yourself. Some of the picture are a bit overexposed and the camera can't handle the sun very well. Contrast and focus are OK and the macros came out just fine. Lighting is also OK and we've got a good level of detail for an 8 MP shooter on a midrange device.
Some of the toys exposed to sunlight and captured by us were burnt by the sun, but on the good side details were good in the shots, most of the time. We like the texture of the graffitti wall shot and in case you're wondering, in lower light conditions the camera doesn't perform at all well. HDR exaggerates the exposure and landscape shots will get a bit blurry, when covering a lot of ground.
Once again, for a midrange and this price, the camera is acceptable. Video is captured in 3GP format, at 23 FPS and with a 17 Mbps bitrate. We captured a first video, with OK colors, good focus, but also no stabilization. Image quality was decent, but the second video also brought a huge lack of stabilization, making it a pattern. Bad motion blur was also registered, but exposure was good and colors were realistic.
The level of detail was mediocre at best. The video capture wasn't very impressive for Full HD level and I certainly didn't feel like Full HD to me. Drawing a line, this camera is good, but more in the photo capture than video capture section. The usual editing options are available here, including filters, frames, crop, rotate, exposure and color, plus contrast. We even played a game on the E3 Sign, Riptide GP2 and after 15 minutes of playing it, we got to 37.3 degrees Celsius, which means there's no serious overheating here.
The device's web browser is kind of slow and its custom UI is very old school, but this time not in a bad way. The keyboard offered here is a stock one and well spaced. Phone calling involves an old looking dialer and features like Speed Dial, background noise reduction and the actual experience involves loud calls, clear sound and OK signal.
Benchmarks were also performed and we compared the Allview E3 Sign to the Wiko Rainbow and Karbonn Titanium S6, all of them sharing the same MediaTek 4 core CPU, but having slight variations in RAM and diagonal (smaller and lower for the latter two). Here are the results: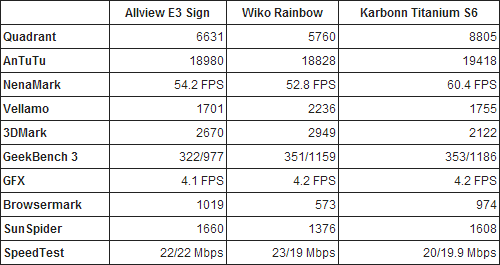 Benchmark results are pretty weak for the Allview phone, that only wins 1 out of 10, in spite of having good specs. There is no lag here and games run like a charm, so those results aren't entirely relevant. The OS of choice on the phablet is Android 4.4.2, in a very customized version. If you keep the Menu button pressed you will trigger the multitasking and end all options, while with a single press of the menu button you can see the widgets and effects applied to the homescreens.
The dropdown area has a minimalistic UI, shows Quick Settings and notifications. The Settings offer a new design compared to what we're used to on an Allview. There's a left side list and the core options on the right New and interesting features are found here, like Magic Cursor, with a variety of shapes used as pointers, custom notification area, show network speed, schedule activities and finally the selling point: fingerprint scanner.
This scanner is reasonably fast and registers the fingerprint with a few swipes. It doesn't exactly get your print from the first try, especially if you're new to the device and it's certainly not as precise as the scanner of the iPhone models and Galaxy S units. It's also only used for security/authentication, not purchases. This handset also offers gestures and motion, like Smart Wake, Smart Stay, Double tap to wake and other settings and options include a floating multitasking window, voice control and accessibility.
The preinstalled app list goes like this: Bitdefender Mobile Security, Backup + Restore, Calendar, Chrome, Compass, Drive, Facebook, Email, File Manager, Gmail, Google+, Hangouts and Maps. There's also Photos, the Play Suite, Sound Recorder, To Do, Torch and YouTube, plus something called Zaza Remote, that uses the infrared emitter and has an intuitive and nice UI. You can easily control your TV set with this phablet.
Now let's see the verdict! Here are the Pros related to the phone
fingerprint scanner on board
infrared emitter
good price
OK speaker and headphones
good battery
good brightness
reasonable camera for picture taking
realistic colors
And the Cons:
big and bulky
long charging
a bit distorted sound
not impressive video capture
poor benchmarks
some UI parts are ugly
no payment system
Allview E3 Sign gets from us an 8.4 out of 10 for design, a 9.3 for hardware and a 9 for OS and UI. The finale grade is 8.9 out of 10 and this is a midrange phablet that tries to sell you on a fingerprint scanner, that's basically a glorified extra method to unlock the screen. The camera and display are OK and this is a good phone, but if you remove the fingerprint part, you're left with the standard, boring midrange device.