Allview P4 Alldro is a phone made in China and branded in Romania, through the local company Allview. We've tested a few Allview devices before, but this one is actually a pretty interesting one, being priced at $360 or probably less now since there have been a few months since its release. I wouldn't be surprised if the device was already below $300 actually.
This phone was the first dual SIM Super AMOLED Plus handset in Europe and its design strongly reminds me of the Samsung Galaxy S II. Under the hood we've got a microSD card slot, two SIM slots and the whole device measures 9.8 mm in thickness and weighs 118 grams. The back has a nice texture and the handset has a diagonal of 4.3 inches. This product was launched in August and it comes with a Super AMOLED Plus 4.3 inch 480 x 800 pixel display, with Gorilla Glass protection and 16 million colors.
There's also a Cortex A9 1 GHz single core CPU on board and 4 GB of Flash storage, of which 2 GB are available to the user. 512 MB of RAM and 512 MB of ROM complete the list, together with a microSD card slot. This is a dual SIM dual standby GSM model, that allows you to receive SIM 1 calls while you perform data traffic on SIM 2 and viceversa. The device also has GPS and noise cancelling technology, plus the ability to perform videocalls, a compass, accelerometer, FM radio with RDS and HSDPA 7.2 Mbps connectivity.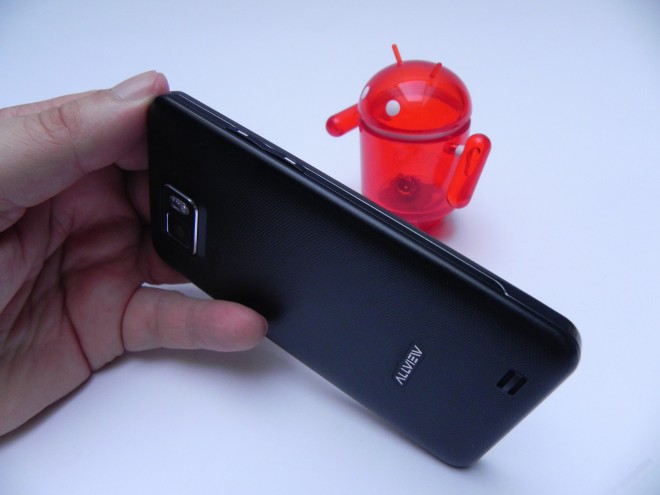 WiFi, DLNA and Bluetooth 3.0 are all available. At the back there's an 8 megapixel camera, with an Omnivision OV8830 sensor, with autofocus, HDR, burst shot and more. The front camera is a 0.3 megapixel shooter and you should know that the P4 Alldro handles 720p playback with ease. It also supports WMA, WAV, FLAC, AVI, MOV, MPEG and MKV. Its battery is a Li-Ion 1600 mAh unit, that provides 330 minutes of talk time and 200 hours of standby, so about a day of functioning time.
The headphones bundled with the phone are excellent and you also get Bitdefender Mobile Security bundled with the device. Android 4.0 is here, in a customized version, with new themes and icons. As far as benchmarks go, we scored 2344 points in Quadrant, 3914 in AnTuTu, 24.3 FPS in NenaMark 2 and 1215 in Vellamo, plus 51.127 in Browsermark. The GPU on board of the phone is a Power VR SGX 531, in case you're wondering what games will use. As far playback is concerned, the screen is reasonably crisp, the colors are good and brightness is decent.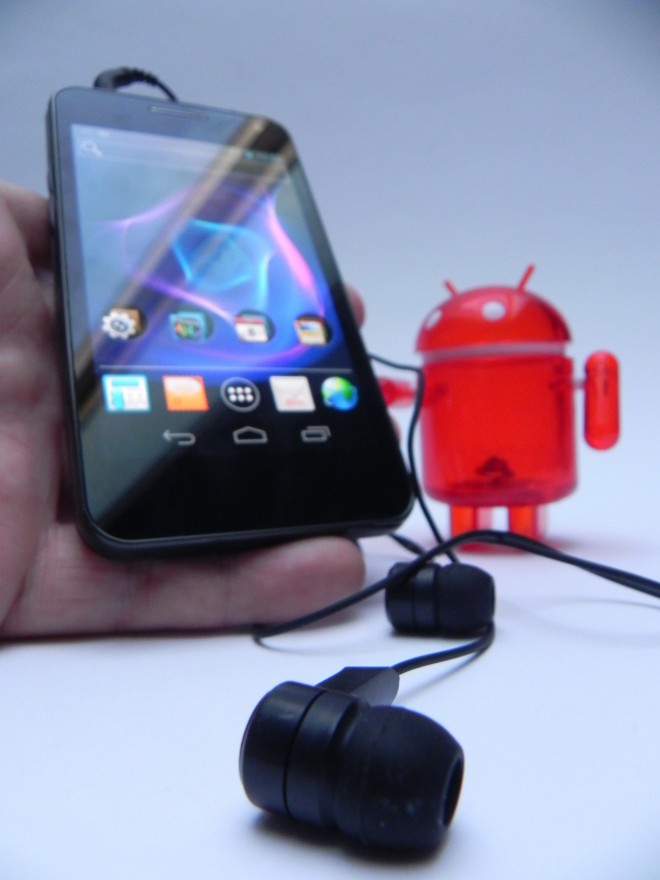 The audio volume is pretty good and the headphones experience is above par. Finally, the 8 megapixel camera sensor is a pleasant surprise, with 5 optical elements and a pixel size of 1.4 micro meters. It also has F/2.4 aperture and does tremendous shots, even in low light. The video capture is only so, so. And now to the pros and cons!
Here are the Pro aspects of the phone:
good camera
decent price
fluid OS with customizations
no lag
dual SIM phone
quality headphones
And the cons:
screen resolution
CPU could have been better
too little internal memory
battery kind of poor
Overall, we give this model an 8 out of 10 for design, 9 for hardware and 8 for OS and UI, for a total of 8.33, rounded up to 8.5 out of 10. It was a very good buy at its time, but now there are more affordable and better specced models.