The Allview X3 Soul Pro is one of the standout models from Allview this year and it's the locally integrated version of the Gionee S8, available in Eastern Europe. This is the current Allview flagship, with the best tech the company has to offer. It was showcased at MWC 2016 and it's priced at $500.
There are lots of goodies here, ranging from laser focus to 3D TOuch and flash selfie. The design is pretty and slim and the thickness is just 7 mm. The weigh is 144 grams and this model manages to be slimmer than the iPhone 6S by 0.1 mm, while also being 1 gram heavier and having a bigger screen. There's a 2.5D glass upfront and the device is available in gold or gray.
It uses a metal unibody case and it's a comfy but long device, which makes the one hand usage not that easy. The grip is OK and the buttons offer good feedback. The plastic insertions for antennae add personality to the device and its slightly sloped edges at the back add to that personality. Allview X3 Soul Pro has a premium design and it's the best looking high end Allview model so far. There's great finishing and a solid build.
The display here is a 5.5 inch AMOLED with Full HD resolution and 2.5D panel. We've got on cell touch technology and Gorilla Glass 3 protection. The screen's bezels are narrow and the video app used to play vids offers DTS functionality and Pop Up Play, too. The viewing experience brought us a bright and vivid image, very crisp as well and deep blacks.
The view angles were wide and contrast was good. The pixels have a Pentile Matrix setup and this one is a Samsung made panel. We used a luxmeter to measure the brightness and achieved 485 LUX units, which is good. It means we surpassed the iPhone SE, OnePlus 2 and Lenovo Vibe X3. Settings include Adaptive Brightness, Economical Backlight, brightness level and font options.
There's also a LCD Effect tweak, that lets you choose between Neutral, Cool and Warm. Multitasking can be selected between Native and Cards. Then we addressed the multi level touch functionality, as Allview calls its flavour of 3D Touch. You can apply various levels of pressure on the screen in order to trigger special windows like on the iPhone.
You can also set up sensitivity (lighter, medium or firm) and unlock the screen with a stronger pressure. Aside from triggering menus with capture options for the Camera app icon, you can also do a hard press on the right edge of the screen to trigger a shortcut bar, in the vein of the Galaxy S6 and S7 Edge, but only software-wise.
There you can access the Torch, Mail and more apps, that you can add or remove to the list. You can also use the special touch for dynamic wallpapers and in the gallery to highlight a picture and pull it forward with extra options. This is the first Android phone we tested with such a functionality, before the P9 Plus from Huawei.
It's a welcome bit of innovation and the screen is very solid. Moving to other aspects, the handset's CPU is a MediaTek Helio P10, an octa core unit, with Cortex A53 cores and a Mali T860 GPU. There's also 4 GB of RAM in the mix, 64 GB of storage and a microSD card slot (one of the SIM slots). Allview X3 Soul Pro has no lag, comes with a fluid UI and a Nexus-level snappiness.
It runs any game from the Play Store with no hassle. In benchmarks such as Quadrant we were at the level of the ASUS ZenFone 2 and beat the HTC One A9. In AnTuTu 6, the score was slightly below the Huawei Honor 7, but above the Galaxy A5 (2016). It tends to gravitate around the values of the HTC One A9, either above or below it. The 3DMark result wasn't very impressive and in this one we scored below the Huawei P8.
These aren't flagship level benchmarks, but they're good for a midranger. We also did temperature tests, achieving 37.1 degrees Celsius after playing the game Riptide GP2 for 15 minutes and 34.1 degrees after running GFXBench. The battery offered here is a 3000 mAh Li-Po unit and the charger is a 9V/2A affair. On paper we are promised up to 300 hours of standby and up to 920 minutes of talk time.
The video playback test offered us 10 hours and 52 minutes of continuous HD playback, which is very good and beats the Galaxy S6 Edge, LG G5, but scores below the Galaxy S5. In PCMark, we got to 8 hours and 21 minutes, which places us on the 11th place all time. These are great results for such a slim phone and it's a great achievement, beating the Galaxy Note 5 and Galaxy S7 in PCMark.
Charging is done in 2 hours and 32 minutes and it's quite OK, since it's better than the iPhone 6S and Huawei P8 and great for an USB Type C port. Settings for the battery include Normal, Power Save and Extreme Power Save options, with the latter offering a black/white UI and only basic features, like texting or calling.
There's also a Smart Power Saving at night option and battery optimization, which is basically Doze. This is a great battery overall. On the acoustic side of things, we've got a speaker at the bottom and DTS tech on board. We don't have headphones bundled with our test version and on paper we are promised 90 dBA of audio power.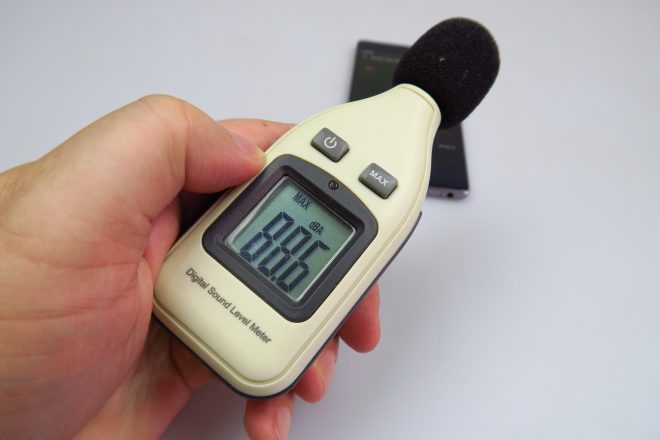 The Music player on board is typical for Allview, with options like DTS, headphone options, genre settings and 5 custom channels. The speaker experience brought us a high volume, clear sound, good bass and the speaker can easily cover a conversation in a small room. This is a great speaker, but you can easily cover it in landscape with your fingers, by mistake.
We used a decibelmeter to test the volume of the device, going as high as 88.6 dBA, which beats the HTC One M9, LG G4 and all iPhones. FM radio is also here and now that we're done with the speaker, let's go to the camera. Allview X3 Soul Pro has a 16 megapixel main back shooter, the Samsung S5K3P3 model, with laser focus and PDAF.
There's also F/1.8 aperture and ISOCELL technology, plus RWB tech (red, white and blue pixels), supposed to drop 80% of the noise in low light conditions. Other phones with this camera include the Xiaomi Redmi Note 3 Pro and Vernee Apollo Lite.
The front camera is an 8 MP unit with a flash selfie feature, using a lit up screen. The camera app starts up fast and the cam offers fast focus, fluid zoom and fast picture taking. The left side of the UI includes options like the resolution (16 MP in 4:3 or 12 MP in 16:9). Capture Modes are Super Photo (5x regular picture), PicNote, Mood Photo (Polaroid style), GIF, Smart Scan, Panorama, Slow Mo, Macro, Night, Time Lapse and Text Recognition.
There's also HDR, Smart Scene and a Pro mode, with sub options like exposure, ISO, white balance, shutter and focus. The right side of the UI includes filters, the latest mode you just used, Face Beauty and Video, with up to Full HD filming. Now as far the day time capture goes, we had a sunny day to face, with spectacular clouds to shoot.
Clarity of the pictures was OK and we had some nice details when zooming in. There were some focus problems in closeups, but we did use a test sample phone, so it may be that. Colors are realistic and we registered a nice texture of closeups and other such situations. The panorama resolution was modest, at 6832 x 1616 pixels and the camera handled itself well with the sunlight full ahead.
Selfies offered good quality and texture, but the skin felt a bit too white. When zooming into landscape shots, we had a good amount of details and the HDR was rather good and not too white. Once again, we caught some fantastic clouds on camera and when we zoomed into a crane in the distance, details were quite fine. The Super Photo mode, with its ton of details also lets you zoom in however much you want.
Macros were at flagship level and the selfies beat the LG G4 overall. Quality wasn't far from the iPhones, only Apple's models never burn or blur any shot. Low light capture was rather grainy, had big street light halos and pretty good brightness and colors. I liked the building textures and brightness, but we did have quite a few blurred shots.
I feel that the Allview X3 Soul Pro is inferior to the Samsung Galaxy A5 2016 camera-wise, but not by a huge amount. The video capture happened in MP4 format, in Full HD, at 23 or 24 FPS, which is strange, since 99% of the phones we test film at 30 FPS. Bitrate was 14 Mbps. We had a pretty good slow mo, mono audio, bad wind and a very poor anti shake feature.
Clarity, exposure and colors were OK and quality dropped with each zoom. There were some sudden exposure changes and some clips were seriously burnt. Low light capture dropped bitrate and frame rate to 5 Mbps and 18 FPS and everything was grainy, plus not very clear, as well as echoey. The video quality is clearly below the Xperias, Samsung latest midrangers and feels more like older Huawei Honor level.
Overall, the camera remains good for a midrange model, especially the pictures and the macros are flagship-worthy. Video needs more work. The web browser on this smartphone is slow and its associated benchmarks are rather poor. The stock keyboard preinstalled here is comfy and moving on to the connectivity, we got 4G LTE TDD/FDD, dual SIM slots (micro SIM and nao SM), GPS, HD Voice, LTE Category 6, Bluetooth 4.0, WiFi 802.11 b/g/n, WiFi Direct and USB Type C.
Calls are loud and clear, signal was OK and we've got functions like Black List and Speed Dial available here. As far as the OS and UI go, Gionee S8 comes with Marshmallow preinstalled, customized with Allview's typical UI in the version we tested. Multitasking is offered as a carousel or cards, the dropdown bit shows notifications and with a swipe up you could set up screen brightness, shortcuts and toggles, which can be edited.
Pinching the screen lets us access widgets (stock and 3D weather), effects and more, while Settings include functions like Do Not Disturb, Security (fingerprint scanner with fast setup and a very accurate and fast unlock), Smart Gestures, Suspend Button and more. The preinstalled apps list features 46 names, so we're dealing with bloatware.
The list includes Chameleon, Bitdefender, Child Mode and a funky new Video Editor, that has some very nice crop, filter, watermark, text, speed and transition options.
Time vor the verdict now, so let's see the Pros and Cons.
These are the Pros:
elegant and original design
great battery
bright screen
perfect macro
nice screen extras
good performance
very loud
comfy fingerprint scanner
Marshmallow preinstalled
And the Cons:
3D benchmark not impressive
focus problems (test unit)
too white skin in slefies
video doesn't impress
bloatware
This remains the most innovative of all Allviews so far, especially courtesy of the 3D Touch-like thingie. It also has laser focus, a sidebar in the UI, USB Type C, Android Marshmallow and flash selfie. It wants to fight the Galaxy S7, but it ends up doing battle with the Galaxy A 2016 series, where it can take the heat.
Considering the features and performance $500 is a fair price and the Gionee S8/Allview X3 Soul Pro is worth the purchase.