The 2013 levels of Angry Birds Seasons have came up with the Halloween released being the first. Dubbed Haunted Hogs, this  title graced the iOS devices with its presence a bunch of days ago, going for 99 cents in the Play Store. We tested the game on the iPhone 5 and you can check out the video review below to see what happened there.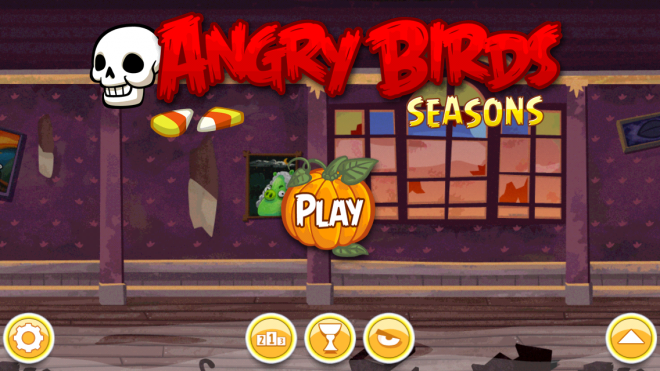 First of all, this is the spookiest Angry Birds update so far, with that creepy eye on the wall, the scary screaming pig imitating a famous painting and all that. There are also brand new ghost bricks, that you can pass through, but otherwise they act like normal bricks. Pigs have also adopted the Halloween theme, not being dressed up as bats, Jason X or Frankenstein. Everything is adorned with pumpkins and in the background there are church bells to make everything creepier.
Bats will fly when a pumpkin is hit and there are zombie and ghost pigs as well. The concept stays the same: hit the green pigs with the angry birds shot from slingshots. Sadly, the game is very easy to play and I finished these 30 new levels in about 30 minutes or so, so it's a very lite update. We give an 8 out of 10 and it's pretty fun to play if you enjoy the occasional Angry Birds. You can download it from here on your iPhone.