ASUS ZenFone 3 Max was one of the last battery phones we tested, a device that's both metallic and compact. It's a budget offering, priced at just $150 and it debuted in August last year. The device is the follow-up to the excellent ZenFone Max and it stands out through its 4100 mAh battery.
The design is clearly better looking than the one of the ZenFone Max, but not as good looking as the ZenFone 3's. We get an unibody aluminum case, with a plastic area at the top and bottom. The back is rounded and it all feels like the UMi Touch handset a bit, as far as the format is concerned. The front side is a fingerprint magnet and we've got a good grip here, but this phone is pretty wide for a 5.2 incher.
It's not very easy to use with a single hand, that's for sure. If you want measurements, this device is 8.55 mm thick and weighs 160 grams. Meanwhile, the ZenFone Max measures 10.6 mm in thickness and weighs 202 grams, so the newcomer has trimmed up. It's also more compact than the Allview P9 Energy Mini, a rival battery phone with a 9.9 mm waistline and 181 gram weight, but also a 4000 mAh battery.
We've got a pretty standard design format here, in the vein of basically all the latest Huawei, Xiaomi, UMi and Meizu models. Available in gray, silver, gold or rose gold, the handset comes with a 2.5D glass panel upfront and it's pretty compact, but also generic in format and wide. Now when it comes to the screen, this is actually one of the strong points of the device.
We get a 5.2 inch IPS LCD here, with a 1280 x 720 pixel resolution and a 2.5D glass panel. There are 2.25 mm slim bezels here, which is quite impressive and a 75% screen to body ratio. Bezel size is OK and we should mention that the diagonal has decreased from the predecessor's 5.5 inch to the 5.2 inch we get now. To test the screen we used the Gallery, in lieu of an actual video player, since we didn't have one installed.
Or you can use Google Photos as an alternative. The viewing experience was bright, crisp and we had an OK contrast and wide view angles. The colors were quite OK and pixels had an RGB Stripes setup, while the luxmeter showed a value of 466 LUX units, which is simply great. This means we beat the ASUS ZenFone Max and its 304 LUX, as well as the ZenFone 3 Deluxe even.
The display had its very own settings, including brightness, font size and style, Blue Light Filter (5 levels) and all in all it felt like a solid experience for under $200. The CPU here is a MediaTek MT6737, a quad core 64 bit unit, clocked at 1.25 GHz, with a Mali T720 GPU, 2 or 3 GB of RAM (LPDDR3), 16 or 32 GB of storage and a microSD card slot.
The experience involved a bit of lag in the UI sometimes and some frame loss in the game Riptide GP Renegade. 85% of the time though, you should be content with fluidity. However, apps takes a while to start up. In benchmarks we were able to surpass the Huawei Honor 6 Plus in Quadrant, while also scoring below the HTC Desire 816. In AnTuTu 6 we beat the HTC Desire 10 Lifestyle and LeTV 1S, but also scored below the Huawei Honor 5X.
In 3DMark Ice Storm Unlimited we were placed pretty low, on the 136th spot, below the Samsung Galaxy A5 from 2015 even, while GFX had this model on the 90th spot from all the handsets we tested. Performance in intensive areas isn't the strong suit of this phone. At least there's no trouble with the temperature, as we achieved 32.6 degrees Celsius after running GFXBench and 35.8 degrees after running Riptide GP Renegade, so there's no overheating.
The battery is a 4100 mAh unit and the handset also works as a power bank. The charger is a 5V/2A/10 W model and as far battery performance goes, we are promised on paper 30 days of 3G standby or 20 hours of 3G talk time. There's also 18 hours of WiFi browsing, 87 hours of music playback and a 10% charge gets you 36 extra hours of usage with the Super Saving mode on.
Anyway, our tests give the verdict, so after a continuous HD video playback in a loop, we achieved 10 hours and 40 minutes, which is just OK and at the same time almost half of the ZenFone Max performance (19 hours and 35 minutes). We also scored below the iPhone SE and above the Moto Z and LG G5. I have to admit I was expecting a bit more here.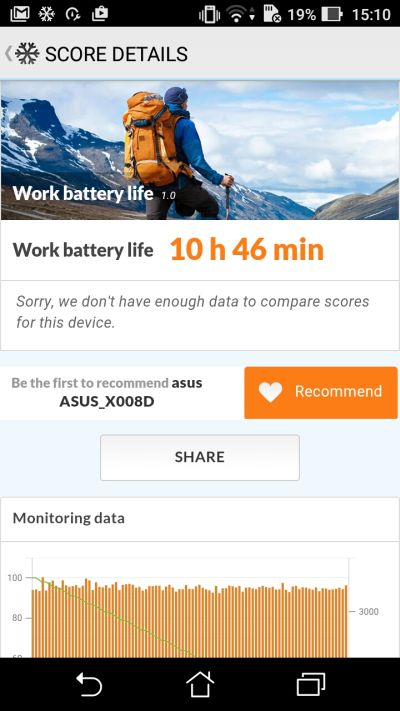 We did better in PCMark, with 10 hours and 46 minutes, which is lower than the ZenFone Max's 16 hours and 24 minutes, but superior to the Google Pixel XL. The Moto Z Play still beat us. Charging takes quite a while, with a full juice up done in 3 hours and 36 minutes, which is actually an improvement from the 4 hours and 40 minutes of the ZenFone Max.
5 minutes of charging got us to 3%, while 15 minutes meant 9% and 30 minutes was 19%. One hour of charging means 37% for the ASUS ZenFone 3 Max. Settings are pretty classic here for an ASUS model. This means we get Standby Intelligent Power Saving, Battery Optimization and reserve charge (even in sleep mode). The main Battery Modes are: Performance, Normal, Power Saving, Super Saving and Custom (with options for brightness and network).
You can also use a Scan feature to find excessively draining apps. Overall, just a good battery, but not stellar among battery phones. Acoustics benefit from the Ice Power Enhance functionality and we also have a dual microphone with noise cancelling. There's also FM radio, an Audio Wizard app and no bundled headphones. Audiowizard comes with these modes: Movie, Gaming, Music, Outdoor, Smart and Vocal.
You can also set up the bass, treble, volume and then there's Dialog Enhance and 5 custom channels. Finally, we get an outdoor mode, that actually works. Play Music is the standard music player and it also provides a stock EQ, aside from the Audio Wizard thingie. The listening experience brought on an OK volume, a so-so bass and a pretty OK voice and keys.
There was no distortion, but we did experience some muffling. The decibelmeter showed us a value of a mere 70.9 dBA at the front and 82.5 dBA at the back, with the typical audio sample we used. With Riptide GP Renegade we got to 93 dBA, which is pretty good actually, top 15 material. Aside from a bit of muffling, I'd say that everything is OK here. We also get BES Audio Enhance, Loudness and Surround in the settings.
Now off to the camera! The ASUS ZenFone 3 Max uses a 13 megapixel shooter with 5P largan lens and PixelMaster technology. There's a 5 MP camera upfront and the camera UI is kind of slow. We also get a last generation UI, the same we've seen on the ZenFone 2 basically. Focus speed was good, but picture taking was on the slow side. Zoom was fast, but it also blurred the shot quite a bit.
Keep in mind that the predecessor had laser focus and we lost that. Capture Modes are generous as usual: Auto HDR, Beautification, Super Resolution (52 MP), Low Light, QR Code, Night, Effect, Selfie, Panorama, Time Lapse, white balance, ISO, exposure, focus and metering. It surprised me a bit to see that this camera is only able to film in HD, since I was expecting Full HD.
The gallery of pics taken during the day happened in early February, with pretty good sun and a good clarity to match. Colors were also realistic and zooming into landscapes resulted in good details. Some oversharpening happens here and there, plus oversaturation and the focus and exposure were quite good. I was shocked by the tremendous quality of the selfies, digging the face texture, color and brightness.
Closeups were also very good and the HDR felt a bit too white, in my view. The Panorama was OK, at 9660 x 944 pixels and zooming in also brought on OK results. Overall, not bad, not bad at all, even without a laser focus. It's on par with the Xperia XA, but still below the ZenFone 3, of course. At least it beats its predecessor, the ZenFone Max and most of the sub $200 Chinese phones.
Low light photo capture brought big light halos, yellow and violet hues and a reasonable amount of clarity. The focus was good, the flash was nice and monuments had a solid texture. There was also a minor blur, but not very serious. The lighting was decent for the conditions and overall I'd say this is pretty nice for a sub $200 machine.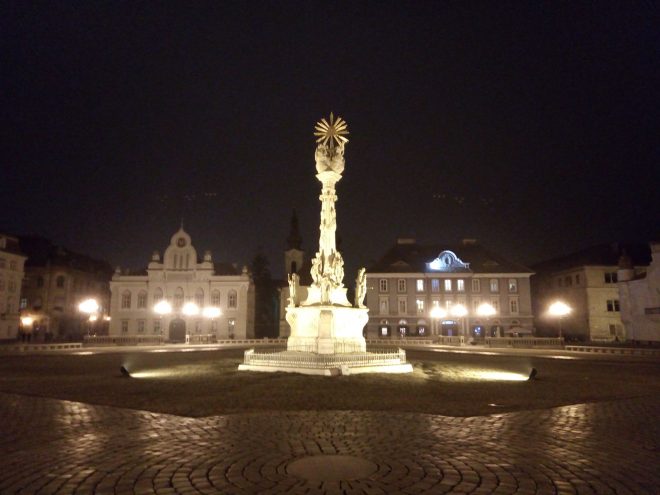 Video capture happened only in 720p, MP4 format, at 30 FPS and 11 Mbps. The result was at least one burnt video, but in general the clarity was OK. Details are lost when zooming in and things in the distance may appear fuzzy at times. Exposure change happens in acceptable manner and electronic stabilization got a thumbs up. The microphone can't seem to handle the wind, but the burnt image is a constant here.
Still, with all of those, the video is passable, while clearly below the Xperia XA, in a similar price range. Low light video is forgettable, with 15 FPS and 10 Mbps, on account of yellow hues, ghosting, blur, violet areas and huge halos. The zoom was also rather poor and we experienced focus loss. The web browser has a so-so speed of page loading and its benchmarks are rather poor.
The input is done with a virtual keyboard with generous keys and with Swype ability. Time to check out the connectivity. So, this smartphone has WiFi b/g/n, Bluetooth 4.0, GPS, dual SIM slots with dual standby support and 4G LTE on both SIMs. However, only one at a time can use the 4G. You should know that one SIM is a microSIM and the other a nano SIM, also usable as a microSD.
Calls are quite clear and loud and mic is good, plus we have quite a few options here, from call recording to block list and speed dial. We also did a SpeedTest and came up with 68 Mbps downloads on 4G and 46 Mbps uploads. On WiFi we got to 40 Mbps in download and 25 Mbps upload. As far as software goes, this is an Android Marshmallow smartphone with Zen UI 3.0 on top and a carousel multitasking with screen pinning and clear all options.
The dropdown area features notifications and Quick Settings, in those typical ASUS bubbles. As usual ASUS provides a ton of options and features, a variety of widgets, icon packs, Zen UI functionalities, fonts, badges, grids and icon sizes. Effects can also be set up. Settings include Do Not Disturb, ZenMotion (double tap to wake, one hand usage and more), Game Toolbar (that lets you stream to Twitch or YouTube), an Easy Mode, Themes and screenshot.
The fingerprint scanner can be used to answer calls, start the camera and it has a pretty long setup. Also, the unlock time is kind of long, closer to 2 seconds than 1 second. The preinstalled apps list includes 47 names, with stuff like Kindle, Do It Later, Facebook, Instagram, Mini Movie, Mobile Manager, ASUS WebStorage and Photo Collage, as well as Puffin and Quickmemo.
That's all we had to say about the device and now it's time for the verdict.
Here are the Pros:
good camera during the day
OK design
good selfies
bright screen
pretty high volume
nice battery
power bank feature
And the Cons:
below the predecessor in the battery department
some lag
long charge
low benchmarks
old CPU
lots of preinstalled software
no Android Nougat
In the end the ASUS ZenFone 3 Max can be called as sort of "semi battery phone" and more of a lower midrange that takes good selfies and good pics in general. It also has an excellent screen and that in tandem with the battery and high volume makes it ideal to watch videos on. You can also stream games on Twitch and YouTube via the special gaming feature, but only lower end ones.
It's pretty OK midrange, if you want to combine a solid battery with a good camera for pics that are Facebook-worthy. You can get the phone here.