Yesterday we wrote about Darling VR, the first smartphone with a VR recording camera and today we're back with some real life pictures and hands on video of the device. It was showcased at the China Hi-Tech Fair in Shenzhen and we also found out the name of the company behind it: Protruly, thanks to computerhoy.com.
The handset is not bad looking at all, but it's rather massive and very, very long, in order to accommodate the big VR camera module. It has a globular protruding piece at the front and one at the back, aside from the regular cameras. This device is able to 360 degree panoramic capture, the kind of capture one would consume on a VR headset.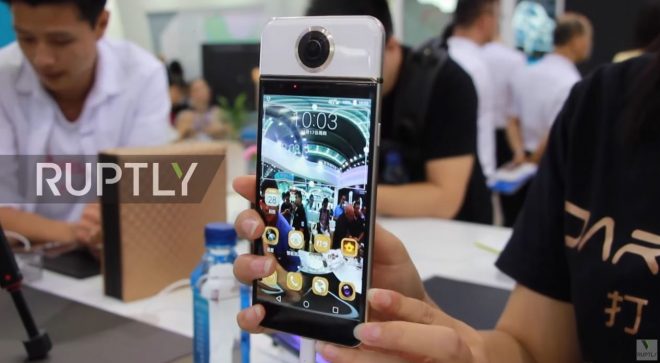 The metallic body feels pretty premium and the glossy nature seems to contribute to the good looks of the device. Darling VR is going to cost $600 in the core version, but there will also be a luxury one, with diamonds and gold, priced at $1300. Using a special algorithm, the handset is able to pull off videos and photos at 360 degrees, perfect for VR.
People seemed really fascinated by the product and I have a feeling we'll see more such phones in the future. The waistline is rather slim and the whole device feels like a regular smartphone with a VR module attached to the top with magnets or connectors.
via Mobilissimo.ro