After the reported Foxconn suicide cluster, the Apple manufacturing partner has a bigger reason to worry, as a fire broke out yesterday at a building inside Foxconn. The place where the fire happened was the one of the computer assembly plant and after the press got word of it and tried to report from the scene, they were banned.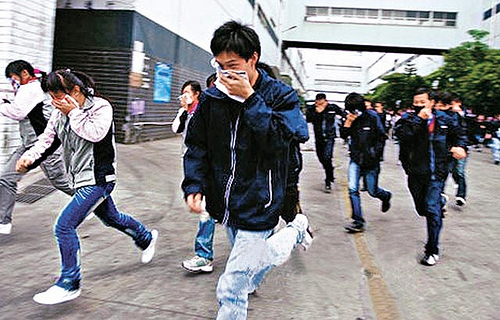 We wonder if this will affect the shipment of iPhone 4G units, or it will do extra damage to the company's image. Also, some might say this could be an act of sabotage or maybe a coverup of information concerning the suicides (the more paranoid theory). Rumours claim that about a dozen workers were injured in the fire and strangely enough they were treated inside the plant, not in the hospital.
Apparently, the company doesn't any more negative reports from the media, but this is quite an extreme measure to take… A recent report shows that the fire broke out in the plant that produces Apple computers, handsets, industrial robots and other such electronic devices. Foxconn hasn't yet issued an official statement, so we don't know how big the fire was and how many people were injured.
Will this incident have an effect on Foxconn's relations with Apple, with Steve Jobs saying something like "we don't like how you treat your employees… just look at how we did nothing when one of ours lost an iPhone 4G prototype…"?
This incident reminded me when I had to look for Fire Watch Companies Near Me due to a nearby waterline break, due to which the suppression systems weren't able to get sufficient water to perform their task. It was dreadful.
[via micgadget]