At the end of 2014 we tested a pretty interesting phone, a model dubbed Allview X2 Soul Mini, which was in fact the rebranded version of the Gionee Elife S5.1, one of the thinnest handsets in the world. This is certainly the slimmest model we've ever tested, coming in at 5.15 mm in thickness. It's priced at $305 in India and it was launched in October last year.
This model comes with a very elegant and good looking design and it's a light and feminine phone. It measures 5.15 mm in thickness, weighs 97 grams and comes in black or white. It's also a chic device, with a frame made of aluminum – magnesium alloy. The product is only slightly rounded, so it doesn't cut into the user's palms, like the Galaxy Alpha does for example.
It has glass on the front and back and in spite of that it's not slippery, because it's a narrow device, that can be grasped with a single hand. The Gionee Elife S5.1 brings a 1.8 mm slim bezel and it offers easy one hand use. Also, the device feels pretty solid in spite of being so thin. It comes with an unibody design and the internal chassis is made of magnesium and aluminum.
The handset sits well in the user's hand and the front side integrates a subtle earpiece, a front camera, sensors and 3 capacitive buttons. At the back you can find the main camera plus flash and the main speaker, as well as a potential mic at the top. The top side only includes the antenna insertion, while the bottom hosts the microUSB port, microphone and audio jack. On the left side you can find the volume buttons and On/Off button, which is a strange placement for a Power button to be honest.
Still, all of the buttons offer OK feedback. Finally, on the right side there's the microSIM tray. This one is an elegant and slim device, the most beautiful Allview branded phone we've seen and obviously the most beautiful Gionee device. As far as hardware goes, the smartphone brings a 4.8 inch display, an AMOLED OGS screen with a 1280 x 720 pixel resolution and 306 ppi density. We've got an octa core processor on board, a Cortex A7 clocked at 1.7 GHz and the identity is Mediatek MT6592. We also get a Mali 450 MP GPU, 16 GB of storage, 1 GB of RAM and no microSD card slot whatsoever.
The smartphone integrates an 8 megapixel back camera, a front 5 MP shooter and on the connectivity side, we've got GPS, 3G video call, FM radio with RDS, HD voice, HSPA+, Bluetooth 4.0, WiFi B/G/N, WiFi Direct, WiFi Display and microUSB 2.0. In the section I like to call "others" we get DTS Sound, accelerometer, proximity sensor, gyroscope, compass and light sensor. The battery is a Li-Polymer unit, with a 2050 mAh capacity and SDI technology. On paper, the battery offers 11 hours of talk time or 3 hours of video, or 200 hours of standby.
The charger bundled with the phone is a 5V/1000 mA affair. Our test brought 5 hours and 29 minutes of HD video playback with WiFi on and brightness at 50%, which is not exactly bad considering the thickness. For example the Nexus 5 offers 4 hours and 30 minutes in the same test and the HTC One around 5 hours and a half. The battery charging takes 2 hours and 15 minutes, which is also OK. There are also special Settings for the battery, including CPU Power Saving Mode, that limits performance.
There's also a Quick Power Saving Mode in the Quick Settings Area. Then there's an app called System Manager, that allows you to customize WiFi usage, GPS, data, timeout and more, plus trigger a special night time saving option. I'd say that overall the battery is allright for this thickness.
As far as the acoustics go, we've got a custom player here that we already know from previous models tested. It comes with a Sleep option, DTS options (vertical sound field, bass boost, 3D effect, space reverb, clarity and volume strengthen), as well as presets. The actual acoustics experience is not very loud, but it's clear, crisp, while sadly there's also not much bass to enjoy.
I do like the way the keyboard is heard in tunes and I like the fact that the back of the phone doesn't vibrate that badly. DTS will add some bass to the lack I mentioned before luckily. The headphones bundled with the device have a big audio plug, but they look premium and they've got a tangle free wire. They're comfy, loud, clear and offer good isolation. The bass is so so when using them and there are moments when they feel too loud.
FM radio works fine and also offers a recording feature. I must mention there's no sound enhance option here and as far as decibels go, with the speaker up we achieved 79.8 dBA and with the speaker facing away we got 79.1, both pretty poor. I've seen $200 phones like the Wiko Rainbow scoring 87 dBA, so this is truly poor. Also, the much cheaper Allview V1 Viper E reaches 83.5 dBA.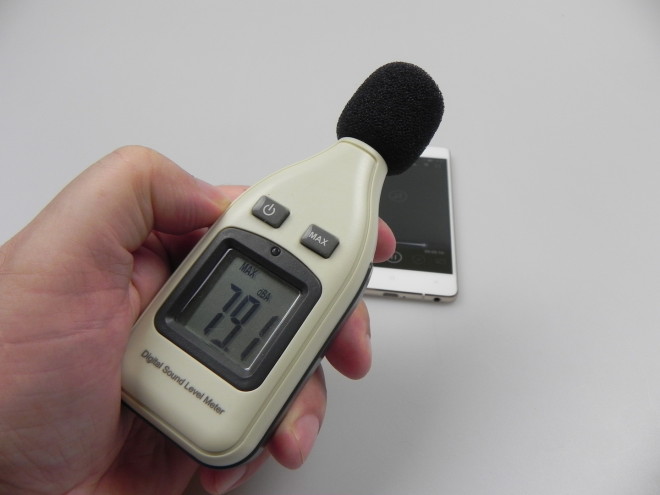 There's no Yamaha amp here, unlike many other Allview/Gionee models. I would say the acoustics are a bit of a letdown. As far as video goes, we're being treated to a 4.8 inch AMOED screen with OGS solution and a 1280 x 720 pixel resolution, plus 306 ppi density. There's glass protection available and the player Allview included here offers features like Pop Up Play, screenshot and more. The screen per se provides vivid colors, colors that pop out of the screen, but there's also a bit of oversaturation going on.
Blacks are deep and viewing angles are wide, plus we've got fluid motion, crisp image and OK brightness. The pixels are of the Pentile Matrix kind and the brightness level is 352 LUX units, which is pretty OK considering the LG G3 flagship reaches 343 LUX and the Xperia Z2 366 LUX. The special screen settings include Brightness, with sub settings to Auto, HBM (Boost screen in high intensity lighting situation) and ACL (adjust brightness to save power).
I'd that this one is a pretty good display, so no objections here. At the back we find an 8 megapixel camera with F/2.0 aperture and an OV8858 sensor in the mix, the same one from the Allview V1 Viper E. There's a LED flash on board, 1/4 inch sensor size and 1.12 micron pixels. The front camera is a bit of a surprise, since it's a BSI 5 MP unit, the same one from HTC One Mini 2 and HTC One M8. So, we get the same 1/5 inch sensor, with 1.12 micron pixels and F/2.0 aperture.
The UI looks the same as it did on the Allview X1 Xtreme, which was a very good cameraphone last year, when we tested it. The frame rate of the camera UI is not very high, but at least we've got fast focus and fast capture. If you keep the screen pressed, you can separate the AF and AE and move them on the screen. On the left side of the display you can find the Settings, but somehow they're only shown in portrait mode, not landscape, for some reason.
This makes the camera experience less comfy. Options in this area include Panorama, HDR, Auto Scene, Sound and Geotagging. Capture Modes include Normal, V Sign, Touch Shot, Smile Shot, as well as Self Timer with 2s, 10 second or 5 second options. There's also a Picture Size option, with 8 megapixels in 4:3, 6 megapixels in full size, 16:9. You can use volume keys for camera features and there's also an anti banding option, with 50 Hz and 60 Hz as the alternatives.
There's a Charm Cam shortcut included, with features like Make Up, Live Filters, Stamps, PPT and Face Beauty. The camera does 4X zoom and on the right side of the UI there's a shutter button, video button, plus a gallery shortcut. The gallery itself features a series of shots we've taken during a cloudy day. We get a good HDR shot or two, OK colours for a cloudy day and the 360 degree panorama looks fine, plus it's well stitched. Macros look good, but the low light capture is rather poor.
We also get a so-so level of detail, since the noise pops up at the first zoom in level. HDR makes the image a bit too white and as far as colors go, the reds look pretty nice. I would say this camera of the Allview X2 Soul Mini/Gionee Elife S5.1 is about 20% less impressive than the one of the Allview X2 Soul. It's good enough for taking Facebook pics, if you ask me and it's reasonably fast.
In spite of having the same camera sensor as the Allview V1 Viper E, it's clearly better at photo capture. On the video side, there's 3GP capture in 720p or Full HD, with crisp image and OK colors. The movements and very well balanced, but the level of details isn't that good. The full HD videos have loud acoustics, good exposure and white balance, but also a bug. The way the camera changes angle when filming from a standstill position and switching to a moving one is bizarre.
It's like a fisheye lens is applied and the image curves when you move the camera. Focus is OK, but motion feels unrealistic. Overall, this is a good camera for this thickness and price, but the video capture is a bit of a letdown, being deformed and all. Meanwhile, the selfie camera is excellent, taking perfect shots. Editing is done as usual, with options like filters, frames, crop, rotate, mirror, exposure, auto color, contrast and more.
We move on to performance, where the device achieves 40.8 degrees Celsius, after 15 minutes of playing Riptide GP2, so there's a slight overheating, but not very bad. The web browser is reasonably fast and the stock keyboard handles its task OK. The phone features include speed dial and we also get an OK signal, OK sound clarity, but not very loud phone calls. Now let's see the benchmarks, since we compared this model to the Allview X2 Soul, Evolio X6 and Utok 5008, all of them with the same 8 core MediaTek CPU.
Here are the results:
The device wins 4 out of 10 duels and in many of them it places second. It has no lag and runs Riptide GP2 without a problem. The OS is Android 4.4.2, in a pretty much stock version, with some customization added in the mix. You will do multitasking via swiping apps and the Menu button triggers stock widgets, desktop effects (wave, jump, box, cube and more). The dropdown area shows the weather, notifications and a special shortcut for an app accelerator, that makes the device run faster and closes some processes.
There are also Quick Settings included and a brightness slider. Sadly, there's no Settings shortcut here. The Settings area looks ugly and old and among its options we find Smart Gestures, including Smart Dial, Smart Answer and double tap to wake. You can also draw symbols on the screen to trigger certain apps. If you swipe left in the lockscreen you will trigger a few special options, like camera, audio recording, torch and fake call. The preinstalled apps list includes a File Explorer, Calendar, Facebook, Charm Cam, System Update and YouTube.
There's also System Manager, that will clear the rubbish, optimize power and check out the data traffic. Other preinstalled apps include Weather, Torch, Theme, Notes, Bitdefender Mobile Security, Compass, Sound Rec and Maps. And now let's see the Pros and Cons, as well as the verdict.
Here are the Pros:
slim and elegant
solid design and good grip
OK battery
good display (bright and crisp)
OK picture capture
very good selfie cam
runs 3D games
And the Cons:
strange On/Off button placement
not very good audio
deformed video capture
too few camera features
old looking UI
settings shortcut not present in dropdown area
We give this model a 9.8 out of 10 for design, a 9.1 for hardware and a 9 out of 10 for OS and UI. The final grade is 9.3 out of 10 and the Gionee Elife S5.1/ Allview X2 Soul Mini is a very beautiful handset, with good display, OK picture quality and a decent battery. One of the prettiest phones around!