After a period of speculation, we found out that Sprint's lengthy CTIA event next week will really include some juicy products. The most interesting of them is the 3D display smartphone HTC EVO 3D. This device comes with incredible specs, although it has not yet been clarified if it uses 4GB of RAM and 1GB of ROM or viceversa (we tend to believe it's the second).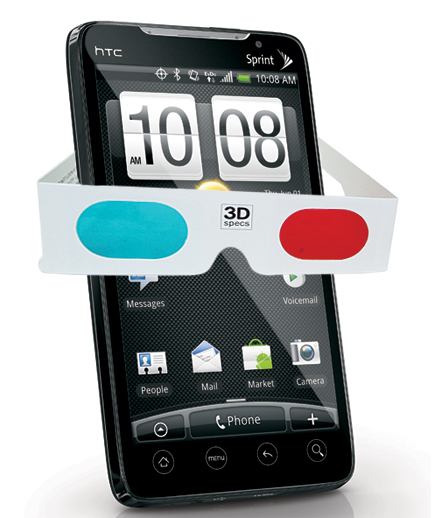 HTC EVO 3D packs an autostereoscopic 3D display, a 1.2GHz dual core Snapdragon 8660 processor and a 5 megapixel camera at the back. There's also a 1.3MP cam upfront and the device's incredible screen is a qHD 4.3 inch unit, with a 960 x 450 pixel resolution. Powering the smartphone is a 1730 mAh battery and we have to mention that Sprint's new device will run Android 2.3 with Sense UI and output 1080p video via HDMI, plus 720p 3D content.
The list of product presentations also includes the HTC EVO View 4G tablet, that sounds very much like the HTC Flyer. It's got the same 7 inch display as the slate unveiled at MWC, it adopts the aluminum unibody design and comes with HTC Scribe (with optional pen support). Sprint's tablet runs Android 2.3 with HTC Sense, supports DLNA, HDMI and uses a 4000 mAh battery.
CTIA will also include a Motorola Xoom version for Sprint, complete with 4G WiMAX and a brand new Samsung handset, Rant 3. This one is a 3G touchscreen messaging phone, that's focused on green features. It comes with a solar rechargeable battery, for example. Last on the list there's the BlackBerry PlayBook, coming in a WiFi-only and a WiMAX version.
Any other surprises?