It doesn't quite pay to be a female nowadays, if you want a smartphone tailored for you: you either get a midranger with a good selfie camera and poor battery, or a posh gold handset, maybe a pink one with modest specs. Or break the piggy bank for a rose gold iPhone. Huawei Nova Plus wants to break that perception, by providing both processing power and a very good selfie camera. It debuted at IFA 2016, with the Huawei Nova model and it's its bigger version. Priced at $479, the handset was unveiled in early September and reached the stores over the past weeks.
This is a midranger with good looks, a good camera, both front and back and it inaugurates the Nova series. This time Huawei bet on the Snapdragon CPU, not a HiSilicon Kirin, which is unusual. The handset comes in gold, silver or gray and it looks like a Mate S from the back and like the Huawei G8 from the front. It's a slim metal handset, with a 7.3 mm waistline, also the same thickness of the OnePlus 3 by the way.
This is also the same waistline as the Galaxy A5 and A7 (2016). It's 12 grams lighter than the Galaxy A7 (2016), that weighs 160 grams and it has a good looking 2.5D front panel. It's got a slight camera bump at the back, a solid build and an aluminum and magnesium body. It's a comfy phone, but also quite wide, which for feminine hands may pose some problems.
One hand usage? Not likely! The grip is good and button feedback is quite good. I liked the symmetry of the product and its very rounded corners. The back is finished with a ceramic sandblasting process and overall it's a nicely designed phone, with a pretty case and premium materials. The display is a 5.5 incher with a 2.5D panel and IPS LCD Full HD panel.
The screen offers 16 million colors, a 1500:1 contrast, 450 nits of brightness on paper and view angles of 80/80/80/80 degrees in the up/down/left/right areas. The preinstalled video player offers a pop up play option, DTS acoustics and playback speed option. The display has ugly black edges around the image, the brightness is OK and the contrast is medium. We've got wide view angles and the panel is slightly washed out, compared to other IPS LCDs.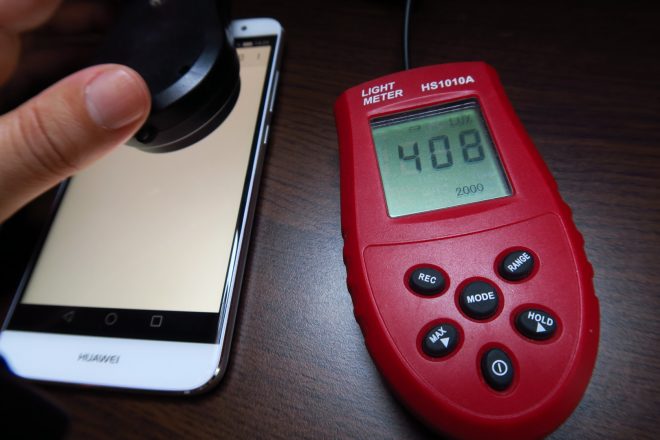 There's no screen protection that we know of here, which may expose the device to scratches. Pixels have an RGB Stripes setup and the luxmeter showed us a value of 408 LUX, which is OK, but it's not spread in uniform fashion. The middle area goes to 391 LUX, but you won't be able to tell with the naked eye. This brightness is superior to the one of the Xperia Z5 Premium and LG G5, but below the UMi Max and Xperia M5 for example.
Settings include a View Mode with options like Large, Medium and Small, plus font size, brightness and color temperature (choose hue, warm and cold). There's also am eye comfort option, that filters out blue light in order for you to film better. The display is quite OK and there's nothing to remember here. Huawei Nova Plus comes with a Qualcomm Snapdragon 625 CPU, an octa core 14 nm 2 GHz unit, with an Adreno 506 GPU, plus 3 GB of LPDDR3 RAM.
32 GB of storage are available here, of which 22 GB are available to the user. The microSD card slot provides up to 128 GB of extra storage, by the way. We've got no lag here, a fluid UI and there's an interesting, but inspired choice of CPU for Huawei, that makes its own chips. Games like Riptide GP Renegade or the new Oz title run like a charm here and the benchmarks were actually a pleasant surprise.
We scored a result superior to Huawei P9 Plus and LeEco Le Max 2 in Quadrant, surpassed the Xperia Z5 in AnTuTu 6 and got past the Huawei Mate S and Honor 7 in 3DMark Ice Storm Unlimited. On the temperature front, there's no overheating, since we got to 34.5 degrees Celsius after running GFXBench and 35.8 degrees after playing Riptide GP Renegade.
The battery is a Li-Po 3340 mAh unit (4.4V) and our HD video playback test showed us 9 hours and 25 minutes, which is superior to the LG V10 and HTC 10. We scored below the Lumia 640 XL LTE and UMi Max, though. PCMark offered a great result, of 9 hours and 2 minutes, which places our model on the 12th spot, above the Huawei P9 Plus and Galaxy A7 (2016), but below the Galaxy J5 (2016).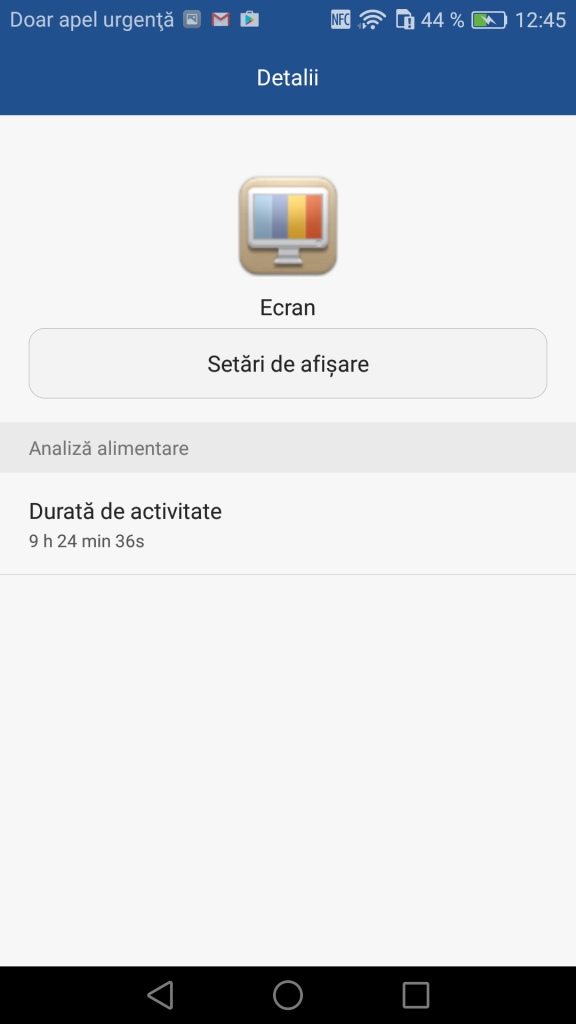 Charging requires 2 hours and 22 minutes, which is quite OK, beating the Xiaomi Redmi Note 3 Pro, but scoring below the modest LG AKA. Settings include a Power Plan option, with sub options like Performance, Smart and Ultra. They let you adjust the CPU and network use basically. The Ultra mode offers just basic features. There's optimization with one tap, protected apps and the function to auto close power hungry apps.
You can also keep WiFi on or off in sleep mode and I'd say this is a great battery. Moving on to acoustics, there's DTS tech here and the player supports MP3, AAC, OGG, FLAC and WAV files. There are two grilles at the bottom, but only the right one is for the speaker. We've got a standard player in the mix, with no EQ and the DTS option only for the earphones.
The acoustic experience was loud and clear, provided OK bass and it felt a bit… "clogged", plus offered a bit of distortion at max volume. We then proceeded to the decibelmeter test, achieving 83.5 dBA and beating the OnePlus 2 and iPhone 6S. We also scored below the LG G3 and Lenovo VibeX3. Headphones have the same old design we've been seeing for the past year or so, imitating the Apple EarPods and not being very comfy.
They have a tangling wire, extra bass when the DTS is on and their sound is loud and clear, plus the bass is truly good. FM radio is also here, but the scanning of stations is kind of long. Time to see if the camera lives up to its hype!
Huawei Nova Plus packs a 16 megapixel back camera, with OIS, 4K video capture, dual tone flash, F/2.0 aperture, PDAF and contrast focus. The front cam seems to be the core of Huawei marketing, since it comes with a Beauty Skin 3.0 option and Beauty Makeup 2.0 option too. There's an 8 MP resolution and fixed focus here. The camera app starts up fast, has fast focus, fluid zoom and fast picture taking. The left side of the UI includes flash options, the front camera with virtual makeup features, for lips, eyes and more, plus the Modes, like HDR, Watermark, Good food, Super Night, All Focus, Audio Note, Panorama, Slow Mo, Document Readjustment and Pro.
The Pro mode includes functions like exposure, white balance, focus, shutter, ISO and metering. The options aren't over as they let you tweak resolution (16 MP in 4:3 or 12 MP in 16:9). There's also a Perfect Selfie Feature, Audio Control, Timer, Touch to Capture, Capture Smiles and Object Tracking. Huawei also lets you tweak saturation, contrast and brightness.
The right side of the UI brings effects, time lapse, beauty, the famous Light Paining and video up to 4K. Now let's talk about the gallery. First of all, I have to say that this phone takes flagship-level photos (gallery here) and we achieved some great closeups of flowers. Colors are well calibrated and once we zoomed in, we recorded great details.
Selfies were very good and clear, with great skin texture and an OK background. Landscape shots had excellent details and in spite of the strong sun, we had some funky ways of applying makeup digitally using the front camera and software. Not one blurred shot appeared in our gallery and I'd say we achieved iPhone-like clarity. Closeups were great and the panorama had a good resolution, of 13.184 x 2176 pixels.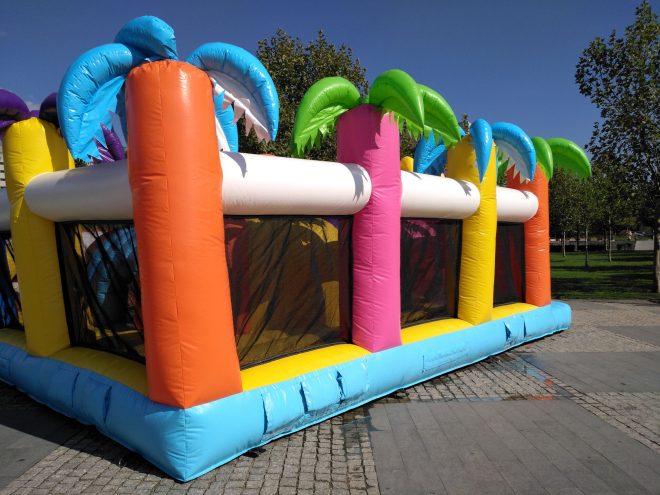 It's both clear and well detailed. We zoomed into those ducks, with a good result and the HDR of the swans was well done. My only objection is that sometimes it feels hard to focus when taking closeups. HDRs of those posters were quite nice. Some white-ish hues appeared when we took shots under a strong sun. Still, everything feels flawless here and selfies really stand out.
I'd put the quality on par with the Lenovo Vibe X3 and above the Galaxy A 2016 models. Low light capture involves a good flash, great texture of that church and good lighting. Colors are excellent, the cars' metal shells are excellently rendered and clarity is great. Street lights are finally fantastically photographed after so so many failures on other models.
I'd put this model on par with the LG Nexus 5X in the area of night time shots, plus the Galaxy A 2016 models, or even above them. Still, as a quick mention, some may find the Galaxy S6 cheaper than this model and doing better at night. Video capture involves Full HD vids, at 30 FPS and with 20 Mbps, in MP4 format. The slow mo clip is done at 120 FPS and the 4K clip reaches 42 Mbps bitrate.
Day time videos registered OK behaviour of the microphone, great colors and clarity, plus no detail loss when zooming in at the first level. Level 2 brought some loss though. Traditionally Huawei phones aren't very good when it comes to filming, but this is an exception. Huawei Nova Plus has great focus, exposure, clarity and white balance when recording videos.
The 4K clip is good enough to be confused with a handycam shot and optical image stabilization was good in our test. There was no focus loss, no strange exposure charge, so stabilization is great. I have to say that this phone handles video quite well and it's once again on par with the Nexus models from last year and the Galaxy A 2016 handsets.
Even the front camera videos were clear, clean and well done, with good face texture and 20 Mbps bitrate. Low light videos once again get thumbs up from us, with good reflections on the car metal, realistic colors and great lighting. The street lights aren't overblown, there's no focus loss and there's also no motion blur when tracking objects.
Nova Plus has one of the best cameras, especially when it comes to filming. In some areas it's superior to the Huawei P9. Now let's see what the web browser is about. The preinstalled one is fast and it has moderate benchmarks, while the input is done with a keyboard with big buttons and Swype support. On the connectivity front, this is a dual SIM phone with nano SIM slots, FDD/TDD LTE support, GPS, Glonass, NFC, the whole 9 yards.
Bluetooth 4.1, USB Type C and WiFi b/g/n are on the list, as well. Calls are loud and clear, the signal is good and the microphone also works fine. We get a  harassment filter, quick call feature, pocket mode and speed dial. We also did a Speedtest and we achieved 49 Mbps in download via WiFi and 25 Mbps upload. In 4G we got to 99 Mbps download and 41 Mbps in upload, both solid results, but I've seen double achieved on WiFi.
Now when it comes to OS, UI and apps, we're running on Android 6.0 Marshmallow here, with EMUI 4.1 on top, that has a typical Huawei look. Multitasking is done via  a horizontally scrolling area, filled with thumbnails, while the dropdown bit includes notifications shown as a timeline. Quick Settings are also here and if you pinch the homescreen, you can access the wallpapers, widgets and transitions area, as well as layout. Widgets are 60% stock.
Settings include home screen style (Standard or Simple) and those associated to the fingerprint scanner, as well as Smart Assistance, Do Not Disturb and the works. The fingerprint scanner is fast, has a 5 step setup and instantly unlocks the device. It also lets you take a picture or video, or answer a call by tapping on it. Then there's Motion Control and you can use knuckles to take a screenshot, scrolling one or video one.
One can also split screen the screen in two, by drawing a line in the middle of the screen with the knuckle too. One hand UI and touch disable mode are here. The preinstalled apps list includes 48 names, so there's quite a bit of bloatware here. There's Themes here, Phone Manager, NotePad, WPS Office, Facebook, News Republic and 4 games.
Time for the verdict. Here are the Pros:
premium materials
good selfies/makeup
solid camera
good performance OK display
great battery
solid acoustics
nice additions like 4K and OIS compared to most Huawei phones
And the Cons:
maybe too wide
brightness not uniform
bloatware
microphone during video capture is only so-so
WiFi could be faster
bit pricey
EMUI is the same
Huawei Nova Plus is clearly meant for the feminine public, but that doesn't mean it's lacking or anything. It's a smartphone that can just as well be used by the male public, with no regrets. It's a very solid midranger, with solid design and looks, plus its standout points are the camera and battery. Performance was quite good and it's a nice alternative to 2015 flagships even.
Too bad that the Nexus 6P and Galaxy S6 have similar prices, thus undercutting some of the Nova Plus fame. It's a better choice than the Huawei Mate S and Honor models nowadays, though.  The updated price is here.