The Lenovo Moto G4 or Motorola Moto G4, whatever you want to call it is the first fruit of the Lenovo-Motorola fusion that reached us for testing purposes. The handset gets reviewed below and we see if it delivers or not. This model debuted in May this year and it's a $200 handset, with pure Android Marshmallow and midrange specs. It's the device without BS, that's how it's promoted and it comes in black or white.
The design is robust and the phone has great ergonomics. It reminds me of a smaller Nexus 6, also made by Motorola. The grip is good and this is quite a big and wide phone, so one hand usage is not that easy. Buttons are comfy and the back cover is easy to remove. Below the back cover we find dual SIM slots, a microSD card slot and this product has a pretty solid build and a nice rounded frame.
It comes with a facade that kind of draws dust and dirt a bit. The thickness is 9.8 mm here, certainly thick by modern standards and the weight is 155 grams, all of them well balanced in this format. We've got a plastic shell and this model is designed to fit the pocket well. Splash resistance has also been added in other countries the Moto Maker program lets you customize the smartphone easily.
It remains solid, comfy and not bad looking. The display on board is a 5.5 incher, with a Full HD resolution, IPS LCD panel and the video player being used here is the good old Photos app. The viewing experience featured a bright, crisp and clear image, OK contrast and rich colors, that are also well calibrated. View angles are wide and when it comes to brightness, we achieved 491 LUX, after our luxmeter test. This is a good result, surpassing the Galaxy S5 and iPhone SE for example, but scoring below the Nexus 6P and HTC One A9.
Settings include Adaptive Brightness, Color Mode (Normal or Vibrant), font size and overall this is one solid display. Moving on to other hardware, the CPU on the Moto G4 is a Qualcomm Snapdragon 617 unit, an octa core model clocked at 1.5 GHz, with an Adreno 405 GPU in the mix. There's also 2 GB of RAM here, 16 or 32 GB of storage, as well as a microSD card slot, with support for up to 128 GB.
There's no lag on the device and we get Nexus style fluidity. You can tell that Moto belonged to Google at some point, that's the conclusion. The handset runs games like a charm, including the benchmark title Riptide GP Renegade or the latest FIFA Mobile Soccer title. Benchmark-wise, we ran Quadrant and we were able to surpass LG G Flex 2, which is not bad, since that one is a Snapdragon 810 phone.
In AnTuTu 6 we beat the Galaxy A5 (2016), while in 3DMark Ice Storm Unlimited we got past HTC One A9 and Sony Xperia M5. Performance was good and moving on we got to 36.1 degrees Celsius after running GFXBench, so there's no overheating here. However, after running Riptide GP Renegade we got to 42.5 degrees Celsius, which is a bit high, but not hugely.
The battery on board of the G4 is a 3000 mAh Li-Ion unit, that on paper is able to charge in 15 minutes via the Turbo Power tech, enough to power up the phone for 6 hours of usage. Now, when it comes to our tests, we achieved 9 hours and 31 minutes in the HD video playback test, which is good and superior to the LG V10 and HTC 10, but below the HTC One M8 and UMi Max.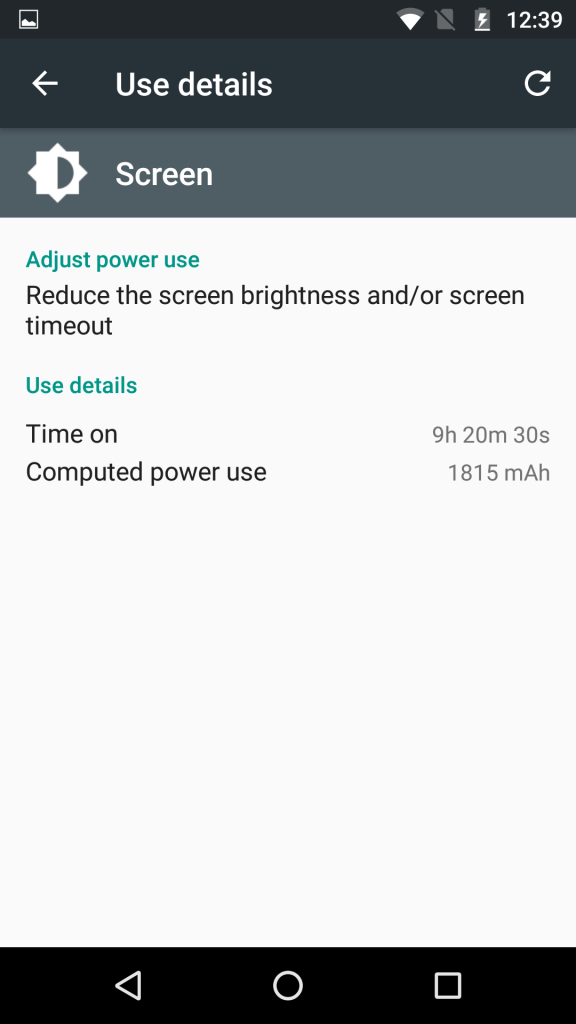 Sadly, PCMark, the continuous usage test wouldn't run on this device, but with my experience of long device usage, I'd say it can easily reach a day, or a day and half of regular usage, maybe even two days. Charging requires a gigantic 5 hours and 11 minutes and either our charger is off, or that's the actual time everybody experiences. It's the last placed handset from all of the models we've ever tested, when it comes to charging.
The battery saver feature is available, as well as Doze, by the way. On the acoustics front, I should mention there are no bundled headphones here and the music comes from the device's earpiece, serving as the loudspeaker. Play Music is the player of choice, with a tweaked EQ this time, with functions like Extreme Bass, Bass Punch, Balanced, Vocalizer and more, including 5 custom channels.
Once you attach headphones, new options are activated like 3D stereo and surround. The acoustic experience here involved a loud and clear sound, good bass and overall it all was marked by a good quality. All the instruments are rendered well. We don't have a big muffling even when the loud speaker is facing a flat surface.
We used a decibelmeter to measure how loud the device gets and we achieved 81.7 dBA at the front and 80.7 dBA at the back. However, when we played a game or watched a video we achieved 86.4 dBA, which means we beat the Galaxy Note 5 and Galaxy S6 Edge. It's a good speaker clearly. Now let's discuss the camera, as usual a high point of interest in all of our reviews.
There's a 13 megapixel back camera here, with F/2.0 aperture, dual LED flash (dual tone), while upfront there's a 5 MP shooter, with F/2.2 aperture and wide angle lens, plus display flash feature. The camera app starts up slow sometimes, other times fast and provides a simple and minimal UI, as close to stock as possible. Options include HDR that can be set to Auto/On/Off, timer, a brightness slider that appears when you touch the viewfinder, plus capture modes like Panorama, Video, Pro and Slow Mo.
The Pro mode provides options like white balance, shutter, focus, ISO and exposure. The camera provides fast focus, fluid zoom and fast picture taking, by the way. You can also set up the resolution to 13 MP in 4:3 or 9.7 MP in 16:9. Video goes up to Full HD. The gallery of shots we took during the day features a clear day of September, very crisp images and realistic colors. There's no over sharpening, but the panorama was very modest and a bit burnt.
The HDR of the tree is rather discrete, which is nice. I liked the closeup of that faucet and the selfies were OK, but below what a Huawei would achieve, plus a bit burnt and artificial. Closeups were excellent and I was very happy with the focus, especially for a $200 phone. I liked the realistic colors, the nice zoom and the way the sky was rendered. I liked the texture of toys in the park and their colors, plus the gloss.
Not one blurred shot was there to ruin the day luckily, but the colors were sometimes a bit cold, especially in the shade. I'd dare to place the quality of the day time pics about 5% above the Galaxy A 2016 models, which is not bad at all. There's no over sharpening and this is close to the flawlessness of an iPhone 6, no joke.
Low light capture was pretty solid, flash-wise, but there was a blue-ish hue that appeared every once in a while. Clarity wasn't exactly mint, the street light halos were big and we also have some yellow-ish hue. It's below what the LG Nexus 5X can achieve, rather grainy and the sky was violet. It's just OK-ish… and that's it.
The video capture was done in MP4 format, in Full HD, at 30 FPS and at a bitrate of 17 Mbps. The microphone in the mix doesn't face wind as well as I'd like it to, but the clarity and colors were pretty good. Zoom quality was also pretty OK and digital stabilization was a bit above my expectations. We did encounter some refocusing, but in general the colors and exposure were OK.
The HDR video is too washed out and the slow mo has a low resolution, too low for my liking. I liked the proper exposure change and I was happy with the quality of the vids. I feel it's above the Huawei Honor models and close to the level of a Nexus. Low light video capture was done at 25 FPS and 17 Mbps, it was shaky, dark and fuzzy, but the colors were OK. The web browser on this phone is Chrome and it's fast, in spite of the benchmarks that aren't that impressive.
We also get a stock keyboard here, the one from Lollipop and Marshmallow. On the connectivity front, there's Bluetooth 4.2 here, microUSB 2.0, WiFi a/b/g/n,  GPS, 4G LTE Category 4 and this is a dual SIM phone with 2 microphones on board. We don't have NFC here, but we do have USB OTG. Calls are loud and clear, the mic is OK and the signal is also good. We also get a bit of distortion, sometimes.
The Speedtest revealed a value of 88 Mbps in download via 4G and 45 Mbps in upload, both pretty solid values. WiFi brought us speeds of 103 Mbps in download and 25 Mbps in upload, so both tests checked out nicely. Moto G4 runs Android 6.0.1 Marshmallow, in a clean and BS-free experience. Google Now has a leftmost dedicated homescreen, while the multitasking is done by a carousel mechanism.
The dropdown bit includes notifications and Quick Settings while the widgets are all stock material. Too bad that there's no fingerprint scanner here, but we've got the Moto G4 Plus with that feature. Keep in mind if you pick up the phone, it'll show notifications in a Glance-like feature. Settings include Memory, Encryption, Lockscreen Message, Motorola Privacy and Moto ID.
The preinstalled apps package is very light, with 23 apps, so there's no bloatware here. All of them are stock Google material, plus a Moto apps, focused on gestures and such things. If you do a "chop" movement you will activate the flashlight for example and if you flip the phone, it's basically a signal for Do Not Disturb.
Now let's see the verdict, Pros and Cons for the phone.
Here are the Pros:
comfy phone
bright screen
good performance
good battery
OK audio
quality pics and videos
fast connectivity
no bloatware
clean OS
And the Cons:
thick and wide phone
slight overheating in games
huge charging time
PCMark won't run
not impressive low light capture
Moto G4 is a great phone for $200, with a solid design, a penchant for multimedia playback and good pics, plus very clean software. Something tells me it's going to get Android Nougat ahead of many flagships, courtesy of Moto's relationship with Google. It's a fast phone, with very few flaws, but the biggest one feels like it's limited to our unit, so don't count on it.
I'd pick it up over half a dozen of lesser known 3 GB RAM $150 phones from China, because clean software is something I really care about. Quality is in the eye of the beholder sometimes… The updated price is here.