Some people like to buy flagship phones no matter the cost, while others are more conscious about their finances. For those a Xiaomi Mi 6 is a great idea, but before that the Huawei P10 was quite a bargain on its own, even with the hype surrounding it and its Leica camera. We already reviewed the Huawei P10 Plus and found it very capable, albeit flawed in a few areas. Somehow the P10 makes up for those and takes the price down to $690.
Unveiled at MWC 2017, this handset is the 2017 flagship of Huawei, with Summarit lenses for the camera, not the Summilux the P10 Plus had. In some countries this smartphone comes with a Huawei Fit bracelet bundled as a gift, which is quite nice to have at this price. Now as far as the design is concerned, the phone is much like we left the P10 Plus, only more compact.
It's got a metal unibody approach, with an iPhone 6-type styling. It's more rounded than the Huawei P9 and has an antenna design that feels too much like the iPhone 7 and Meizu Pro 6. Buttons are comfy, including the Home button, that offers a new paradigm. It serves as the Home button when pressed regularly, while a short press means "Back" and a swipe to the side equals the "Recents" feature.
This grew on me so fast, that I found myself using these gestures on the iPhone. Huawei P10 has a premium build, making use of metal and glass and it's reasonably slim at 6.98 mm in thickness. It has slimmer bezels than the P9 and weighs 145 grams, but feels much, much lighter somehow. As a comparison, the iPhone 7 measures 7.1 mm in thickness and weighs 138 grams.
Huawei P9 measures 7 mm in thickness and weighs 144 grams, so the two are pretty similar in size. Overall, it's a comfy phone, well built, but too iPhone-like. Time to talk about the display. Huawei P10 comes with a 5.1 inch IPS NEO LCD panel, with a Full HD resolution and Gorilla Glass 5 protection. This happens while the P9 had a 5.2 inch Full HD IPS NEO LCD Panel, so once again not much has changed.
In order to test this screen we used the Video app from Huawei, that comes with a Pop Up Play feature, speed settings and Enhance Audio. The viewing experience brought us very vivid colors, good brightness, wide view angles and pretty OK blacks. The contrast was rather good and overall it felt better than the Huawei P10 Plus, because it didn't have any view angle problems and lack of brightness like that one.
Pixels have an RGB Stripes setup and we did a luxmeter test only to achieve 539 LUX units, but not in uniform fashion. The result is solid and it surpasses the one of the Huawei P10 Plus (411 LUX) and the P9's 496 LUX. It also scores below the iPhone 6 and its 570 LUX, as well as the Xperia X Performance and its 575 LUX. Settings for the display include wallpaper, font size, Eye Comfort (color temperature slider), brightness and color temperature (color bubble to pick from). Overall it's a great display, so not much to object about it.
Time to discuss the other hardware. I'm talking about a HiSilicon Kirin 960 processor, an octa core unit with Mali G71 MP8 GPU in the mix, plus 4 GB of RAM. There's also 32 or 64 GB of storage here, a microSD card slot and absolutely no trace of lag. There's no delay, no problem and the apps start up fast. Games also run like a charm, including our own benchmark title, Riptide GP Renegade. It has great frame rate, lighting and textures.
Speaking of benchmarks, we ran Quadrant on the P10, only to score 6th compared to all the devices we tested. We beat the Huawei P10 Plus and LG G5 and also scored below the ASUS ZenFone 3 Deluxe. In AnTuTu 6 we placed 8th, scoring above the HTC U Ultra and Galaxy Note 7, while also scoring below the Google Pixel XL. In 3DMark Ice Storm Unlimited we surpassed the Moto Z and Huawei P10 Plus, but also scored below the Huawei Mate 9.
Great performance overall and superior to the P10 Plus, thanks to the lower resolution. The temperature test was also quite fine, as we reached 36.7 degrees Celsius when running GFXBench and 37.9 degrees when running Riptide GP Renegade, so there's no overheating. On the battery front, there's a 3200 mAh unit here, a Li-Ion one, while the Huawei P9 had a 3000 mAh unit.
In our HD video playback test we achieved 14 hours and 50 minutes, which is great and places this phone on the 10th spot in our hierarchy. It beats the Galaxy S7 and Huawei P9, with its 7 hours and 9 minutes, as well as the P10 Plus. In the meantime it doesn't quite reach the heights of the Galaxy S7 Edge, though. When it came to the continuous usage test, PCMark was there and we achieved in it 7 hours and 15 minutes, which is quite OK.
This totally beats the P9 and its 4 hours and 31 minutes, as well as the P10 Plus. It does score below the Galaxy S6 Edge+ and Huawei P9 Plus, as well as the Huawei Nova Plus, but the result remains great. Charging isn't half bad, with 10% reached in 5 minutes and 27% in 15 minutes. 30 minutes take you to 51% and one hour to 84%. The full charge is done in 1 hour and 51 minutes.
This places the phone on equal footing with the Motorola Moto M and one minute above the Galaxy S7. Settings for the battery include Power Saving and Ultra Power Saving, as well as WiFi on during sleep, lower resolution and Optimize. One of the clearest upgrades from the predecessor I've seen in recent history. On the audio front there's DTS and a typical Huawei music player, with nifty animations.
Sadly, unlike the P10 Plus, this device doesn't have stereo speakers, only relying on the one from the bottom. That speaker provided us with loud and clear sound, good bass and a nice rendering of guitars, violin and keys, as well as voice. There's no distortion here and the back doesn't vibrate.
The good news is that the speaker won't exactly be covered when gaming, at least not with ease, or when the device is held in landscape in general. We proceeded to do a decibelmeter test and achieved 82.5 dBA at the front and back, with our typical audio sample. When gaming, the sound got as high as 96.4 dBA, which is excellent even for a flagship.
It surpasses the Huawei P9's 83.9 dBA and the Huawei P10 Plus 89.2 dBA. It's actually quite loud. The headphones are the typical ones we've seeing ever since the Huawei P8. They're made of plastic, quite rigid and not comfy, but they're loud and clear and have good noise cancelling. With the audio checked out, we head to the dual back camera.
That one employs second gen Leica technology, with a 20 megapixel monochrome sensor working with a 12 MP RGB one. There's F/2.2 aperture here, dual tone flash and OIS, plus PDAF, CAF, laser focus and 2x hybrid zoom. That's the main camera and upfront there's an 8 MP shooter with F/1.9 aperture. The camera app starts up fast and offers fast focus, as well as a pretty fast picture taking (I've seen much faster).
The zoom is fluid up to 2X, then it becomes a bit sluggish. Options are as usual generous, including Effects, Colors (Standard, Vivid, Smooth), plus the new Portrait Mode with Artistic features. It lets you highlight the face of a person by blurring the background. You can also play with aperture with the dedicated mode and create nifty Bokeh shots, in a more controlled fashion than the rather experimental P9 (in this field).
The camera Modes are as follows:
Monochrome
HDR
Panorama
Night Shot
Light Painting
Time Lapse
Slow Motion
Watermark
Audio Note
Document Scan
Good Food
There's also a Manual setting with functions like white balance, focus, exposure, shutter and ISO, as well as metering. Resolution can obviously be tweaked and then there's GPS, grid, timer, object tracking and saturation. Contrast and brightness are here as well. Videos are shot in 4K or Full HD at 30 or 60 FPS. Stabilization is available, of course.
I have to admit that I've used the Huawei P10 maybe a bit more than the average reviewer to test its camera. We took extensive tests, with a sum total of over 1000 hots in our gallery. We took pictures in Barcelona after MWC, we took shots at the launch of the Nintendo Switch and even at the debut of the Galaxy S8. Photos spanned a variety of cities (day time), locations, weathers and situations. Here we have a collection of selfies and here bokeh and black and white shots.
The pictures taken during the day featured great colors, nice clarity and we played with the focus pretty nicely, with the wide aperture thing included, of course. The sky had an excellent color rendered, I'd say even better than the Galaxy S8 and I'm talking about how realistic the hue was. The Panorama had an OK resolution, of 9920 x 3136 pixels. Lighting was good and closeups were basically perfect.
I'm talking particularly about that bumblebee, that looks stunning. Bokeh shots were also well done and Portrait ones too, really highlighting the selfie material. We tested the zoom in, producing some good results and also the HDR, that came out a bit too white. Zooming into landscape shots revealed some pretty good details, even for a 12 MP camera.
The monochrome shots were artsy as usual and they caught light, shadows and texture with perfection. I feel that the P10 was actually better than the P10 Plus, because it didn't use over sharpening and the colors were closer to reality and the RGB standard. Huawei P10 performs just as good as the Huawei Mate 9 and can fight the Galaxy S7, LG G6 and iPhone 7 Plus easily, even beating the latter.
It basically does nothing wrong, aside from some minor burnt areas in side areas of the shots. It's clear that the Huawei P9 has been totally surpassed by the P10. When it came to indoor shots, I was totally happy with the P10 as a daily driver to replace my DSLR for events. The Nintendo Switch and Galaxy S8 launches involved a lot of dark areas, strong lighting, even blue lights and loads of screens, which would confuse many phones. Not this one!
I used as daily driver previously the ZenFone 3, ZenFone 3 Deluxe and LG V10 for events and the Huawei P10 is clearly above them. Low light photo capture brought a fantastic texture of the statues in the square, also a very bright flash, but one that doesn't drown the image in white luckily. Some grain appears in the finer details and I loved the Light Painting effect.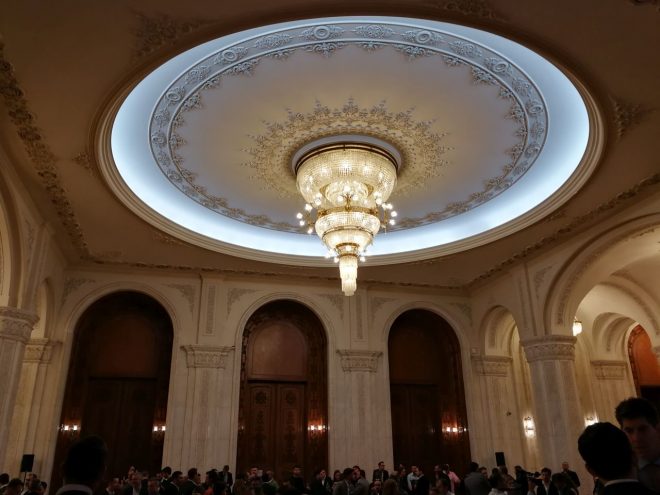 The lighting was good and the colors were well calibrated. There's no blue or violet hue, like we've seen on some other phones and street light halos have a decent size. This one is a top 5 phone or even top 3 in 2017, when it comes to camera action, but it can't quite surpass the Galaxy S8, though. Meanwhile, it does beat the P9 and P10 Plus clearly.
Now as far as the video capture goes, Huawei P10 films in MP4 format, in Full HD, at 30 FPS and 17 Mbps. The clarity is quite OK, even though there's some burn here and there. There's also a bit of clicker when walking around and trying to stabilize, like the Huawei P10 Plus had. By the way the iPhone 7 Plus also didn't quite focus in ideal manner.
Well, at least the microphone is good with sound recording when filming. The 60 FPS video looked great, with that boat on the river and motion is caught in excellent manner when you film like that. The resulting clip has a 34 Mbps bitrate. The 4K video is downright perfect, with some oversaturation in the mix, but it still beats the Huawei P10 Plus and Huawei P9.
I also felt that the green was way too vivid, oversaturated even. The clarity remained at top levels at all time, so that's not a problem. Huawei P10 films in excellent manner, but it's no Xperia XZ or Google Pixel, that's for sure. It's still an evolution from the Huawei P9. Indoors, when attending the Nintendo Switch and Galaxy S8 launches, I was really stunned by the behavior of the P10.
It handled loud noises, booming presentations, flashing lights, tons of screens like an ace. Only the zooming in and details left a bit to be desired. Low light video capture followed, with big street light halos caught, as well as a pretty OK object tracking. Some grain was spotted here and there and when zooming in detail loss was a thing.
Lighting and colors were top notch, without extra yellow hues or blue ones. There's some flicker when moving around and even when moving, which is a bit of a bummer. I'd say that night time filming is possibly the weak point of the P10, but still it's improved from the P9. Now let's move to other aspects. For example, let's talk about the web browser.
The preinstalled browser here is Chrome and it's quite fast when loading pages. Sunspider and Vellamo benchmarks also confirm that. For input we're using Swiftkey with Swype support and very well spaced keys. On the connectivity front, we've got a dual SIM hybrid setup here and support for 4G LTE, with lots of bands in the mix. LTE Advanced is available and LTE Category 12 should offer here up to 600 Mbps of theoretical download speed.
This device also has an USB Type C port and comes with GPS, Glonass, Galileo support, as well as Bluetooth 4.2. There's WiFi 802.11 a/b/g/n/ac in the mix, NFC, Link+ and WiFi+ technologies. The Dialer is as usual generous with options, offering a harrassment filter, Pocket Mode, Speed Dial, and Virtual HD Call. The calls are loud, clear and noise cancelling is great.
We also did a SpeedTest and achieved 64 Mbps in download on 4G and 47 Mbps on 4G upload. When it comes to WiFi, we reached 31 Mbps in download and 25 Mbps in upload, so everything checks out fine. And now let's see how the OS, UI and apps are looking. Huawei P10 runs on Android Nougat 7.0 with EMUI 5.1 on top. It's got a dark gray dropdown area, with blue toggles, much like the Galaxy Note 7 had.
The blue toggles also make me think of iOS 10. Notifications are wider now and the Home button with its new gestures is very comfy to use. The Quick Settings area even includes a function that lets you to screen video recording. Keeping the homescreen pressed results in the activation of wallpapers, widgets, transitions and settings related to layout, alignment and such.
The EMUI 5.1 has elegant and flat icons and this feels very much like the iOS of Androids. Swiping up in the lockscreen triggers a series of shortcuts. As far as settings go, there's a Search and Suggestion there and you can set up the style of the UI (Standard or with an App Drawer). There's also the option to trigger a nav bar, with virtual buttons, if you don't like the new Home button.
The fingerprint scanner has a 16 setup setup and it's very accurate when it comes to screen unlocks and the works. The settings also include Do Not Disturb and App Twin, with the latter letting you use two accounts in apps like Facebook or Whatsapp. Then there's a Simple Mode, for beginners in the world of smartphones, plus one hand usage.
Huawei couldn't do without motion control here, so there's also the series of gestures with knuckles, that let you split the screen in two for multitasking, cut screenshots and even record video. Finally, we've got a glove use mode and a novelty in EMUI 5.1 is the Gallery Discovery/Highlights section, that creates a video summary out of your last pictures and videos.
Huawei's key to make everything work is the Ultra Memory and Ultra Response tech, that will free RAM faster for your favourite apps and also make the screen react to the touches faster. Voice control is also part of the equation. Now we get to the apps. There are 48 preinstalled apps here, which is a lot, but quite a few of them can be uninstalled.
There's the useful Phone Manager, that manages resources, Themes, Health, Booking.com, Instagram, Tripadvisor, HiGame and Tools, to name a few. And now it's time for the verdict!
Here are the Pros:
great price
great performance
solid battery
bright screen
beats the P10 Plus in quite a few areas
solid camera
OK acoustics
fast charging till 80%
nice UI
And the Cons:
design resembles iPhone too much
flickering in video capture
some burnt areas of videos
low light videos below the general quality of the camera
no virtual assistant in this day and age
Huawei P10 will remain in my memory as a daily driver that was excellent for blogging and vlogging at events. Journalists will love it and teens to, since it handles gaming and media like a champ. It has a very solid camera, perhaps more solid than the one of the P10 Plus, if you can believe it. Once again it's the iPhone of Androids when it comes to optimization.
It's the best bang for the buck of current flagships of 2017 and a clear evolution from the P9. It's one of the few times when it's actually worth to sell the P9 and buy the P10.