Before the iPhone 7 came out, every expert in town advised us to expect an upgraded iPhone 6S and nothing more, with the core of the innovation debuting in 2017. I've seen surprisingly few people calling the handset the iPhone 6Ss, so I guess I'll take it upon myself to spread that nickname. Don't get me wrong, it's a very solid smartphone, but in a knife fight with the iPhone 6S it would be a tough sell. We find it below if it wins or not.
The device is priced at $649 in the 32 GB version and it debuted in early September with the iPhone 7 Plus, its dual camera and bigger version. We test here the 4.7 inch model, Apple's current main flagship phone. The core of the novelty is its lack of audio jack, moved antenna lines at the top and bottom, stereo speakers, water resilience and replacement of the mechanical Home button.
Available in black, silver, gold, rose gold or jet black, the phone keeps basically the same format as the iPhone 6 and 6s, minus the moved antenna lines, closer to the top and bottom edge now. It would be an unique approach, if the leaks hadn't tipped off companies from China like Meizu, already using this approach. It's still more good looking than past antennae integration and as mentioned before, there's no audio jack and the lack of a mechanical button feels strange, since the touch one with haptic vibration don't quite feel the same.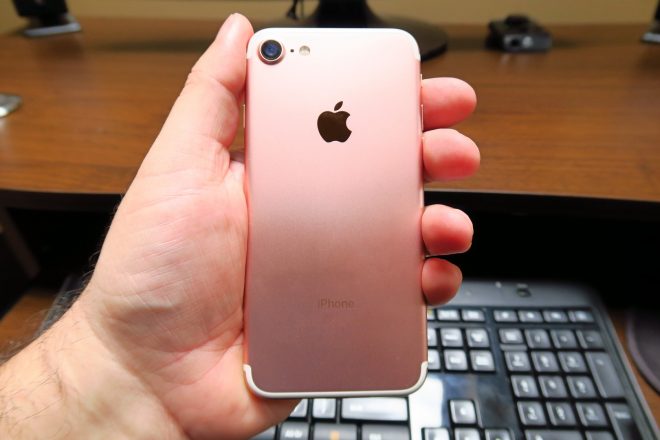 It takes some getting used to, but in the long run it will become a habit. iPhone 7 measures 7.1 mm in thickness and weighs 138 grams, meaning it's the same thickness as the predecessor and it weighs 5 grams less. It's got an unibody aluminum case, very rounded edges, to the point of being almost slippery, I'd say. The grip is reasonable and the build is excellent.
One hand usage is great at this type of size. In case you really want to tell between the iPhone 6S and iPhone 7 on the run, you'll just have to look at the earpiece, since the iPhone 7 has a wider earpiece. There's also a slightly rounded glass panel upfront, on its sides, more of a 2.5D glass affair. The camera has a bump and the physical buttons are pretty comfy.
The SIM tray seems to be harder to stick in this time, on account of the waterproofing. Speaking of which, the device is IP67 certified, meaning it's resilient to dust and water damage. It's a comfy and familiar handset in the end, made of premium materials, but not hugely changed from last year. Moving on to the display, we've got a 4.7 inch IPS LCD here, one that offers the usual 1334 x 750 pixel resolution, just like the predecessor.
This is a Retina HD display, a widescreen with LED backlight and contrast of 1400:1 on paper. This time we're getting a wide range color screen, according to Apple and also the Dual Domain Pixels have been kept. Everything is covered up with an ion strengthened oleophobic glass coating. 3D Touch remains in the picture and on paper Apple promises that the new panel is 25% brighter than the one before.
Videos we watched on this screen exhibited great colors, excellent brightness, they were crisp and the contrast was excellent. Black was deep for an IPS and view angles were wide. It's a quality panel, for sure. Pixels have an RGB Stripes setup and the luxmeter showed us a value of 532 LUX units, which is very good, but sets no record in 2016.
It's also not widely spread, since there are parts of the screen with 486 LUX or 483 LUX, but the human eye can't spot the difference. The brightness we just mentioned makes the device surpass the HTC 10 and iPhone SE, but scored below the iPhone 6S or the iPhone 6, plus the Galaxy S7 Edge. Settings for the screen include Auto Brightness, Night Shift (with your choice of a warmer hue or less warm), auto lock, text size, bold text, Display Zoom (Standard or Zoomed), raise to wake.
It's a great screen all around and 3D Touch works just fine, now also showing a bunch of widgets for the icons you pressed. Peek and Pop is also here, useful as ever. Inside the smartphone we find the Apple A10 Fusion quad core 64 bit CPU, clocked at 2.3 GHz and with an M10 coprocessor to keep it company. There's also a 6 core PowerVR GPU, 2 GB RAM on this model and 32, 128 or 256 GB of storage.
The device is obviously lag-free and delivers great performance, while games run like a charm, as shown by our usual benchmark title Riptide GP Renegade. I did notice that the phone gets a bit hot after some minutes of gaming. Moving on to benchmarks, this is where the device really shines, achieving huge results in everything we threw at it. You name it, it scored first spot in 3DMark, AnTuTu 6, Base OS, GFXBench, beating the OnePlus 3, Galaxy S7 and the likes by a huge distance.
It's truly a potent device. Temperature tests show us a value of 38.6 degrees Celsius after the gaming test and 41.8 degrees after the GFX test, which means the device does get a bit hotter than usual. On the battery front, we are treated to a 1960 mAh unit (Li-Ion), an upgrade from the iPhone 6S's 1715 mAh power source. On paper we're promised two hours of functioning more than the predecessor, 10 days of standby, 13 hours of video and 40 hours of music.
In our very own HD video playback test in a loop we reached a great 12 hours and 25 minutes, beating the iPhone 6S by 20 minutes and also the Xiaomi Mi 5. We scored below the iPhone SE and Galaxy S7 though. There's no PCMark on iOS but the continuous usage time is solid, since I only needed to charge the phone twice during my week of testing it.
During that time I talked on the phone, played games, browsed the web, took pictures and Facebooked, so we're happy with the continuous usage. Charging is done in 2 hours and 34 minutes, which is long for a modern flagship. It beats the Xperia XZ, but scores below the iPhone SE. Special Settings include a Low Power Mode, that reduces visual effects, Hey Siri and mail fetching for extra juice.
Now that the battery is done and it's excellent, let's see what the audio has in store for us. This time Apple provided stereo speakers here, with one speaker at the bottom and the other being the earpiece. There's no audio jack and the bundled EarPods have a Lightning connector. As far as the speakers go, the earpiece provide the bulk of the audio range, while the bottom speaker handles the bass.
Apple Music got a new UI in iOS 10, with a new feature that brings you Lyrics to the songs and a cleaner UI. The listening experience was solid, with a very high volume, good clarity, possibly the best bass I've heard all year and also with lots of vibration for the case's back. Everything is crisp and all notes are heard perfectly.
We did a decibelmeter test and reached 84.6 dBA at the earpiece and 88.1 dBA at the bottom, both very good results. They mean we surpassed the iPhone 6 and 6S, but scored below champs like the LeEco Le Max 2 and Galaxy Note 4. The headphones may have changed connector, but they sound the same as the 3.5 mm EarPods, since I had some on hand.
This means they remain comfy, relatively loud, clear, have a good bass and isolation, but they also blare out the music you're listening to, to the people around. Settings for the acoustics include an EQ with genre presets, Soundcheck and Volume Limit. Good acoustics and now it's time for the all important camera!
iPhone 7 brings OIS to the table, this time on the 4.7 inch iPhone. We get a 12 megapixel camera sensor, a Quad LED flash and F/1.8 aperture. There's a 6 element module here, wide color capture, 4K video capture and the front cam has been upgraded from a 5 MP shooter to a 7 MP one with Retina Flash and Full HD video support.
The Camera app starts up fast and the phone provides fast focus, fluid zoom and fast picture taking. Options include filters, timer, Live Photo (picture and 3 seconds of video), HDR (On/Off/Auto), flash and the Modes: Panorama, Square, Slow Mo and Time Lapse. The Settings let you tweak the video capture to Full HD in 30 or 60 FPS, 4K in 30 FPS or slow motion in Full HD at 120 FPS or HD at 240 FPS.
Now it's time for the gallery and we started with some indoor shots, that were crisp and had good details, but some of them were pretty washed out. It seemed that the camera caught on too much light, but the food had a pretty nice texture. Moving to the gallery of day time shots, we caught a sunny day and triggered clear shots, a pragmatic HDR and achieved great quality when zooming in on a subject.
We've got excellent closeups of a metal locket, very crisp selfies, but to be honest I've seen better and more detailed selfies on other devices. Landscape shots show a lot of details for a 12 MP camera and in general I felt that the colors were a bit on the cold side. Panorama is excellent at 16.352 x 3628 pixels, very detailed and clear. The hues of reds were particularly impressive in the gallery.
We did also take some washed out photos, with colder colors, which is not something an iPhone usually does. Quality may be great, but I can't quite feel an upgrade from the iPhone 6S. Maybe the extra brightness and more realistic colors can be considered upgrades, plus more details for selfies. A clear conclusion is that this camera is inferior to the LG G5's, the Galaxy S7 and HTC 10, when it comes to clarity and colors and to the 20+ MP cameraphones of 2016 when it comes to details.
At least we didn't have dynamic range problems, as many phones do nowadays. Moving on to low light capture, we registered a bright flash, good clarity, very well lit photos and the zoom in was also great. Street lights were the proper size and color and all textures were perfect. The flash was fantastic, I have to highlight that again and in spite of excellent results, I still feel that the Galaxy S7 handles low light scenarios better.
HTC 10 also does, but the difference isn't huge, something like 10% or maybe 15% tops. However, the iPhone 6S is beaten here, since the iPhone 7 really catches more light, details and has better colors at night. I also feel that it's superior to the Xperia X Compact on this front. Video capture happens in Full HD, at 30 FPS, with a 15 Mbps bitrate and it goes to 47 Mbps when shooting in 4K.
60 FPS Full HD clips have a 23 Mbps bitrate. Our stabilization test produced a good result, but there was some focus loss here and there. At least the clarity was OK. The slow motion clip I did looked excellent, perhaps better than 99% of the Android phone slow motion videos. The microphone was also good during video shots, but it didn't face the wind properly all the time.
The 4K clip was mint, with really no flaw and I was happy with colors, exposure, white balance and focus in all vids. Object tracking was great and the quality of shots was decently kept when zooming in. Focus change proved great on those lockets and the front camera was also given a shot, for a bit of vlog action, producing solid results. I liked the skin texture in particular.
As usual the iPhone 7 has great video capture, but that focus loss during the OIS test kind of worries me, since Apple didn't use to do that before. If you look at the HTC 10 video samples, you'll see that the iPhone 7 is superior and the clips are also less burn than the ones of the LG G5. The sun is also handled better than on the Galaxy S7.
Low light videos somehow managed to produce better stabilization, good clarity, great lighting, OK street lights and a good zoom. I've rarely seen such light captured in a night time video, without sacrificing exposure, white balance or color hue. It's certainly a top 3 2016 phone strictly when it comes to night time videos.
It even beats the Xperia XZ and the LG G5, because those produce some blue hues in the corners. With the camera behind us, it's time to cover other aspects, like let's say the browser. Safari is as usual very fast and has incredible benchmarks, even beating the Microsoft Edge and its scores. The virtual keyboard is still comfy as usual. Connectivity-wise, Apple was kind enough to provide only goodies here.
We get WiFi a/b/g/n/ac, Bluetooth 4.2, NFC, Lightning, LTE Category 12, GPS, Glonass, VoLTE, AirPlay and WiFi calling. Calls are loud and clear, the earpiece is fantastic and noise canceling is perfect. The mic was also very good. The Speedtest we did showed a value of 105 Mbps in download and 25 Mbps in upload for WiFi and 90 Mbps in download and 45 Mbps in upload for 4G LTE.
Those are solid values and I should also mention we get HD voice here. The next part of the review is basically an iOS 10 review, since we didn't cover this OS on GSMDome.com so far. iOS 10 brings hundreds of changes from iOS 9, but not quite visual ones. There's no more swiping to unlock the device, for one thing. Now you need to press the Home button to unlock the device.
Also, if you pick up the phone and look at it, the screen will activate by itself and show the lockscreen. Swiping right on the lockscreen reveals the new Today Screen, that's a collection of widgets basically. There are third party apps with widgets and stock apps with theirs. The list is editable obviously. 3D Touch remains here and the Control Center has evolved to having two windows.
One includes the usual toggles (with a new blue hue) and the other is meant for the Music controls. iMessage is possibly the biggest upgrade in iOS 10, with its very own App Store, for stickers, games and much, much more. You can now draw on top of pictures and videos and the words you write can be emojified. There's an Invisible Ink feature, so you can write a mystery message, that will be unveiled with a swipe to the side.
There are also bubble effects and balloons to apply to the screen, in your iMessage window. iMessage now lets you share the Apple Music song you're listening to and there's also movie and restaurant integration and reservations. Photos has also been upgraded with Memories, a feature that much like HTC's Zoe lets you create a collage of your favourite pics and moments from the past year, month or week.
Photos is also now able to smartly find cats or drinks and many more, by scanning pics with AI. Siri has been opened to developers and can be used to send cash or call an Uber for example. The UI in iOS stays the same and now the notifications can be 3D Touched. Maps now remembers where you parked your car and it can also proactively suggest a destination.
There's also a preinstalled Home app on the OS, with the function to control a thermostat, security camera, locks and lights. A novelty is that you can delete the preinstalled apps you want on the device, including stuff like Stocks, Calculator and more. The keyboard offers predictive text that includes locations and contact now, plus a ton of new emoji.
The Clock has received a Bedtime Reminder and the new Home button on iOS 10 has 3 vibration feedback strength settings. Multitasking is still done using big thumbnails and swiping them up to close them, plus scrolling them horizontally to view them. The fingerprint scanner is fast and the animations feel pretty long in iOS 10.
The preinstalled apps list is the same as before, with a new UI for News though. Photos also includes the Markup options you had in Mail before. There are 32 apps preinstalled, but you can uninstall quite a few of them. The upgrades are welcome in iOS 10, but they're not as huge as Apple brags. Time for the verdict!
Here are the Pros:
premium design
solid screen
fantastic performance
super battery
nice audio
great pictures and videos
bright flash
nice iMessage novelties
waterproofing
stereo audio
And the Cons:
focus loss in stabilization video test
no record broken by the camera
Home button doesn't feel that comfy
long animations
same design as before, basically
gets a bit hot at times
still feels like a small phone compared to the competition.
The iPhone 7 is not a gigantic upgrade from the predecessor, maybe just the performance. It's got a solid camera and multimedia abilities, but also some controversial choices, like ditching the audio jack and mechanical home button. It can be called iPhone 6Ss without remorse and the fact that it doesn't demolish the competition in any area is something to worry about for Apple.
It's still a quality phone, with great display, camera and battery, plus a performance that promises to remain a landmark for a very long time. Upgrading from the iPhone 6S to this model makes no sense though… The latest price for the iPhone 7 is here.