The Lenovo A805e is a very interesting handset that popped up during a China Mobile show recently organized in Asia. This device is a pioneer among smartphones, featuring a 64 bit processor made by Qualcomm and also running Android.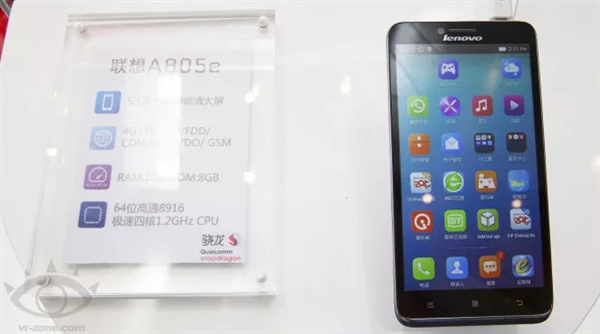 While the likes of ASUS have already debuted half a dozen 64 bit devices with Intel CPUs and Android, there are companies that taking this innovation to a smaller format. Meanwhile, aside from Apple there aren't exactly many players with 64 bit CPU handsets. The newcomer from Lenovo, the A805e relies on the Snapdragon 410 processor and fits within the midrange/low end area of the portofolio.
The unit will cost below $200, it comes with 4G connectivity and it has a case texture that imitates the leather. It will be available in black, white or champagne gold and its features include a 5.5 inch touch display, a 960 x 540 pixel resolution and a quad core Snapdragon 410 CPU clocked at 1.2 GHz. We'll also get 1 GB of RAM and 8 GB of storage, while at the back there's an 8 megapixel camera.
Finally, this phablet comes with a 2500 mAh battery, NFC and its CPU is actually based on the ARM Cortex A53 tech and it comes with an Adreno 306 GPU.
Via mydrivers.net