We tested the Lenovo Phab Plus mega phablet for the better part of last month and got to know it really well, as shown in the video review below. Now we're here to give you a detailed account of our experience with this huge device, that debuted at IFA 2015. Let me start off by saying that someone saw me using this product and asked me if it was an iPhone 6 Plus. He then proceeded to call it an "iPhone 6 Plus Plus", something that I like and I think I'll call it an "iPhone 6 Plus Plus Lite".
Priced at $350 on Amazon, this is the biggest phone I've ever had my hands on and it comes in silver, gray or gold. It resembles the iPhone 6 Plus quite a bit and has a metallic unibody design, that's very nice looking and solidly built. This handset measures 7.6 mm in thickness and weighs 229 grams, which means it's 0.3 mm thicker than the iPhone 6S Plus and heavier than that model's 192 grams.
Of course, its diagonal is also much bigger, at 6.8 inches, so this is almost a tablet. The best comparison would be with the Huawei P8 Max, since they share the diagonal after all, but their weight is the same and the thickness favours the Huawei. Lenovo Phab Plus is impossible to use with a single hand and it's great for landscape gaming and video watching.
It offers OK grip and at 20 mm wider than the iPhone 6S Plus, you're going to have your hands full with this one. At least the build is a premium one. Moving on to hardware, we start off with the display, a 6.8 incher with an IPS LCD panel and Full HD resolution. We've got realistic colors here, wide view angles and a not very bright panel, plus not so good contrast.
Outdoor behaviour is pretty poor, so in full sunlight you won't make out much of the screen. Pixels are of the RGB Stripe variety and when we used the luxmeter, we measured 248 LUX units on this model, which could be much better frankly speaking. It's somewhere between the LG G Flex 1 and G Flex 2 and it's on the same mediocre level as the ASUS ZenFones of 2015, or even lower.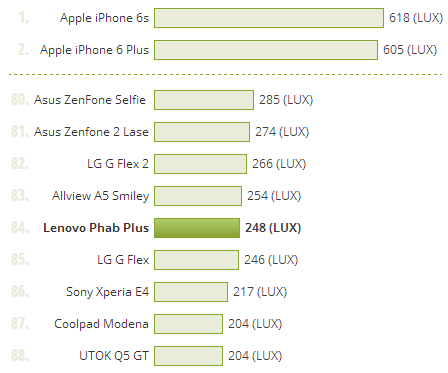 Still, it's good for indoor gaming and video watching. The CPU inside this device is a Qualcomm Snapdragon 615, an octa core 64 bit unit, clocked at 1.5 GHz. We also get 2 GB of RAM, 32 GB of storage and a microSD card slot, with supports an extra up to 64 GB. In benchmarks we surpassed the HTC Desire 820 and we weren't far from the likes of Sony Xperia Z1 and HTC One M8.
The GPU could have been better, but more results are here:
We ran Dead Trigger 2 and Door Kickers without a problem on this phablet and there's no lag per se in the UI, although sometimes it takes a very long time to start up an app, almost one second or two. Temperature reached 35.1 degrees Celsius after playing the game Riptide GP2 for 15 minutes, so there's no overheating.
As far as audio goes, there are no headphones bundled and the music player looks antique, straight out of Android Gingerbread. Volume is quite low, in spite of the big back speaker, but the sound was clean and bass was good. Anything below 80 dBA is not impressive, which is also the case here and we've also got a bad case of muffling on flat surfaces.
At least there's a Dolby app with an extra bit of equalizer, with options like Movie, Music, Voice, Music and Custom, with dialog enhancement and volume leveller. However they didn't help much in the end. We then moved on to the camera, a 13 megapixel unit at the back, with dual tone flash and a front 5 MP shooter for selfies.
The UI of the camera feels a bit confused and mixed up, because it has capture modes both at the sides and at the top of the screen. Capture and focus are also pretty slow, to be honest. As far as the photo gallery goes, we took an OK selfie or two, but got a blurry panorama and to this phone's defense, the second part of the shots were taken on a very rainy day.
Inside, the handset exhibited a powerful flash and OK clarity for those food and flower shots. When we did get a sunny day, quality and clarity were quite good and colors were realistic. Closeups were also nice and clear, when there's enough patience to focus properly. Sadly, the HDR is too washed out and white,  but the general behaviour of the camera was OK for a $350 device.
I'd put it around the same level of performance as the HTC Desire 820 and clearly below the Huawei Honor 6 and 6 Plus for example. Video capture is done in MP4 format, with a generous bitrate and echo-ey acoustics. Clarity was good, although it was raining cats and dogs and colors looked fine. The backgrounds was rather blurry at times and there was serious quality loss when zooming in.
Still, in spite of all that, the Lenovo Phab Plus does video capture better than the HTC Desire 820 and ASUS ZenFone, that kind of let us down last year. Now let's talk about the browser. We're using Chrome here, which is slow, but performs well in benchmarks. The virtual keyboard was comfy and keys were well spaced and then we proceeded to connectivity.
This is a dual SIM phone, with a nano SIM and a micro SIM card slot, as well as LTE support. It also provides support for WiFi 802.11 a/b/g/n/ac, Bluetooth 4.0 and GPS, plus it offers good signal, loud calls and OK call clarity. Of course, the device that's almost 7 inches in diagonal looks strange next to your ear and it's  not very comfy, but that's another matter.
We also got good speeds via WiFi, with 23 Mbps in download and 22 Mbps in upload. Now let's talk battery!
Lenovo Phab Plus packs a 3500 mAh Li-Po battery, that provided us with 8 hours and 58 minutes of video playback, which is not very impressive for an almost 7 incher. It's below the much smaller Samsung Galaxy A5 and the LG AKA. In PCMark we got a reasonable 6 hours and 31 minutes of usage, which was OK. It's slightly below the Nexus 6P and Galaxy S6 Edge, so we're in good company.
Charging takes 2 hours and 49 minutes, which is great for this size. Lenovo Phab Plus runs Android 5.0.2 Lollipop, with very small customizations. It's got stock widgets, a dropdown area that's also stock and multitasking area that involves the usual carousel. Settings reveal WLAN Binding functionality, but we also found some extras.
For example we have a screen shrink feature, that simulates a much smaller diagonal. Then we have the Smart Shortcut, a floating widget with extra virtual buttons and finally one hand keyboard. The preinstalled apps list includes 36 items, so there's not a big problem with bloatware here. The only app that stands out is McAfee and that's it.
UI is fluid, minus the whole long opening of apps thingie. And now it's time for the verdict!
Here are the Pros:
solid build
great for gaming
OK performance
Dolby Atmos technology
OK cameras for price
OK battery in PCMark
no bloatware
clean UI
And the Cons:
massive device
it's not for everyone
not very bright
lag when opening apps
could be louder
video playback time could also be better
ugly and confusing music player and camera UI
Lenovo Phab Plus is a mega phablet, for people bent on watching movies on the go and gaming. It has OK cameras for the price, but the display and acoustics could be better, when it comes brightness and volume respectively. This feels like the 6.3 foot student in the class, excellent in sports, but bad at pretty much else. Sports gaming here. You can find the updated price for this model here.
Lenovo PHAB Plus Video Review