LG G3 is the talk of the town right now and we couldn't miss the opportunity to review this popular piece of gear. This product was launched in June, announced in May and it's the highest end LG flagship right now. This is also the first QHD phone I ever tested. It's priced at $600 free of contract on T-Mobile and many people see this product as the "phone of the year 2014".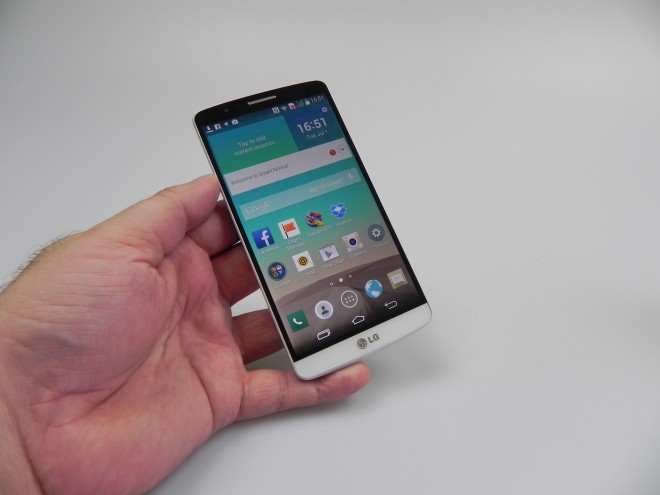 So, let's talk design! We're dealing with a 5.5 inch smartphone that certainly doesn't feel the part, since it's very compact. It measures 8.9 mm in thickness, weighs 149 grams and it has a polycarbonate case with metallic elements included. The grip is good and this model has small screen bezels, just like the predecessor. re features rounded corners and a back cover that imitates brushed aluminum. The back panel is removable and it's pretty hard to pull off if you don't have relatively long nails.
Underneath the hood there's microSD card slot and microSIM one, both overlapped on top of each other, as well as the battery. This model is rounded when seen from the profile and it follows in the footsteps of the LG G2. It's rounded when seen from the profile and sits well in the user's hand. There's a matte anti fingerprint finish at the back and we've got a thin film of metal included within the back cover, according to people close to LG.
This model has the same length as the HTC One M8 and Xperia Z2, but it's wider than any other flagship. For example it's 4 mm wider than the HTC One M8. Upfront we've got the earpiece, the front camera, a notification LED and sensors. At the top there's the infrared and microphone, while at the bottom we've got the microUSB, audio jack and microphone. Finally, at the back there's the laser autofocus, back camera, dual LED flash, speaker and physical buttons. Those include the On/Off button and two volume buttons, all of them very comfy to use and smartly placed.
Overall, the design is nice and it's both pretty and comfy. On the hardware side, we've got a quad core Snapdragon 801 processor, clocked at 2.45 GHz, with an Adreno 330 also in tow. The display is a 5.5 incher with a True HD IPS+ LCD panel and QHD resolution (2560 x 1440 pixels), as well as Gorilla Glass 3 protection. The pixel density is 534 ppi and the storage is 16 GB in the 2 GB RAM version or 32 GB storage in the 3 GB RAM version. The microSD card slot supports cards up to 128 GB and at the back we find the 13 megapixel camera with 4K video capture. Upfront there's a MP cam and the specs list includes rich connectivity options like LTE, HSDPA with 42 Mbps download speeds, WiFi 802.11 A/B/G/N/AC, WiFi Dual Band, DLNA, WiFi Direct, Bluetooth 4.0, NFC and infrared.
There's microUSB 2.0 with USB Host and USB on the Go, as well as Slimport, by the way. Finally, LG G3 comes with GPS, Dolby Audio, an accelerometer, gyroscope, proximity sensor and compass. The battery is a Li-Ion 3000 mAh unit (11.4 Whr), that on paper provides 565 hours of standby or 21 hours of talk time. The SAR value of the phone is 0.23 W/kg and our battery test revealed a total video playback time of 5 hours and 6 minutes, with WiFi on and brightness at 50%.
You'll get about a day or a day and a half of moderate usage, by the way. Overall, this is exactly what I expected from a model with a QHD display and it's clearly below the 9 hours and 15 minutes of the LG G2. The charging takes 2 hours, so at least that's OK. The charger offer 5 volt and 1.8 A output and overall I'd say the battery is a bit of a letdown. You also have the typical power saving options, where you choose the percentage that activates the feature and the stuff to turn off (sync, WiFi, Bluetooth, vibration, brightness levels changed and such).
The battery seems to have been sacrificed a bit for the sake of the QHD screen… Now let's talk about acoustics. We've got a pretty minimalistic audio player, with an UI that's pretty much similar to the one of the LG G Pro 2. The tunes are organized in Songs, Artists, Albums or Genres and the Settings also include a Sleep Time, plus the usual equalizer. This model is HiFi compatible, with several HiFi tracks included to test the feature. The equalizer options include Normal, Pure Surround, Quad Beat, Bass Booster, Treble Booster, Vocal Booster, as well as 7 Custom options. You can also tweak the pitch and speed if you want.
The speakers are loud and clear, sport a good bass and actually seem louder than the Galaxy S5. We used a decibelmeter on this model and achieved 87.4 dBA at the back and 85.6 dBA at the front. This is 2 dBA more than the LG G Pro 2 and this model also comes with an audio jack at the bottom. The bundled headphones are a bunch of Quad Beat 2 models, with a tangle free wire and very loud volume, plus very good bass and I do mean that. They're also comfy, but they tend to go too deep in the user's ear.
The FM radio gets a new UI, even more minimalistic than before. Now let's analyze the video/screen aspect. We're dealing with a True HD IPS+ LCD display here with a 5.5 inch diagonal and a resolution of 2560 x 1440 pixels (QHD) and 534 ppi density. We also have special QHD vids bundled by LG with this model, so we can enjoy the screen quality. There's no dedicated video player here, so we have to rely on the Gallery app, that by the way can play anything except from MOV files.
You can adjust the play speed, zoom in, make the video a floating window via Q Slide. The screen is crisp, but I can't quite feel the jump from Full HD to QHD. The view angles are weaker than all the other flagships, that's pretty clear, including the Xperia Z2, HTC One M8 and Galaxy S5. The display is still crisp, pretty bright and shows natural colors. The video playback offers us a preview of the scenes that follow, as shown in the video review. Brightness drops when you're watching the screen in wider angles.
This model is pretty weak in sunlight, so contrast is pretty poor. The black level is also not so good, being quite white-ish. Using our luxmeter we achieved 343 lux units and our microscope showed us RGB Stripe. In the meantime, HTC One M8 achieves 463 lux, Sony Xperia Z2 reaches 366 lux, Galaxy S5 480 lux and LG G2 350 lux, so the G3 is not exactly impressive. Overall, I wouldn't call it particularly impressive, this fresh QHD screen.
There are also a few settings that may interest you in the Display area. You can go with Home/Easy for the icons sizes and layout, Smart Bulletin settings, Lockscreen options, including Knock Code and Face Unlock. Then there are the virtual Android buttons, smart screen setting and font options. I would say that the resolution is the only one that's impressive here. And now the camera, the juiciest bit about this model. The LG G3 comes with a 13 megapixel shooter, with laser autofocus, OIS+, a dual tone dual LED flash and the same Sony sensor as the LG G2 and Xperia Z. Upfront we've got a 2.1 MP camera with 1.4 micron pixels.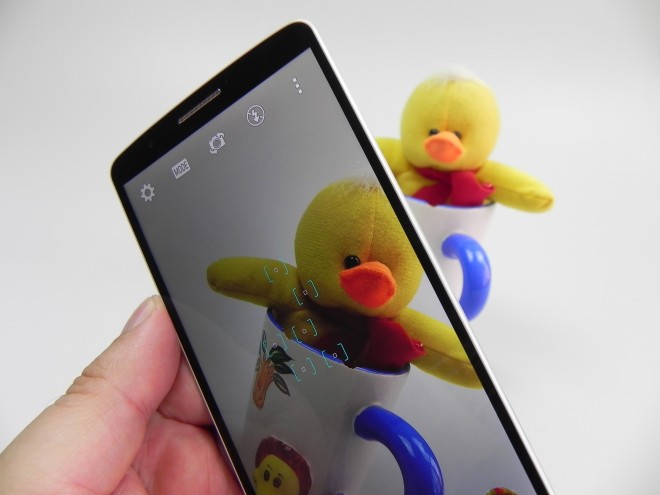 The back camera relies on a Sony IMX135 sensor, with 1.12 micron pixels and 1/3.06 inch sensor size. The focal length is 3.97 mm and aperture is F/2.4, while the OIS+ thing is basically OIS  with electronic stabilization also included in the package. Laser autofocus will basically emit pulses of infrared light and then measure the time it takes for them to travel to the object you're photographing. It then creates a focus depth and triggers great low light shots and it's also great to capture moving subjects. The autofocus time is 0.276 seconds, which is basically the best of all phones.
The UI is extremely simple and minimalistic, basically offering a mere 9 options. If you press the 3 dots from the corner of the UI, you'll trigger an even more intuitive mode, that allows you to take a shot just by tapping the screen. The auto settings offered by this mode are actually very smart. Now to the options per se, we've got flash settings, front cam shortcut (front cam UI also gets a beauty option), the Modes (Auto, Magic focus, Panorama, Dual) and Settings (HDR – On/Off/Auto, Resolution (4160 x 3120 pixels max), voice command, timer, grid and storage.
You can keep the shutter pressed to create a burst capture and this cam does up to 8X zoom. The focus includes 9 points to setup the image better. Magic Focus was also seen on the LG G Pro 2 and it's a mode that takes a series of shots with different exposures, then lets you choose to focus on macro or infinity levels. You can also select All In Focus, if you want. Now getting to the gallery of actual shots, we've got over 200 pictures to show for, including some taken during a 30 Seconds to Mars concert.
This handset does fast capture and fast focus and its quality beats the one of the Samsung Galaxy S5 and HTC One M8, even during daylight time. The quality of day time shots (gallery here) is on par, if not better than the Xperia Z2. Panorama also looks nice and HDR is kind of too white, if you ask me. There's great quality in these shots and great level of detail, plus we also get good exposure and contrast, as well as accurate colors.
Closeups look very nice, especially those with flowers included and the cocktail glasses. We've got some indoor samples as well, including ones taken next to a very bright window (sunny day) and very dark interior and still the camera handled it. The night time shots (gallery here) taken during the concert were a bit shaky, but that's how it goes at concerts. The noise is almost non existing in these night shots, which is a huge compliment for the phone. The night time photo capture looks great and the flash also adds to that, offering natural light.
They do feel a bit less impressive than the night capture of the Xperia Z2 and Lumia 1020, too. As far as video goes, we get 4K capture, slow mo at 120 FPS and 1080p at 30 FPS. When filming, the contrast is good, colors are accurate and the stabilization is excellent. The 4K vid is very crisp and we've got a nice zoom during the concert, that didn't drop any of the quality. Night capture was truly impressive and the changing lights and colors didn't matter for the camera, that handled them well. There's no yellowish hue here, a problem for many cameraphones nowadays.
I would say the concert capture was stellar, but audio capture couldn't face the bass. Overall, the camera on the LG G3 is a huge upgrade from the one of the LG G2 and it's above the HTC One M8, Galaxy S5 and Xperia Z2 even (although it feels equal often). The video capture is probably the best asset of the camera. Too bad there aren't more options in the UI, like ISO, exposure, white balance and such.
Picture editing is only done via the Google+ Photos app, by the way. The LG G3 does suffer from a bit of overheating, reaching 47.2 degrees Celsius, after about 15 minutes of gaming and that temperature is reached in the On/Off button area. The browser is fast and the keyboard is comfy, offering a numeric row as well and a Swype like method called Path. As far as phone features are concerned, here the volume is higher than on the LG G2 and I was able to hear people perfectly even during the concert, possibly thanks to the voice enhance features included on the device.
And now, the benchmarks! This is an area where we had both the results we got from our tests and also received the results from a person with a 3 GB RAM LG G3 (we tested the 2 GB version). Here they go:
This is Quadrant:
LG G3 2 GB RAM: 17516
LG G3 3 GB RAM: 22235
LG G2: 17166
Samsung Galaxy S5: 22739
HTC One M8: 24217
Sony Xperia Z2: 17500
And AnTuTu:
LG G3 2 GB RAM: 29856
LG G3 3 GB RAM: 35637
LG G2: 33987
Samsung Galaxy S5: 34712
HTC One M8: 34567
Sony Xperia Z2: 33067
In NenaMark 2 we got:
LG G3 2 GB RAM: 59.9 FPS
LG G3 3 GB RAM: 59.9 FPS
LG G2: 58.7 FPS
Samsung Galaxy S5: 60.1 FPS
HTC One M8: 59.3 FPS
Sony Xperia Z2: 59.8 FPS
This is the score achieved in Vellamo:
LG G3 2 GB RAM: 2499
LG G2 3 GB RAM: 2417
LG G2: 2930
Samsung Galaxy S5: 1645
HTC One M8: 1716
Sony Xperia Z2: 1602
3DMark brought:
LG G3 2 GB RAM: 15257
LG G3 3 GB RAM: 16095
LG G2: 15782
Samsung Galaxy S5: 18632
HTC One M8: 17570
Sony Xperia Z2: 18358
While GeekBench 3 gave us:
LG G3 2 GB RAM: 960/2333 (single core/multi core)
LG G3 3 GB RAM: X
LG G2: X
Samsung Galaxy S5: 854/2553
HTC One M8: 979/2900
Sony Xperia Z2: 941/2748
GFXBench scores are:
LG G3 2 GB RAM: 22.1 FPS (test offscreen 1080p)
LG G3 3 GB RAM: 27.3 FPS
LG G2: X
Samsung Galaxy S5: 27.4 FPS
HTC One M8: 28 FPS
Sony Xperia Z2: 27.4 FPS
Speed Test included as well:
LG G3 2 GB RAM: 20/21 Mbps (download/upload)
LG G3 3 GB RAM: X
LG G2: X
Samsung Galaxy S5: 23/24 Mbps
HTC One M8: 20/20 Mbps
Sony Xperia Z2: 22/23 Mbps
Browsermark 2.0/2.1 scores:
LG G3 2 GB RAM: 1187
LG G3 3 GB RAM: X
LG G2: 2885
Samsung Galaxy S5: 3250
HTC One M8: 2607
Sony Xperia Z2: 2884
Finally Sunspider:
LG G3 2 GB RAM: 691
LG G3 3 GB RAM: 652
LG G2: X
Samsung Galaxy S5: 413
HTC One M8:  673
Sony Xperia Z2: 1017
Overall, the LG G3 is weaker than its rivals on the benchmark side of things, particularly the 2 GB model. I guess it's the QHD screen dragging down the results and as usual, the scores aren't exactly reflected in the functioning of the device, that works lag free (except for some cases like the QuickMemo+ activation). The OS here is Android 4.4.2 and the UI is the brand new one from LG, that seems like a combo between HTC Sense 6.0 and ASUS Zen UI.
We get new icons, widgets, themes and fonts, that drop the gloss in favour of a flatter look. Everything is simple and minimalistic and the grey/green hues remind me of Zen UI. We also have new transitions and on the leftmost side of the screen you'll find something called Smart Bulletin, that's sort of BlinkFeed, that only includes Smart Tips and LG Health. The multitasking area features mini windows, pretty much like in HTC Sense 6.0 and LG also implemented here the Dual Window, that splits the screen into two halves, so you can work with two apps at the same time.
The notification area hasn't changed functionality from the LG G2, but it has changed design, everything being just background and white lines basically. Among the toggles here there's also QuickMemo+, that has been upgraded with some Notebook functionality. When you activate this function, the devices lags severely for some reason. QuickMemo+ also brings a new UI and can integrate weather and location data. You can also resize the homescreen area that you're covering with drawing or writing. Then also in the Quick Settings/Notification area there's the Quick Remote feature and Q Slide Apps, only two at a time floating over the homescreens.
As usual toggles are editable. In the Settings department you can activate a Quiet Mode, which is pretty much a Do Not Disturb feature, that blocks notifications and such during the night. In the video review we also demoed Knock Code, the tapping pattern that lets you unlock the screen and we've shown you the double tap to lock/unlock the screen feature. There's One Handed Use available as well, with the ability to move the virtual keyboard to the left or to the right of the screen. Then we've got a Gestures area in the Settings and options for the special QuickCircle case.
There's also a feature called Smart Cleaning, that cleans up temporary files and speeds up your device. Finally, you can use the volume buttons at the back in combos to activate apps and we've got a Guest mode included among the options. LG Health is only available in Smart Bulletin and not as a separate app for some reason. It's not S Health, but it does track your run, walk or cycle by tracing a map of your effort. It also tells the calories steps and allows you to create a goal and a profile to go with the fitness.
It doesn't address health features like blood pressure, glucose, sleep patterns or even food, so that's why it's no S Health. It's a nice start though… The widgets area reveals a very useful one called Smart Notice, that works a bit like Google Now. It's able to tell you to put a thicker or lighter coat on when the weather changes, reminds you to call a person whose call you rejected, take an umbrella or reminds you about a birthday.
And now let's see the preinstalled app list: Play Suite is here, there's a minimalistic Calendar too, a File Manager, McAfee Security, Voice Recording, Weather, Box and Quick Remote, that allows you to control a set top box, TV set, air conditioner and many other electronic devices. There's QuickMemo+ with its new Notebook features, LG SmartWorld for app downloads (still not many extras compared to the Play Store), Tasks and Think Free Viewer for Office files. That's about it folks and now let's see verdict regarding this smartphone.
These are the Pros:
excellent camera, especially in low light
excellent video capture
compact for a 5.5 inch phone
nice design (plastic plus metal)
great acoustics (better than Galaxy S5)
ultraslim bezel
one of the best UIs out there
no bloatware
pretty cheap for a fresh flagship
extra features are welcome (Smart Notice, Laser Autofocus, Dual Window)
And the Cons:
low battery life
weak view angles
less bright than rivals
can't feel the jump from Full HD to QHD
QuickMemo+ access lags a lot
benchmarks below rivals
no video player
suffers from overheating
The LG G3 gets from us a 9.8 out of 10 for design, a 9 for hardware and a 9.6 out of 10 for OS and UI. We also give it an extra 10 for the price, because no other flagship this year was so affordable from the get go. The average is 9.6 out of 10 here at GSMDome.com and this sure sounds like the phone of the year to me, at least till the iPhone 6 and Note 4 come. You can buy the LG G3 here.