LG G5 is the very first modular phone we review here at GSMDome.com and as such, we're excited by this premiere. The device is analyzed over the following lines and one important thing to remember is that there's no such thing as a perfect phone. This is LG's flagship for the year 2016 and it was announced at MWC 2016. It's priced at around $700 right now, but the price may have dropped by $100 or more over the past weeks.
So, we're dealing with a metal case design-wise, in spite of the fact that the texture of said case feels like plastic. That's because on top of the main metal chassis there was a special substance applied, that makes the paint adhere better to metal. The substance includes metal particles, so it's all metal in the end.
This one is a comfy phone, with good grip and great one hand usage. It measures 7.7 mm in thickness and weighs 159 grams, making it more compact than the 9.8 mm thick LG G4, but also heavier than its 155 grams. In the meantime we're dealing with a handset slimmer than the 7.9 mm Galaxy S7 and 3 grams heavier. It also brings a solid frame and build and a gently curved back.
It's certainly more compact and comfier than the predecessor. The module bit from the bottom is removed with the aid of a side button and we've got a series of modules and accessories within the LG Friends family. They include a module with B&O acoustics or a camera module with an extra battery and special camera buttons, like a zoom wheel and extra grip.
Those are the Cam Plus and HiFi Plus modules, but we've also got external accessories, like a 360 degree camera, VR headset, rolling bot robot and drone remote. The modules are attached to the bottom replacing the lid with the battery included in a very simple motion. This model has a 3D Arc Glass display, a curved panel, both to the sides and the top and it also brings a back power button, that feels flimsy and quite noisy.
There's a strange lack of continuity in the design of the sides, particularly where the module meets the frame, so that's not good. LG G5 feels and looks great, but it has a few caveats, like the Power button and side build. It comes in silver, titan, gold or pink. Its display is a 5.3 incher with an IPS LCD Panel and Quad HD resolution, plus Quantum Display technology.
We are supposed to get a 1885:1 contrast ratio here, plus Always On functionality. The diagonal is 0.2 inch smaller than the one of the LG G4, by the way. There's no video player here, so we had to rely on the gallery, with options for screen ratio, subtitles and settings. The viewing experience seemed bright enough, we had wide view angles, but the colors felt cold and the contrast was rather OK.
There was also a slight light bleed to deal with, spotted when the device was in the dark and showed a dark image. Pixels are of the RGB Stripes variety and when we measured the brightness we achieved 365 LUX units, which is quite low for a flagship, especially considering the LG G4 got to 432 LUX, LG G3 to 343 LUX and we even scored below the Xperia Z1.
There's also a blue-ish hue of the same screen sadly. The Settings for the display include Home (Easy Home or regular homescreen, with the option to get rid of the app drawer available as default). There's also Smart Bulletin options, Home Touch button settings, font type and size, bold text and Always On mode. This one shows the time and signature with the screen in standby mode.
Overall, we found the display to be rather underwhelming…
Now let's talk about performance. We get a potent Qualcomm Snapdragon 820 CPU here, a quad core unit, that certainly upgrades what we got on the LG G4 with its Snapdragon 808. There's also 4 GB of LPDDR4 RAM, 32 GB of storage, a microSD card slot and the device is fast but some animations are too long. The UI is rather fluid and the device is able to run games OK, including the likes of Riptide GP2.
The benchmarks we did on this model placed it on the 5th spot all time in Quadrant and a tad below the Xiaomi Mi 5 and HTC 10. In AnTuTu 6 we were on the 4th place, with almost the same score as the Galaxy S7. In the 3D section of AnTuTu 6 we scored 3rd place, so that's quite good. In 3DMark we had a very small distance from the top, so that's nice.
In GFX we were also on the top spot, so overall performance was quite good. We also did temperature tests and achieved 35.9 degrees Celsius after running the benchmark GFXBench and 37.7 degrees Celsius after 15 minute of playing Riptide GP2. There's no overheating thus. On the battery side of things, the LG G5 packs a 2800 mAh unit, that's pretty easy to swap.
It's actually a decrease in capacity, as the G4 had a 3000 mAh unit. There's also the promise of Quick Charge 3.0 here, getting up to 80% in 30 minutes. The Always On screen thingie uses up 0.8% of the battery capacity per hour by the way. We did a video playback test and achieved 9 hours and 58 minutes, which is clearly superior to the 8 hours and 55 minutes of the LG G4, but below the Xperia Z3 and iPhone 6, so it could do better for the 2016 standards.
In PCMark we reached 5 hours and 55 minutes, which is not very impressive, since it's placed on the 46th place overall. Keep in mind that the G4 was at 5 hours and 19 minutes and the result mentioned above meant we scored below the LG AKA, which is an entry level model. Charging is done in 1 hour and 18 minutes, which is great and it's 4th place in all the tests we ever did.
I have to admit we did use the LG V10 charger, since we didn't have the original one bundled with the test unit, so that may factor in. Settings include Optimization and choosing which percentage level is needed to trigger power saving. You can restrict app battery usage and block use of always on display, plus there's a Game Optimizer feature, that lets you adjust video resolution and frame rate for games.
In the end I feel that the battery could have been better considering this is still a flagship of the year 2016. Now let's talk about acoustics. There's a 3 hole speaker at the bottom and the promise of 24 bit acoustics via Bluetooth. The speaker is easy to cover in landscape mode and the music player comes with an equalizer featuring options like Normal, Pure Surround, Quad Beat. Bass Booster and more.
There's also a Custom option with 7 channels to tweak, plus the option to set up the pitch and speed of songs. The experience is loud and clear, but there's a slight distortion at max volume. I feel that the speaker works best at about 70% and you can hear all the song's nuances. Bass was quite good. We also used a decibelmeter to measure acoustics and got as high as 86.9 dBA, which is good, placing the phone on 10th place overall.
It surely beats the LG G3, Galaxy S6 Edge and Galaxy Note 5. Settings for the audio include the ability to auto compose ringtones based on calling ID, Do Not Disturb and I have to mention we had a test unit, so we didn't get headphones to play with for this model. I actually went ahead and used the Quad Beat 3 headphones from the LG V10 and got a loud and clear experience, plus very good bass and isolation.
Good acoustics overall. Now let's see what the dual camera brings. So, at the phone's back we get a dual camera, that somehow doesn't result in a big protrusion. Keep in mind the LG G4 had a great camera, so there are big shoes to fill. We get laser focus, advanced OIS, a color spectrum sensor and the two cameras include a 16 MP shooter with F/1.8 aperture and 75 degree angle lens, plus an 8 megapixel shooter with 135 degree ultra wide angle lens.
The main camera has a 1/2.6 inch sensor and 1.12 micron pixel and keep in mind that basically this one is the very same sensor as the one on the LG G4 (Sony IMX 234 Exmor RS, with hybrid AF and 3 axis OIS). The front 8 MP camera is a Toshiba unit measuring 1/4 inches and using 1.12 micron pixels. This is also the same camera as the selfie one on the LG G4.
The camera app has a fast startup and very fast focus, but the zoom felt a bit laggy. There's also an explanation for that. There's a bit of a threshold for the zoom, that involves switching between the cameras. Picture taking is fast and at the top of the UI you can find two shortcuts, letting you switch between the cameras, with the 8 MP offering a wide view angle.
The main Capture modes are Auto, Manual and Simple, with Simple involving just tapping the screen to take a shot. Auto has a few extra options, like Slow Motion, Time Lapse and Popout (combines pictures of the two cameras, but the 16 MP one pops out, while the other one gets effects applied like fisheye, black and white, lens blur and more).
There's also Multi View, that uses all 3 cameras to create a sort of collage of what's happening around you, with a changeable layout offered. Snap is another option available here, with the option to record a set of videos and stitch them together. Panorama is here as well. Settings offer you the option to choose an aspect ratio of 16:9 or 4:3, as well as 1:1 and you can set the camera to film in 4K, Full HD or HD.
Then there's HDR, that can be set to on, off or auto. Film is another option here, offered as a set of filters. Then there's timer, voice command and the choice of OIS and Steady, the latter used for filming while walking around. To the right side of the UI we find the edit and share options, that send the pics to the likes of Gmail, Facebook, Instagram and more.
The wide camera doesn't get many extra options, since it's just an 8 MP shooter with fixed focus. Finally, the manual mode offers an option to capture RAW shots, tweak exposure, white balance, focus, ISO, shutter and there's the Auto Exposure Lock in the mix as well. The flash has its own motion trail option. Before we get to the gallery, keep in mind that you have to be careful so you won't get your hand in the wide angle shots, which may happen every once in a while, because it captures so much of the area in front of it.
So, let's go to the day time shots. We get great color quality, a crisp image and the max level of zoom leaves us with an impressive level of details. The selfie was great and much better than the ones of the G4, in spite of relying on the same camera. I liked the texture of the skin and hair, as well as the colors captured by the front camera.
Back to the main cam, it offered perfect lighting, not one blurred shots, good exposure, white balance and very well calibrated colors. The wide angle shots were stunning, but in the it depends on the user's preference if he wants to be dazzled by a pic with a slight curve in the image or not. Somehow it also felt that the 8 MP camera had more realistic colors, but that's a very close call.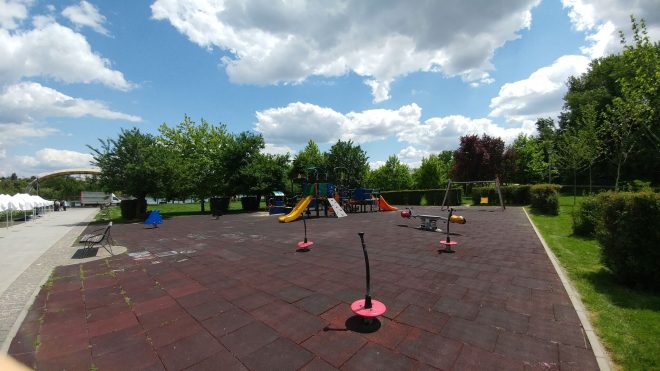 Focus play happened in a great fashion and we also had very nice closeups. The Panorama caught by this phone has a resolution of 21.376 x 4672 pixels, which is quite good. I remember saying that the LG G4 had the best color calibration on the market and I can say this again about the LG G5. Everything just feels right about this phone and its color calibration, lighting and exposure. HDR was also great and details were fantastic in those flower closeups.
The dynamic range of the LG G5 is simply great and the colors manage to ge more accurate than on the Galaxy S7. The quality and clarity are pretty much the same as on the S7. It's clearly about the iPhone 6S and the equal of the LG G4, plus a wide camera thrown in as a bonus. Then we go to the low light captures, that had day like clarity and great lighting.
Colors are once again top notch and the street halos were a bit big, but not in a huge way. Those buildings and monuments had a perfect texture and there was no blur. Details were great and the flash was quite powerful. I feel that night time shots were equal to those we took with the Galaxy S7, but I feel that the G5 has more clarity on its side, since the S7 goes all out with capturing a ton of light and some pics were too white.
Overall, it's a top 5 camera, if not even top 3. As far as video capture is concerned, we shot video in MP4 format, in Full HD resolution, at 30 FPS and 17 Mbps. The stabilization was just OK, not more and the S7 handles that better. We also took a very solid front camera video, with excellent clarity. The wide angle video capture was good looking too and the color calibration was ace.
The microphone didn't quite seem to handle the wind though. 4K video capture happened with 48 Mbps bitrate and featured perfect focus, colors, exposure and brightness. The slow mo clip was nice and the texture of roses we filmed was also great. It's clearly about the LG G4, that has a slight problem with burnt videos, strange colors and stabilization last year (or maybe just our test unit).
I felt that when zooming in with the LG G5, the image was a bit grainy and could have been crisper. We can still put the video capture on par with the other big flagships and it's too bad the microphone couldn't be at the same level. During the night time we shot big light halos, we recorded video with good clarity, but there were some blue and purple hues on the sides.
In low light conditions the colors were nice, clarity was good, but there was serious quality loss when zooming. It also felt a bit shaky and I've seen better at night, but only by 10% tops. We're done with the camera, so let's discuss other topics.
For example the browser, in this case Chrome showed itself with a mid level speed and some good benchmark results in Sunspider and BrowserMark. The virtual keyboard on the LG G5 is comfy and we also get a numeric row to interact with. On the connectivity front, there's 4G LTE Category 12/13, a nano SIM card slot, WiFi 802.11 a/b/g/n/ac 2×2 MIMO, Bluetooth 4.2, NFC, GPS and Glonass, as well as DLNA and USB Type C.
Then there's infrared and when it came to the calls, they were loud and clear, the mic was good, but the signal was easily lost sometimes. The dialer offers access to features like Speed Dial or Q Slide. We did a Speed Test on Vodafone and got 36 Mbps in download and 11 Mbps in upload, while WiFi brought us to 120 Mbps and 24 Mbps respectively.
Time to discuss the OS, UI and applications and you should know we're running on Android Marshmallow here, with LG UX 5.0 on top. The default option involves no app drawer, but you can change that from settings. The UI is minimal and icons feel like they're skeumorphic and feel taken from Monument Valley. The leftmost homescreen is Smart Bulletin, that aggregates the likes of LG Health with its pedometer, Calendar, Music, Smart Settings, Quick Remote and Evernote.
If you keep the homescreen pressed, you can access the widgets, that involve a lot of transparency. The multitasking involves a carousel, so the stock option and it lets the user pin apps that can't be cleared to the screen. The dropdown bit is white and green, minimal and lets you capture a screenshot and go straight to editing it. Quick Settings are here, with connectivity options, plus a brightness slider, screen sharing, file sharing and notifications.
The Settings have a list view or tab view and they're quite well organized. There's a shortcut key option, letting you use volume buttons and associate commands to them. Since we're talking about Settings, there's the fingerprint scanner to check out there, with a fast setup, screen lock and content lock option. I felt there was a slight, only slight delay when unlocking the screen by using the print, by less than 1 second, but I did feel it.
The Smart Settings thingie is a sort of automation option, letting you set up connectivity options for various areas/situations, like Home, Away from Home and when headphones are connected. There's Q Slide apps, Smart Cleaning and some other basic options. LG G5 comes with 45 preinstalled apps, which is pretty much bloatware, but 15 of the apps are from Google.
There's LG Smartworld, Quick Remote, Facebook, Instagram, Evernote and Calendar available here. Quick Memo+ was probably the most interesting preinstalled app, with draw, cut, bullets, align and more options. Various pens are offered. LG Health is very basic and it's very far from the S Heath from Samsung. So that's pretty much it about G5 and it's time for the verdict.
Here are the Pros:
comfy phone
modular design
top 3/top 5 camera
great colors, low light and wide capture
great performance
loud speaker
infrared connectivity
nice UI
And the Cons:
bloatware
light bleed
low brightness
cold colors
battery is rather weak in PCMark
strange fitting of parts on the side
fingerprint scanner kind of slow
microphone could be better
long animations
signal loss
Overall, this remains a great phone, but only in several areas, like the camera and performance for example. The thing is that a hardcore flagship like this one isn't allowed to have battery and screen drawbacks, like this one, so you may certainly hesitate to buy it because of those deal breakers. I regret the fact that we didn't get modules to test, not that they'd make you buy the handset more, to be honest.
If you're all about acoustics, performance and camera, go right ahead, but if you crave a fantastic display and battery, aside from performance and cam you should go with Samsung's offerings. At least the upgrade from the LG G4 is clear. The updated price is here.