Meizu MX4 is no stranger to leaks, especially since we see a new one every two days or so. Today we get to see an entire series of images portraying the device's cases, plus an extra shot of the device at the end. Meanwhile, the device has leaked again in a few shots that show a grey back and what looks like a physical Home button.
While the MX4 will be launching on September 2nd, its cases are already selling for some reason. The manufacturer of these accessories claims that they're made based on a real mold of the product. We seem to be getting a plastic glossy body here, 4 holes for the speaker at the bottom, right next to a microphone, microUSB port and what looks like a special hole used to remove the back cover.
The cases confirm other design traits, like the placement of the audio jack and On/Off button at the top, while the volume buttons are on the left side. The back camera has the flash placed underneath it, as shown by the same cases. We expect the Meizu MX4 to come in 4 separate versions, including a quad HD Pro one with 5.4 inch diagonal, 3 GB of RAM and the best in Exynos or MediaTek CPU, as well as a Standard version and Mini version.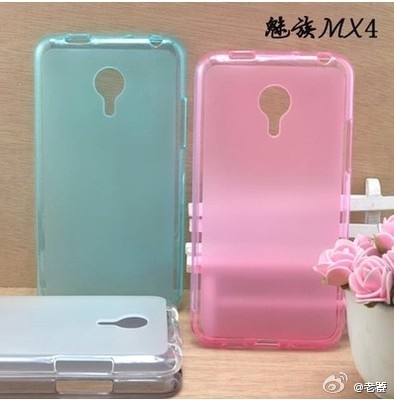 Via cnbeta