Verizon is supposed to launch quite a bunch of nifty devices this month, with the latest info coming from Phone Arena tipsters who claim that on November 11th, we'll see the Moto CITRUS, Samsung Continuum and Samsung Zeal taking off. CITRUS stays on the eco-friendly side of things, being manufactured from 25% post-consumer recycled plastic and if you're curious about its specs, they're available after the break.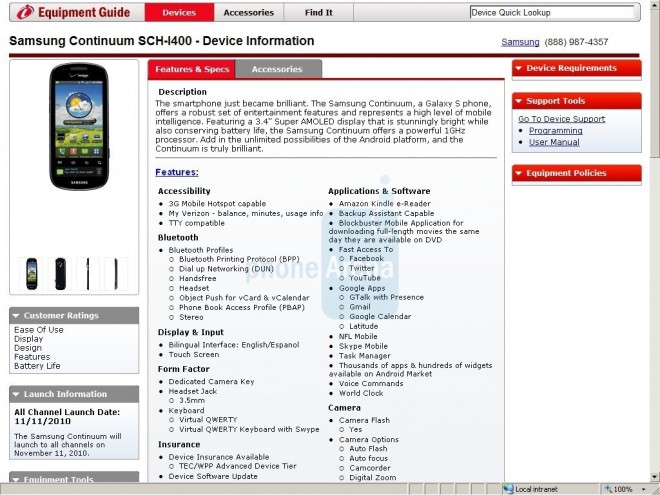 Here's what Motorola CITRUS WX455 is all about:
OS: Android 2.1
Display: 3 inch, 320 x 240 pixels
Camera: 3MP
Connectivity: WiFi, EVDO REV A, Bluetooth
Memory: 2GB microSD card
This is an entry level Android smartphone with 7 home screens on board and relying on Microsoft Bing Search and Bing Maps. Next on the list is the Samsung Continuum i400, a new version of the Galaxy S smartphone, that runs Android 2.2 and features a 1GHz Hummingbird processor. Here's the specs list:
Display: 3.4 inch, 480 x 800 pixels, WVGA, Super AMOLED screen/ secondary 1.8 inch 96 x 480 pixel screen (Super AMOLED)
Camera: 5 megapixel autofocus, LED flash, 720p video recording
Connectivity: 3.5mm audio jack, WiFi 802.11 b/g/n, EVDO Rev. A, Bluetooth
Memory: 2GB internal memory, 384MB RAM, 512MB Flash, 8GB microSDHC card
OS: Android 2.2 with Samsung TouchWiz 3 UI.
At last, there's Samsung Zeal, also ready for Verizon and featuring an E-Ink QWERTY keyboard and a 2.6 inch QVGA display. You can open this screen in portrait or landscape mode. Zeal and Alias 2 might be one and the same model, apparently.